Print Recipe
Jump To Recipe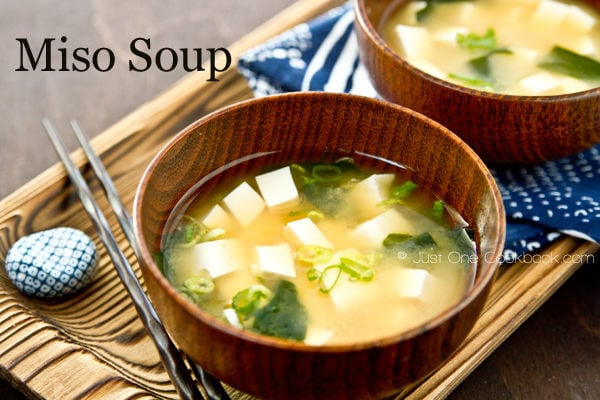 Miso Soup (味噌汁) is a traditional Japanese soup consisting of seafood based stock called dashi and miso paste. Most Japanese meals are served with a bowl of miso soup and steamed rice. Although there are many different kinds of ingredients that can be added to miso soup, today I will share the most basic miso soup recipe which include just tofu, wakame (seaweed), and green onion.
Miso paste varies in saltiness depending on type (e.g. red/aka miso, white/shiro miso, mixed/awase miso) and by brand, therefore you will need to adjust the proper amount of miso based on your preference.
For dashi, I typically use dashi packets but they may be difficult to find in your local Asian/Japanese supermarkets. No worries, I also have an easy step-by-step tutorial for how to make homemade dashi from scratch. The ingredients for the homemade stock such as dashi kombu and katsuobushi (bonito flakes) are usually available in most Japanese and Asian grocery stores. The Japanese cooking requires dashi for cooking many recipes. Dashi is very simple and easy to make compared to chicken or vegetable stocks.
I hope you enjoy this quick and easy homemade miso soup!
Don't want to miss a recipe? Sign up for the FREE Just One Cookbook newsletter delivered to your inbox! And stay in touch on Facebook, Google+, Pinterest, and Instagram for all the latest updates. Thank you so much for reading, and till next time!

Miso Soup
Ingredients
3 cups homemade dashi or see how to make quick dashi below (use Kombu Dashi for vegetarian)
3 Tbsp. miso (I use awase miso (red+ white miso))
6 oz silken tofu or soft tofu
2 tsp. dried ready-to-use wakame (seaweed)
1 green onion/scallion
For quick dashi (instead of homemade dashi)
3 cups water
1 dashi packet or 1¼ tsp. dashi powder

Instructions
In a medium saucepan, add water and dashi packet (some brand of dashi packet may ask you to add the packet after boiling). If you are using dashi powder, bring water to a boil and stir in the dashi powder and it's ready to use.

Bring it to a boil over medium high heat. After boiling, reduce the heat to medium low and simmer for 5 minutes.

Discard the packet and dashi is ready to use.

Put 1 Tbsp. of miso in a ladle (or strainer) and blend it with dashi until it is thoroughly mixed. Continue this process until miso is all used. Usually each cup of dashi, you will need about 1 Tbsp. of miso. If you add tofu in your miso soup, tofu dilutes the soup a little bit so you might want to add ½ Tbsp. more miso.

Cut tofu into ½" (1 cm) cubes and add to the soup. Stir gently without breaking the tofu.

Soak dried wakame in water to rehydrate for 10 minutes and drain well.

Finely slice the green onion and put the wakame and green onion in each bowl.

Return the miso soup to a slight simmer until heated through and pour into the bowls. Be careful not to boil the miso soup because miso will lose flavor.
Notes
For vegetarian miso soup, use
kombu dashi
.
If you don't have dashi packet or powder, see how to make
homemade dashi stock
.
Each brand or kind of miso has different level of saltiness; therefore, add miso 1 Tbsp. at a time and taste the soup before you add more miso.
Use gluten-free miso to make this recipe gluten-free.
Recipe by Namiko Chen of Just One Cookbook. All images and content on this site are copyright protected. Please do not use my images without my permission. If you'd like to share this recipe on your site, please re-write the recipe and link to this post as the original source. Thank you.
Editor's Note:
Pictures and recipe are updated in September 2012.