Print Recipe
Jump To Recipe
It's hard to believe we only have 2 more months left in 2011.  I feel like I started blogging just a few months ago but it's been already 10 months since I first started this blogging journey.  Time flies.  I hope everyone is enjoying the autumn weather and excited about upcoming holiday seasons.
Today I'm guest posting at A Culinary Journey with Chef Dennis.  Chef Dennis is an amazing cook (he's a "chef"!) as well as a very dedicated food blogger.  He shares delicious recipes, builds a great network and community among food bloggers and fans, and sincerely helps out fellow bloggers like me by sharing his useful knowledge in Ask Chef Dennis segment on his blog.  I highly admire his generosity and dedication and all of us are easily drawn by his charm.  So now you know how happy I was to be invited to his blog!
Today's recipe Beef Teriyaki is actually more popular in the US and in other parts of the world than in Japan.  Teriyaki is a cooking technique: "teri" means luster and "yaki" means cooking/grilling.  For this type of cooking/preparation, fish is mostly common used ingredient in Japan but chicken, pork, hamburger steak, and meatballs are other ingredients that we use as well.
Please click HERE to continue reading.  Have a great weekend everyone!  See you next Monday!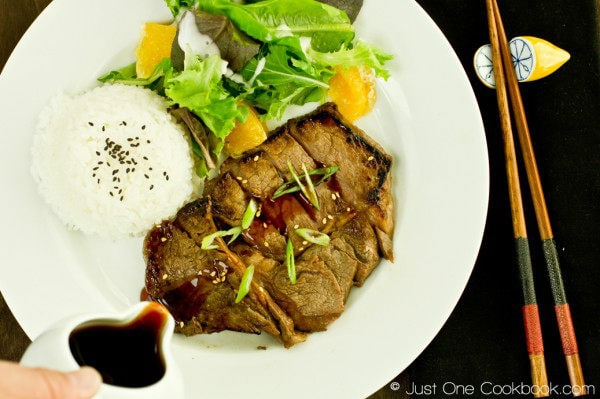 Don't want to miss a recipe? Sign up for the FREE Just One Cookbook newsletter delivered to your inbox! And stay in touch on Facebook, Google+, Pinterest, and Instagram for all the latest updates. Thank you so much for reading, and till next time!
Beef Teriyaki
Ingredients
2

Wagyu beef ribeye steak

(I used Snake River Farms American Kobe Beef)

½

tsp

potato/corn starch

(optional)

1

tsp

water

(optional)

1

green onion/scallion
Instructions
Gather all the ingredients.

In a bowl, combine all the ingredients for Teriyaki Sauce and mix well.


Trim off extra fat from the steaks and put them in a Ziploc bag. Add 4 Tbsp. of the marinade in the bag. Tightly sealed up and keep in the fridge for 30 minutes.


Normally in Japan, Teriyaki Sauce is thin but American Teriyaki Sauce is always thick. If you prefer thick Teriyaki Sauce, combine corn starch and water and whisk well in a small bowl.


For Teriyaki sauce, bring the Teriyaki Sauce to a boil in a frying pan to evaporate alcohol (sake) for 15 seconds. If you prefer thin sauce, remove from heat and set aside.


For thick sauce, stir in the corn starch mix to the sauce and whisk all together so that the corn starch mix will blend in with the sauce well. Remove from heat and set aside.


Before cooking the meat, make sure the meat is at room temperature. In a cast iron skillet or a frying pan, heat oil on medium high heat. When the pan is hot, remove the steaks from the marinade and pat dry with a paper towel before cooking to prevent steaming.


Sear the meat for 2 minutes on one side, then 1.5 minutes on the other side. That's for medium-rare/medium for ½ inch thick steaks we had today.


Pour 2 Tbsp. of Teriyaki Sauce over each steak. The sauce gets bubbly and gives nice glaze over the steaks.


Remove the steaks from the pan to a plate before the sauce starts to burn. Let the steaks rest to allow succulent juices to distribute for 5-10 minutes before slicing.


In Japan it's not unusual to serve steaks with chopsticks. We eat steaks along with a bowl of rice. If you plan to serve in Japanese style, carefully slice the steaks into thin pieces.


I sprinkle a little bit of roasted sesame seeds and chopped green onions on top of the steak for decoration. Serve the leftover Teriyaki Sauce on the table for extra drizzle.
Recipe Notes
Recipe by Namiko Chen of Just One Cookbook. All images and content on this site are copyright protected. Please do not use my images without my permission. If you'd like to share this recipe on your site, please re-write the recipe in your own words and link to this post as the original source. Thank you.