Print Recipe
Jump To Recipe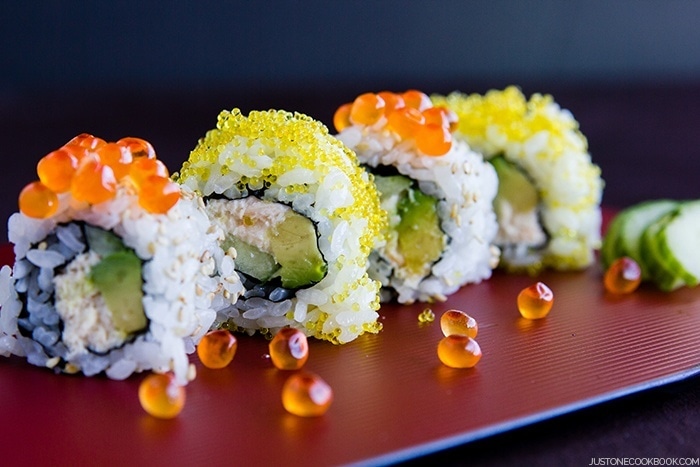 Today I'm guest posting my recipe on Rasa Malaysia.  The author Bee shares over 400 easy Asian recipes on her website, and her first cookbook Easy Chinese Recipes will be published on September 10th, 2011 in the US (it's already published in Asia).
When she had asked me to guest post on California Roll for her readers, I was extremely delighted!  I had been wanting to share this popular sushi for a while and it was perfect timing.
Please click here to read more about California Roll and the recipe.  While you are there, make sure to check out her beautiful collection of Asian recipes.
Don't want to miss a recipe? Sign up for the FREE Just One Cookbook newsletter delivered to your inbox! And stay in touch on Facebook, Google+, Pinterest, and Instagram for all the latest updates. Thank you so much for reading, and till next time!
California Roll
Ingredients
Toppings
Ikura (salmon roe)
Tobiko (flying fish roe)

You will need:
Bamboo mat, covered with plastic wrap
Tezu (vinegared hand-dipping water): ¼ cup water + 2 tsp. rice vinegar
Instructions
PREPARE INGREDIENTS:
Crab meat: combine the crab meat with Japanese mayonnaise and mix together.

Cucumber: Peel and remove seeds. Cut into thin long strips, same length as the nori sheet.

Avocado: Peel, pit, and cut into ¼" (0.5 cm) thick slices (See How To Cut Avocado). Squeeze the lemon juice over the avocado to prevent browning.

Nori: Cut off ⅓ and use ⅔ sheet of nori.

Prepare the bamboo mat, covered with plastic wrap and Tezu (vinegared hand-dipping water).

ROLL SUSHI
Lay a nori sheet, shiny side down, on the bamboo mat. Wet your fingers in tezu and spread 1 cup of the rice evenly onto nori sheet.

Sprinkle the rice with sesame seeds or tobiko.

Turn the nori sheet over so that the rice is facing down. LIne the edge of nori sheet at the bottom of the bamboo mat. Place the cucumber, crab meat, and avocado at the bottom of the nori sheet.

Grab the bottom edge of the mat while keeping the fillings in place with your fingers, roll it into a tight cylinder, tucking the fillings in firmly.

Lift the edge of the bamboo mat slightly and roll it forward while keeping gentle pressure on the mat.

With a very sharp knife, cut each roll in half and then cut each half into 3 pieces. Remember to clean the knife with a damp cloth after every few cuts.

You can use the left over ⅓ of nori sheet to make Ikura Sushi. Cut the nori sheet into half lengthwise. Make small balls with sushi rice and wrap it with nori sheet. Place ikura on top.

Notes
Cover the sushi rice and the completed rolls with a damp cloth at all times to prevent from drying.
Recipe by Namiko Chen of Just One Cookbook. All images and content on this site are copyright protected. Please do not use my images without my permission. If you'd like to share this recipe on your site, please re-write the recipe and link to this post as the original source. Thank you.