Zaru Soba (Cold Soba Noodles)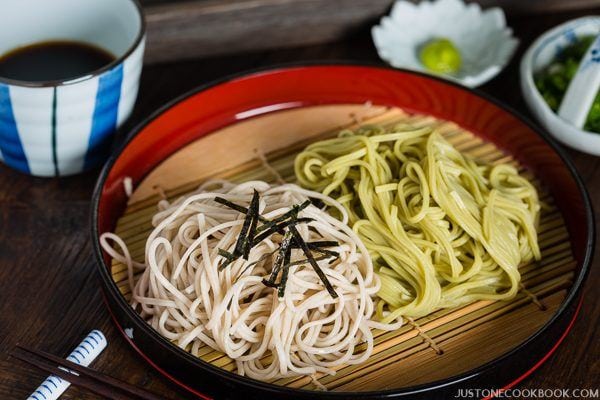 14 oz. (397 g) dried soba noodle
1 part dipping sauce (Mentsuyu), see below
1 part iced water
Kizami Nori (finely shredded nori sheets)
2 green onions
Wasabi (optional)
In a medium saucepan, add ¼ cup sake and bring it to a boil over medium high heat. Let the alcohol evaporate for a few seconds.
Add ½ cup soy sauce and ½ cup + 1 Tbsp. mirin.
Add 1 x 1 inch (2.5 x 2.5 cm) kombu and 1 cup dried bonito flakes (katsuobushi).
Bring it to boil and cook on low heat for 5 minutes. Turn off the heat and set aside until it cools down. Strain the sauce and set aside. You can keep the sauce in an airtight container and store in the refrigerator for up to a month.
Boil a lot of water in a large pot. Unlike pasta, you DO NOT add salt to the water. Add dried soba noodles in the boiling water in circulate motion, separating the noodles from each other. Cook soba noodles according to the package instructions (each brand is slightly different). Once in a while stir the noodles so they don't stick to each other. Check the tenderness and do not overcook. Before you drain, reserve 1 to 1 ½ cup of soba cooking water "Sobayu" (Read what you use this for in the blog post).
Drain the soba noodles into the sieve and rinse the noodles to get rid of starch under running cold water. This is a very important step.
Shake off the sieve to drain completely and transfer the noodles to the iced water in a large bowl. Set aside till the noodles are cool.
To serve the noodles, place a bamboo sieve or mat over a plate (to catch water from noodles). Put soba noodles and garnish shredded nori sheet on top.
Put one part of cooled dipping sauce and 2-3 parts of iced water in a serving pitcher or small individual bowls.
Put chopped green onions and wasabi on a small plate and serve with the soba noodles.
One Serving = 3.5 oz (100 g) dried noodles
(pasta, soba noodles, udon noodles)
Recipe by Namiko Chen of Just One Cookbook. All images and content on this site are copyright protected. Please do not use my images without my permission. If you'd like to share this recipe on your site, please re-write the recipe in your own words and link to this post as the original source. Thank you.
Recipe by
Just One Cookbook
at http://www.justonecookbook.com/zaru-soba-cold-soba-noodles/