Chawanmushi with Matsutake Mushroom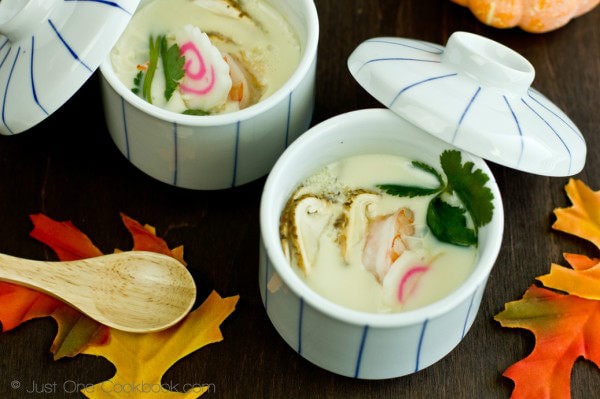 Make dashi stock.
Remove the shrimp shell if necessary and devein. Marinate shrimp in sake. If you use chicken, cut into small pieces (so it cooks faster) and marinate it in sake.
Clean the matsutake mushroom with damp towel or paper towel. Do not wash the mushroom. Cut into thin slices.
Whisk the egg in a medium bowl, but do not create air pockets. Add dashi stock and Seasonings. Then strain the mixture through a sieve into another bowl.
Start boiling water. The amount of water should cover ½ of chawanmushi cup. When boiling, reduce the heat to the lowest heat.
Divide all the ingredients into 2 cups. I started with one shrimp, ginkgo nuts, and matsutake mushroom. Then put naruto, the other shrimp, and mitsuba on top (the colorful ingredients should be near the top of cup). Tie mitsuba's stem into a knot.
Gently pour the egg mixture into the cups without creating bubbles. Instead of covering the ingredients completely with the egg mixture, leave some ingredients exposed so it will be visually pleasing when cooked. Put the lid on (or cover tightly with aluminum foil if you don't have chawanmushi cup).
Place gently inside the hot water (it should NOT be "boiling") and cover the pot's lid. Cook for 25-30 minutes on the lowest heat. If you are not adding shrimp or chicken, the cooking time should only be 15-20 minutes. Insert a skewer in the center of the cup to check if the egg is done.
Recipe by Namiko Chen of Just One Cookbook. All images and content on this site are copyright protected. Please do not use my images without my permission. If you'd like to share this recipe on your site, please re-write the recipe in your own words and link to this post as the original source. Thank you.
Recipe by
Just One Cookbook
at http://www.justonecookbook.com/chawanmushi-with-matsutake-mushroom/