Print Recipe
Jump To Recipe
It may look difficult to make Gyoza, but once you know how to cook them it's actually pretty simple. You can be very creative and try different ingredients for filling based on your own preference. The gyoza recipe below is for a typical Japanese Gyoza.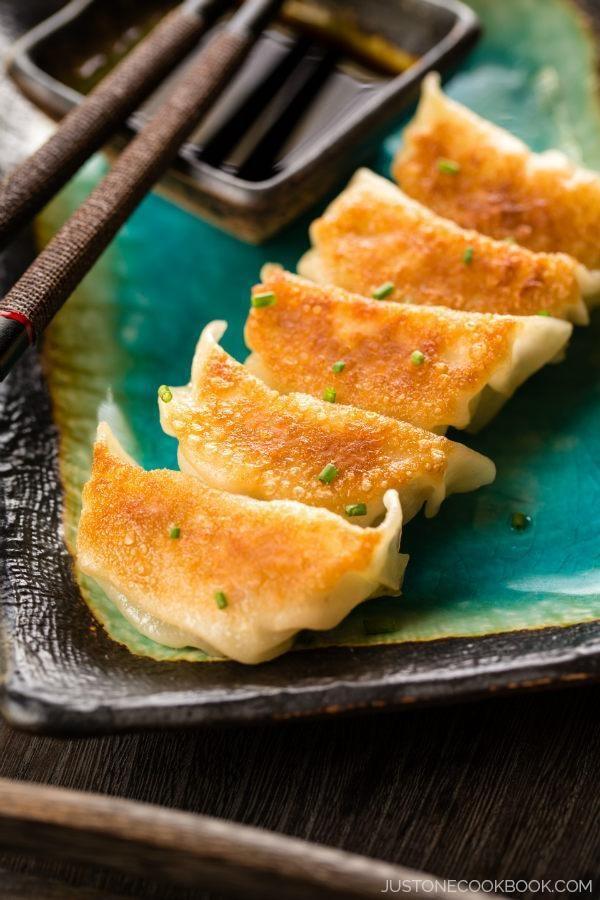 Japanese Gyoza is distinctly different from Chinese potstickers. Chinese potstickers tend to have a thicker skin and the filling is mostly meat. Japanese consider Gyoza more of a side dish to complement our rice whereas the Chinese sometime eat potstickers as the main course. Japanese Gyoza wrappers are thinner and smaller, so make sure you buy the right wrappers specifically for Japanese Gyoza.
If you can't find gyoza wrappers in your local Japanese or Asian grocery stores, try making them from scratch. Here's a post for How To Make Gyoza Wrappers.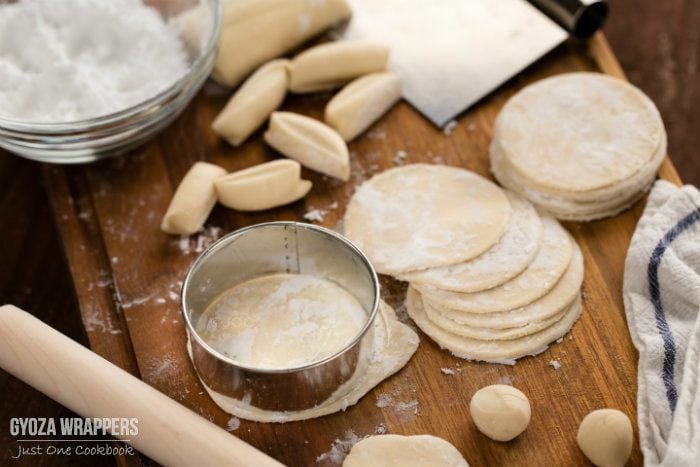 My kids don't look what's inside and eat Gyoza in two or three bites. So I sometimes "hide" lots of veggies in it and it works! If there are leftover Gyoza wrappers, try wrapping cheese. It is a great appetizer dish as well.
Don't want to miss a recipe? Sign up for the FREE Just One Cookbook newsletter delivered to your inbox! And stay in touch on Facebook, Google+, Pinterest, and Instagram for all the latest updates. Thank you so much for reading, and till next time!

Gyoza
Ingredients
1 package (or about 45) gyoza wrappers (or make Homemade Gyoza Wrappers)
1½ Tbsp. oil for frying each batch of gyoza
¼ cup water for frying each batch of gyoza
1 Tbsp. sesame oil for frying each batch of gyoza
Filling
10 oz (290 g) ground pork
2-3 (140 g, 5 oz) cabbage leaves
1-2 (15 g, 0.5 oz) green onion/scallion
2 shiitake mushrooms
1 clove garlic, minced
1 tsp. grated ginger
Seasonings
Dipping Sauce
Instructions
Microwave cabbage leaves for 1 minute and chop into very small pieces. Mince green onion and shiitake mushrooms as well.

Combine the meat and seasonings and knead the mixture with hands until the texture becomes sticky.

Add the rest of fillings and continue to knead.

Wrap the filling with gyoza wrappers (See How To Wrap Gyoza). To save gyoza for later, please see my Notes.

Heat the oil in a large non-stick frying pan over medium high heat. When the pan is hot, place the gyoza in a single layer, flat side down (in two rows or in a circular shape).

When the bottom of the gyoza turns golden brown, add ¼ cup of water to the pan.

Immediately cover with a lid and steam the gyoza for about 2 minutes or until most of the water evaporates.

Remove the lid to evaporate any remaining water. Add sesame oil and cook uncovered until the gyoza is nice and crisp on the bottom. Transfer to a plate. For the gyoza lined up in circular shape, place a serving plate on top of the pan and quickly flip.

For the dipping sauce, combine the sauce ingredients in a small plate and mix all together. Serve the gyoza with dipping sauce.
Notes
After you wrap gyoza, cook or freeze it right away; otherwise water from the ingredients will start to make the wrapper wet.
To save gyoza for later, put the gyoza on a baking sheet leaving some space between to keep them from sticking, and put it in freezer. Transfer frozen gyoza into a freezer bag and store in freezer up to a month. When you use frozen gyoza, do not defrost. Cook while they are frozen.
Recipe by Namiko Chen of Just One Cookbook. All images and content on this site are copyright protected. Please do not use my images without my permission. If you'd like to share this recipe on your site, please re-write the recipe and link to this post as the original source. Thank you.
Editor's Note:
Photo and recipe updated in November, 2013.