Print Recipe
Jump To Recipe
I hope everyone had a nice weekend.  Our kids had last Friday off from school due to Veteran's Day so my husband took the day off from work and we went to Monterey for the weekend.  It started off with pretty heavy rain but we had a great time in the aquarium and we also dined at 2 restaurants in Santa Cruz and Pacific Grove.  My husband will be writing the Restaurant Reviews soon on our dining experience.

I have a good news to share today.  If you are a food blogger you might already have heard of the Fairy Hobmother.  The Fairy Hobmother is from Appliance Online, an online store that sells cool Chimney Cooker Hoods and other appliances.  She brings joy and happiness to the world's bloggers by providing treats for great, hard work in the blogosphere.  And guess what, the Fairy Hobmother stumbled across my comment on Sandra's Sweet Sensation's post and she decided to give me a $100 Amazon Gift Card!  I nearly got a heart attack when I saw the email from her!
The Fairy Hobmother told me that if you (bloggers) leave a comment on this post and make a wish for her to visit your blog, she might read your comments and surprise you with treats, just like what she did for me!  So if you are a blogger, make sure to leave a comment because you never know what surprises are waiting for you.
Today I want to share a very easy Japanese appetizer that is popular in Japan and Japanese tapas-style restaurants in the US.  If you are familiar with Japanese cuisine, you probably know that we don't typically use chili peppers as an ingredient in our traditional cooking.  However this dish does require a bit of chili pepper and you are free to adjust the amount based on your preference, but please remember that Japanese foods use spices and condiments to enhance the natural flavor, not to overpower them. There are many other ways to make Sake Steamed Clams such as adding butter, but I tried to keep this recipe as traditional as possible.
This is a wonderful appetizer for a party especially because you can start preparing it after the guests arrive. Just make sure to de-grit the clams beforehand (or buy de-gritted ones).  Enjoy sake steamed clams in the summer with cold sake or cocktail!  Have a great week ahead!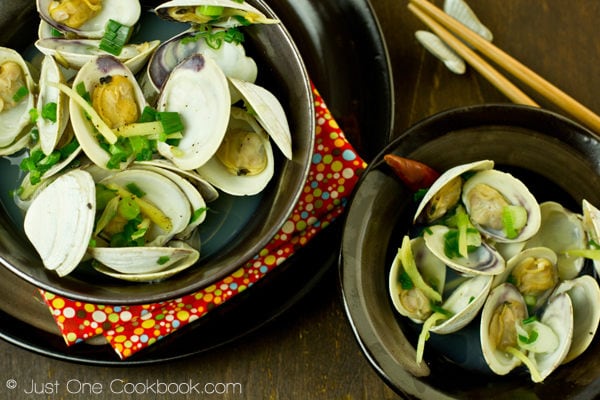 Don't want to miss a recipe? Sign up for the FREE Just One Cookbook newsletter delivered to your inbox! And stay in touch on Facebook, Google+, Pinterest, and Instagram for all the latest updates. Thank you so much for reading, and till next time!
Japanese Clams (Sake Steamed Clams)
Ingredients
¾ cup sake
1 Tbsp. julienned ginger
1.5 lbs de-grited Manila Clams/Littleneck Clams (See How To De-Grit Clams)
1 red chili pepper
Freshly ground black pepper
1 chopped green onion
Instructions
In a large frying pan, add the sake and ginger and bring it to a boil.

Add the clams and a red chili pepper. Place the lid and steam on high heat for a few minutes until all the clams open.

Remove the lid and add freshly ground black pepper and green onion. Shake the pan to make sure the clams are not over-lapping each other.

Serve with the soup and eat while warm.
Notes
Recipe by Namiko Chen of Just One Cookbook. All images and content on this site are copyright protected. Please do not use my images without my permission. If you'd like to share this recipe on your site, please re-write the recipe in your own words and link to this post as the original source. Thank you.