How is New Year celebrated in Japan? Find out more about this annual festival celebrated in Japan as we talk about the foods, traditions and various customs observed during the holidays.
The Japanese New Year is called shogatsu or oshogatsu (お正月) and it is the most important holiday in Japan.  Since 1873, the official Japanese New Year has been celebrated on January 1st, instead of the New Year based on Lunar Calendar (Chinese New Year).
Today I want to talk about how the Japanese people end the year and welcome the New Year.
December – Shiwasu
December is also called Shiwasu (師走) in Japanese, and the kanji (word) literally means "masters/teachers run".  It basically implies that December is so busy that even self-composed masters/teachers are on the run.
At the end of the year, people send out the gifts called Oseibo (お歳暮) to their managers, customers, and teachers to express appreciation for the whole year.  Popular gift items are also given including fresh food (seafood, meat, and fruits), condiments, beer, tea/coffee, canned food, desserts, and gift certificates.
Before the companies shut down from the end of year to the first week of New Years, there are a lot of year-end parties called Bonenkai (忘年会), literally meaning "forget-the-year party", with colleagues and bosses.
During the last few days of December, people meticulously clean their homes, business offices, and stores and scrub top-to-bottom.  This annual tradition is called Osoji (大掃除), "the big cleaning".  We think it's important to eliminate the dust, dirt, and clutter from the passing year and to welcome the New Year with a clean and fresh emotional state.
After the house is cleaned, New Year's decorations like Kado Matsu, (門松) are set up on both sides of front entrance.  They are made of pine and 3 bamboo stalks that are cut diagonally in different lengths.  Pine boughs are symbolic of longevity and bamboo stalks are symbolic of prosperity.
By katorisi [GFDL or CC BY 3.0], via Wikimedia Commons
A traditional decoration Kagami Mochi, which literally means "mirror mochi rice cake," is placed inside the house.  Kagami mochi is two round mochi, with the smaller mochi placed atop the larger mochi.  A "daidai" Japanese orange is placed on top of the mochi along with leaves and other decorations.
By midorisyu [CC BY 2.0], via Wikimedia Commons
Mochi Tsuki (餅つき), or pounding rice to make mochi, is an important traditional event in preparation for the New Year and it's usually performed at the end of the year.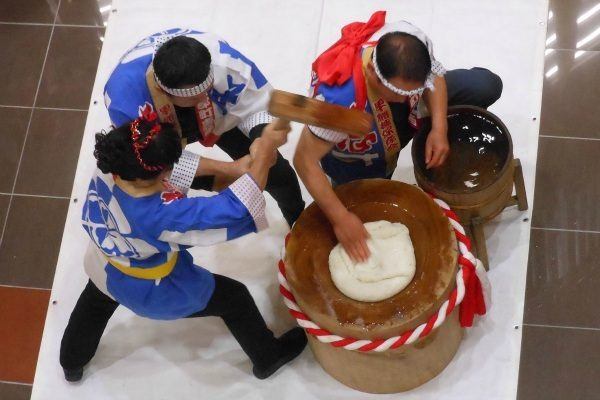 By Miyuki Meinaka [CC BY-SA 3.0], via Wikimedia Commons
New Year's Eve – Omisoka
New Year's Eve is called Omisoka (大晦日).  The Japanese usually celebrate the New Year's Eve and New Year's Day with family and this holiday is equivalent to the American Thanksgiving or Christmas.
When I was growing up, we usually spent the New Year's with my mother's side of the family.  While men in the family were assigned to deep clean the house, all 3 generations of women (my grandma, my aunts, my mom, and I) gathered in the kitchen all day long and made the traditional New Year foods Osechi Ryori (おせち料理) or Osechi (おせち) for short.
By Masaaki Komori [CC BY-SA 2.0], via Wikimedia Commons
Each family has different tradition for New Year's Eve dinner, but the popular menus include sushi, sashimi, hot pot (sukiyaki, yosenabe, and shabu shabu), and in some regions of Japan, people started eating Osechi Ryori on the Eve's.
My family usually prepared Sukiyaki (すき焼き) (recipe) or Temaki Sushi (手巻き寿司) (recipe) as the last meal of the year.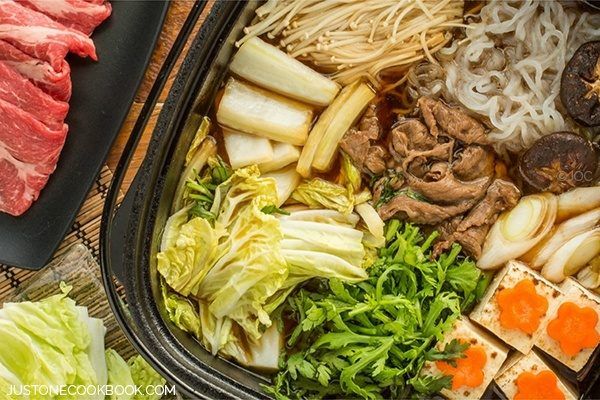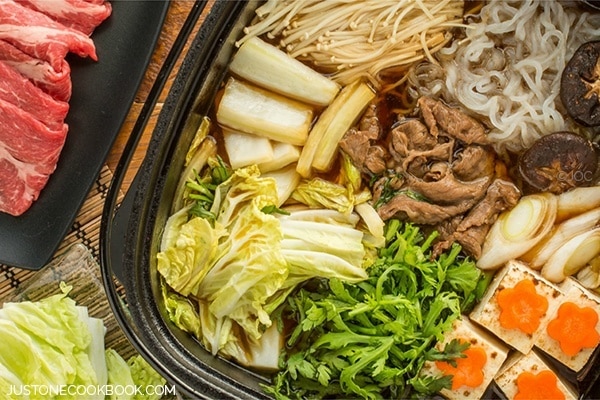 At night, many people enjoy watching the traditional music contest on TV broadcasted by NHK.  This showed  called Kohaku Utagassen (紅白歌合戦) and it is a singing contest between Red (women singers) and White (male singers), and Japan's most popular singers (both young J-pop singers to Japanese ballade "enka" singers) sing live on the show.  At the end of the show, the audience vote for Red or White.
Before the year ends, another food the Japanese eat is Toshikoshi Soba (年越し蕎麦) (recipe) because the long, thin noodles symbolize longevity.  We used to eat a small bowl of soba (as a snack) while watching the singing contest.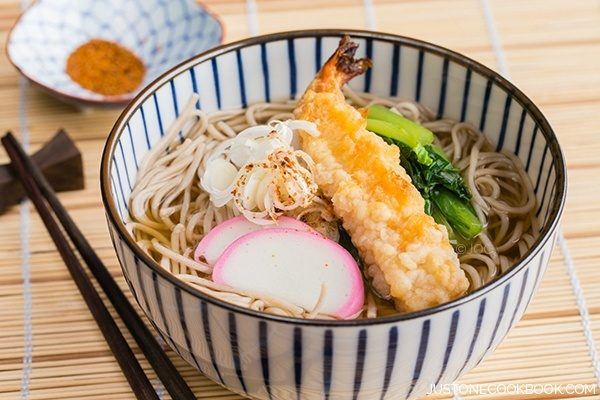 As far as midnight traditions go, the Japanese stay up till midnight to listen to the 108 chimes of temple bell, which we call Joya no Kane (除夜の鐘).  Just before the midnight, temples throughout Japan strike their big bells 108 times.
In Buddhism, ringing the bell 108 times is considered to help people get rid of their evil passions and desires and purify for the upcoming year. The bell is rung 107 times on the 31st and once past midnight.
By Haruo.takagi [CC BY-SA 4.0], via Wikimedia Commons
New Year's Day – Oshogatsu
Although oshogatsu (お正月) means January, it is celebrated for the first 3 days of January in Japan.  Most businesses shut down from January 1st to January 3rd, and families typically go back to their hometowns to gather and spend these few days together.
Some get up really early to go to a popular scenic spot for viewing the New Year's first sunrise, Hatsu Hinode (初日の出).
By 吉田宅浪 [GFDL or CC BY-SA 3.0], via Wikimedia Commons
In the morning of January 1st, family get together to eat Osechi Ryori (おせち料理).  The traditional foods are packed in 2-3 tiered jubako boxes.  What kind of foods do we eat?  Please read this post dedicated for Osechi Ryori.
Along with Osechi, the Japanese eat Mochi (rice cakes) and drink sweet medicinal sake Otoso (お屠蘇) and a mochi soup called Ozoni (お雑煮).  If you're interested in making the mochi soup, I have Kanto-style Ozoni and Kansai-style Ozoni recipes on my blog.
After the meal, the family get together to read Nengajo (年賀状), New Year's greeting cards, which are specially marked to be delivered on January 1.  Nengajo usually have the Chinese zodiac sign of the New Year, as each year is represented by an animal.  2016 is the year of Monkey!
By Halowand [CC BY-SA 3.0], via Wikimedia Commons
One of exciting things for children on New Year's Day is to receive Otoshidama (お年玉), a money gift in small envelope, from their parents, relatives or acquaintances.  I used to look forward to visiting my dad's side of family's get together because he has 5 siblings, and some of my cousins were much older and gave us Otoshidama.
By ©Jnn [GFDL, CC-BY-SA-3.0 or CC BY-SA 2.5-2.0-1.0], via Wikimedia Commons
There are a few games that are traditionally played on New Year and some of my favorite include Hanetsuki (Japanese badminton with a wooden rectangular racket), Takoage (kite flying), and Karuta (a card game).
During the first three days of the New Year, the Japanese also visit a shrine or temple to pray for happiness and good luck in the coming year and this visit is called Hatsumode (初詣).
By spinachdip (Flickr) [CC BY-SA 2.0], via Wikimedia Commons
A popular shrine like Meiji Shrine in Tokyo attracts several million people during the three days.  A lot of people are dressed up with their Kimono and buy a good luck charm called Omamori (お守り). It is kept as a protection from illness, accidents and disasters.
By Kanko* [CC BY 3.0], via Wikimedia Commons
I hope you enjoyed reading a little bit about Japanese New Year.
Happy New Year!
明けましておめでとうございます!
Akemashite omedeto gozaimasu!