Print Recipe
Jump To Recipe
Today's recipe is a rich and flavorful Japanese katsu curry served with chicken katsu or tonkatsu over rice. The crunchy texture with creamy sauce is simply irresistible.
I'd been traveling in Kyoto (京都) for the past 4 days and got to enjoy fabulous food like Kobe Beef, and Kaiseki course.  My Japan adventure continues tomorrow as we head to Hokkaido (北海道), which is known for its fresh seafood, dairy, and vegetable produce.  Follow @justonecookbook on Instagram to see the recent updates!
As some of you may know, Japanese love curry.  I have mentioned in my previous curry posts that Japanese curry is different from Thai or Indian curry.  The sauce is thicker and the spice level is pretty mild because Japanese curry uses curry powder which was introduced by the British.
Watch How to Make Baked Tonkatsu 揚げないとんかつの作り方
Tender and juicy pork loin wrapped in crispy golden panko crust, serve with tonkatsu sauce and ground sesame seeds.
Watch How to Make Beef Curry ビーフカレーの作り方
Savory and hearty beef curry made with beef, potatoes, carrots, mushroom, and Japanese curry roux.
Katsu Curry – A Great Combination
What makes a curry even better?  Try pairing it with deep fried cutlets (we call "katsu").  In Japan, this dish is called Katsu Curry (カツカレー), which is combination of Japanese curry and Tonkatsu (or chicken katsu).  Katsu curry is a perfect way to add extra calories if you are craving a big meal, and Mr. JOC always prefers adding katsu on top when I make curry at home.  The crunchy texture of katsu mixed with addictive creamy curry sauce is simply irresistible.
It can be time consuming if you have to deep fry katsu, but don't worry.  I've shared Tonkatsu and Chicken Katsu recipes which are both oven-baked!  The resulting cutlets are so crispy that you can't tell it's not deep fried.  Both baked tonkatsu and chicken katsu received very positive feedback from readers since they don't require deep frying.  Not a big fan of pork or chicken?  No worries, you can also enjoy katsu curry with Fish Katsu.  I've shared a baked fish katsu recipe but would recommend using a white fish over salmon for this dish.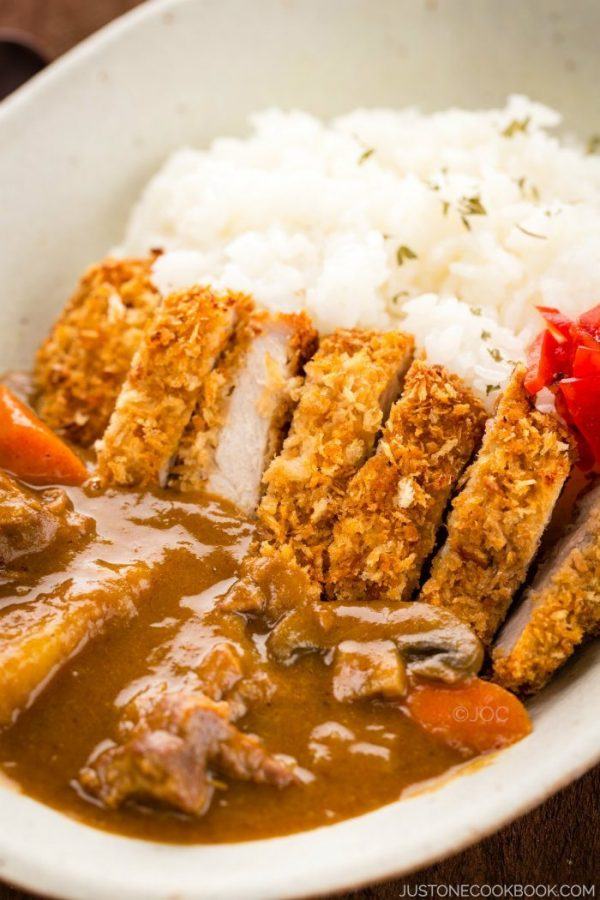 Have Leftover Katsu Curry?
Made a big pot of Japanese curry and ended up eating it for the next 3 days and got a bit tired of it in the past?  No worries, you can actually freeze Japanese curry and enjoy it simply by defrosting and heating up.  While simmering the curry, you can prepare the baked katsu which only takes 30 minutes.  Tip: be careful heating up curry in a sauce pan as it burns very easily.  If you are heating up curry make sure to keep stirring it so it doesn't burn.
If you have tried the Japanese curry or Tonkatsu/Chicken Katsu recipe by itself, but haven't tried this new delicious combination, hope you give this fabulous combo a try!
Don't want to miss a recipe? Sign up for the FREE Just One Cookbook newsletter delivered to your inbox! And stay in touch on Facebook, Google+, Pinterest, and Instagram for all the latest updates.
Katsu Curry
Instructions
Serve steamed rice in a plate/bowl. Place katsu of your choice on top and pour curry sauce. Garnish fukujinzuke on the side.
Recipe Notes
For Simple Chicken Curry recipe, click here.
For Baked Chicken Katsu recipe, click here.
Recipe by Namiko Chen of Just One Cookbook. All images and content on this site are copyright protected. Please do not use my images without my permission. If you'd like to share this recipe on your site, please re-write the recipe and link to this post as the original source. Thank you.