Print Recipe
Jump To Recipe
Happy 2013!  I hope everyone had a nice holiday with your loved ones and I'm back from my little break.  Despite catching a cold that I am trying to get rid of, I got to spend time with friends that I don't get to see often and also had a couple of out-of-town guests stay over at my house, which was really nice.
While I need some time to catch up on my work (please give me a few days to respond to your emails), I hope you enjoy this super quick and easy Japanese Pickled Cucumbers.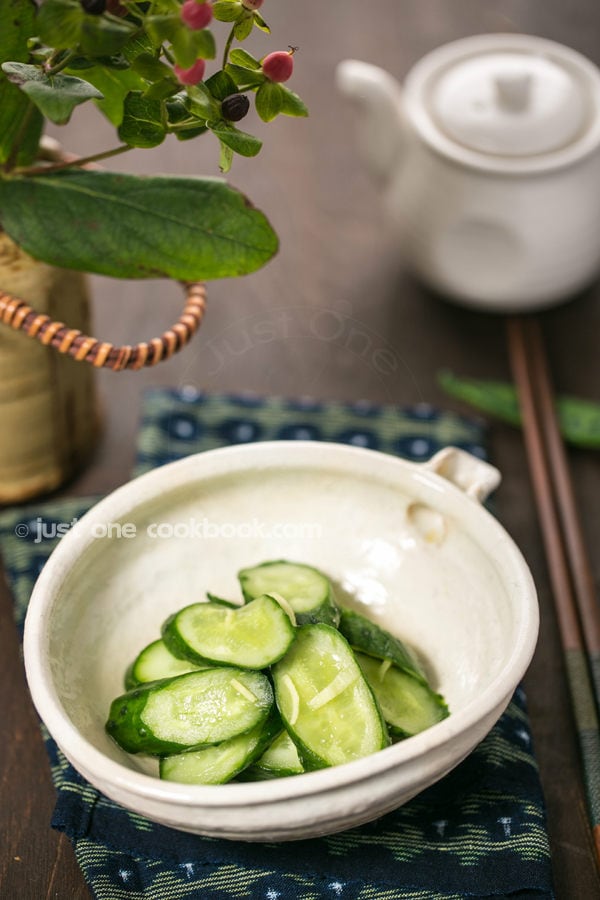 Japanese pickles, or we call it Tsukemono (漬物) in Japanese, is a really important part of the Japanese meal.  One or a few kinds of pickles are always served with rice and enjoyed as a garnish or palate cleanser.
Unlike western style pickles, Japanese pickles are considered as "preserved vegetables" as they are not primarily preserved in vinegar.  They are usually preserved in salt (Shiozuke 塩漬け), rice bran (Nukazue 糠漬け), sake lees (Kasuzuke 粕漬け), soy sauce (Shoyuzuke 醤油漬け), vinegar, (Suzuke 酢漬け), and miso (Misozuke 味噌漬け).
Typically cucumber, Daikon (Japanese radish), eggplant, cabbage, Ume (Japanese plum) are used for Japanese pickles.
Today's pickles are called Asazuke (浅漬け), literally meaning "shallow pickling".  The vegetables are pickled only for a short time between 30 minutes to a couple of hours and usually not as salty as other kinds of Tsukemono.  If you don't like cucumbers, you can also use napa cabbage (hakusai), daikon, and eggplant for Asazuke as well.  I put ginger as seasoning today, but you can also use kombu or chili pepper which are also popular seasoning ingredients.
If you are interested in Japanese pickles, I also have another Pickled Cucumbers recipe and Pickled Turnip with Yuzu recipe.  Have a nice week!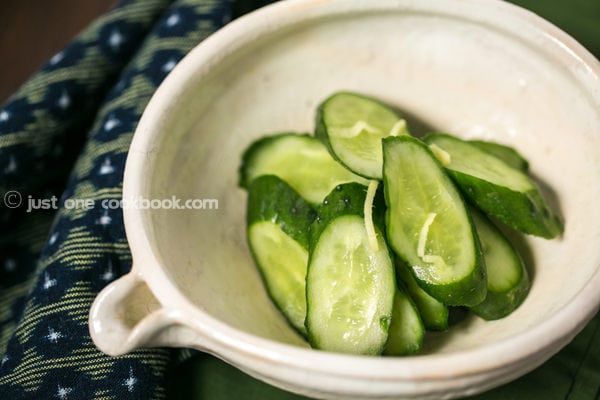 Don't want to miss a recipe? Sign up for the FREE Just One Cookbook newsletter delivered to your inbox! And stay in touch on Facebook, Google+, Pinterest, and Instagram for all the latest updates. Thank you so much for reading, and till next time!
Pickled Cucumbers
Ingredients
3 Japanese cucumbers (250 g, 8.8 oz)
1 tsp. salt (5 g = 2% of cucumber weight)
½ - 1 tsp. ginger
You will also need:
A large Ziploc bag
A heavy object

Instructions
Rinse the cucumbers and cut both sides of the edge.

Rub the 2 piece of cucumbers against each other until you see the small bubbles. It is to remove the bitterness from the cucumber. Discard the two ends.

Slice the cucumbers.

Peel the ginger and cut into julienne strips.

Put all the ingredients in the Ziploc bag.

Remove the air out and seal completely.

Place a heavy object on top of the cucumbers and refrigerate it for 1-2 hours. Here I sandwiched the Ziploc bag with two plates and then put the mortar on top. I recommend 3 hours at most otherwise it gets too salty. Check the level of saltiness according to your preference. Serve and enjoy.

Notes
Recipe by Namiko Chen of Just One Cookbook. All images and content on this site are copyright protected. Please do not use my images without my permission. If you'd like to share this recipe on your site, please re-write the recipe in your own words and link to this post as the original source. Thank you.