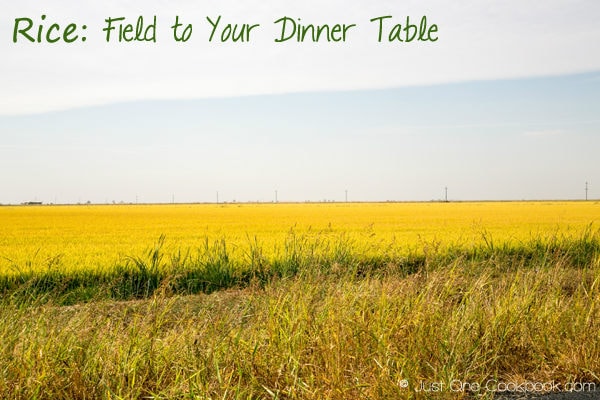 Last month we were graciously invited by our friends at Far West Rice to visit their milling facility.  I was really excited about the trip, as my grandfather was a rice farmer in Taiwan.  I also wanted my children to have the first-hand experience of how food arrives on the table as an educational learning experience for them.
Before I share the details of the trip, we want to thank Greg, Bill, Chris, Melanie and the rest of the Far West Rice family for an amazing day.  My family and I had so much fun learning about rice farming and milling, and we look forward to visiting again.  There are only fourteen rice mills in all of California, so we feel really lucky to have this wonderful experience.
Welcome to Rice Country.
Far West Rice is located in Nelson CA, about 30 minutes south of Chico.  It is a family owned company specializing in the milling and marketing of high quality medium and short grain varieties.   We immediately noticed how clean and organized the facility is when we arrived.
Our fun filled day started with Greg introducing us to the philosophy of Far West Rice: a high quality product with Just In Time milling, which differentiates them from rest of the larger millers.  Chris then taught us about the basics of rice; he explained the difference between brown rice and white rice, and gave us a tour of their quality control process.
Later on in the day, we got to observe the entire milling process.  In addition to their passion to deliver quality rice products, we learned that Far West Rice was also the first miller in the region to use solar power.  Their panels cover four acres with 5,500 Photovoltaic Modules producing 821 kilowatts!  It's part of Far West Rice's culture to promote a sustainable future.
Now, are you ready to see how rice is harvested and milled?  Our stories are divided into 3 parts.  Grab a cup of tea and sit back and enjoy the rice journey.