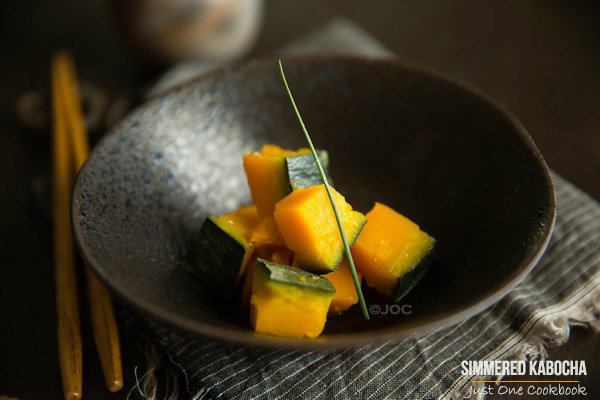 Have you tried Kabocha (カボチャ, 南瓜) before?  It's called Kabocha squash in the U.S. and Japanese pumpkin in Australia and New Zealand.  This Simmered Kabocha is one of the easiest way to cook kabocha, and it tastes amazing too!
Japanese Kabocha squash (image courtesy of San Diego Union Tribune)
What is Kabocha?
Kabocha is an Asian variety of winter squash, but in Japan we refer to it as pumpkin.  It is very hard and has very thick deep green skin, not particularly "pretty."  But when you cut it open (it requires some strength to cut through), you will see a beautiful intense yellow-orange color inside.
Because kabocha is naturally very sweet, sweeter than butternut squash, a nice way to enjoy the kabochoa's natural flavor is to simmer it, with minimum seasonings.  For this recipe, I used only shio koji, which brings out nice umami from kabocha.
Kabocha is very moist and has chestnut-like fluffy texture.  It's also filled with beta-carotene (which will be converted to vitamin A in the body), iron, vitamin C and B.
Interested in other ways to enjoy kabocha?  Try Kabocha Tempura and Kabocha Salad.  They are so delicious!
To get the Simmered Kabocha with Shio Koji recipe, click here over at Hikari Miso's website.
Note: If you cannot find shio koji, use 2 tsp. sea salt instead.
Hikari Miso products are available in Japanese grocery stores and Amazon.
Disclosure: This post is sponsored by Hikari Miso.  To read more about my partnership with Hikari Miso, click click here.
If you want to make Homemade Shio Koji, watch this short video below.  For the step-by-step recipe, click here.  Thank you for reading my blog, and I hope you will try to experiment cooking with shio koji!