Print Recipe
Jump To Recipe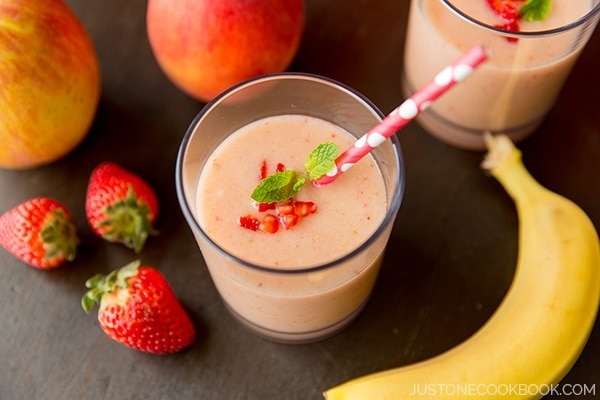 The smoothie recipe is back!  The majority of California didn't experience winter-like weather this year (again) and went straight to spring in February, and now we are having warm weather just like early summer!
I constantly remind myself that I need to lose some weight now in order to enjoy delicious food in Japan this summer.  My annual trip home is coming up sooner than I think, and this healthy smoothie is exactly what I need.
Enjoy Smoothies instead of Snacking on Cookies
The benefit of living in California is we get abundant fresh fruits all year around.  If I had been living here all my life (like my kids), I wouldn't know this is not the norm.  For example, fruits are very expensive in Japan and a huge glass/cup of fresh smoothie?  Forget about it!  I wonder if the high cost of fruits is why smoothie shops and and smoothie itself is not so common in Japan.
Anyhow, I love making smoothies for my family trying out different combinations and I drink smoothies between meals instead of snacking not-so-healthy foods.  Smoothies are delicious and you also get some fibers, nutrition, and refreshment at the same time.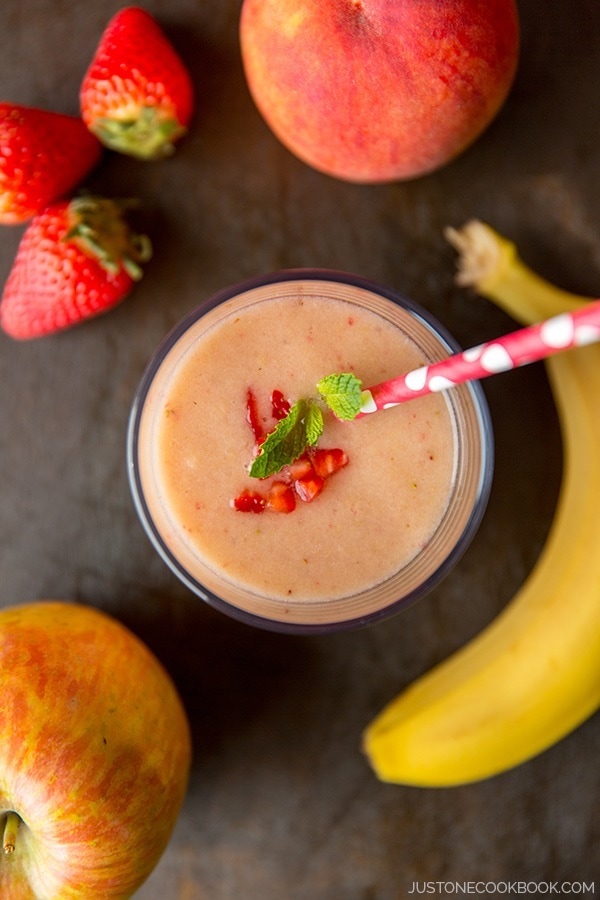 What's your favorite fruit for Smoothies?
If you enjoy making smoothies, what's your favorite fruit and combination of fruits?  I use a banana as a natural sweetener for most of my smoothie.  I like the flavor of banana and it adds nice creamy texture to the smoothie.
In case your favorite fruits are not in season, try frozen fruits for smoothies.  Costco usually carries a variety of fruits including organic options sometimes.  Oh, in case you are wondering, frozen fruits in Japan are also expensive… I will definitely miss my smoothies when I'm in Japan this summer.  Enjoy!
Here's the video on How To Make Strawberry Banana Smoothie on my YouTube Channel! I hope you enjoy this recipe!
Don't want to miss a recipe? Sign up for the FREE Just One Cookbook newsletter delivered to your inbox! And stay in touch on Facebook, Google+, Pinterest, and Instagram for all the latest updates. Thank you so much for reading, and till next time!
Strawberry Banana Smoothie
Ingredients
3 strawberries
1 banana
½ apple (I use Fuji apple)
½ peach
¾ cup almond milk*
4 ice cubes (if you use fresh fruits)

Instructions
Cut ingredients into smaller chunks and put them in an electric blender/mixer or NutriBullet.

Blend until all the ingredients are combined and smooth.

Pour into a big glass or two small glasses. Serve immediately.

Notes
*Instead of almond milk, you can use soymilk, cow's milk, water, and coconut water.
Recipe by Namiko Chen of Just One Cookbook. All images and content on this site are copyright protected. Please do not use my images without my permission. If you'd like to share this recipe on your site, please re-write the recipe in your own words and link to this post as the original source. Thank you.