Print Recipe
Jump To Recipe
Learn how to make udon noodles from scratch. You'd be surprised how easy & fun to give this homemade recipe a try! With a little bit of footwork (yes, read on to find out more), you'll get some delicious homemade noodles that is far more superior than store-bought ones.
One of the easiest Japanese noodles that you can make at home is Udon Noodles (うどん).  Today I'll share with you how to make this popular Japanese noodles from scratch, and since Valentine's Day is just around the corner we'll make a pink version!
How do we color it pink?  We use homemade natural food coloring – beet juice!
Why beet juice?  I'm collaborating with other talented YouTubers for Tastemade's new "Hero Series", and the ingredient for this month's series is beets.  At the end of my YouTube video, you will see the playlist of all the recipes so please check them out!
Watch How To Make Udon Noodles 手打ちうどんの作り
Making delicious udon noodles at home requires just water, salt, and flour, and nothing beats the flavor and texture of fresh homemade udon.
What is Udon Noodles?
If you are familiar with Japanese food, you've probably had udon before.  In case you haven't tried before, udon is a type of thick wheat flour noodle used commonly in Japanese cuisines.  White, thick, chewy yet soft noodles are enjoyed many ways.   With a neutral flavor, udon noodles can be served in hot dashi soup (made with kombu and bonito flakes), or eaten cold by dipping in a soy-sauce based sauce, or stir fried with meat and vegetables.
Making
Udon Noodles

from Scratch

Living in San Francisco, it's easy for me to access to all kinds of Japanese products and produces, including udon noodles.  I always have this package of frozen Sanuki Udon readily in my freezer and I don't really have to make my own noodles.

Then why do I make udon noodles from scratch?
It's really delicious!  Especially if you have been eating refrigerated udon noodle packages sold in Asian markets… the texture of noodles are usually not very tasty.  The noodles break too easily, the taste is floury, and texture is very rubbery.  Homemade noodles?  It's nice and chewy!  The udon noodle has a nice elastic texture.
Easy!  You only need

3 ingredients

: flour, water, and salt!  The methods to make udon are very straightforward.
No special kitchen gadget required like a pasta machine.
Also, if you enjoy making food from scratch, like these Homemade Gyoza Wrappers, you will definitely enjoy making udon noodles in your own kitchen.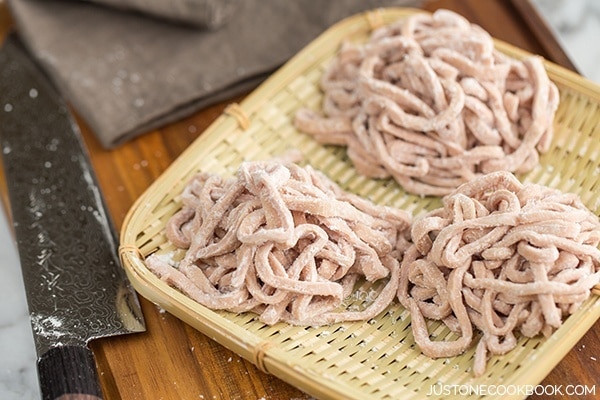 Challenges with Making Udon Noodles
To be honest, there are a few drawbacks (but not big deal IMHO) with making udon from scratch.
It takes time.  To be exact, at least 4-5 hours including inactive time.  

The dough needs to rest to relax gluten

.
It's a bit of a workout.  Considering you will enjoy the heavenly noodles, this is not too bad, right?  Compared to bread dough, udon noodle dough is harder.  You will need some strength to roll out the dough.  And this leads to my third point.
It requires your FEET.  What???  Yes, I'm not joking.  Because the dough is pretty hard to knead with hands, the Japanese use our feet to do the work.
If I haven't said yet I must tell you, IT's SO WORTH IT!  My family enjoys these homemade noodles every time I make them.  The taste and texture are much better than even the best store bought brands, and no preservatives!
Measuring for Udon Noodle Recipe
The ingredients and methods for making udon noodles are very simple.  I recommend the following measurements for one serving.
1 serving = 100 grams of all purpose flour + 50 grams of salted water (salted water = 5 grams of salt and 45 grams of water)
* 45 grams of water means 45 ml/cc.  
So… simply for two servings,
2 servings = 200 grams of all purpose flour + 100 grams of salted water (10 grams of salt + 90 grams of water)
4 servings = 400 grams of all purpose flour + 200 grams of salted water (20 grams of salt + 180 grams of water)
and so on…
For the best result, please use a kitchen scale (I started to use it more so that I can give you precise measurement).  I purposely didn't include a "cup" measurement (I'm sorry!) as 1 cup of flour varies depending on how you measure it, whether it's been sifted or not.  So by using the weight it's the most accurate.
Tips and Tricks
Do not skip "resting" time.  I know, we are all busy and we don't have time to wait around.  However, in order to achieve good chewy udon texture, hang in there, at least for your first try!  I actually have tried skipping "resting" and made a quick version of udon.  They turned out okay, and probably better than those refrigerated udon noodles from the stores, BUT they are

not comparable

 to the ones that had enough resting time.
Get a 5 gallon Ziploc bag if you are making more than 2 servings.  If you have a clean thick plastic bag, then that's okay too.  Don't use a thin bag because you might rip it.  1 gallon bags will be way too small for 3 servings and more.
Knead with your feet until the dough is as soft as your ear lobes.  It's going to be much harder to roll with your hands later if your dough is not soft enough.
Cover your dough with a plastic bag when you are resting to keep the moisture in the dough, and remove as much as air as possible.
Roll out the dough to a square shape so that the noodles will be equal length.
Use a sharp knife to cut the noodles.  If it's a dull knife, the sides of noodle will not have a clean cut.  Part of the texture that makes udon unique as you are eating them is its clean edge.
So… Beet Pink Udon, Yay or Nay?
I personally loved it, even though I'm pretty traditional when it comes to Japanese food.  The best part is that you don't really taste the beets.  I mean, I can sense it, but it's definitely not a significant amount of flavor.  I'm comfortable to serve it to someone who is not a big fan of beets.  Depending on how you serve these udon, you are not likely to taste the beets at all.
The shade of pink color really depends on how much beet juice you use.  I have tested enough times that I know exactly how much beet juice I wanted for this recipe, but you have to slowly combine the water and beet juice to achieve the right shade of pink you want.
My daughter LOVES these pink udon noodles.  I guess I can make these all year around and not necessarily just for Valentine's Day in my house.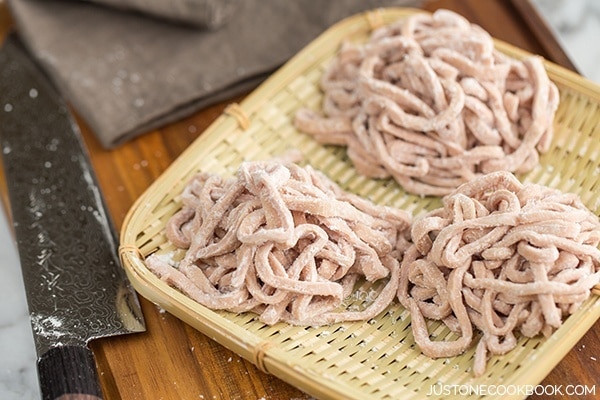 Don't want to miss a recipe?  Sign up for the FREE Just One Cookbook newsletter delivered to your inbox!  And stay in touch on Facebook, Google+, Pinterest, and Instagram for all the latest updates.  Thank you so much for reading, and till next time!
Udon Noodles
Ingredients
For regular white udon
200

g

all-purpose flour

(200 g = 7 oz)

90

g

water

(90 g = 90 ml)

10

g

Kosher salt

(10 g = about 2¼ tsp)

potato/corn starch

(or flour for rolling and dusting)
For pink udon
200

g

all-purpose flour

(200 g = 7 oz)

80

g

water

(80 g = 80 ml)

10

g

Kosher salt

(10 g = about 2¼ tsp)

potato/corn starch

(or flour for rolling and dusting)

10

g

beet juice

(10 g = 10 ml) (or about 2 tsp)
Instructions
Gather all the ingredients. If you are making white udon, skip to step 5.

Peel and slice the beet root into ½" (1.3 cm) thickness.


Put sliced beets and 1 cup of water in a small saucepan and cook for about 20 minutes until the beet juice is reduced to about 2 Tbsp.


Save the beet juice in a small bowl. Combine 80 g (80 ml) water and 2 tsp. of beet juice. Add the 2 ¼ tsp. salt and mix until it's completely dissolved.


Combine 90 g (90 ml) water and 2 ¼ tsp. salt and mix until it's completely dissolved.


Place the flour in a large bowl and add the salted beet juice (for pink udon) or salted water (for regular udon) little by little while mixing with hands.


Combine the dough until there is no dry flour left and form into a ball. If there is some flour left, add tiny bit of water. Then place the dough in the large durable plastic bag (such as 5 gallon Ziploc bag). Close the bag leaving a small air gap and leave it for 20-30 minutes to relax the gluten.


Just in case the plastic bag breaks, place the bag between 2 kitchen cloths on the floor. Step on the dough with your feet (heels) using your weight. Turn around and press from the inward to outward. You can do this step with your hands, but it will take more effort and time. Stepping udon dough with your feet is a common practice in Japan! Step on the dough until the dough is completely flatten.


Take out the dough and fold it into a ball again. Place it in the bag and close the bag leaving a small air gap.


Step again until the dough is stretched and flatten. Take out the dough and fold into a ball again. Prepeat this process one more time (total 3 times), or until the dough is soft just like ear lobe (that's how we say in Japan).


After the 3rd round of stepping the dough, fold it into a ball and place in the plastic bag. Seal tight and rest the dough for 2 hours (3 hours or overnight in winter).


Dust the working surface with potato/corn starch and take out the dough. Form a nice round ball and then flattern with your hand.


Using a rolling pin, stretch the dough into a rectangular shape. Dust the dough with portato/corn starch in between to make sure the dough is not sticky. Turn the dough 180 degree and stretch it evenly.


Once it's nice rectangular shape, turn 90 degree and stretch to make it into square. If the dough is square, all the nodles will have the same length when you cut them.


When the dough is a square shape, roll the dough into a rolling pin and stretch to let the rounded corner into more pointed tip. Make the dough into 3 mm (1/8") thickness.


Dust the potato/corn starch on top of the dough and fold the dough like an accordion.


Put more potato/corn starch on top and then cut noodles into 3 mm (1/8") thickness. Pick up some noodles and fluff the noodles to make sure the noodles are covered with the potato/corn starch to prevent from sticking to each other.


If you cook immediately, boil a big pot of water and cook for 10-12 minutes (depending on thickness of your noodles). Stir the noodles so they don't stick to each other. Drain and rinse well with cold water to remove the starch. Drain and they are ready to use for your favorite udon recipe.

If you don't use the udon noodles right away, divide them into small portions (100-150 g per person) and freeze in an airtight containers/bags for a month. You can refrigerate for a few days but it tastes better when you freeze the fresh udon right away. To cook frozen udon, boil for 12-13 minutes without defrosting.
Recipe Notes
Recipe by Namiko Chen of Just One Cookbook. All images and content on this site are copyright protected. Please do not use my images without my permission. If you'd like to share this recipe on your site, please re-write the recipe in your own words and link to this post as the original source. Thank you.