Fujiko F Fujio Museum, or known to fans as Doraemon Museum is a museum dedicated to the ideas of Hiroshi Fujimoto. Part of the artist duo that created the iconic anime character Doraemon.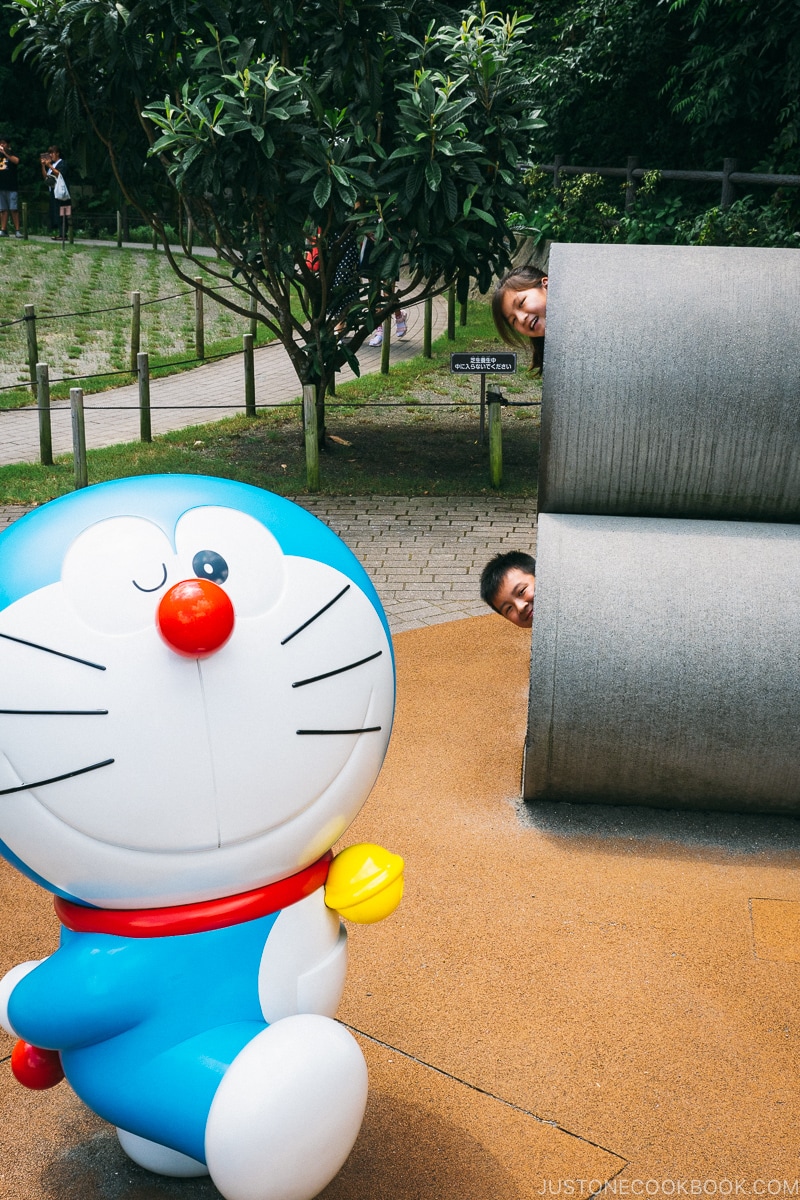 Located about 40 min southwest by train from Shinjuku in the quiet suburb of Kawasaki is Fujiko F Fujio Museum. A museum exhibiting the original artwork and ideas of Fujiko F Fujio. Our family had an amazing fun time at the museum and highly recommend it for anyone who is a Doraemon fan.
How to Get to Fujiko F Fujio Museum
It's not as straight forward to get to the museum as other tourist locations around the Tokyo area. From Shinjuku or Shibuya Station, head to Noborito Station in Kawasaki. It's a 5 min bus ride or 20 min walk from the station to the museum.
Driving to Fujiko F Fujio Museum is not recommended as the museum does not offer any visitor parking on-site and there's limited public parking nearby.
Who is Doraemon
In case you aren't familiar with Doraemon, he's a robotic cat who traveled back in time from the future to live with Nobita-kun. As far as I could remember, the first Japanese anime I fell in love with when I was two or three years old was Doraemon.
The creative gadgets he would pull from his pocket episode after episode to help Nobita and his friends kept me laughing and entertained through my youth, as well as many others around the world.
This year is the 50th anniversary of Doraemon and even after so many years, he's still a cultural icon and could be seen all over Japan.
Who is Fujiko F Fujio
Did you know there were actually two artists behind Doraemon? The pen name the duo used was Fujiko Fujio, and their real names were Hiroshi Fujimoto and Motoo Abiko. The two artists collaborated from 1954 through 1987 on not just Doraemon but numerous other works as well.
After the duo split due to their creative directions, they released the works under Fujiko A. Fujio and Fujiko F. Fujio.
Both artists worked in Kawasaki and after Fujiko F Fujio's passing, his wife worked with the city to build the Fujiko F Fujio Museum to continue sharing his messages of dream, hope, friendship, courage, curiosity, and his affection for people.
Fujiko F Fujio Museum Tour
Before heading to the museum be aware that they do not sell any tickets there. All tickets have to be purchased at Lawson's convenience store or online before heading there. Expect to spend 1.5 – 2 hours to tour the museum.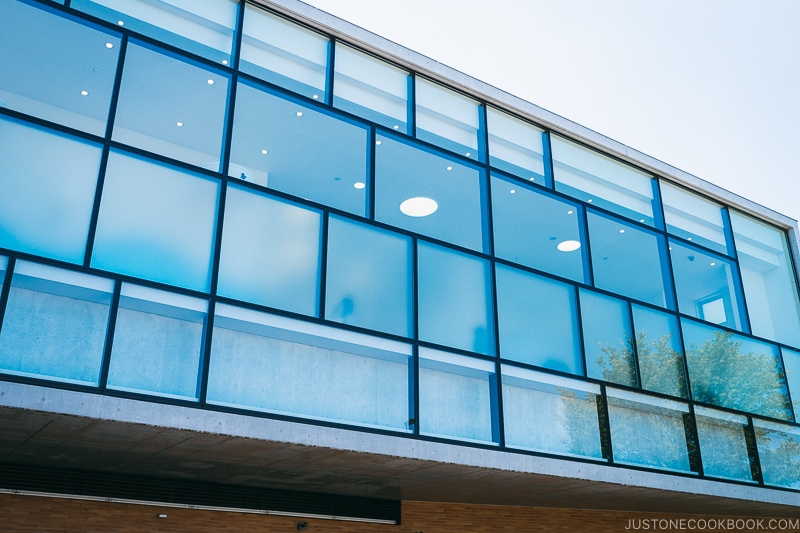 The tickets are sold in 2-hour increment time slots, with entry times at 10 am, 12 pm, 2 pm, and 4 pm. The prices (in 2020) are:
1,000 yen for adults,
700 yen for middle and high school students
500 yen for 4 years and older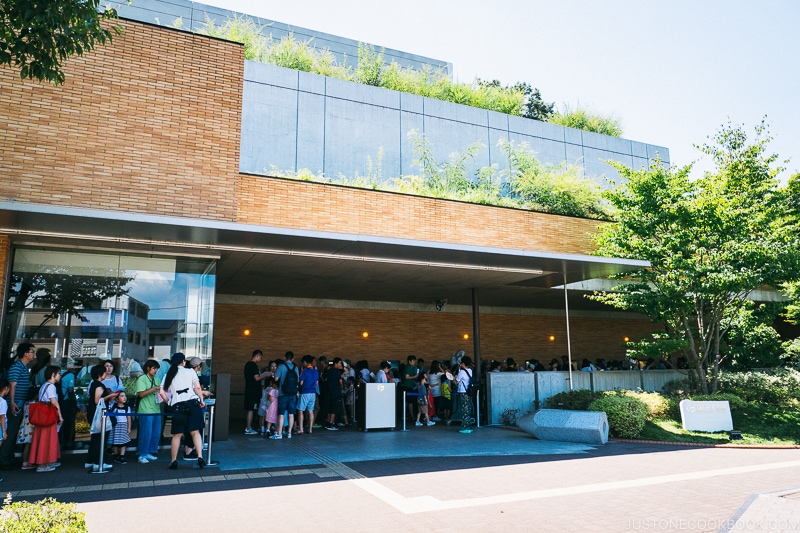 Audio Guide
The museum is very thoughtful to provide a complimentary audio guide to all guests available in several languages. As visitors walk through the exhibitions, you press on numbers on the guide associated with the exhibit. The audio guide will explain the story behind the art being displayed.
Fujiko F Fujio Museum Exhibitions
There are two main exhibition rooms, one for the permanent exhibition and the other for the temporary exhibition. There are no photos allowed in either exhibition rooms so we didn't take any.
The permanent exhibition includes original Doraemon artworks by Fujiko F Fujio and how the celebrated character has evolved over the fifty years. The temporary exhibition has rotating original artwork on specific themes.
Besides the exhibitions, there's a theater that will show a short movie on the birth of Doraemon.
Rooftop Playground
After viewing the exhibition and the short movie, visitors can head out to the rooftop playground. The rooftop playground contains familiar scenes from the comic book and replica of gadgets used in the stories.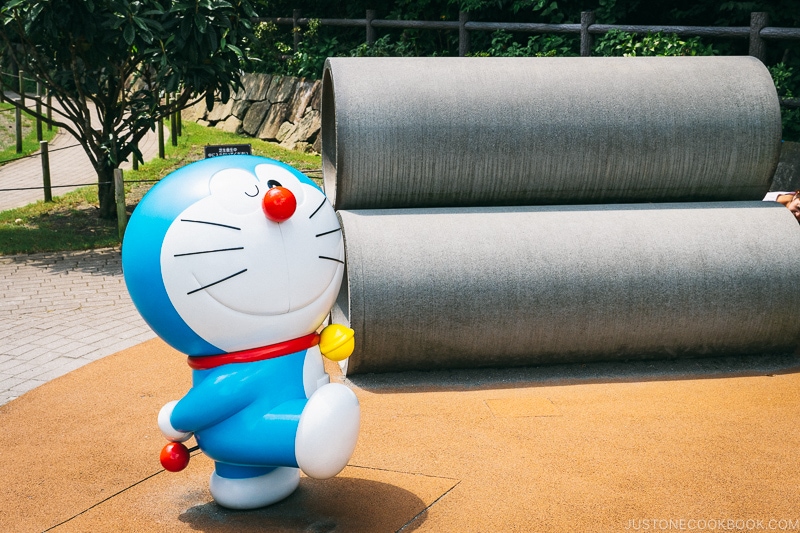 People's Plaza
We had a great time as a family walking through the museum as my children are also super fans of Doraemon. As we finished the exhibits and the outdoor area, we ended our trip at the People's Plaza before leaving.
In the People's Plaza area, there was a Rube Goldberg machine on one side but more interestingly there is a miniature replicate of Nobita-kun's house.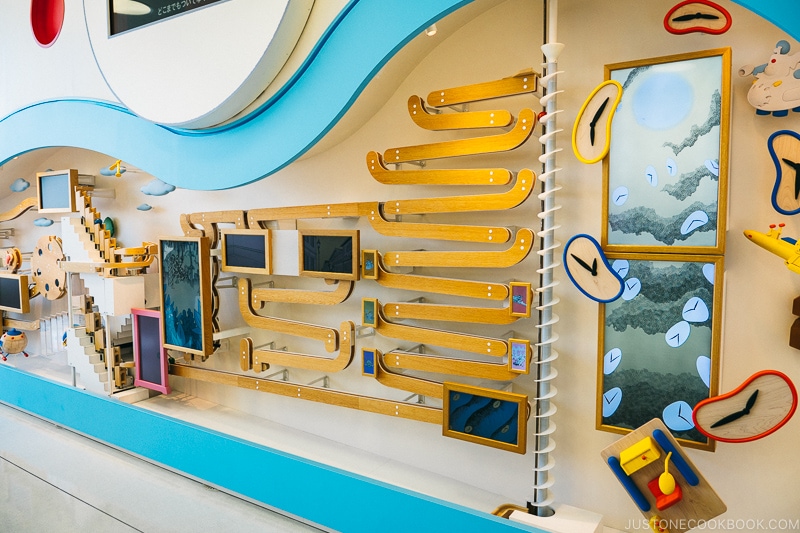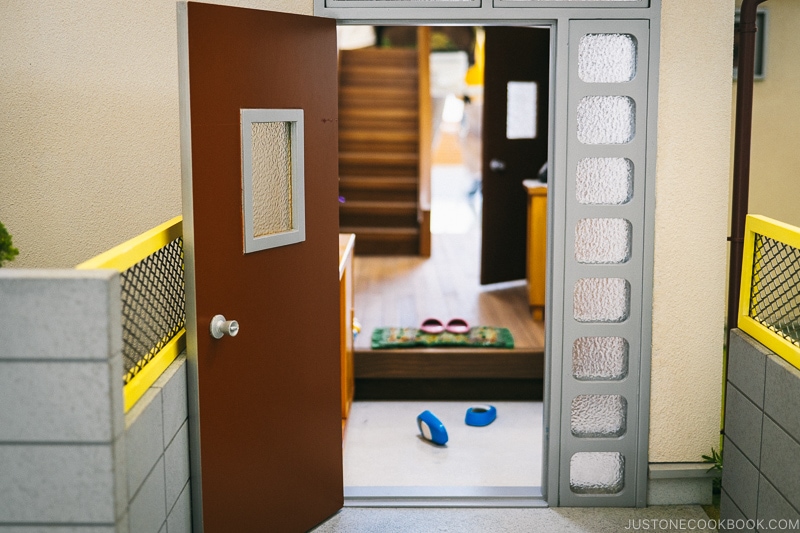 The replica was so detailed, including slippers at the door. Nobita-kun's bedroom included games and books on the bookshelf, exactly like in the comic books.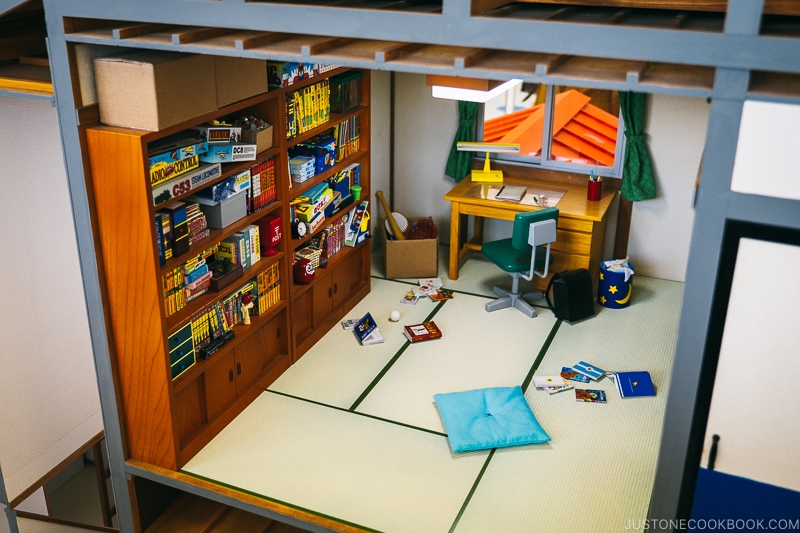 Thank you for visiting Fujiko F Fujio Museum with us. The visit to the museum exceeded our expectations and we highly recommend visiting if you love Doraemon.
If you are interested in our adventures throughout Japan or planning to travel there soon, head over to our Japan travel guides.