Print Recipe
Jump To Recipe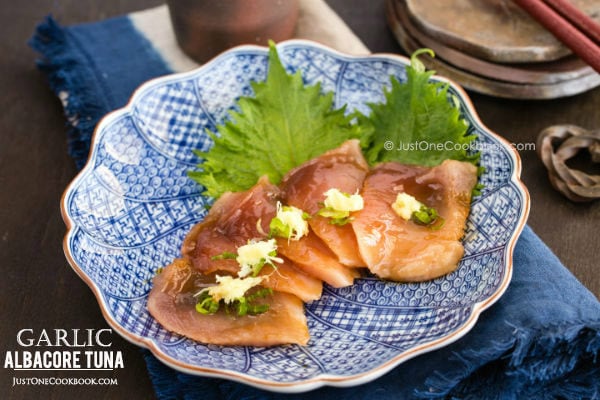 I'm really happy to share an exciting news with you today!  I just launched an online sashimi store called FishforSushi.com!!  The store specializes in super-frozen tuna and other sashimi-grade fish commonly used for sushi such as this really tasty Albacore Tuna (shiro maguro).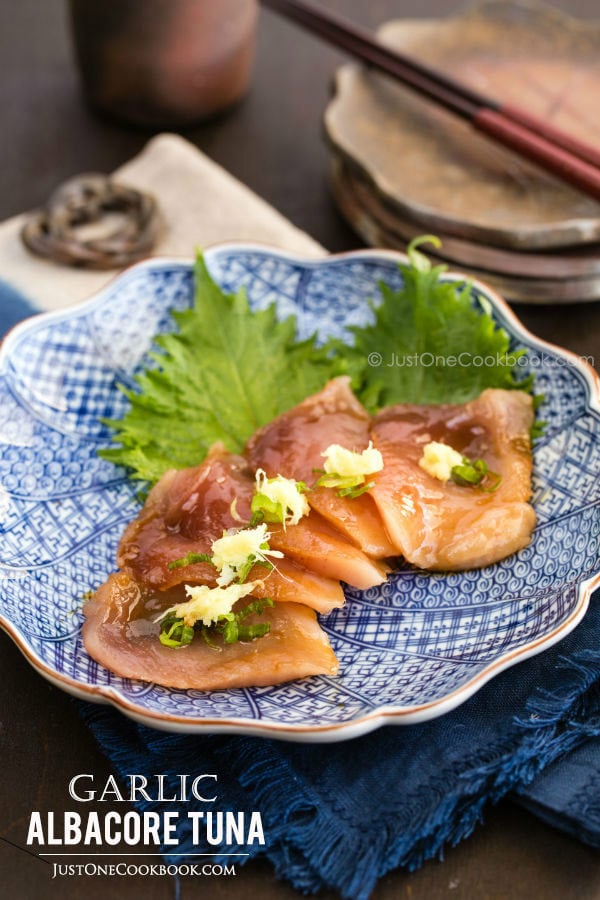 Before I share more about my store, let's talk about today's recipe first.  Albacore sashimi is very popular in Japanese restaurants due to it's soft texture and mild flavor.  It differs from yellowfin and other tuna species because its meat is more white.  In the U.S., it is the same tuna as the "white meat" canned tuna.  Since the albacore sashimi flavor is mild, it easily absorbs other flavors.
For today's recipe, I made a garlic soy sauce for the albacore sashimi and garnished it with ginger and scallions.  This recipe take just 10 minutes from beginning to finish and it was a hit when I served it at a party.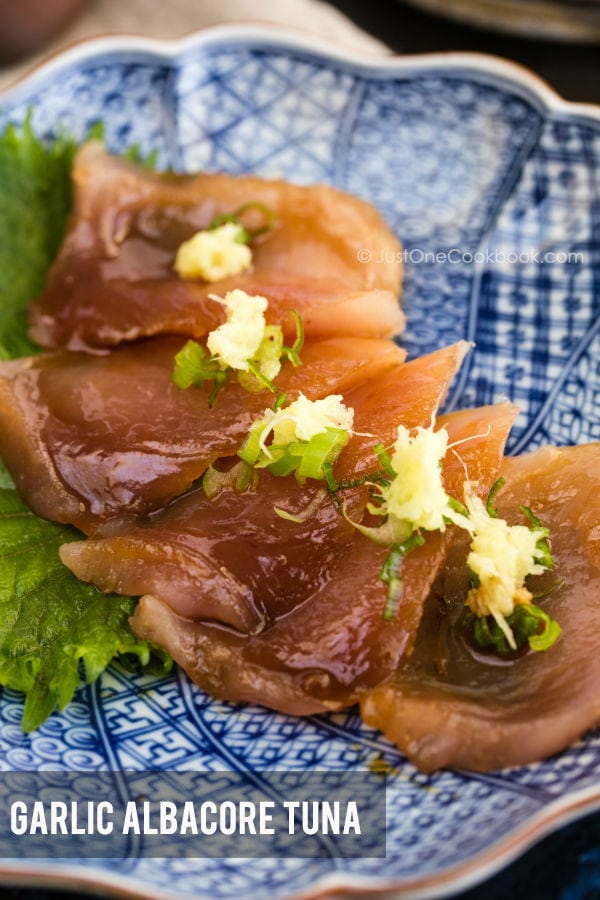 Now about the store.  I've been working hard for the past 6 months to launch the site and I'm so happy finally it's up and running.  You may wonder why I started an online sashimi store and there are actually a few reasons.
First of all, I often get asked from Just One Cookbook readers if I know any online stores I would recommend for sashimi.
Secondly, even living in the bay area it's not easy for me to find high quality sashimi-grade fish.  I miss the really delicious sashimi I get to enjoy when I go back to Japan.  Since I want to be able to enjoy restaurant quality sashimi right in my own home, I thought perhaps others might want the same.  The quality of fish on FishforSushi.com reminds me of the sashimi quality I enjoy in Japan.
I'm really happy to introduce my store to those of you who haven't had easy access to great sashimi-grade fish.  My price is reasonable compared to the prices at my local Japanese markets and I am very proud of the high quality fish.
The stock I carry focuses on food safety and none of my sashimi is CO (carbon monoxide) treated.  All CO treated tuna is banned for importation and sale in Japan, Australia, New Zealand, EU countries, Taiwan and China, but unfortunately the U.S. still allows such practice.  You can read more about it at Food and Water Watch.
Due to regulations and shipping time, I am currently only shipping to the lower 48 states.  If you have any questions about the products, please contact [email protected].
FishforSushi.com | Follow Facebook for news and updates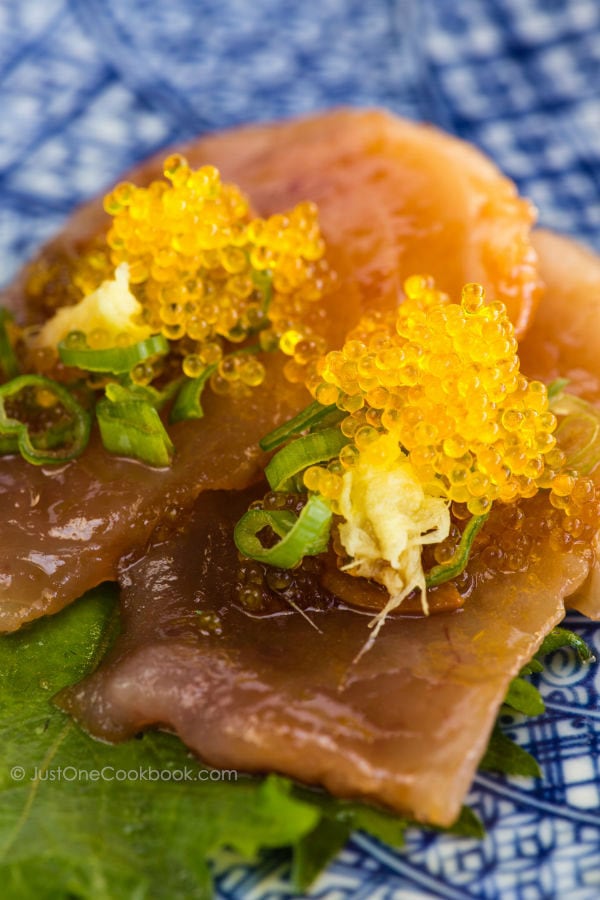 Now are you ready for this delicious appetizer dish?  Check out how quickly I made this amazing appetizer in the video below (and don't forget to subscribe my channel! :)).  You can order the frozen sashimi-grade albacore here.
Garlic Albacore
Course:
Appetizer, Main Course
Instructions
Gather all the ingredients.

Slice the garlic and scallion.


Grate the ginger.


In a small saucepan, heat the sesame oil over medium heat and add the garlic slices when the oil is hot.


Cook the garlic until fragrant and add soy sauce.


Bring the sauce to boil and lower the heat to simmer for 15-20 seconds. Remove from the heat.


Cut the albacore tuna into about 1/4 inch slices.


Plate the tuna on a serving plate and brush the garlic sauce. Top with scallion and ginger and garnish with tobiko. Serve immediately.

Recipe Notes
Recipe by Namiko Chen of Just One Cookbook. All images and content on this site are copyright protected. Please do not use my images without my permission. If you'd like to share this recipe on your site, please re-write the recipe in your own words and link to this post as the original source. Thank you.