Juicy and sweet, these succulent oven-baked Honey Garlic Pork Chops are simply irresistible. The flavorful sauce with honey and a hint of garlic has all the allure. Serve with a side of roasted vegetables for a worthy weeknight dinner!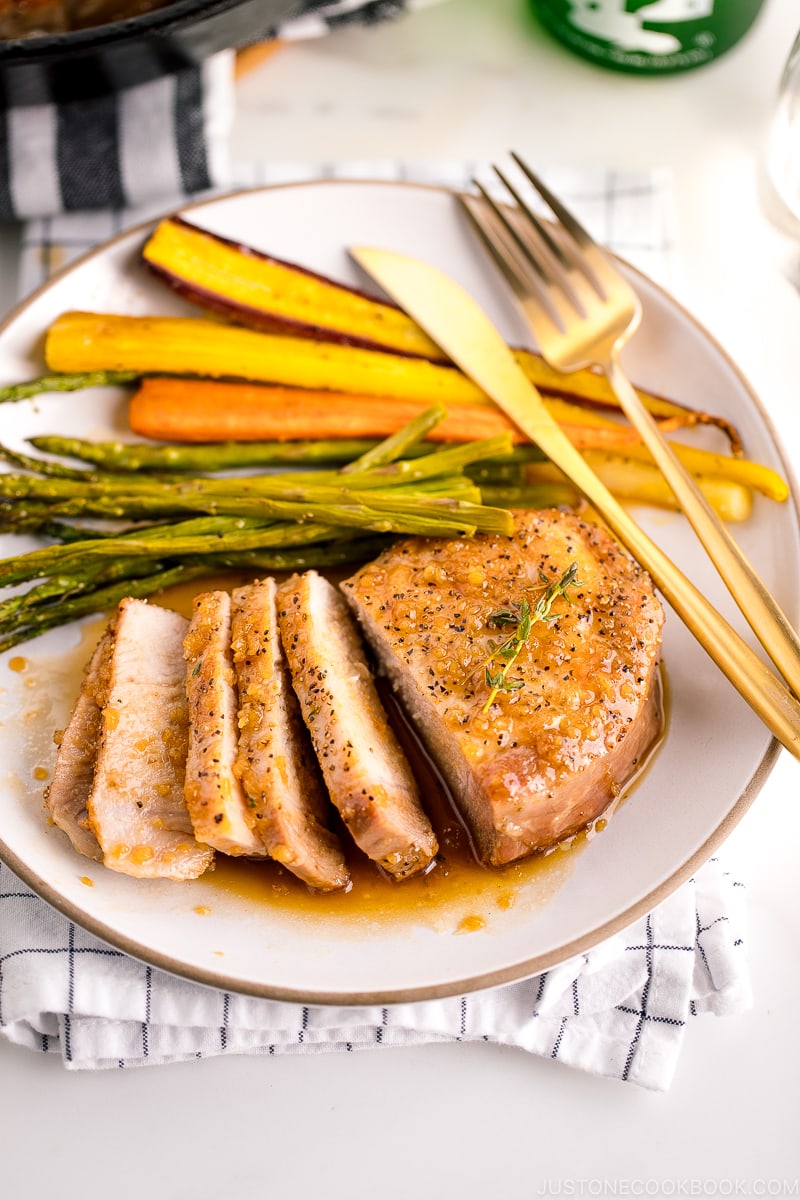 Pork chops have been making more frequent appearances on our dinner table in recent years. It's a versatile piece of protein and we can easily season it to our liking.
Regrettably, when most people think of pork chops, images of dry, overcooked, and chewy texture come to mind. If you've suffered from rubbery meat in the past, this Honey Garlic Pork Chops recipe is going to change your mind!
I'll show you how to make perfect juicy pork chops at home with a ravishing honey garlic sauce. Get ready to restore pork chops to a culinary favor!
Why You'll Love Making This Pork Chops Recipe
Mr. JOC and I love making pork chops at home because it's really easy. To make them juicy, there is just one simple step to prep the pork chops prior to cooking. And it's dry brining!
But first, talk to your local butcher for the most marbled cut of pork chop they have. The quality of the pork chops (bone-in or boneless) will have the most impact on the final result. If pork chop is too lean, regardless of how well it's cooked the texture will taste dry. If you don't have a great meat shop nearby, I recommend pork chops from Crowd Cow and Snake River Farm.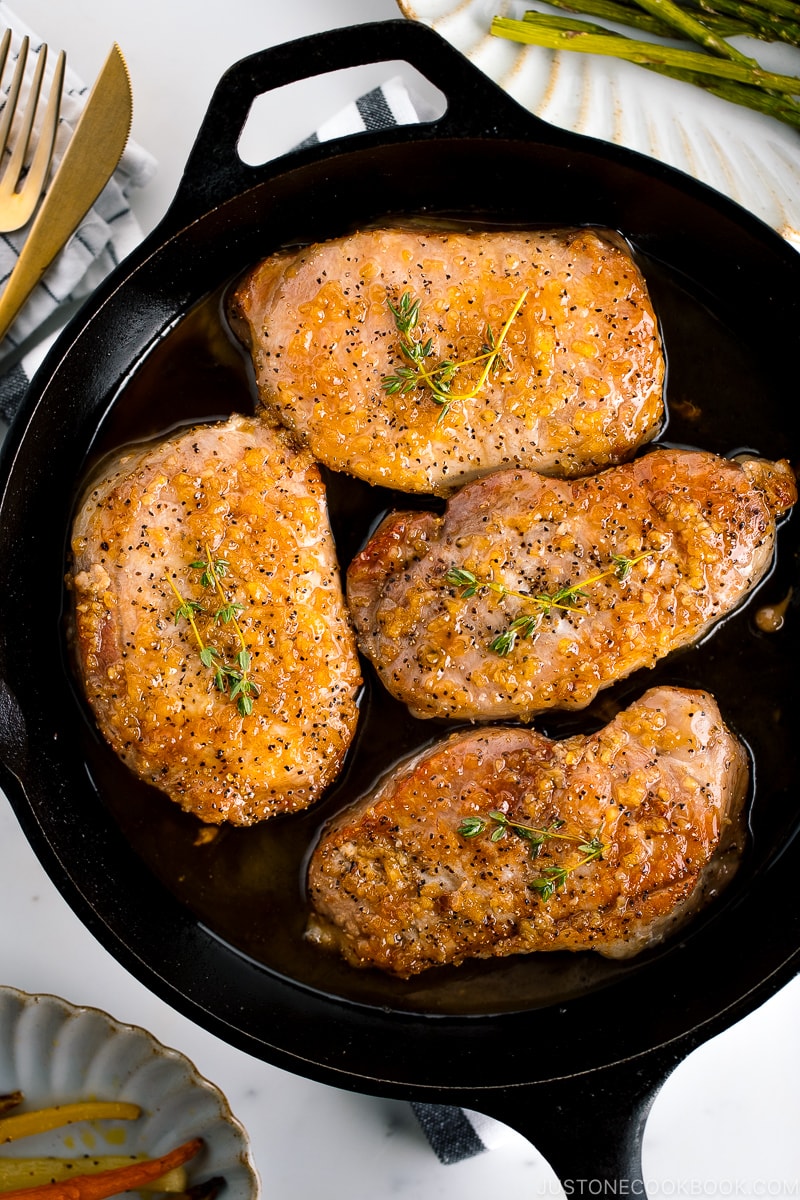 3 Juicy Secrets to Make Perfect Pork Chops
Here are the basic steps to making the perfect pork chop. Once you have it nailed down, you are guaranteed some great results. And yes, you can test it with your favorite seasonings and sauces.
Secret 1: Dry Brine Pork Chops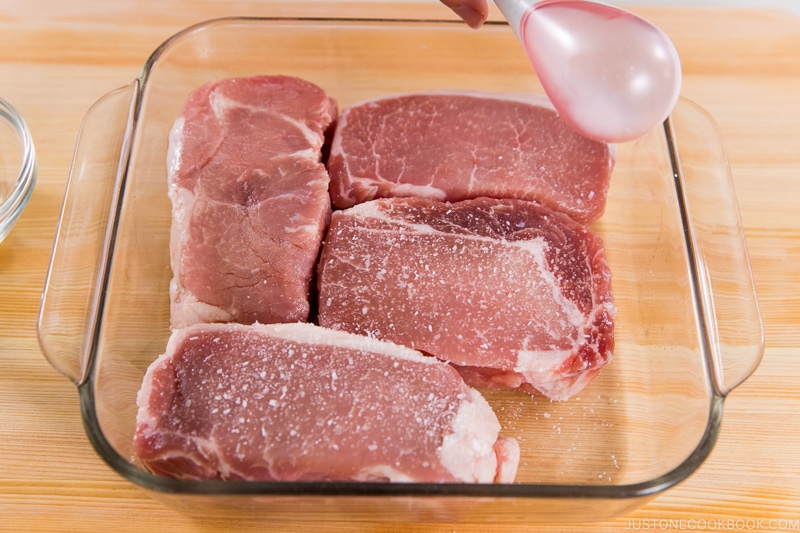 So what's the secret for making a pork chop juicy? It may sound counterintuitive, but the way to make a piece of pork chop (or steak) juicy is by adding salt to it and let it sit. There are recipes out there that call for all types of brining concoctions, with herbs and various other ingredients. I like to keep it simple by just using kosher salt.
Generously sprinkle kosher salt on a pork chop and let it sit in the fridge for 24 hours. If you plan on using the oven method, keep it covered. If pan-seared cooking is preferred, leave the pork chop uncovered. After 24 hours, instead of looking dried out, you'll see the pieces of pork chops are moist and ready for cooking.
The second ingredient that's equally important is black pepper. I learned about 16 mesh black pepper when Mr. JOC started smoking meats and it makes a huge difference with the flavor. We use pepper grinders at home and somehow freshly ground pepper just doesn't taste as strong or flavorful as 16-mesh black pepper. I highly recommend buying some (I get it on Amazon) to keep at home for seasoning meat.
Secret 2: Use A Probe Thermometer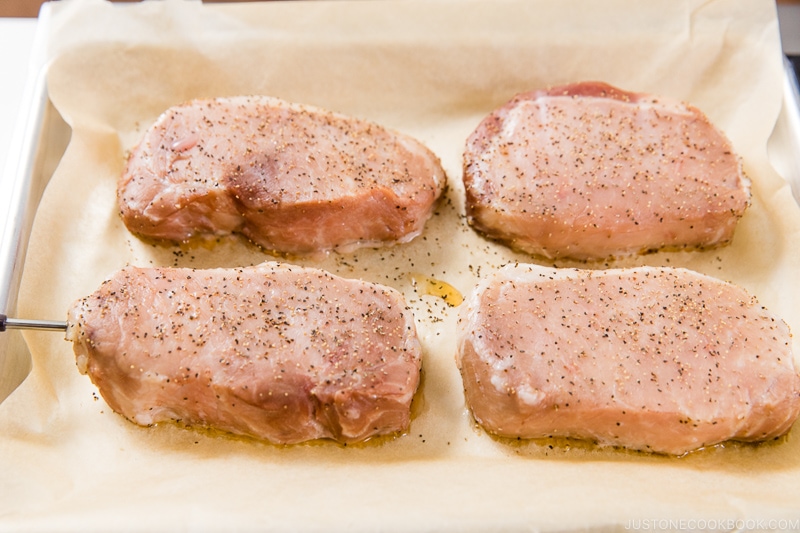 It's very important to monitor the pork temperature. It's tricker than beef because you can't undercook it but if it's overcooked, the texture is chewy and undesirable.
A probe thermometer is incredibly helpful when cooking large cuts of meat. No more guessing is needed. I used the oven's meat probe, but if you don't have one, I recommend using ThermoWorks Chef Alarm. It's handy for deep-frying, baking, grilling, and smoking.
Secret 3: Cook Till 145 ºF (63 ºC)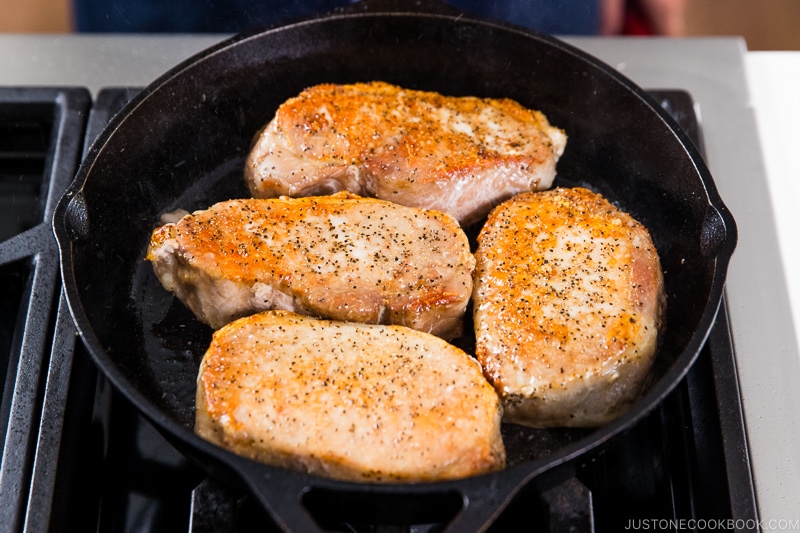 I prefer the reverse sear method either with an oven, sous vide, or smoker. In this recipe, I use the oven method as everyone can use their oven to create succulent juicy pork chops without buying additional equipment.
The key to successful pork chops is to finish cooking them at 145ºF (63ºC). Since we have to sear the pork chop at the end, we have to take the extra cooking time into consideration when I bake the pork chops.
Therefore, my recommendation is to bake the pork chops until the internal temperature reaches 135ºF (57ºC). Then sear them in the cast iron skillet and coat them with the sauce so the pork chops won't overcook and become tough.
I've tested baking the pork chops in the oven to 140 ºF (60 ºC) and then pan-sear them in the skillet. However, they were completely overcooked. The right temperature is crucial.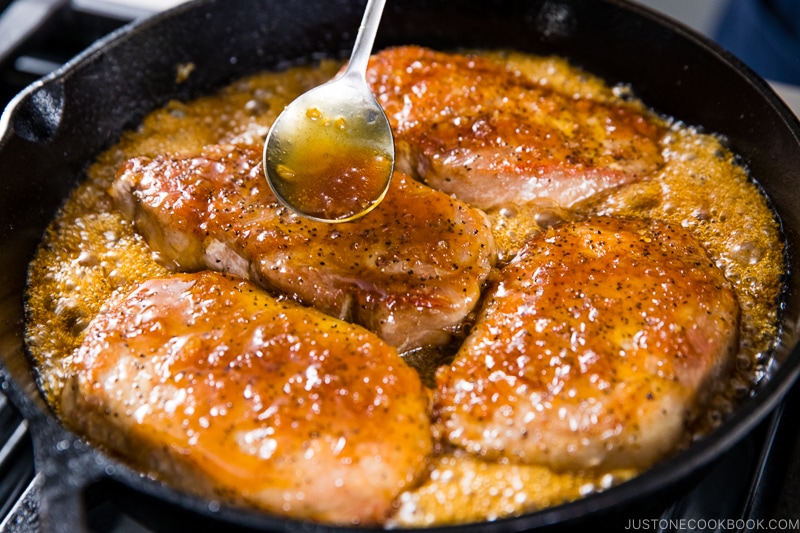 Honey Garlic Pork Chop Sauce
The sauce we're making today has a Japanese twist to it. In addition to honey and garlic, we are adding mirin, sake, soy sauce, and rice vinegar. These ingredients are essential for Japanese cooking and add umami flavor.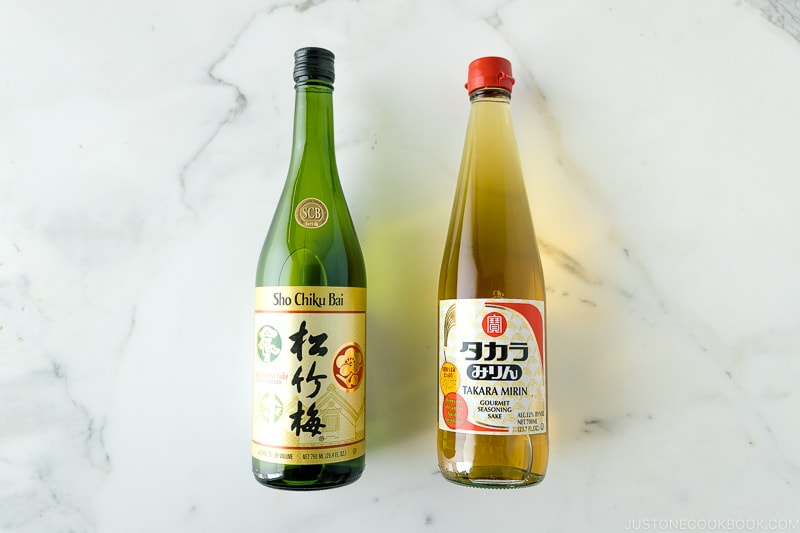 For those of you who are not familiar with sake and mirin, I use Sho Chiku Bai Classic Junmai Sake and Takara Mirin in this recipe.
The sauce is gentle enough that it doesn't overpower, and instead, it complements the naturally sweet pork flavor beautifully.
4 Easy Steps to Make Honey Garlic Pork Chops
Dry Brine – Season the pork chops (bone or boneless) with salt and refrigerate for 24 hours.
Bake – Season the pork chops with pepper and slowly cook the pork chops in the oven on low heat until the internal temperature reaches 135ºF (57 ºC). The low heat makes sure the texture for the entire piece of pork is consistent all the way through.
Make the Sauce – Reduce the honey garlic sauce until thickened.
Pan-Sear – Sear pork chops on a hot cast-iron skillet for 1 minute on both sides to get a nice crust. Then quickly coat them with the honey garlic sauce. The internal temperature of the pork chops should be 145 ºF (63 ºC).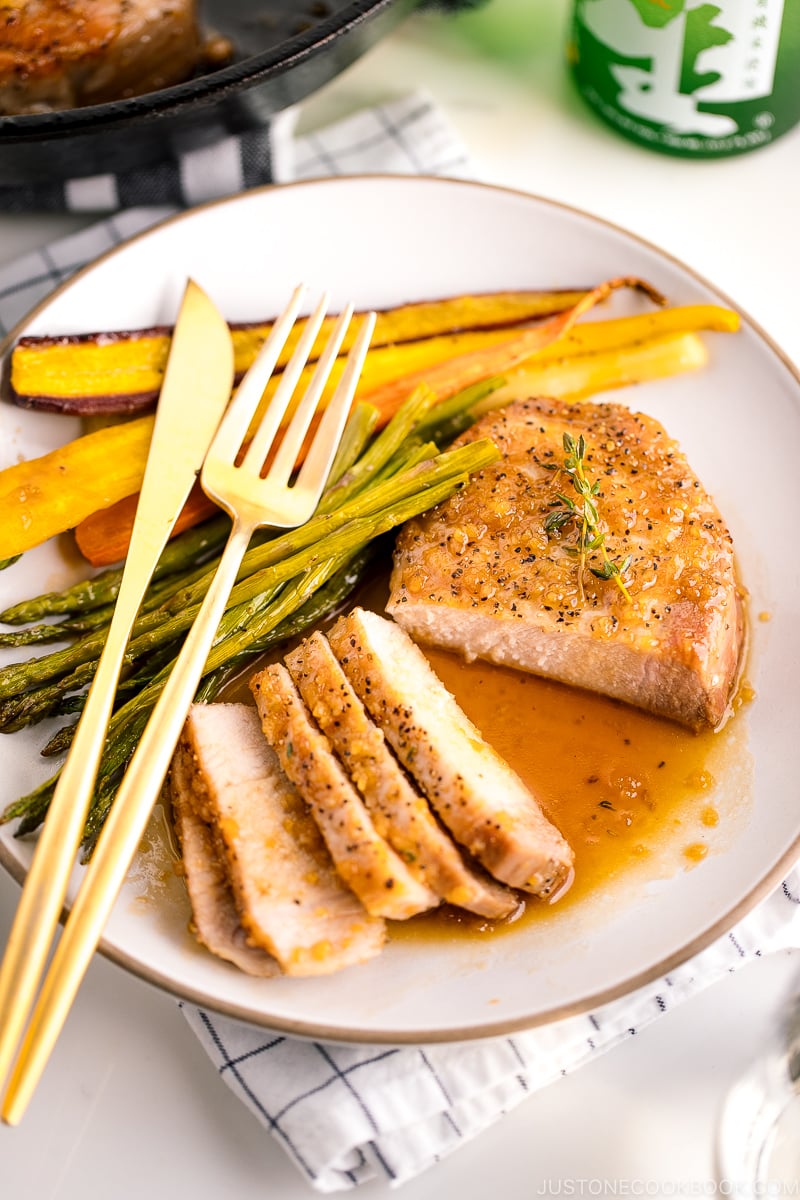 Cook Pork Chops in a Cast Iron Pan
If you don't have an oven, you can use just the cast iron pan to sear the pork for 4-5 minutes on each side. Add the sauce when the pork chops are almost done cooking.
However, the texture won't be as good as the reverse searing method since the outside will be more cooked than the inside.
Pairing Honey Garlic Pork Chops with Sake
For honey garlic pork chop, I pair it with Takara Sake's Sho Chiku Bai Organic Nama Sake. This unique sake is made from California-grown organic rice and offered as a draft style. This means the sake hasn't been pasteurized by heat and instead purified with micro-filtration. This process allows Organic Nama to retain more flavors compared to other sake and offers a fresh taste.
We really enjoyed this pairing as Organic Nama Sake complemented the sweet pork chops really well. The full-body sake had a fruity aroma, with hints of apple, cantaloupe, and green grapes. The texture is a bit mineral, but rich and creamy. The flavor is well-balanced and enhances the sweetness of the pork chop. It also does wonders with refreshing the palate and the finish is clean and smooth. It was really enjoyable and we would also recommend pairing this sake with teriyaki salmon, honey pork belly, and oyakodon.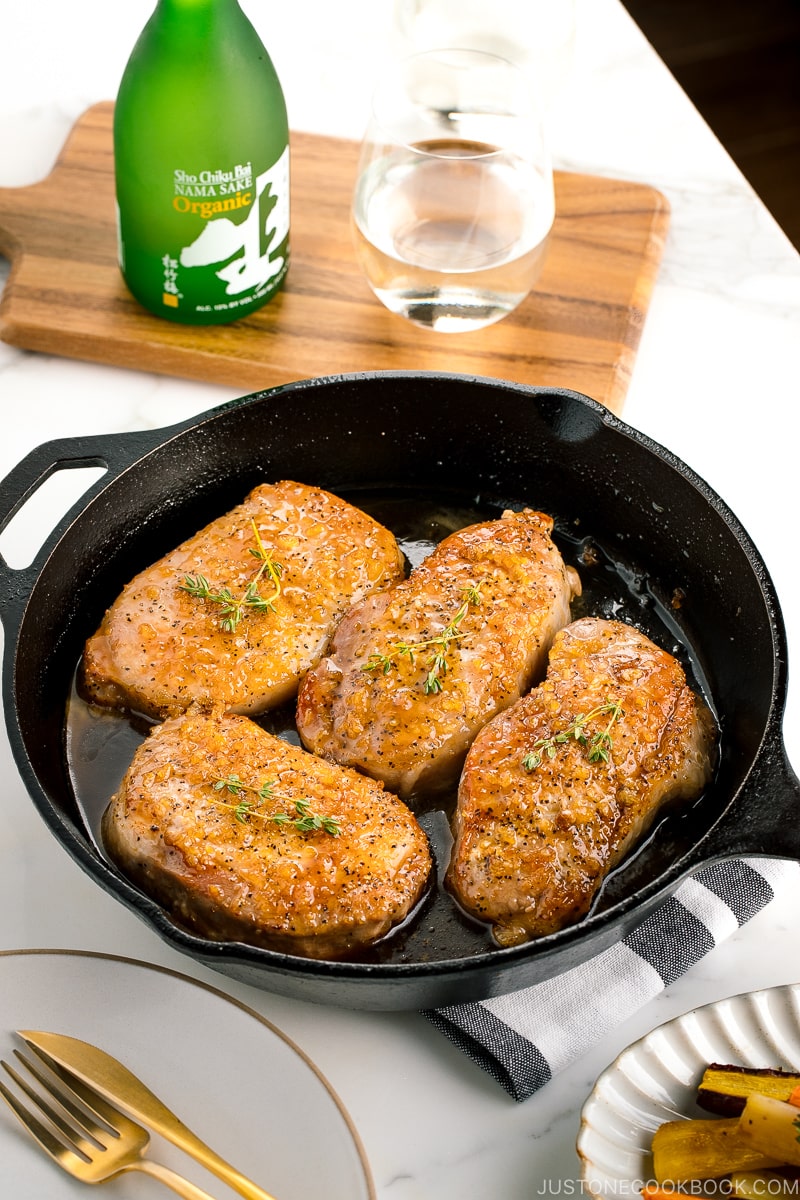 Wish to learn more about Japanese cooking? Sign up for our free newsletter to receive cooking tips & recipe updates! And stay in touch with me on Facebook, Pinterest, YouTube, and Instagram.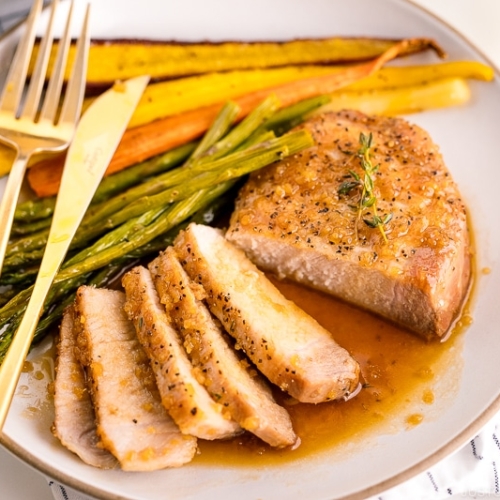 Honey Garlic Pork Chops
Juicy and sweet, these succulent oven-baked Honey Garlic Pork Chops are simply irresistible. The flavorful sauce with honey and a hint of garlic has all the allure. Serve it with a side of roasted vegetables for a worthy weeknight dinner!
Japanese Ingredient Substitution:
If you want substitutes for Japanese condiments and ingredients, click
here
.
Instructions
To Salt the Meat (One Day Before Serving)
Gather

4 pieces boneless pork loin chops (½-inch thick)

and

2 tsp Diamond Crystal kosher salt

.

In a container or baking sheet, place the pork chops in a single layer. Then, evenly sprinkle the salt on both sides of the pork chops. Cover with plastic and keep in the refrigerator for 24 hours or at least overnight.
To Bake the Pork
Gather all the ingredients. Preheat the oven to 200ºF (93ºC). I used the convection oven, but you can also use the regular oven set at the same temperature. With a conventional oven, it will take slightly longer for the meat to reach 135ºF (57ºC).

Put the pork chops on a baking sheet lined with parchment paper. Sprinkle

1 tsp black pepper

evenly on both sides of the pork.

Insert the probe in the center of the thickest pork chop. Bake at 200ºF (93ºC) and remove the pork when the internal temperature registers 135ºF (57ºC). We take them out before the pork is completely done cooking because we still need to sear them in the cast iron pan. Very Important: DO NOT cook the pork chops all the way through in the oven to the final temperature of 145ºF/63ºC because they will be dry and overcooked after searing.
To Make the Sauce
Meanwhile, make the honey garlic sauce. In a small saucepan, heat

1 Tbsp unsalted butter

on medium heat and add

6 cloves garlic

(minced).

Sauté the garlic until fragrant, around 2 minutes.

Add

2 Tbsp mirin

,

2 Tbsp sake

,

1 Tbsp soy sauce

, and

2 Tbsp rice vinegar (unseasoned)

.

Add

4 Tbsp honey

and whisk it all together. Cook on medium heat (or medium-low heat on a professional stove) until the alcohol evaporates and the sauce thickens, about 10 minutes. Try your best to thicken the sauce now, because doing so later in the skillet with the pork chops will overcook the meat.
To Sear the Pork
When the internal temperature of the pork reaches 135ºF (57ºC), it's done cooking. It took roughly 45 minutes to finish cooking with the convection oven. It might take 1 hour if you use a conventional oven or longer if your pork is thicker. Detach the probe from the oven and remove it from the pork.

Heat the cast iron skillet on medium-high heat (or medium heat on a professional stove). Add

1 Tbsp neutral oil

when the skillet is hot. Once the oil starts to smoke, place the pork chops in the skillet and sear for 1 minute. Do not move the pork chops during this time.

Flip the pork chops when the bottom side is nicely brown and sear the other side for 1 minute. Press down on the pork chops to give them good contact with the skillet for proper searing.

When the other side is also golden brown, pour the sauce into the pan and spoon the sauce over the pork chops a few times. Remove from the heat. By now, the pork's internal temperature should be 145ºF (63ºC).
To Serve
Serve the pork chops with the sauce on a plate. Garnish the pork chops with

fresh thyme

(optional). You can accompany this dish with roasted vegetables and steamed rice on the side. Enjoy!
To Store
Put the pork chops in an airtight container/bag and store them in the freezer for up to a month. To reheat, put the frozen pork chops in an oven preheated to 350ºF (150ºC).
Notes
Recipe by Namiko Chen of Just One Cookbook. All images and content on this site are copyright protected. Please do not use my images without my permission. If you'd like to share this recipe on your site, please re-write the recipe and link to this post as the original source. Thank you.
Nutrition
Nutrition Facts
Honey Garlic Pork Chops
Amount per Serving
% Daily Value*
* Percent Daily Values are based on a 2000 calorie diet.
©JustOneCookbook.com Content and photographs are copyright protected. Sharing of this recipe is both encouraged and appreciated. Copying and/or pasting full recipes to any website or social media is strictly prohibited. Please view my photo use policy
here
.