Holiday Giveaway: Win one of the three top-quality Kikuichi Knives that will complement any kitchen and help you prepare fabulous meals.
If you look closely at the step by step photos in my recipes or YouTube videos, you'll see I almost always use my Kikuichi knives. The one I currently use is over five years old and it still performs amazingly.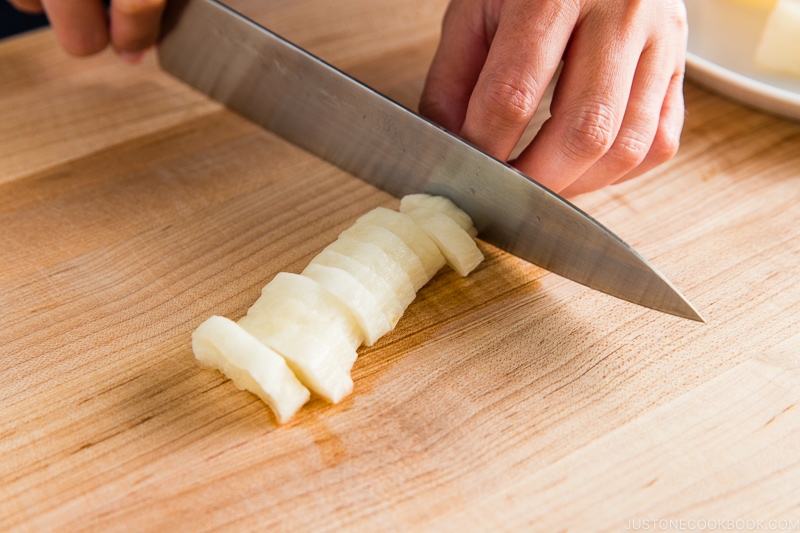 This giveaway is one of the best offers I've ever hosted on Just One Cookbook. We've partnered with Perfect Edge Cutlery — a specialty knife shop in the San Francisco Bay Area — and Kikuichi Cutlery to give away three premium Kikuichi Knives.
These are not your ordinary kitchen knives. One of them is the knife that I use all the time, and the other two are even nicer than any of the knives I have in my collection.
Why I Love Kikuichi Knives
Knives are an essential kitchen tool for prepping any meal. All the knives in this giveaway are designed to be all-purpose and you can use them for cutting meat and peeling or slicing vegetables.
Here are the reasons why I especially love these Kikuichi knives:
They are stainless steel so you don't need to worry about them rusting (carbon steel knives will rust if the water is left on the knife)
They are made of very hard steel and don't chip easily (they are rated HRC 60)
The distributed balance allows you to use them for a long time. No worries about your hands getting tired!
The superior craftsmanship – the knives still look beautiful even after years of use
Kikuichi Knife Giveaway – 3 winners!
So what awesome knives are we giving away? Check them out below:
Knife 1 (below): This is my favorite. As part of the Nickel Warikomi Damascus series from Kikuichi, the knife is great for everyday cooking. The pattern you see on there is the 45 layer Damascus blade (AUS10 edge). The handlebar is a rosewood handle and ebony ferrule. I fell in love with this knife at the shop and still love it the same today. [$250 – NWD 180-JH]
Knife 2 (below): This one is similar to the knife above, but with added hand-hammered Tsuchime finish. It has such a stylish look! Besides the cool factor, the hammering also helps release food while cutting so they do serve a purpose. The handles are made by a master shop in Sakai Japan and crafted from Ho-wood and water buffalo horn ferrule. It's simply a work of art and a knife I would treasure. [$350 WGAH21-08-0sp]
Knife 3 (below): This third knife is quite different from the two above. It has a Japanese blade but made with a western handle and also heavier. The hand-hammered Tsuchime finish helps release food from the blade and no two knives are alike. [$300 – WGAD21-08-0sp]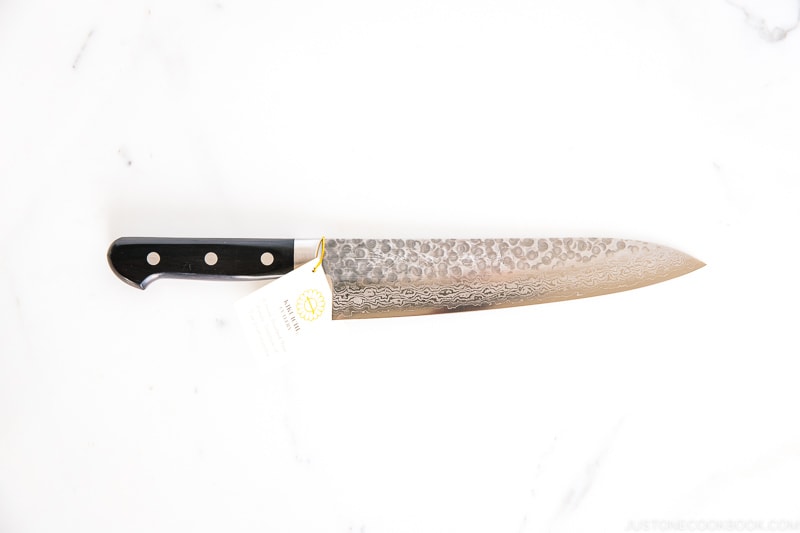 All three are hand engraved with the Kikuichi chrysanthemum logo and generously provided by Perfect Edge Cutlery and Kikuichi Cutlery just for Just One Cookbook readers!
About Perfect Edge Cutlery
Perfect Edge Cutlery has been around for more than twenty years and it's San Francisco Bay Area chefs' choice for their knife needs and sharpening. They literally sharpen thousands of knives each week for restaurants, hotels, and chefs all around San Francisco. We started purchasing our knives from them years ago and have always been impressed by their staff's knowledge and support to help us pick what we need.
The most impressive part about their service is they never try to get the customer to buy the most expensive knife, but rather provide guidance for the best needs regardless it's a $40 or $45o knife.
About Kikuichi Cutlery
We learned about Kikuichi from the staff at Perfect Edge Cutlery. For the longest time, I was using a set of German knives I received as our wedding gift. However, the knife couldn't really perform what I needed and dulls easily. At the time, we could only afford a basic Kikuichi knife but we still have it today and I use it whenever I am not shooting photos or videos.
The history of Kikuichi goes back to 750 years when they were the swordsmith for Emperor Go-Toba in Japan. Being the emperor's swordsmith, they were also granted the right to have the emperor's chrysanthemum symbol on their knives. It is very rare for companies to be able to place the symbol on their products.
Today, the excellent tradition of knife making continues with artisan craftsman making the knives. See the video below for more about Kikuichi Cutlery and their rich history with knifemaking.
GIVEAWAY RULES:
Please Note: Your email for the comment entry has to match with your email address in my Email Newsletter Subscription mailing list.
This giveaway contest closes on Wednesday, December 25, at 12 p.m. PST and is open WORLDWIDE.
Three (3) winners will be selected via Pick Giveaway Winner Plugin and contacted via email, so please include a valid email address in the email address entry box (please double check your spelling!).
The winners are required to respond within 72 hours to claim the prize.
HOW TO ENTER:
The more tickets/comments left on this blog post will increase your odds of winning. Good luck!
Ticket 1 (Required): Subscribe to JOC Email Newsletter if you haven't and leave a comment below on this post. 
Ticket 2 (Required): Follow Perfect Edge Cutlery Facebook or Perfect Edge Cutlery Instagram and leave a separate comment below on this post.
Ticket 3 (Optional): Follow my Instagram and leave a separate comment below on this post.
Ticket 4 (Optional): Like my Facebook and then leave a separate comment below on this post.
Ticket 5 (Optional): Subscribe to my YouTube channel and leave a separate comment below on this post.
EXCLUSIVE JOC DISCOUNTS:
Kikuichi knives simply do not go on sale. I had to purchase all my Kikuichi knives at full retail price. If you love cooking and have always wanted that special knife for your kitchen, here is your chance!
Perfect Edge Cutlery and Kikuichi Cutlery are offering 25% off their Kikuichi knives until December 31, 2019, for JOC readers. Do not miss this opportunity!
How to Use Discount Code
1) In-Store
If you are in the San Francisco Bay Area, go to Perfect Edge Cutlery in San Mateo (see map) and mention JOC2019 to get the discount. If you prefer a different brand of Japanese knife, Perfect Edge Cutlery will offer 15% off in their amazing selection.
2) Online Store
For everyone else, you can use the code JOC2019 at Kikuichi Cutlery during checkout and the discount will be applied.
Good luck!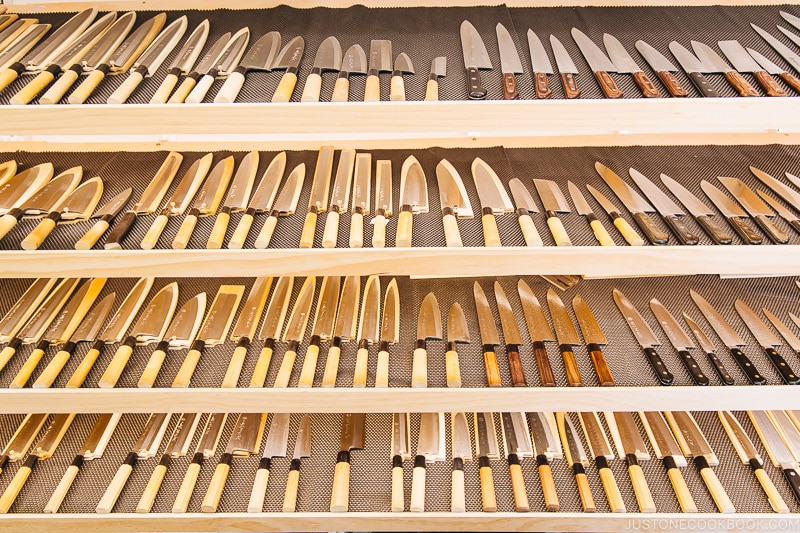 If you want to know more about Japanese knives, here is Your Guide to Japanese Knives.
*****
Thank you for participating in this giveaway! The winners are…
Knife 1: Lea
Knife 2: Karen M Ono
Knife 3: Mike Perry
Congratulations! I'll contact you shortly. Stay tuned for JOC 9 Year Anniversary Giveaway in January!