Win a nourishing care package filled with Japanese comfort foods from Kokoro Care Packages this month! This giveaway is open to US & Canada only. 
At a time when we could all use a little extra comfort, we've partnered with Kokoro Care Packages to give away their May care package with a theme on 'Obaachan's Kitchen: Grandma's Japanese Comfort Foods'.
Presented in a beautiful box, the care package features the cozy traditional flavors used by Japanese grandmothers that will also provide inspirations of simple yet satisfying meals you can create in your own kitchens.
The giveaway is open to Just One Cookbook readers living in the US and Canada, and three (3) lucky winners will be selected!
Win a Box of  'Obaachan's Kitchen: Grandma's Japanese Comfort Foods' from Japan Today!
Grandmas are the most magnificent cooks and their foods often remind us of warm hugs. That's why Kokoro Care Packages brings you their upcoming May care package with a theme on Obaachan's Kitchen: Grandma's Japanese Comfort Foods.
In the box, you'll find traditional Japanese flavors that include:
Local Pickled Burdock (Tsukemono) –

Older generations have been making pickled foods known as tsukemono as a way of preserving food. This burdock is

pickled in a sweet and sour pickling juice, that can be reused to pickle your own vegetables

Old Fashioned Organic Umeboshi (Pickled Plum) –

Nothing reminds us of obaachan quite like a tart plump pickled Japanese plum. Naturally made just like obaachan would, this

umeboshi is organically grown in Wakayama Prefecture, where only one 1% of the ume are certified organic.

Donburi (Rice Bowl) Sauce – There's nothing more comforting than a big hot steamy rice bowl.

This donburi sauce tastes like obaachan's homemade secret recipe and is made from three simple ingredients: white grain soy sauce, unrefined cane sugar and hon mirin. Add it to any ingredients you have in your kitchen to create your own comforting donburi.

Hoto Udon – These hōtō noodles feel like a warm hug from your obaachan. With a texture more similar to dumplings than noodles, hōtō noodles are thick, doughy perfect for making hearty, homemade noodle dishes.
Salt Kelp –

Salt kelp defines traditional Japanese cuisine and is the magic touch

obaachans

use to add salty-sweet umami flavor to almost any dish, from onigiri, to stir fries, omelettes and salads, and anywhere else you want to add a touch of umami!
They partner with local producers who are passionate about their products and connect you to the stories behind what makes each of their items so unique. Their products are chemical-free and many cannot be found outside of Japan. They also include English translations and suggested so you can easily enjoy all the wonderful foods.
Notes: Due to the current supply disruptions, the listed products may change. 
About Kokoro Care Packages
Kokoro Care Packages are founded by two friends, Lillian Hanako Rowlatt and Aki Sugiyama, who share much passion for health and fitness. They both believe that food plays an important role in nourishing our bodies and determining our health and wellness. They also have the first-hand experience in the positive benefits of eating a Japanese inspired diet and want to share these incredible foods with the rest of the world. So the idea of  Kokoro Care Packages began.
Kokoro (written as 心 in kanji) translates into "heart" in Japanese, yet has a much deeper meaning. It represents the "spirit", "soul" and "emotion", and is the foundation of each of the Kokoro Care Packages. You can read more here.
How Does the Service Work?
You can choose your care package based on:
The Nourishing Essentials Care Package is available in 1 month, 3-month, 6-month, and 12-month pre-paid intervals.
The Seasonal Delights Care Package is available in seasonal (once every 3 months) and annual (once per year) pre-paid intervals.
The newly released permanent collection 'Creative Beginnings: Redefining 'Wa' Care Package' that includes all the essential Japanese cooking ingredients. This package is available year-round and can be ordered at any time.
Gifts are purchased as a one-time payment and do not auto-renew.
Special Discount for Just One Cookbook Readers Worldwide
Kokoro Care Packages is also offering Just One Cookbook readers a 10% discount on your first order from a subscription purchase.
CODE: JOCHOMECOOKING
You can use the code at the checkout. The code expires at the end of April and is limited to one use per customer. All orders for May must be placed by April 30th in order to receive the packages (actual delivery date will vary based on individual customs and post office timings).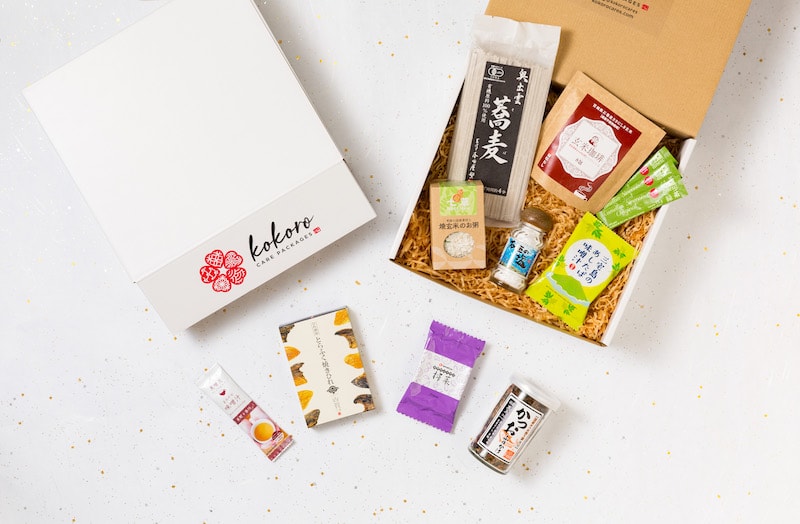 GIVEAWAY RULES:
Please Note: Your email for the comment entry has to match with your email address in my Email Newsletter Subscription mailing list.
This giveaway contest closes on Saturday, April 25, at 12 p.m. PST and is open to residents in the US & Canada ONLY. 
Three (3) winners will be selected via Random.org and contacted via email, so please include a valid email address in the email address entry box (please double check your spelling!).
The winners are required to respond within 36 hours to claim the prize.
HOW TO ENTER:
The more tickets/comments left on this blog post will increase your odds of winning. Good luck!
Ticket 1 (Required): Subscribe to Kokoro Care Packages newsletter (at the bottom of the page) and leave a separate comment below and tell us 'What is your favorite Japanese comfort food?'
Ticket 2 (Required): Subscribe to my Email Newsletter if you haven't and leave a comment below on this post.
Ticket 3 (Optional): Follow Kokoro Care Packages Instagram or Like them on Facebook.
Ticket 4 (Optional): Follow my Instagram and then leave a separate comment below on this post.
Ticket 5 (Optional): Subscribe to my YouTube channel and leave a separate comment below on this post.
Ticket 6 (Optional): Like my Facebook and leave a separate comment below on this post.
*****
Thank you for participating in this giveaway! The winners are…
Jan K
Tracey Smith
Brc
Congratulations! We'll be emailing you shortly.