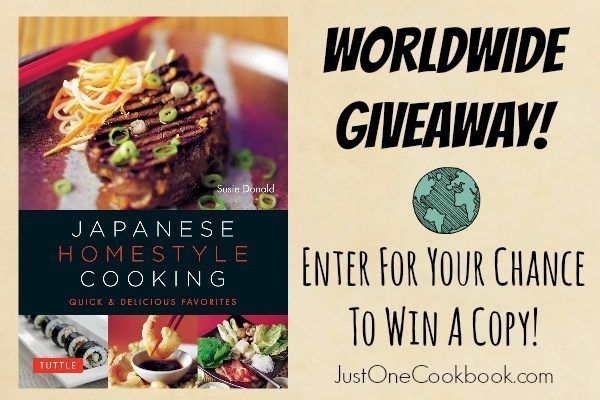 Today I'm partnering with Tuttle Publishing to give away one (1) copy of Japanese Homestyle Cooking by Susie Donald! This giveaway contest is open to everyone worldwide.
Enjoy fresh and delicious Japanese meals with the ease of cooking in your own kitchen!
Few home cooks prepare the dishes typically served in restaurants, and nowhere is that more true than in Japan. Fortunately, Japanese Homestyle Cooking introduces Western taste buds to the flavorful, delicious, and easy-to-prepare foods that Japanese home cooks make every day for family and friends.
Readers will delight in this easy-to-follow Japanese cookbook's step-by-step recipes—including how to use a rice cooker—and their families will love trying tasty new dishes such as sukiyaki, shabu-shabu, and teppanyaki. Many home style Japanese dishes are meat-free and instead feature seafood or tofu along with a wide variety of vegetables, making them perfect for vegetarians. Accessible and simple to master, the over 80 recipes in Japanese Homestyle Cooking are as authentic as they are delicious.
This selection of delicious Japanese recipes that are easy to prepare at home, and light and healthy too! Cooking Japanese cuisine will be even easier with this book, full of clear, step-by-step instructions for family favorites including Green Tea Ice-cream, sukiyaki , shabu-shabu and teppanyaki. With a selection of recipes using tofu, and a wide variety of vegetables, this Japanese cooking book is also a great addition to a vegetarian's repertoire. From seafood dishes to using a rice cooker, Japanese Homestyle Cooking will bring a wonderful depth of flavor and many tasty new foods to your table.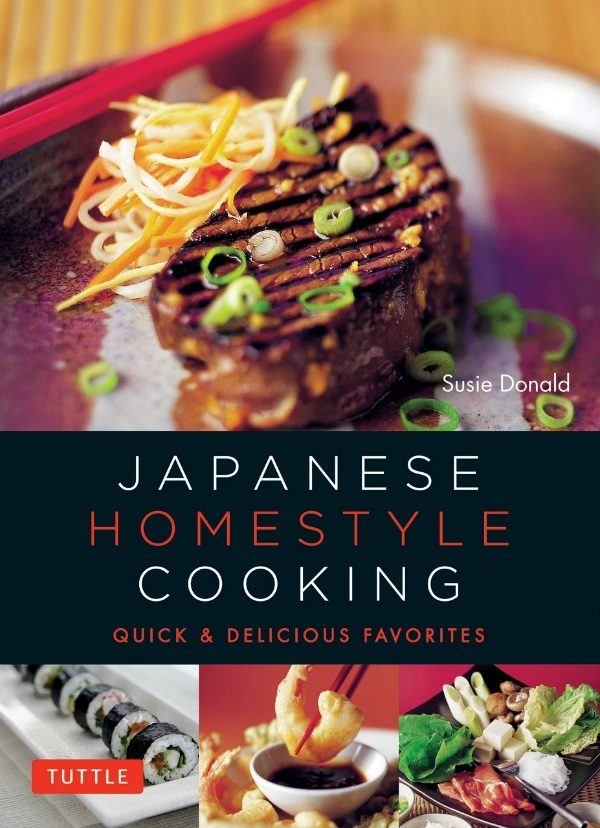 Tuttle Publishing has amazing collection of books, especially topics extending in Asian and Japanese cultures. You can start checking out their bestsellers if you are looking for new books to read. I will be giving away more books in the future with Tuttle Publishing, so stay tuned!
To enter for your chance to win one copy, please leave a comment on this post that answers the following question:
What do you like most about Japanese cooking/Japanese food?
Bonus! You can earn up to five bonus entries by leaving a separate comment (with the same email address) for each of the below actions:
Bonus Entry 1: "Like" Tuttle Publishing on Facebook. (Leave a separate comment if you have done this.)
Bonus Entry 2: "Like" Just One Cookbook on Facebook. (Leave a separate comment if you have done this.)
Bonus Entry 3: Subscribe to Namiko Chen on YouTube. (Leave a separate comment if you have done this.)
Bonus Entry 4: Follow Just One Cookbook on Google+. (Leave a separate comment if you have done this.)
Bonus Entry 5: Follow Just One Cookbook on Pinterest. (Leave a separate comment if you have done this.)
This giveaway closes on Friday, June 5, 2015 at 12 p.m. PST and is open to participants worldwide (everyone!).
One (1) winner will be selected via Random.org and contacted via email, so please include a valid email address in the email address entry box (please double check your spelling!). The winner is required to respond within 72 hours to claim the prize.
Full Disclosure: This giveaway is sponsored by Tuttle Publishing.
*****
Thank you so much for participating this giveaway! The winner is…
Congratulations ErIka Kurahachi (#209)! I'll email you shortly…