Kaga is known for its historic hot springs towns, traditional Kutani ware, and beautiful sceneries. Join us in this Kaga travel guide as we visit the popular destinations in the area.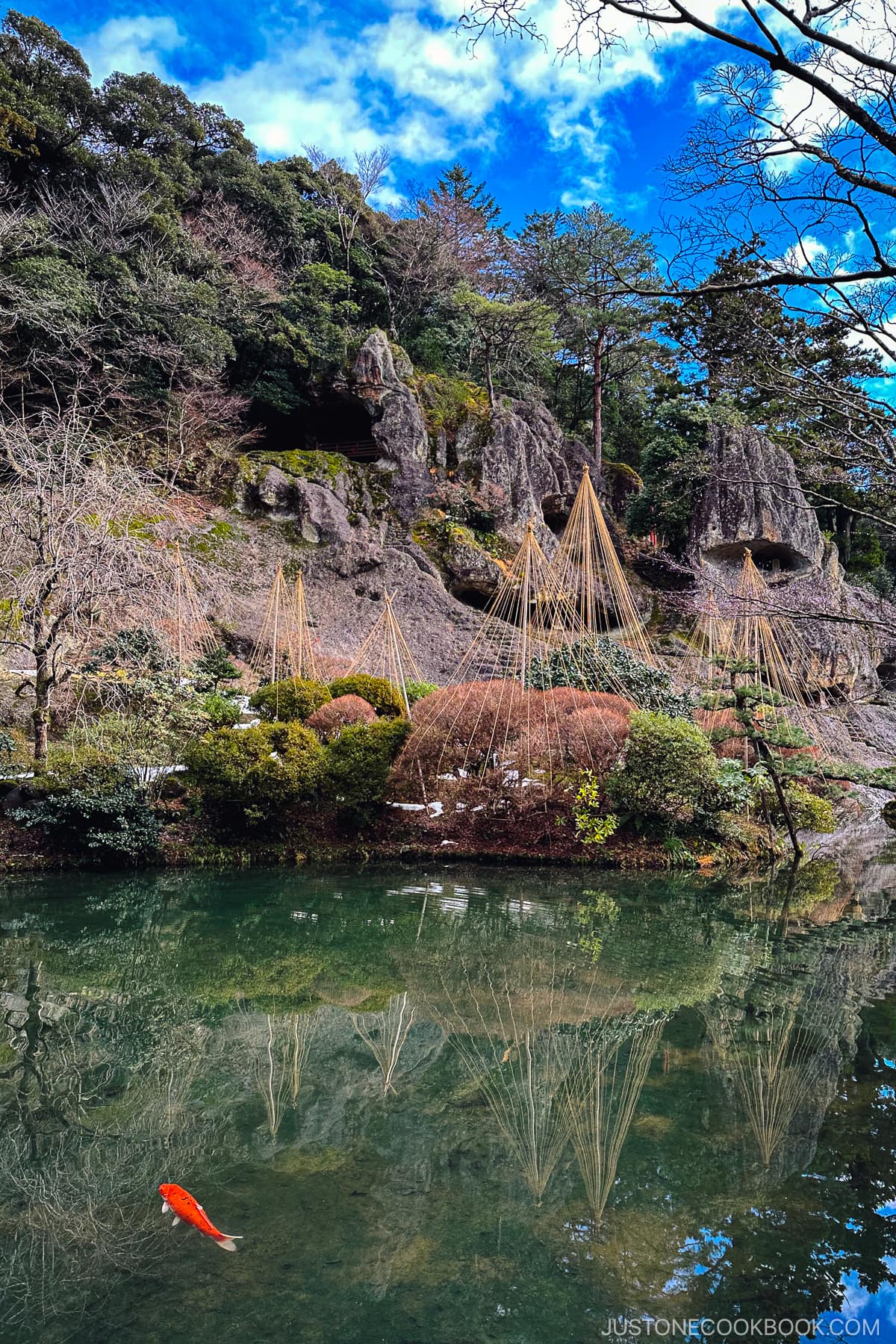 Kaga in lower Ishikawa Prefecture is known for historic hot springs towns, colorful Kutani ware, and splendid sceneries. Located one hour by car or train south of Kanazawa, the laid-back town is a great escape from bustling large cities.
After our visit to the Noto Peninsula, we headed south to Kaga. We wanted to learn about the colorful Kutani ware, see historic onsen towns, and visit one of the few remaining original Japanese castles – Maruoka-jo. Ready for the tour? Let's go!
Ishikawa Insect Museum 石川県ふれあい昆虫館
On our way south, we surprised our son who is an insect fanatic by making a quick stop at Ishikawa Insect Museum. The museum has several large displays of insect habitats and an amazing collection of Japanese beetle and butterfly specimens. He's really into Japanese beetles so he was overjoyed to see so many specimens he had never seen before.
After spending some time viewing the collections, we entered the back garden area with over one thousand butterflies flying around. It was a nice break from our typical touring agenda and both our kids were perfectly content with the visit.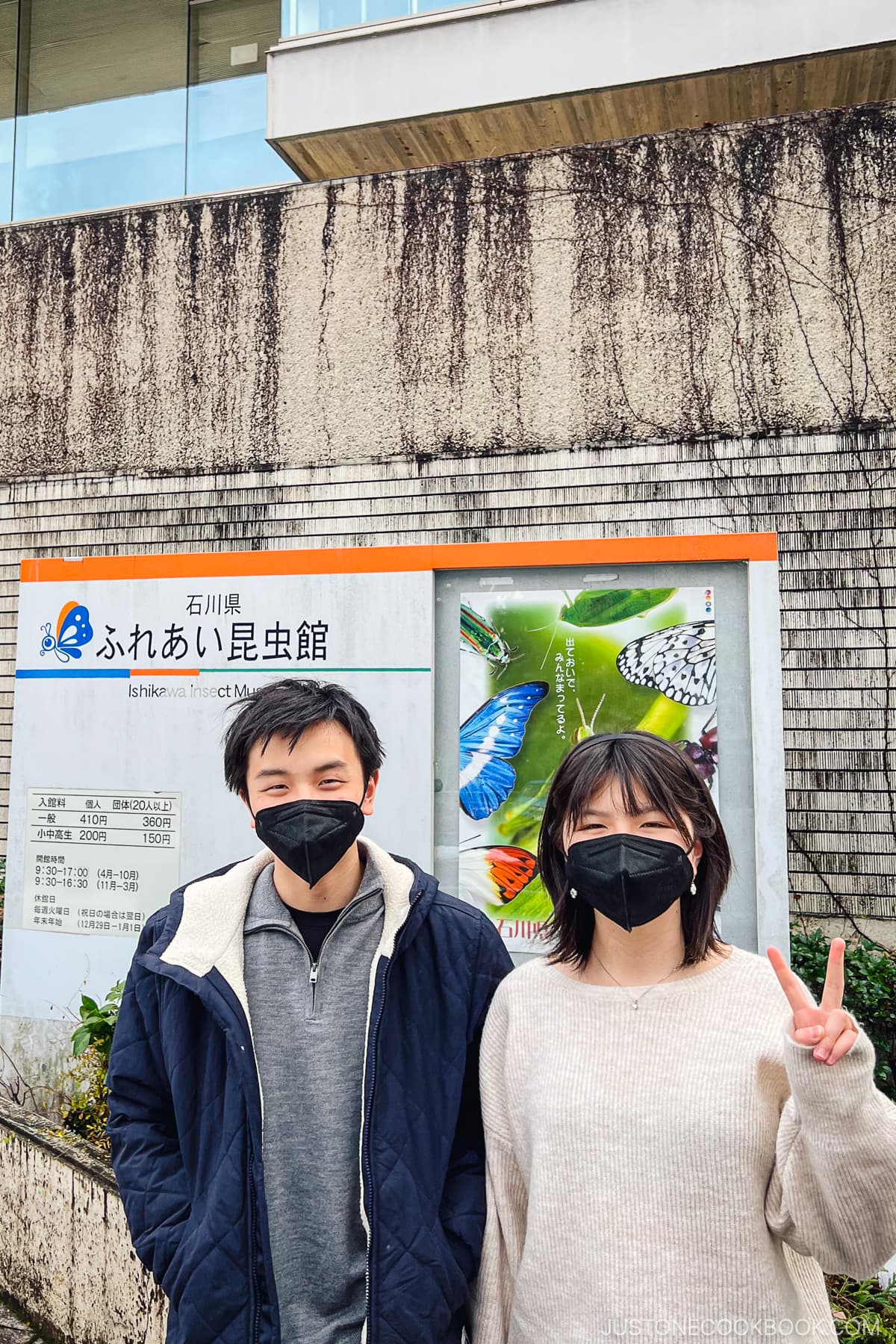 Kaga Traditional Crafts Village – Yunokuni no Mori ゆのくにの森
Our second stop was Yunokuni no Mori, the Kaga Traditional Crafts Village. Located in a forested area, this unique theme park is a perfect retreat for anyone who is interested in hands-on experience in traditional Japanese art and craft.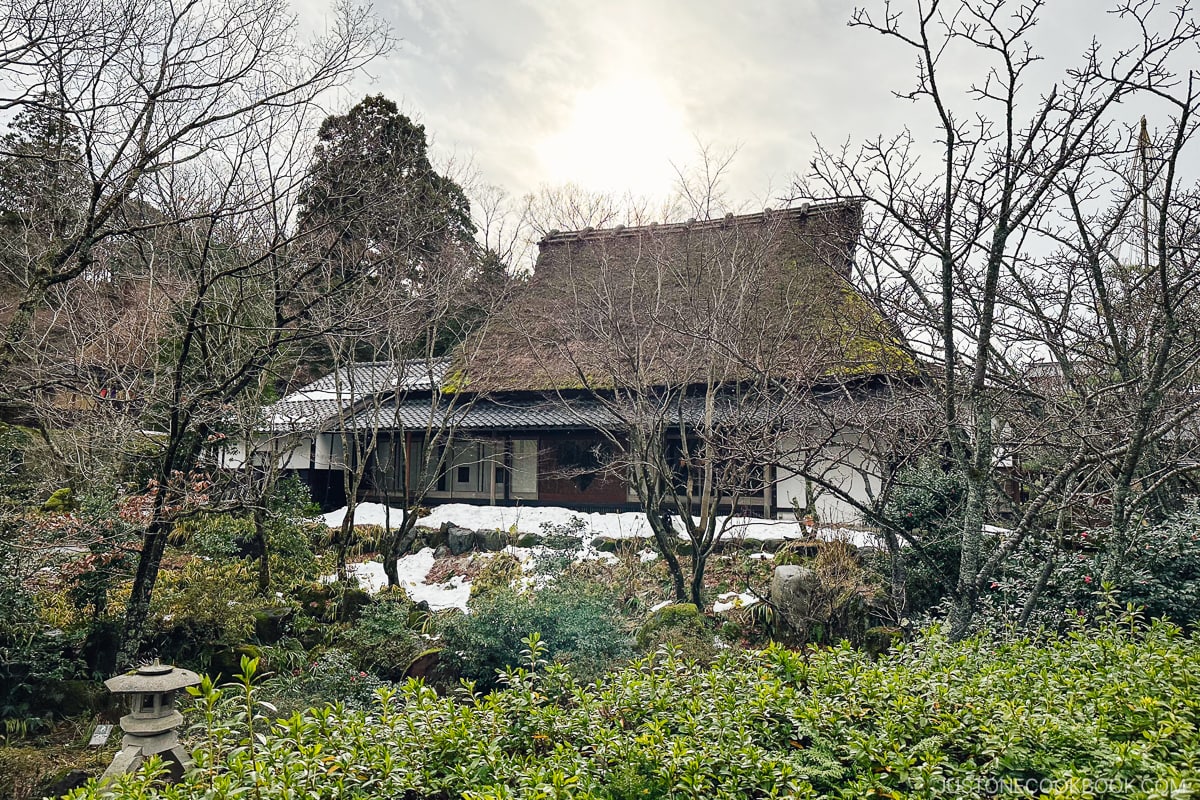 Inside the theme park, a number of traditional Japanese houses line the main path. Each of the houses offers a different theme or craft for the visitors to try. From making Wajima lacquer ware to painting Kutani porcelain ware, there are many choices to pick from. Some of the noteworthy activities include gold leaf art, making Japanese paper, and making your own glassware. Each activity takes about 30-40 minutes and is advertised with the cost.
After visiting all the craft houses, our daughter decided on decorating her own music box. We had an incredibly fun time. You could easily spend at least 1-2 hours there.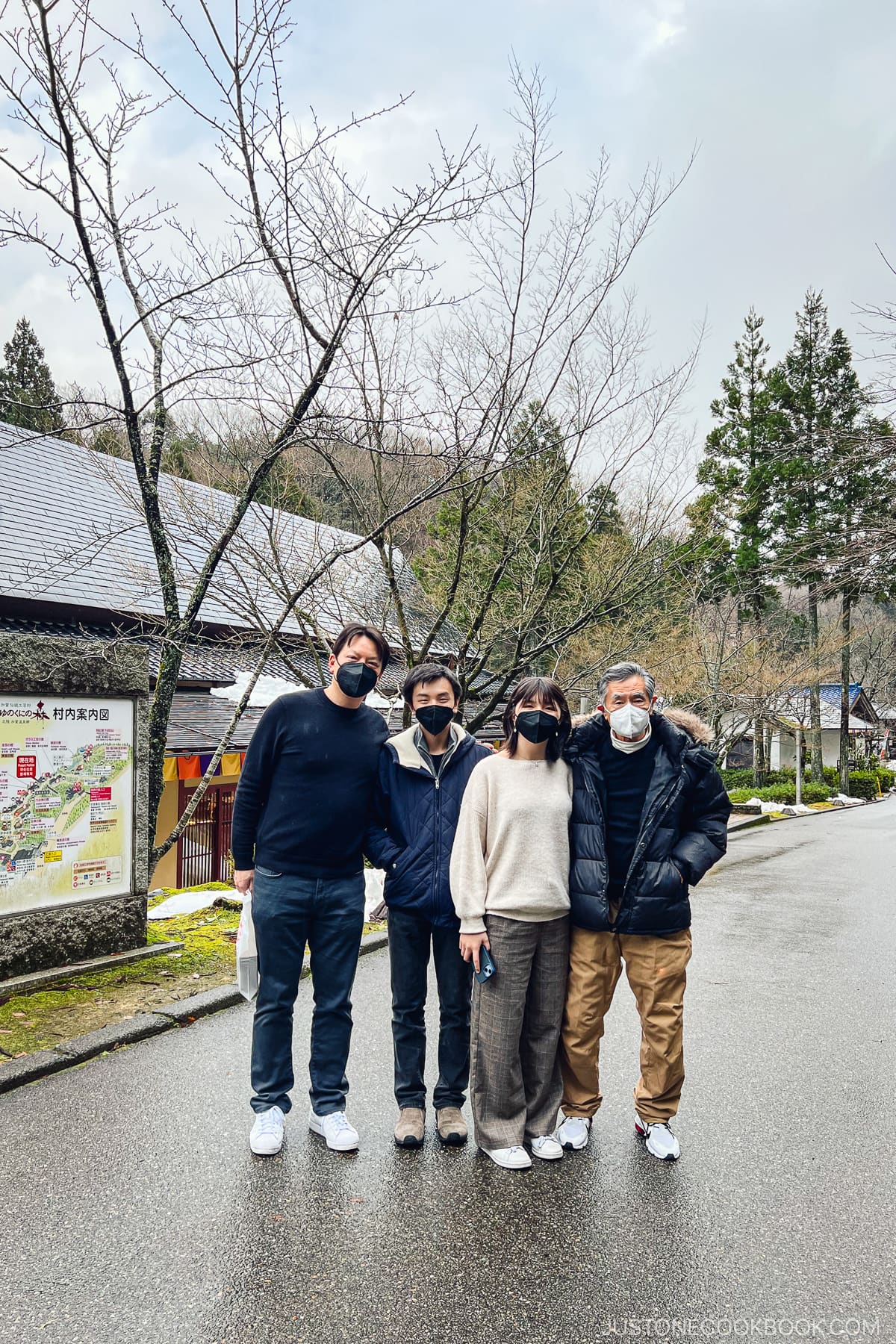 Natadera Temple
Our last stop before the first night is the grand Natadera Temple (founded in 717). We have visited many temples in Japan but this could easily be one of the most distinctive and breathtaking temples in the country.
Past the temple gates, a long stone walkway leads visitors to expansive moss-covered grounds on both sides. The scenery was ethereal and strikingly peaceful as if it came straight out of a postcard.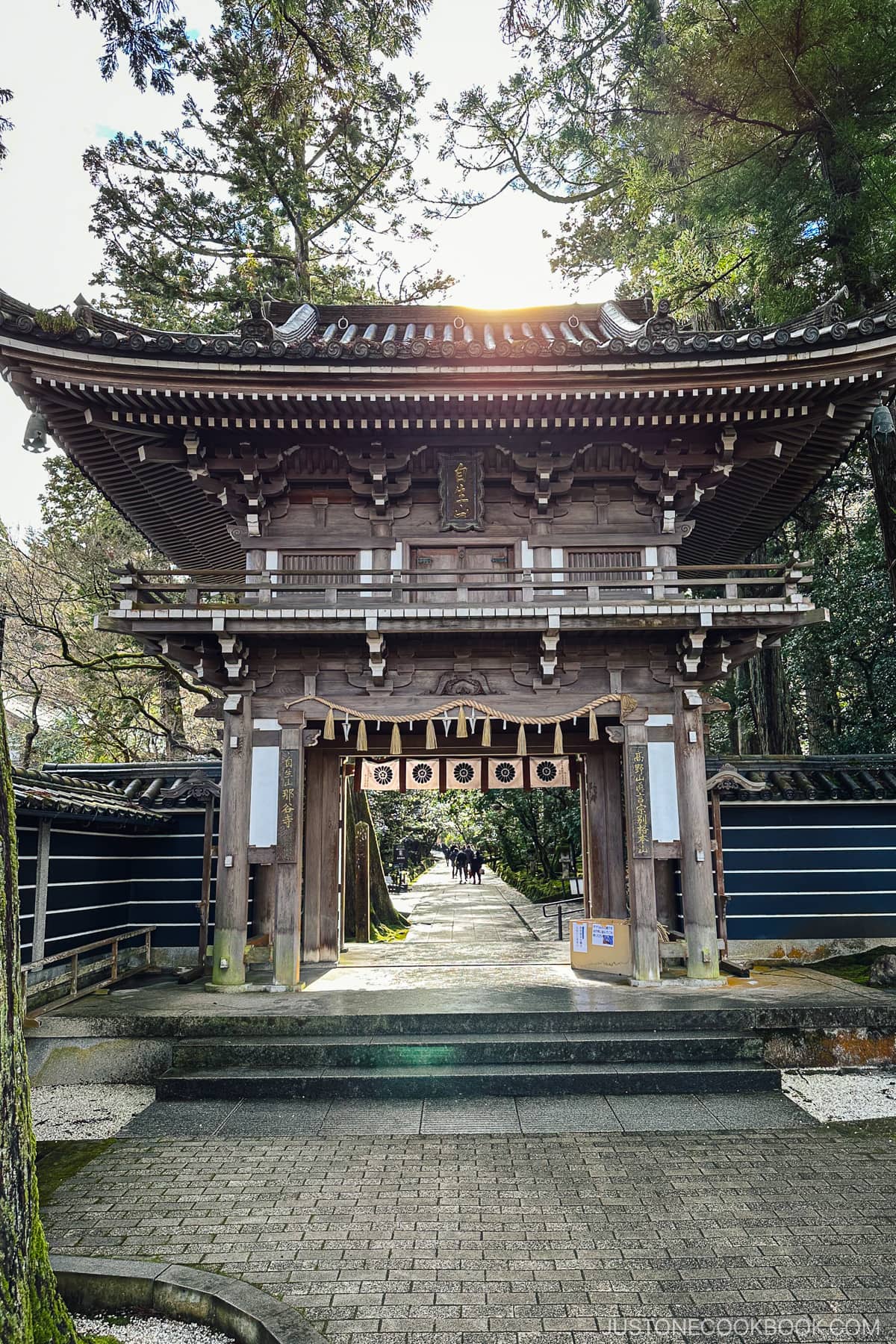 At the end of the long walkway is a still clear pond with koi swimming inside. On the left side are dramatic rock formations with worship caves carved into them (visitors not allowed).
We headed up a flight of steps to reach the main shrine (honden), which is partly built into the mountain with a portion of the building supported on stilts. We then continued on a woodsy path past a three-level pagoda and a red bridge leading to an observation deck.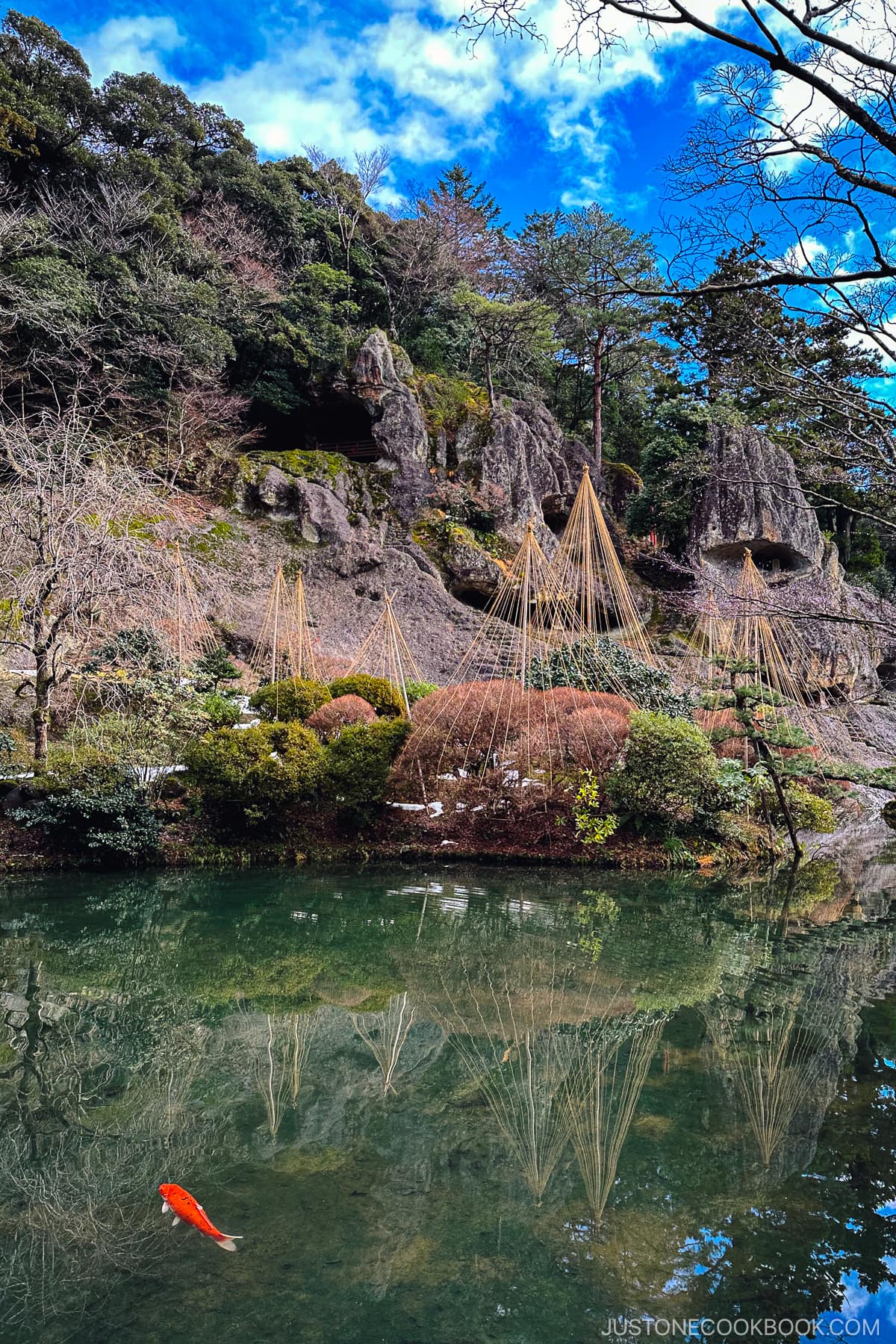 You can see the surrounding forest and the majority of the temple grounds from the observation deck. On the way out, we stopped by the main Kondo Keouden to see the 25 feet (7.8 meter) tall Kanon statue (no photos allowed). The tranquility of the temple and its natural backdrop were certainly beautiful to behold. Allocate at least an hour to visit.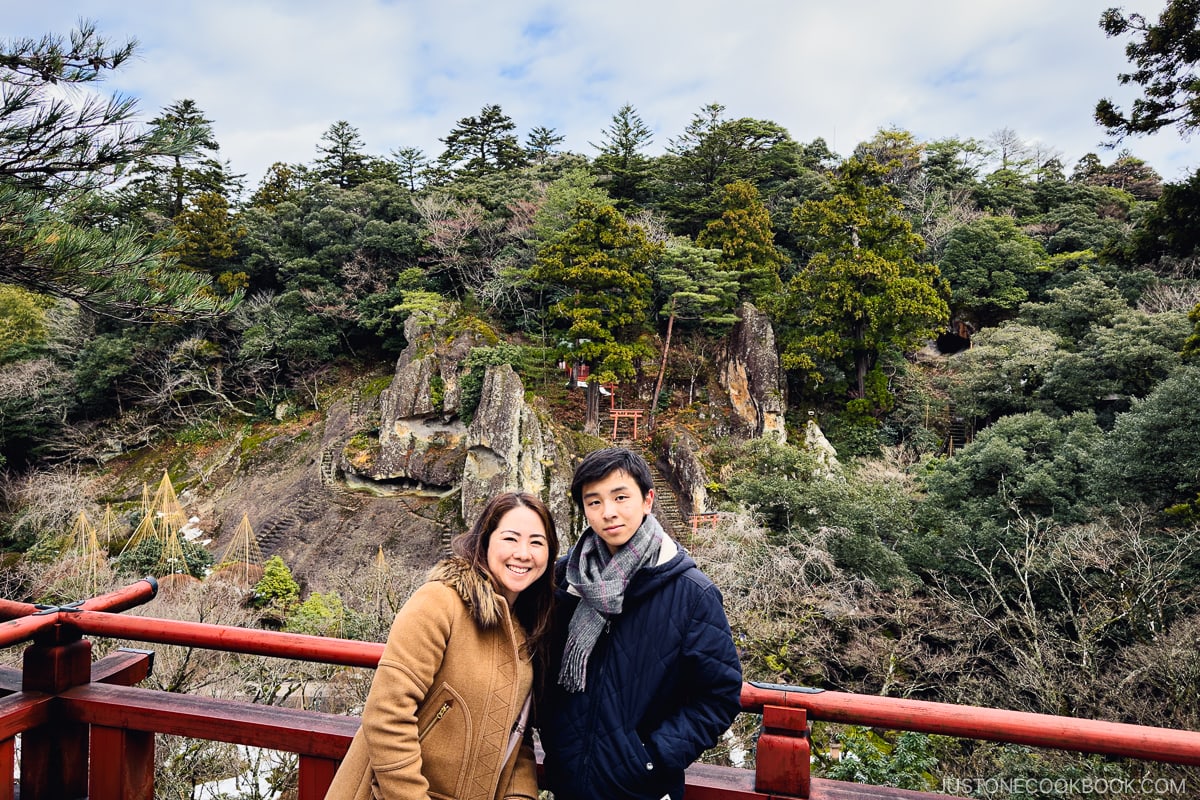 Kaga Onsen Towns
Kaga is known for its four hot springs areas, and they are Katayamazu, Awazu, Yamashiro, and Yamanaka Onsen. The locations are not connected and you would need vehicle transportation to go between them.
Katayamazu Onsen – Next to Lake Shibayama, the resorts here offer views of the Hakusan mountains and there's a walking path next to the lake.
Awazu Onsen – Near Kaga Traditional Crafts Village and home to one of the world's oldest continuously operating hotels (Hoshi Ryokan).
Yamashiro Onsen – Hot springs town with Kutaniyaki Kiln Museum and small shops.
Yamanaka Onsen – Situated near Kakusenkei Gorge, the main street is lined with shops and restaurant choices.
Yamashiro Onsen
We ended up choosing to stay in the Yamashiro Onsen area since there were more activities we wanted to do within walking distance of the hotel.
The center of Yamashiro Onsen town is the old public bathhouses that were recently reconstructed. The main building is a replica of a Meiji-style structure with a resting area on the second floor.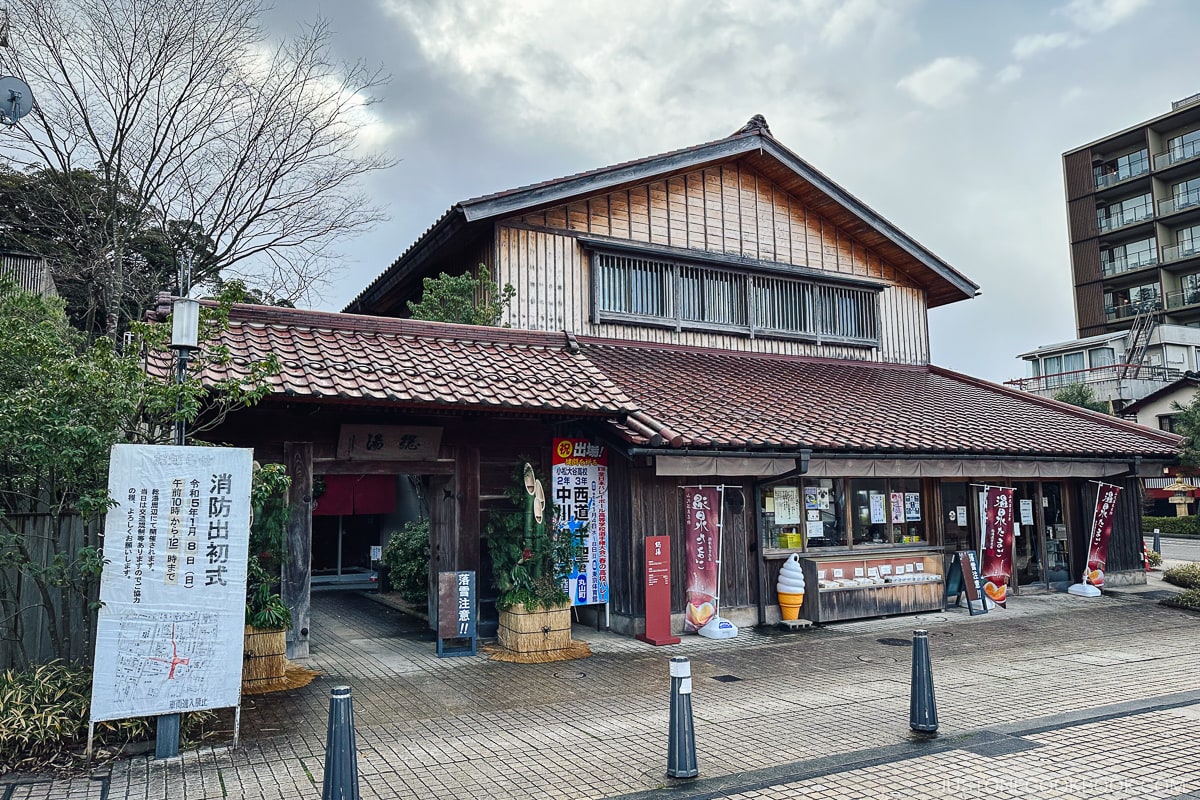 Kutaniyaki Kiln Museum 九谷焼窯跡展示館
We recommend starting the day at Kutaniyaki Kiln Museum, a short 10 min walk from Yamashiro Onsen. The museum is a former climbing kiln that started operation in 1826. When we visit porcelain or pottery towns, we love to learn about their history and how the tablewares were created.
Kutani ware actually started in 1655 but the production stopped in the early 1700s. In 1824, a new kiln (now at the Kutaniyaki Kiln Museum) was built and continued producing Kutani ware until 1940. A small climbing kiln nearby was used from 1940-1965.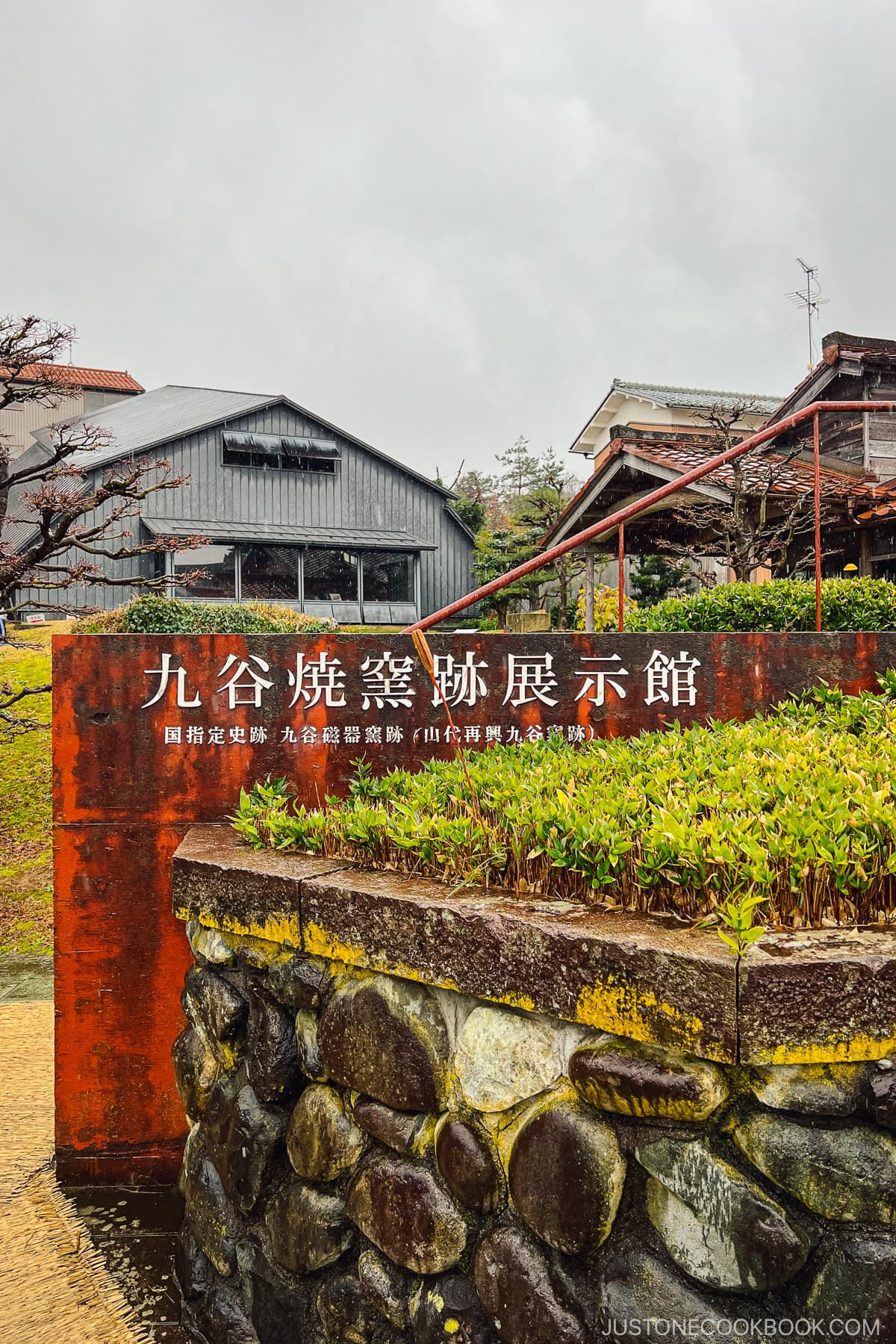 At the museum, the former kiln master's workshop is transformed to house exhibits on Kutani ware, including its history, tools for the art, and craft corner.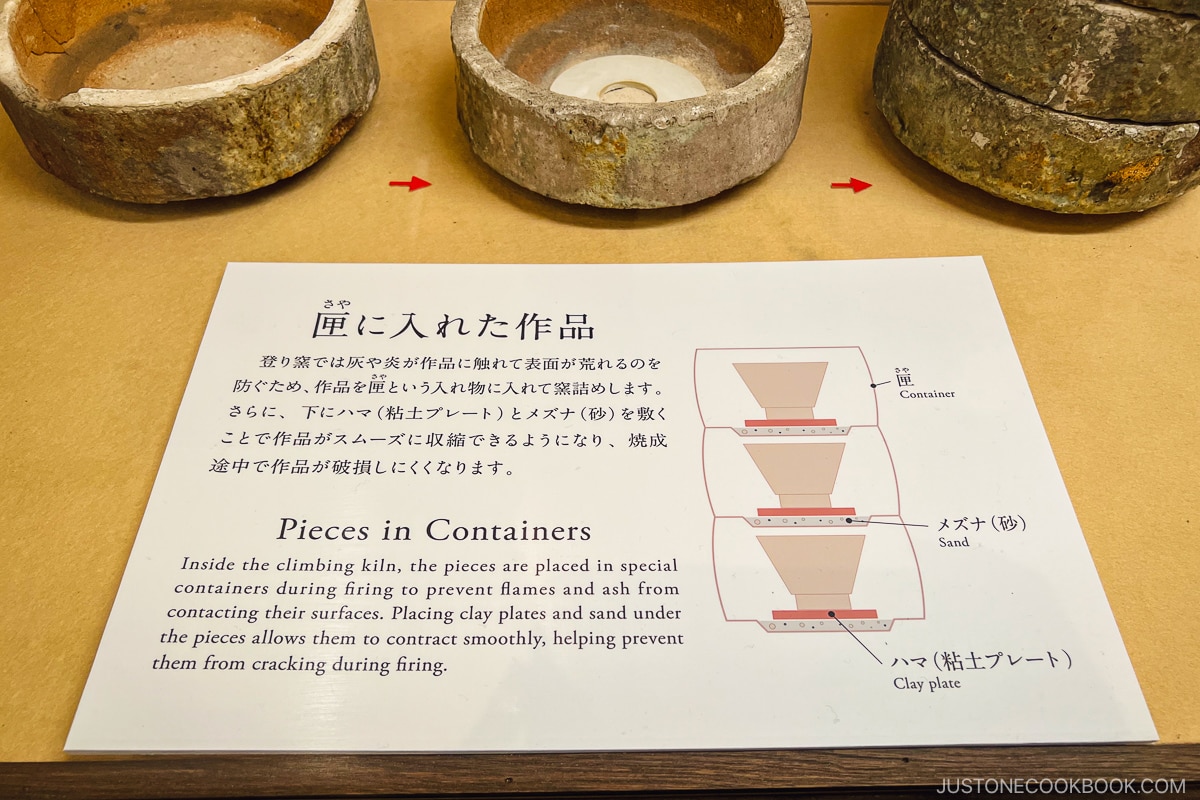 Coco Gallery
One of the activities we most looked forward to on this trip is painting our own Kutani ware. Coco Gallery offers such an experience and is just steps from Yamashiro Onsen's bathhouse. At Coco Gallery, you can pick from porcelain with pre-drawn lines or freehand your own art.
Kutani ware is unique with its use of five colors, green, blue, yellow, purple, and red. The ink is slowly painted onto the plate as a thin layer, and then a dryer is used to quickly dry the ink so it doesn't flow any further.
It was difficult for us to visualize the final artwork since the colors can turn out to be very different after it's fired in the kiln. But that added a surprising element to the process. We all had a lot of fun creating our art works and appreciated the beautiful Kutani ware even more.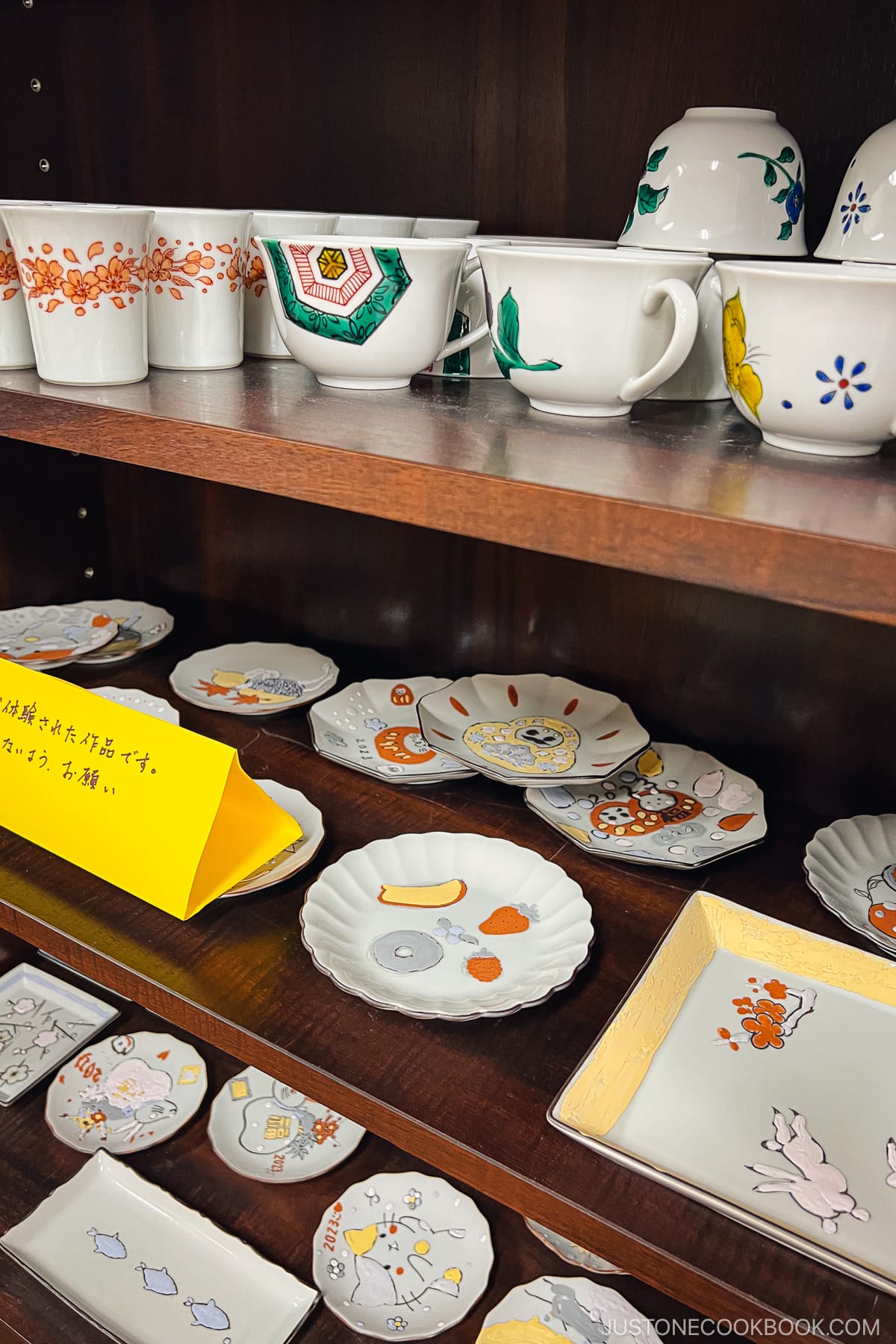 Yakuoin Onsenji Temple
After painting our Kutani ware, we walked to the nearby Yakuioin Onsenji Temple to pray. It's a small temple in the center of the town.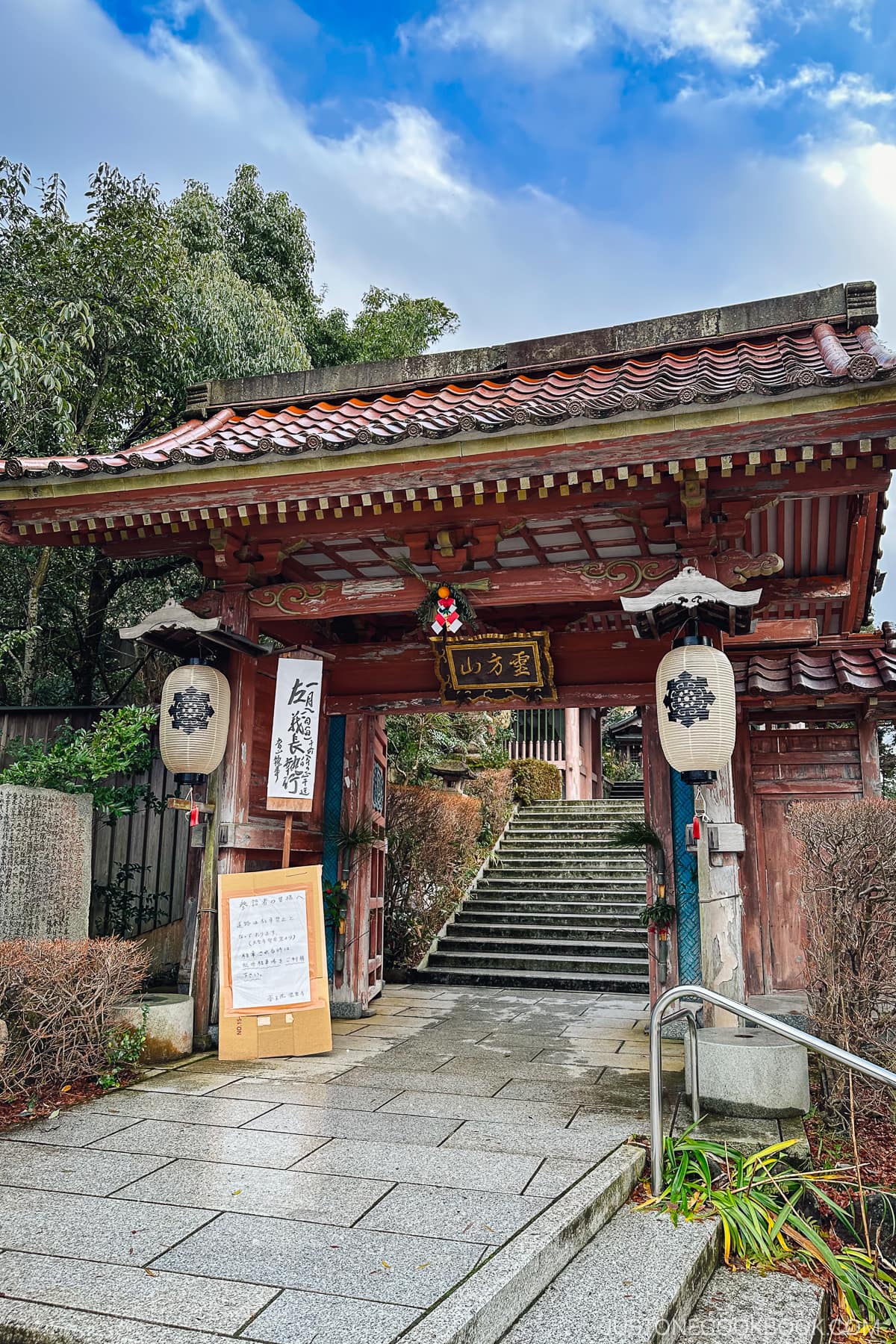 Yamanaka Onsen
Yamanaka Onsen is a 15 min drive from Yamashiro Onsen so we stopped by for a quick visit. Similar to Yamashiro, there are a few public bathhouses and footbaths. Near the bathhouse, a small clocktower had dancing figurines that would appear and perform on the hour.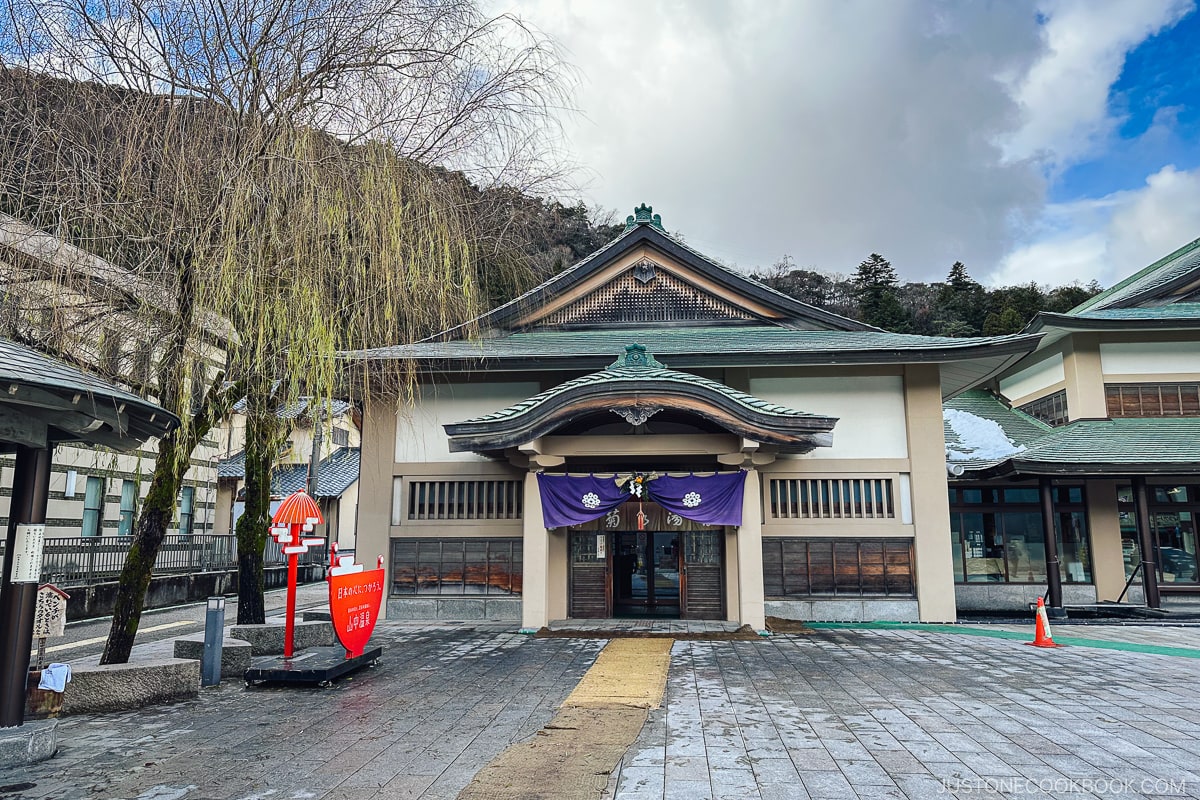 The main street is filled with cute souvenir shops and restaurants along the side. Unfortunately, we visited during the New Year holiday so most of them were closed. Most of the buildings on the main street are still traditional Japanese structures and provide a true experience of visiting an onsen town.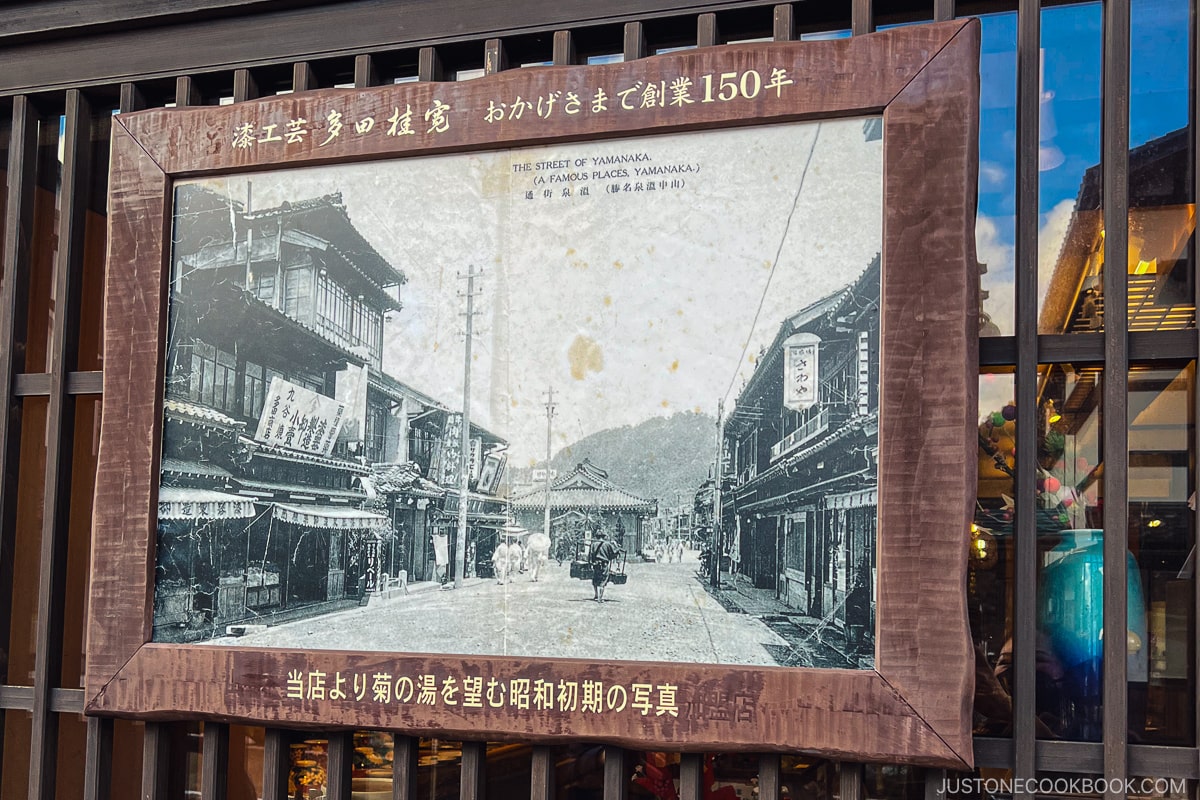 Kakusenkei Gorge and Ayatori Bridge
Two of the must-see sights in Yamanaka Onsen are Kakusenkei Gorge and Ayatori Bridge. The gorge runs along the Daisoji River parallel to the main street and is known for its dynamic scenery. There are several bridges that cross the Daisoji River and the most famous one is the burgundy-colored Ayatori Bridge. The interesting-shaped bridge is named Ayatori because of its similarity to a string game played by kids in Japan.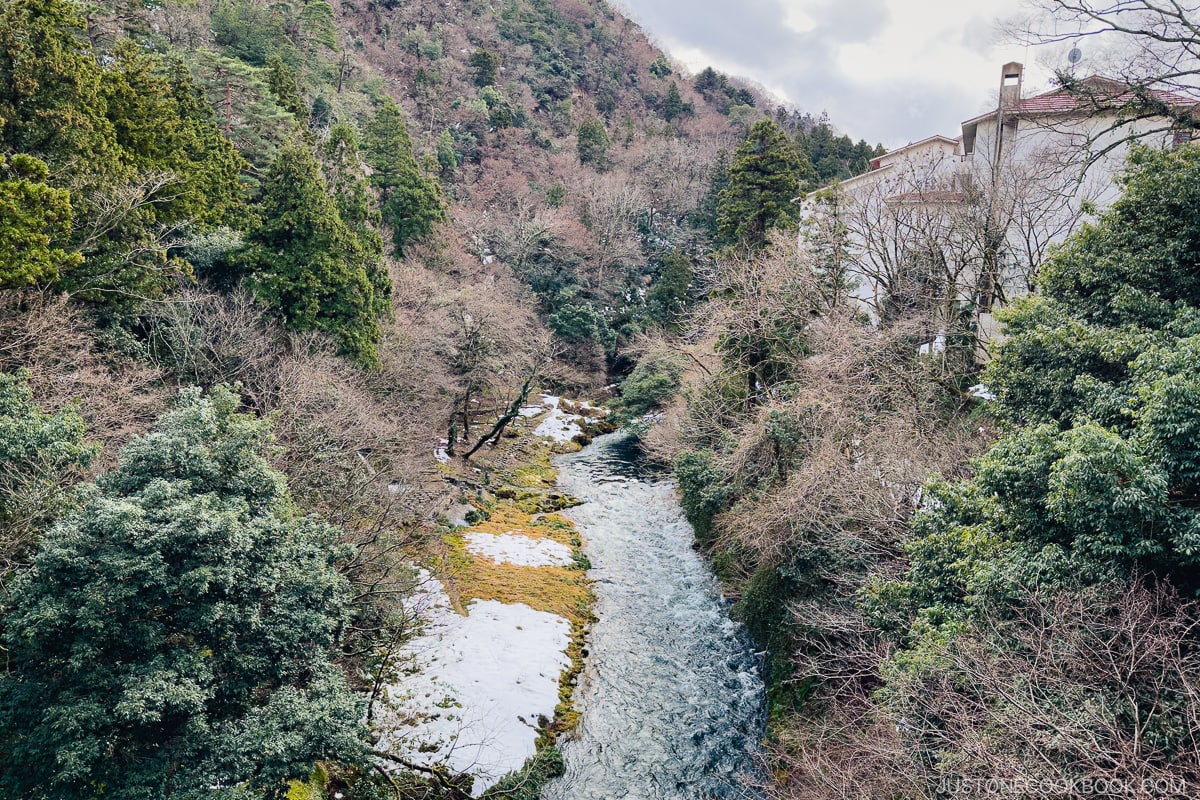 Maruoka-jo Castle
Our last visit to the area is Maruoka-jo Castle which is slightly further south in Sakai City. There are only 12 original Japanese castles and Maruoka is one of them. Even though it is considered small for a Japanese Castle, it certainly has one of the most interesting interiors.
To get up to the castle tower, visitors have to walk up an unusually long flight of stone steps to the entrance. Once inside, each floor is tight and the exhibits are minimal.
When you go up the next floor, the stairs are practically vertical and require the use of a rope to pull oneself up or lower down.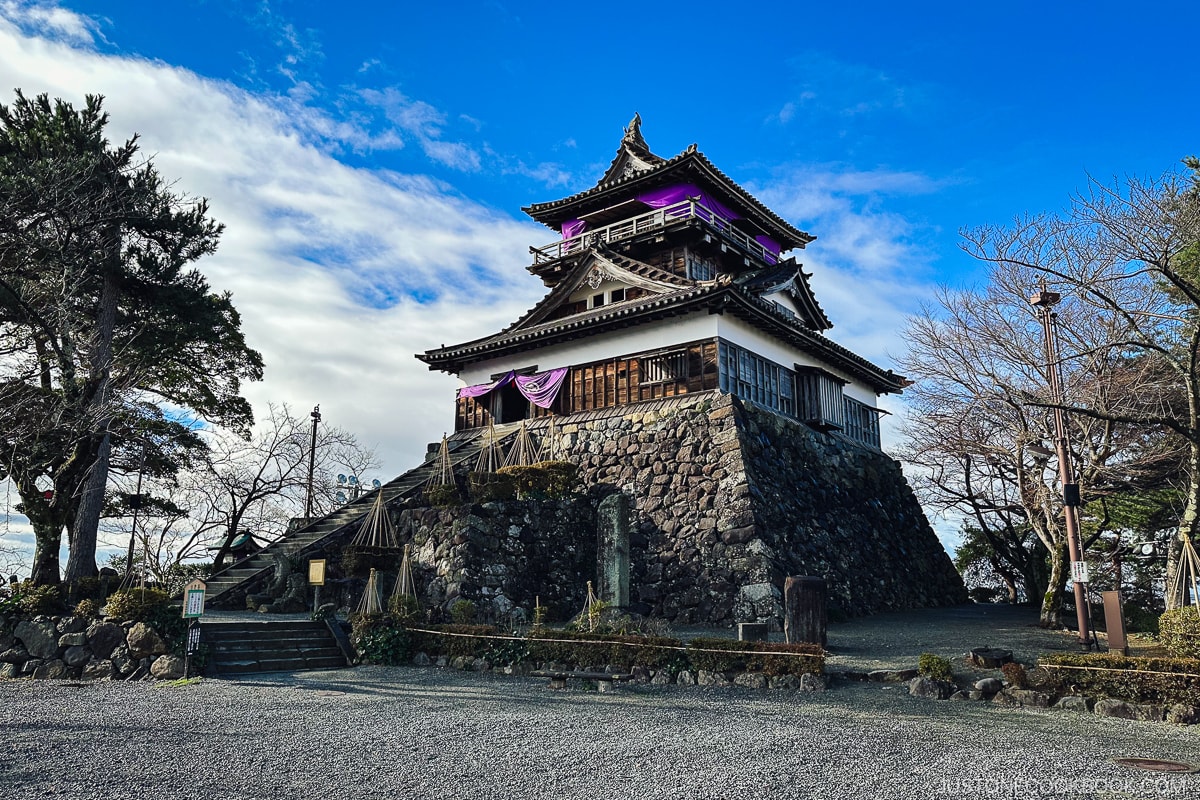 Tachibana Shikitei
The hotel we stayed at was Tachibana Shikitei right near the center of Yamashiro Onsen. The hotel was well-maintained and the service was excellent. It is right across from Yakuoin Onsenji Temple and we were lucky to see the beautiful scenery of the temple covered with snow from our window.
The meals were served in colorful Kutani ware dishes and lacquerware and were equally tasty. We stayed in a standard room but it had a dining table and chairs, which was unusual as most Japanese ryokans only offer floor seating and cushions. We certainly appreciated the extra comfy offer.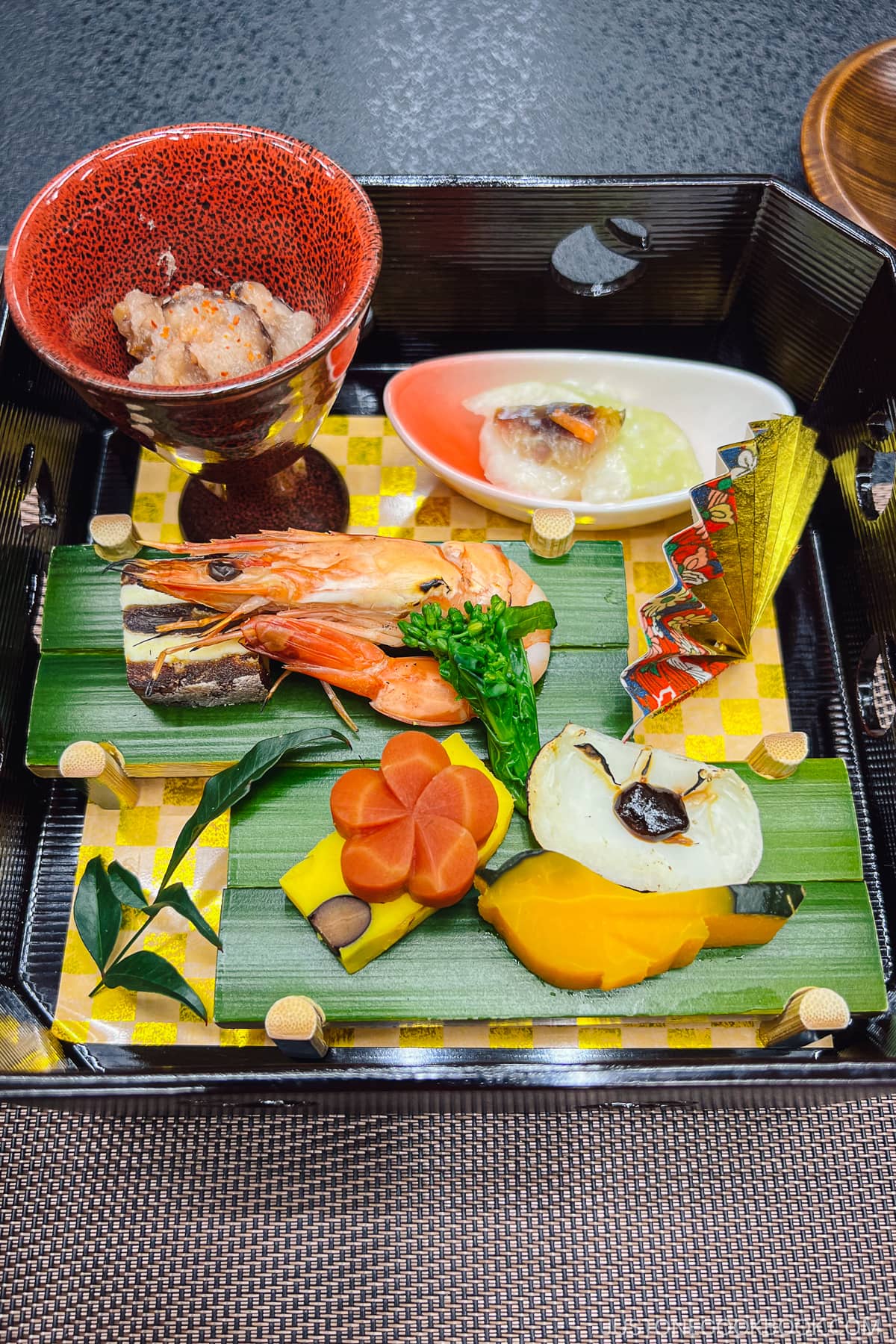 We hope you enjoyed our trip to Kaga area. It's a bit slower and less touristy than most Japanese hot spring resort towns. With plenty of green scenery and things to do, we were really happy with our visit. It's worth a visit if you are looking to explore off-the-beaten places in Japan.
---
More Hidden Gems: Off the Beaten Places to Visit in Japan