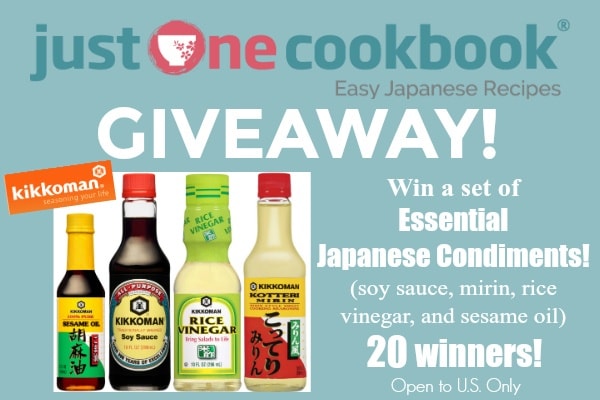 When you start cooking Japanese dishes, you will need some basic condiments. If you don't have the exact ingredient, perhaps you are thinking about substituting Japanese soy sauce and rice vinegar with something else… Wait!
I'm partnering with KikkomanUSA today to give away 20 sets of essential Japanese condiments. This Japanese condiments giveaway is the perfect chance for you to stock up your pantry. Trust me, with these essential condiments in your kitchen, you can cook most of the Japanese dishes!
Kikkoman Essential Japanese Condiments Set
The four essential Japanese condiments include:
Kikkoman Soy Sauce (Available on Amazon)
Kikkoman Rice Vinegar
Kikkoman Kotteri Mirin
Kikkoman Sesame Oil
You can find these available in the International food isle of American grocery stores, Asian grocery stores, and Japanese grocery stores.
Easy Japanese Foods You Can Make with Japanese Condiments Set
Dishes you can make with the sauces and oil from this Japanese condiments giveaway:
1) Tsukune: Chicken Meatball on Skewers
Tender ground chicken skewers with scallions, grilled in the oven and drizzled with sweet and savory soy sauce.
2) Sunomono: Cucumber Salad
Refreshing Japanese cucumber and seaweed salad dressed in sweet and tangy sesame vinaigrette.
Japanese Condiments Set Giveaway
GIVEAWAY RULES:
Please Note: Your email for the comment entry has to match with your email address in my Email Newsletter Subscription mailing list.
This giveaway contest closes on Sunday, May 28, at 12 p.m. PST and is open to U.S. residents (due to shipping logistics – more international giveaway coming soon!).
Twenty (20) winners will be selected via Random.org and contacted via email, so please include a valid email address in the email address entry box (please double check your spelling!).
The winners are required to respond within 48 hours to claim the prize.
HOW TO ENTER:
The more tickets/comments left on this blog post will increase your odds of winning!  Good luck!
Ticket 1 (Required): Subscribe to my Email Newsletter if you haven't and leave a comment below on this post.
Ticket 2 (Optional): Like Kikkoman Facebook and then leave a separate comment below on this post.
Ticket 3 (Optional): Like my Facebook and leave a separate comment below on this post.
Ticket 4 (Optional): Follow my Instagram and then leave a separate comment below on this post.
Ticket 5 (Optional): Subscribe to my YouTube channel and leave a separate comment below on this post.
Full Disclosure: This giveaway is sponsored by KikkomanUSA.
*****
Thank you for participating this giveaway! The 20 lucky winners are…
Congratulations to Kate (#166), Nate (#93), Carolsue (#348), Sakuryu (#75), Alan (#104), Veronica (#274), Marty (#361), Judy (#155), Anna (#147), Gary (#120), Debbie (#164), Christina (#325), Carolyn (#174), Sheila (#275), Jnenniferanne (#353), Kenny (#186), Kay (#12), Katrina (#363), Kim (#292), and Megan (#26)! I'll email you shortly.