Join us on the Kumamoto Travel Guide as we check the devastation of 2016 Kumamoto earthquakes on Kumamoto Castle and enjoyed a fabulous regional meal at Izakaya Negibouzu.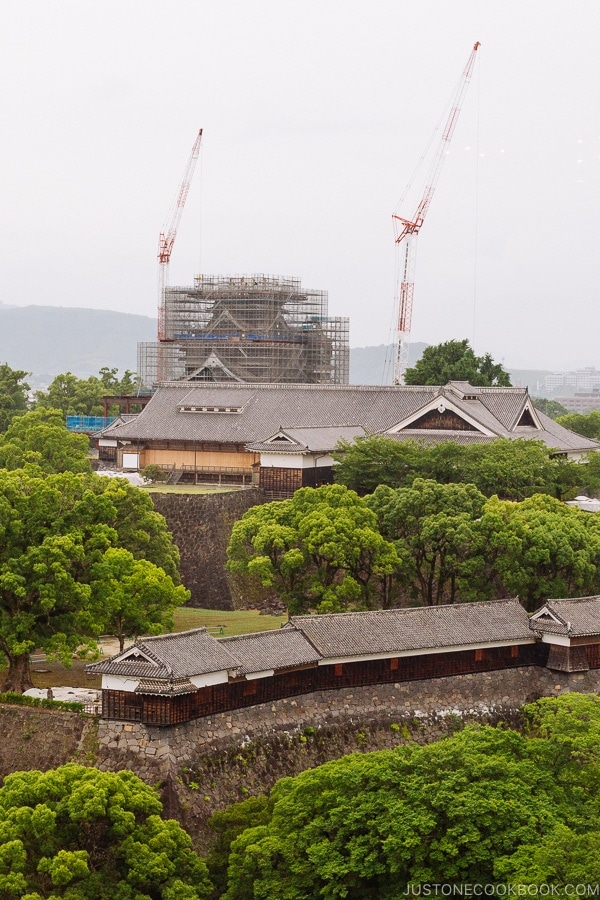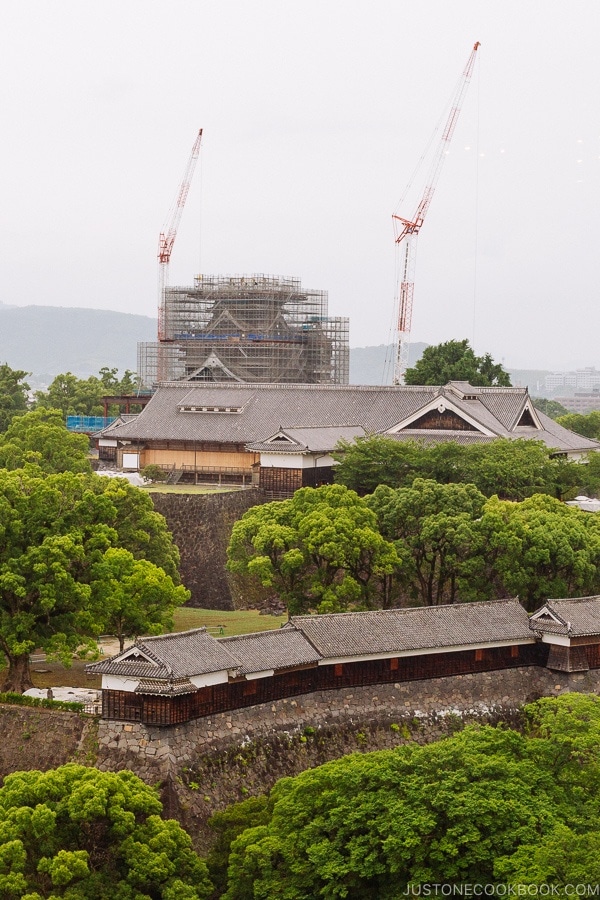 Our family took a trip to southern Japan last year and had an amazing time. Even though it's still Japan, the food, the scenery, and the culture are very different from large cities like Tokyo, Kyoto, or Osaka.
We've been sharing a travel guide for each location we visited once a week. If you missed our posts for Hiroshima, Miyajima, Beppu, Yufuin, and Kurokawa Onsen here are the links. For each location below that we visited, we are also sharing a local recipe the same week.
Hiroshima (広島) – recipe Grilled Oysters
Miyajima/Itsukushima (宮島/厳島) – recipe Baked Japanese Fried Oysters
Beppu (別府) – recipe Chicken Tempura (Tori-ten)
Kumamoto (熊本市)
Fukuoka (福岡市)
Ready to tour Kumamoto with us? Let's go!
Traveling to Kumamoto from Kurokawa Onsen
As I mentioned in the Kurokawa Onsen post, there are no trains to and from Kurokawa Onsen so you need to take a bus to other large Kyushu cities. Unfortunately, it's a long bus ride to Kumamoto – roughly 2 hours and 40 minutes.
The Odan bus (横断バス) we took crosses the Kyushu Island horizontally from Beppu to Kumamoto (also from Kumamoto to Beppu). However, it only runs twice a day so please plan your trip accordingly.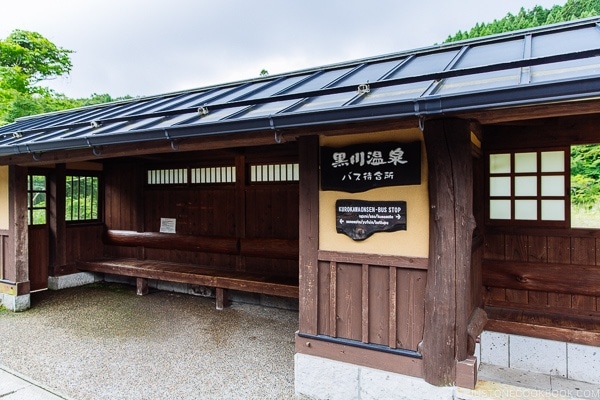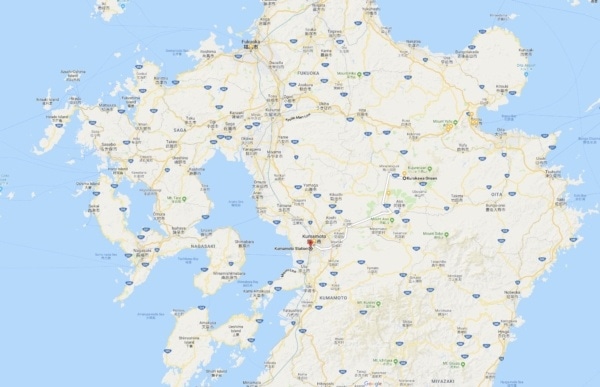 Normally visitors can take the bus to Aso Station (50 min away by bus) and then take the train to Kumamoto. Unfortunately, the 2016 Kumamoto earthquake had damaged the tracks and trains are not currently running between Aso Station and Higo-Ozu Station. We had originally planned to visit Mount Aso and ride the ropeway to visit the crater, but the service is also suspended due to the risk of volcanic eruption. If you would like to visit the crater, you can still get there by bus or car.
On the way to Kumamoto, the bus passes through breathtaking mountain scenery near Daikanbo (大観峰). We wished we had our own car so we can stop and take better pictures to share (picture below taken from the bus).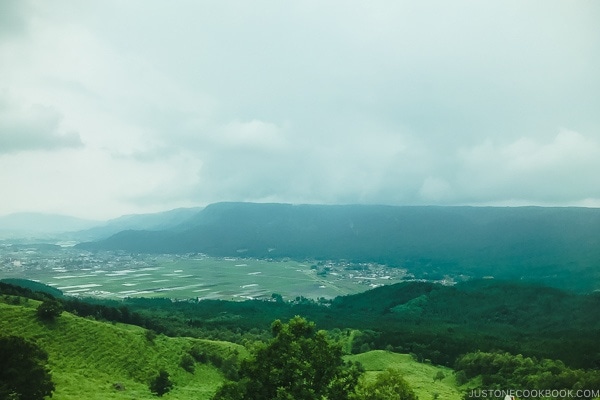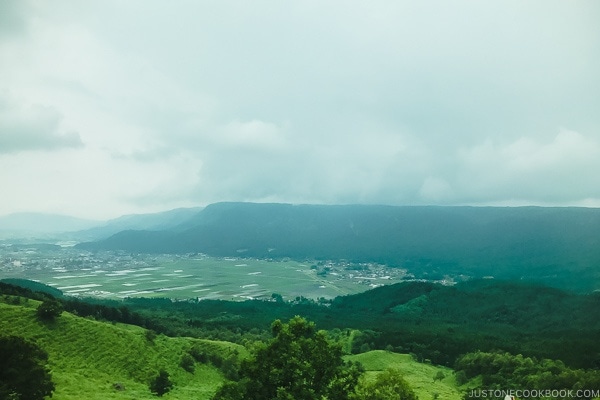 On the way to Kumamoto, the bus made a quick stop at Aso station. Even though we didn't get to see the crater this time, we'll be back to visit and ride the ropeway when the volcanic activity is not as dangerous.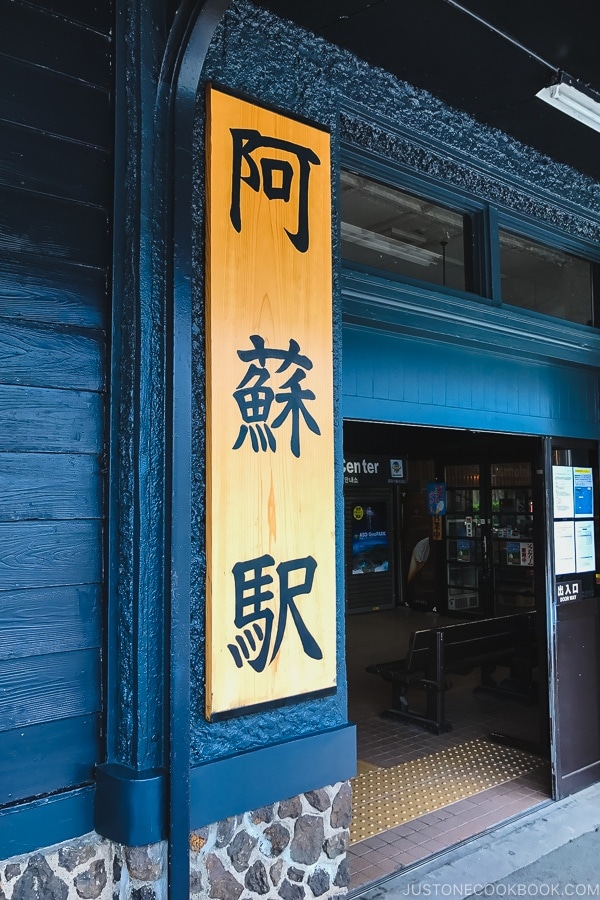 Almost 3 hours later, we finally reached JR Kumamoto Station!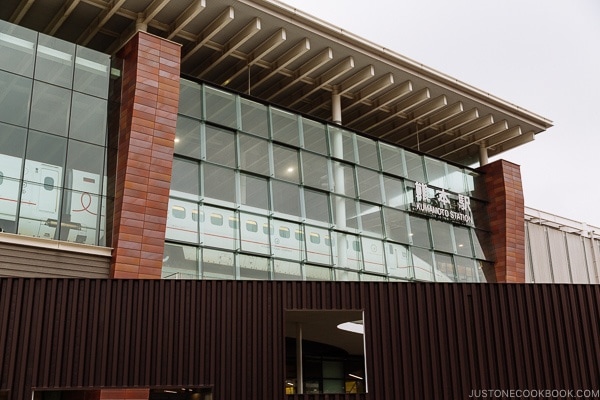 Kumamoto City – Kumamoto Travel Guide
Kumamoto is capital of Kumamoto Prefecture located on the west coast of Kyushu Island with a population of roughly 700k. It is a modern city and its best-known landmark is the Kumamoto Castle. Kumamoto is also known for its prefectural mascot, Kumamon.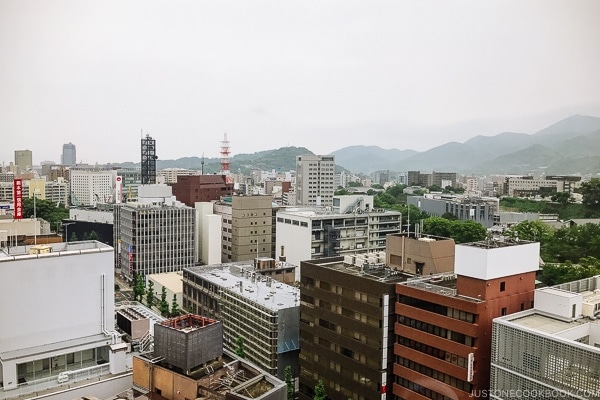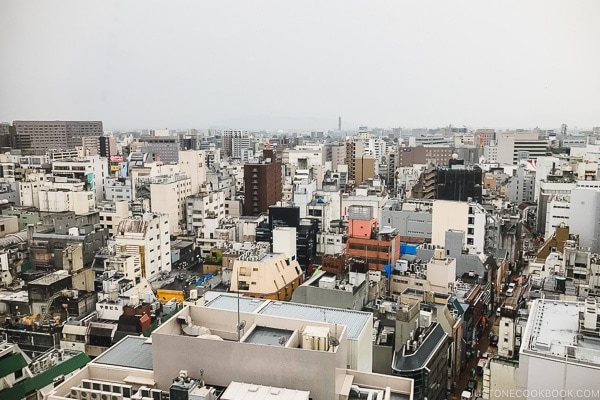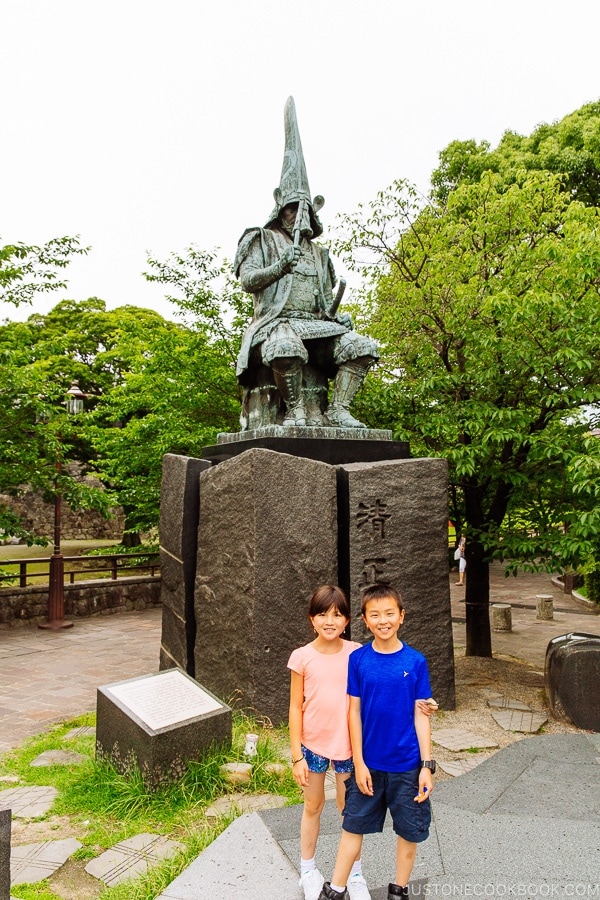 Kumamoto Castle 熊本城 – Kumamoto Travel Guide
Along with Osaka Castle and Nagoya Castle, Kumamoto Castle is one of the 3 Famous Castles (三名城) of Japan (not to be confused with Three Great Mountain Castles 三大山城 or Three Great Flatland Mountain Castles 三大平山城). It is still currently under repair but we were able to capture images of the devastation from the earthquake across from the castle.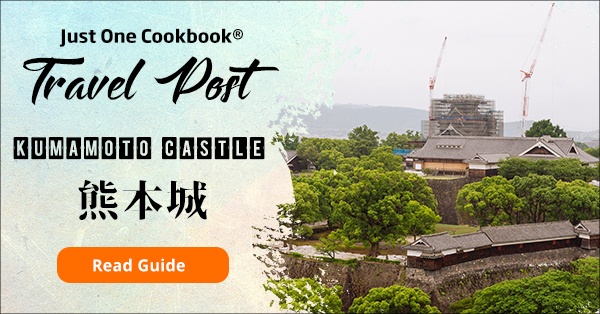 Although  Kumamoto Castle was closed for restoration and repair, the nearby Josaien (城彩苑) and Wakuwakuza History and Cultural Experience (湧々座) are still open to visitors.
Sakuranobaba Josaien (桜の馬場 城彩苑)
Right outside of Kumamoto Castle is Sakuranobaba Josaien, a small plaza recreated to resemble an Edo period castle town. There are souvenir shops and restaurants from different parts of Kumamoto featured in the plaza as well as a tourist office for visitors.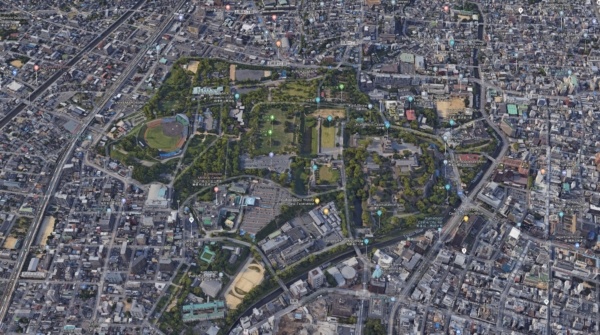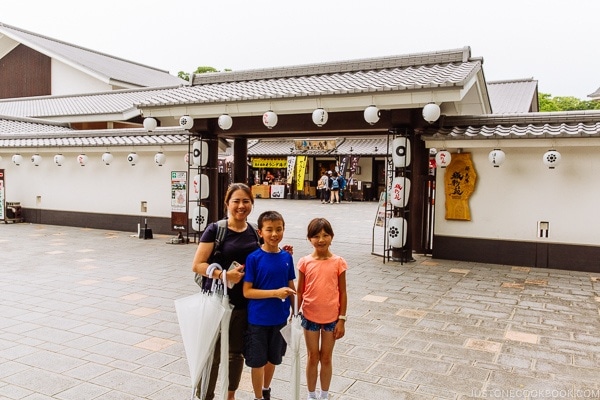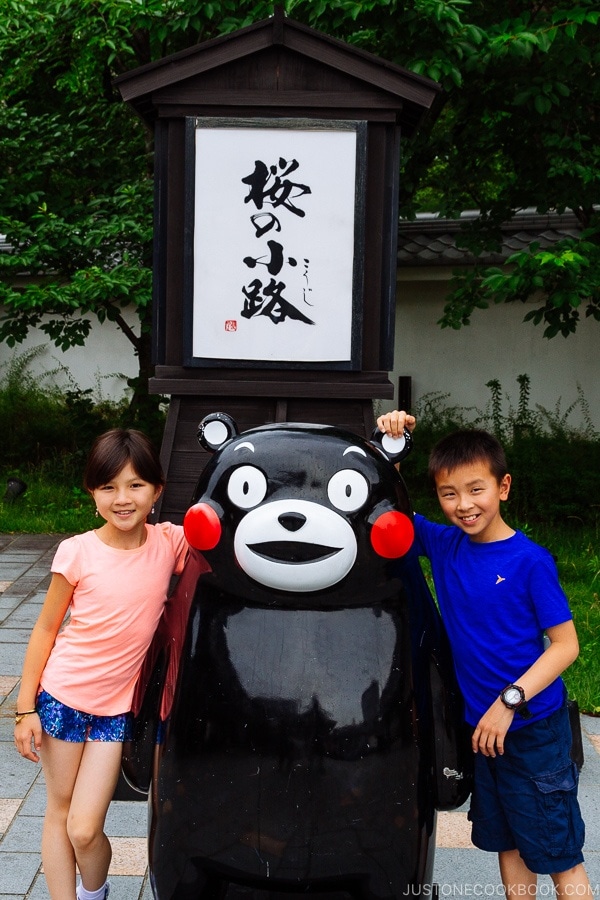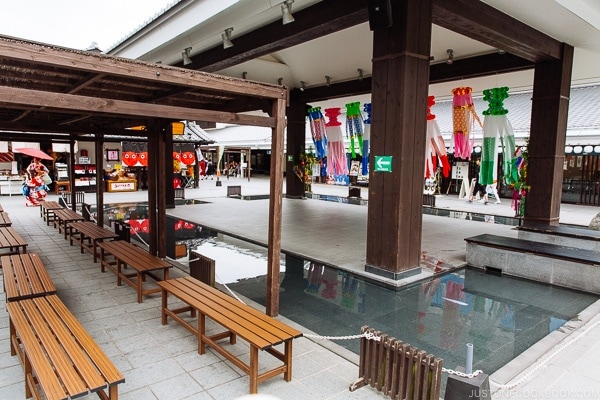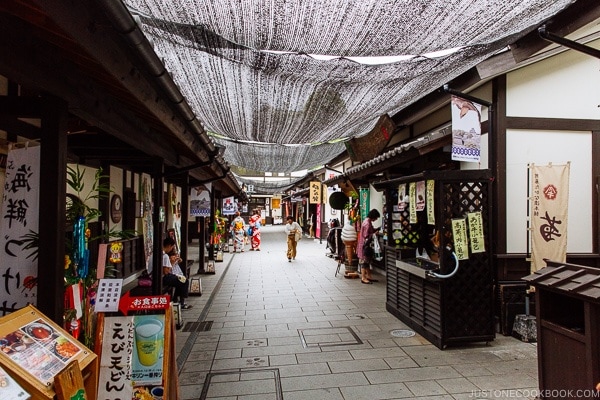 Wakuwakuza History and Cultural Experience (歴史文化体験施設 湧々座)
Attached to the Josaien is the Wakuwakuza History and Cultural Experience, which exhibits the history and culture of the Higo region going back 300 years.
During our visit, we were delighted by many interactive exhibits, including traditional clothing visitors can try on and learning how the castle wall was built with scaled models.
Negibouzu Izakaya ねぎぼうず
After visiting Josaien and Kumamoto Castle, it's time for dinner! For the dinner in Kumamoto, we had an unforgettable meal at Negibouzu Izakaya ねぎぼうず. We wanted to find a restaurant that served authentic Kyushu dishes and was able to snag a reservation at this popular restaurant.
Sidebar: When we travel around Japan, we use Tabelog to find restaurants we want to dine at. For more details on how to use Tabelog please read this post. Over the past few years, Tabelog has been translating a lot of contents to English so it's more user-friendly for non-Japanese speakers. Negibouzu is ranked in top 5000 in Tabelog.
Negibouzu is located just 5 min walk from the castle. The food style is izakaya (Japanese pub/bar food) with a focus on Kyushu regional cuisine. The menu had an extensive selection of yummy dishes and they also had some specials pasted all over the wall. If you don't plan on reading any further, we highly recommend this restaurant so please try if you are in Kumamoto. Not only are the ingredients fresh, the prices are super reasonable. A side benefit is most dishes are less than $10 USD.
The restaurant served a lot of local dishes you don't see outside of Kyushu. We got to try a few dishes we've tried for the first time.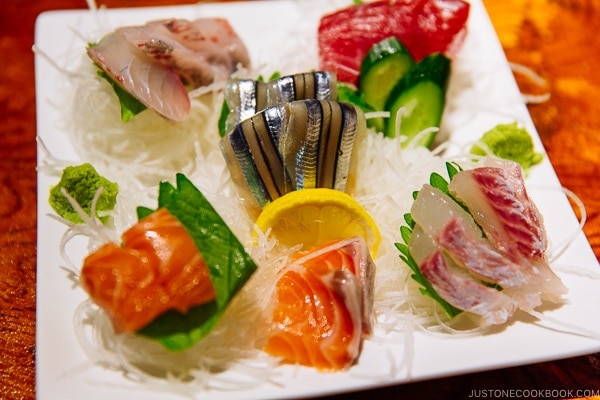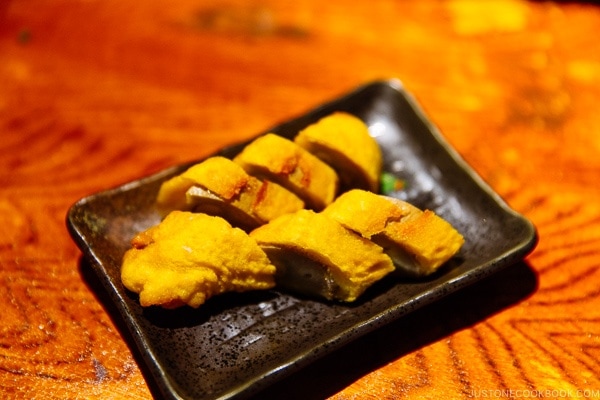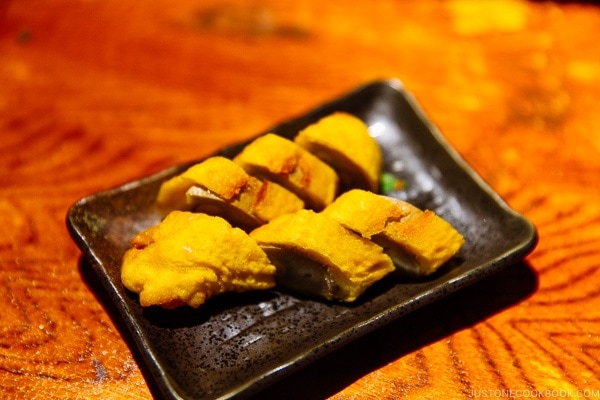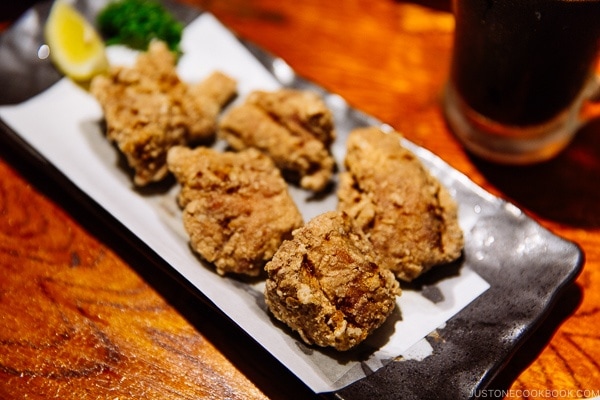 Negibouzu also serves a great selection of standard izakaya dishes but we really wanted to eat local specials. If the above dishes are a bit out of the norm, don't be turned off by what we ordered and trust our recommendation to try.
Hotel Dormy Inn Kumamoto
During our 1 night stay in Kumamoto, we stayed at Hotel Dormy Inn. It's a standard business hotel about 10 min walk to the south side of Kumamoto Castle.
As you can see in the image below, our room size is getting much smaller as our trip progressed (wait until you see our room in Fukuoka). Besides ryokan stays, we try to be economical with how much we budget for hotels as we spend the majority of our time exploring (and eating). For us, the room is mostly just for sleeping.
Our room had 2 single beds, and futons which we set up on the floor for the kids to sleep in. What the hotel made up for the small room size is their beautiful public bath. Yes, we continue to enjoy our onsen even in Kumamoto.
The hotel offered free shuttles to Kumamoto station for their guests.
We're getting close to the end of our trip as we go to Fukuoka next.
---
We hope you enjoyed the Kumamoto post. For the next travel post, we'll travel by shinkansen to Fukuoka and eat some delicious tonkotsu ramen!
Stay tuned and don't forget to subscribe our FREE Just One Cookbook newsletter delivered to your inbox!
If you are interested in our Travel Blogs, you can view them here.