March Giveaway: Win premium matcha green tea powder from award-winning Japanese Green Tea Company. 3 lucky winners will be selected! 
March means we are ready to spring forward – with positive thoughts and fresh-brewed matcha latte! So this month, we've partnered with Japanese Green Tea Company to give away their premium matcha Japanese Powdered Green Tea (1.8oz) to 3 lucky winners of Just One Cookbook.
Look forward to treating yourself with a bright green and earthy cup of matcha? Enter for your chance to win this giveaway!
About Japanese Green Tea Company
Japanese Green Tea Company sells authentic, healthy Japanese Matcha & Green Tea harvested from sugarcane soil. In addition to the Global Tea Championship, their tea won the Japanese National Tea Award in 1974, 1975, 1979 and 2010.
Their matcha is one of the most luxurious,  made from premium Japanese green tea curated from the dirt that grows the tea. The farmers carefully cultivate crops of thick grasses around their tea trees and sugarcane syrup so that they provide added nutrients directly to the soil as a compostable blanket every winter. The farmers also collaborate with researchers from Shizuoka University to study soil and the impacts its sweetness has on the taste of the tea it cultivates.
This labor-intensive process protects each plants' delicate roots while giving each tree the nutrition it needs to grow, ensuring that only the best leaves make it into their tea. This longer processing method leads to a bolder flavor filled with the health-enhancing amino acid theanine with smoother a mouthfeel, a subtle hint of sweetness and is far less astringent.
Japanese Green Tea Company is the only US-based company to source tea directly from Arahataen Green Tea Farms in the Shizuoka prefecture in Japan. Shizuoka has been the center of green tea cultivation in Japan for centuries, and the region's intense sunlight and intermittent fog give each batch of tea its distinctive flavor.
Learn More about Japanese Green Tea
Japanese Authentic Matcha
Cultivar: Yabukita (やぶきた)
Winner of Global Tea Championship (2017 and 2018)
Grown in sugarcane soil
Rich and quality dirt makes the tea naturally sweet and healthy
Harvested with Love in Shizuoka, Japan
Partners with Shizuoka University for tea taste research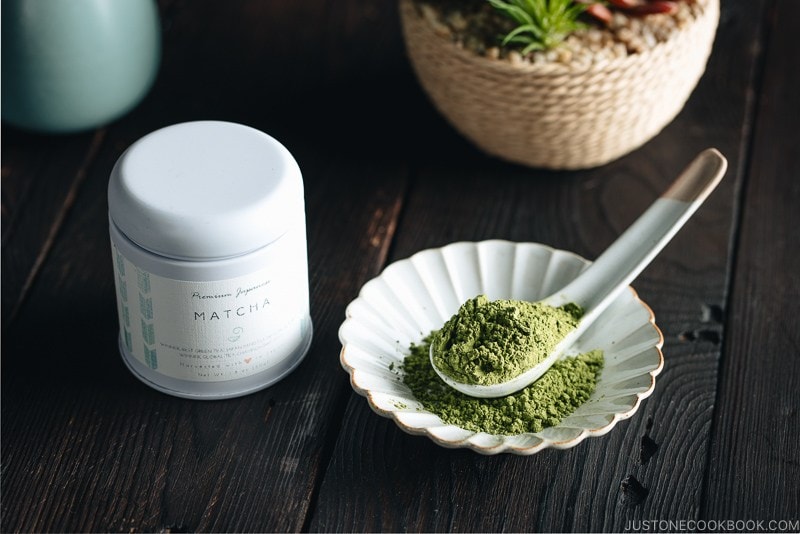 Special Discount for Just One Cookbook Readers
Japanese Green Tea Company is also offering Just One Cookbook readers a 15% discount on your first order.
Discount Code: JOCMARCH2020
You can use the code at the checkout. The codes expire on March 22, 2019 and are limited to one use per customer.

Enter to Win Premium Matcha Japanese Powdered Green Tea (1.8oz)
GIVEAWAY RULES:
Please Note: Your email for the comment entry has to match with your email address in my Email Newsletter Subscription mailing list.
This giveaway contest closes on Sunday, March 22, at 12 p.m. PST and is open to US residents only. 
Three (3) winners will be selected via Pick Giveaway Winner Plugin and contacted via email, so please include a valid email address in the email address entry box (please double check your spelling!).
The winners are required to respond within 36 hours to claim the prize.
HOW TO ENTER:
The more tickets/comments left on this blog post will increase your odds of winning. Good luck!
Ticket 1 (Required): Subscribe to Japanese Green Tea Company Newsletter and leave a separate comment below on this post.
Ticket 2 (Required): Subscribe to Just One Cookbook Email Newsletter if you haven't and leave a comment below on this post. 
Ticket 3 (Optional): Follow Japanese Green Tea Company Instagram and then leave a separate comment below on this post.
Ticket 4 (Optional): Follow JOC Instagram and then leave a separate comment below on this post.
Ticket 5 (Optional): Like Japanese Green Tea Company Facebook and leave a separate comment below on this post.
*****
Thank you for participating in this giveaway! The winners are…
Ann Hupe
Judette Moe
Helen
Congratulations! We'll email you shortly.