Okayama is home to the legend of Momotaro "Peach Boy", the striking Okayama "Crow" Castle, and Korakuen Garden, one of Japan's three greatest gardens.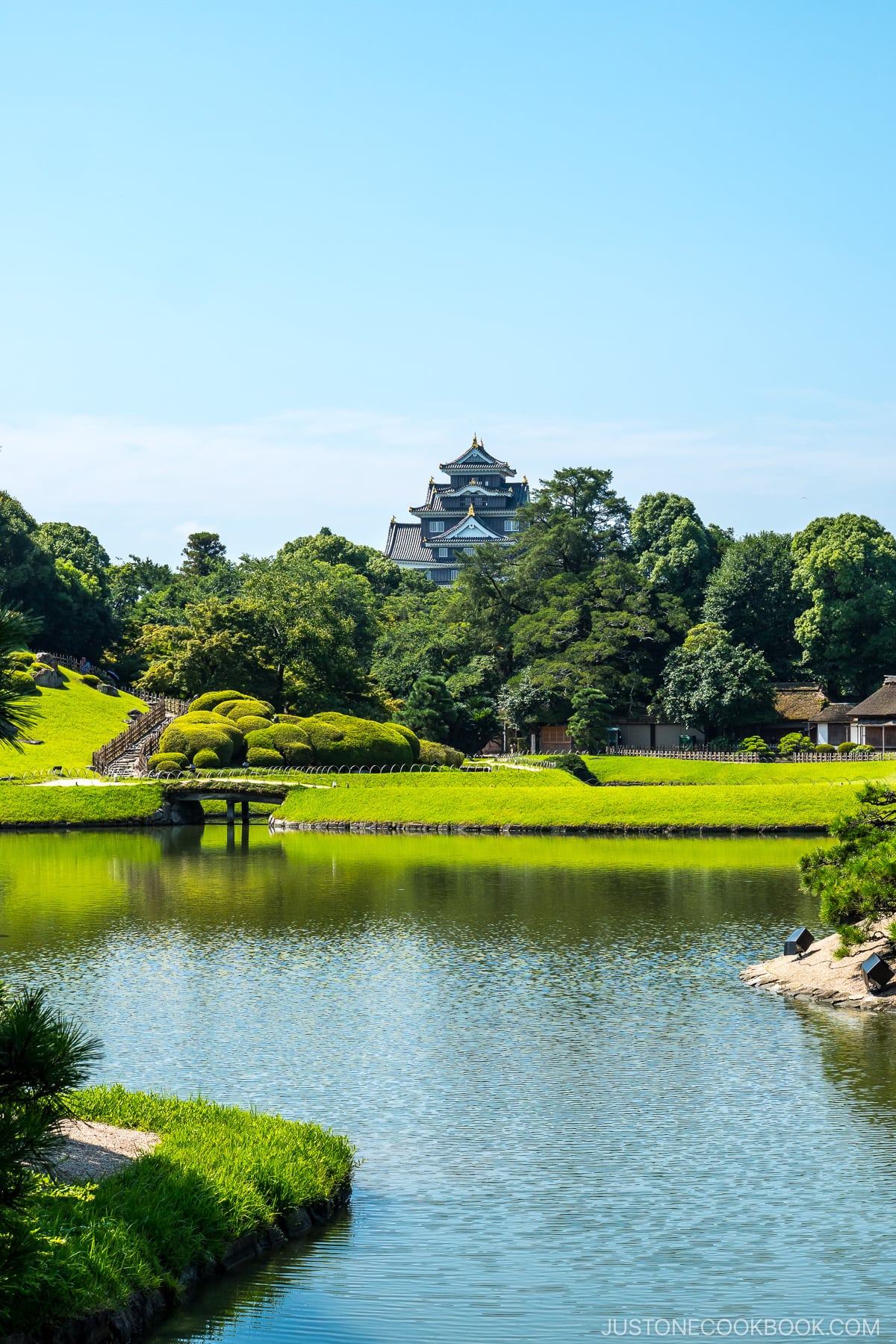 Okayama (岡山) is a coastal city located on Seto Inland Sea facing Shikoku (四国). This less-travelled Japanese city and nearby areas is a hidden gem for a delightful 2-day trip, offering a welcome change from the overcrowded, fast-paced metropolises. Join us as we explore the hometown of Momotaro (the peach boy), discovering popular attractions and savoring local cuisine.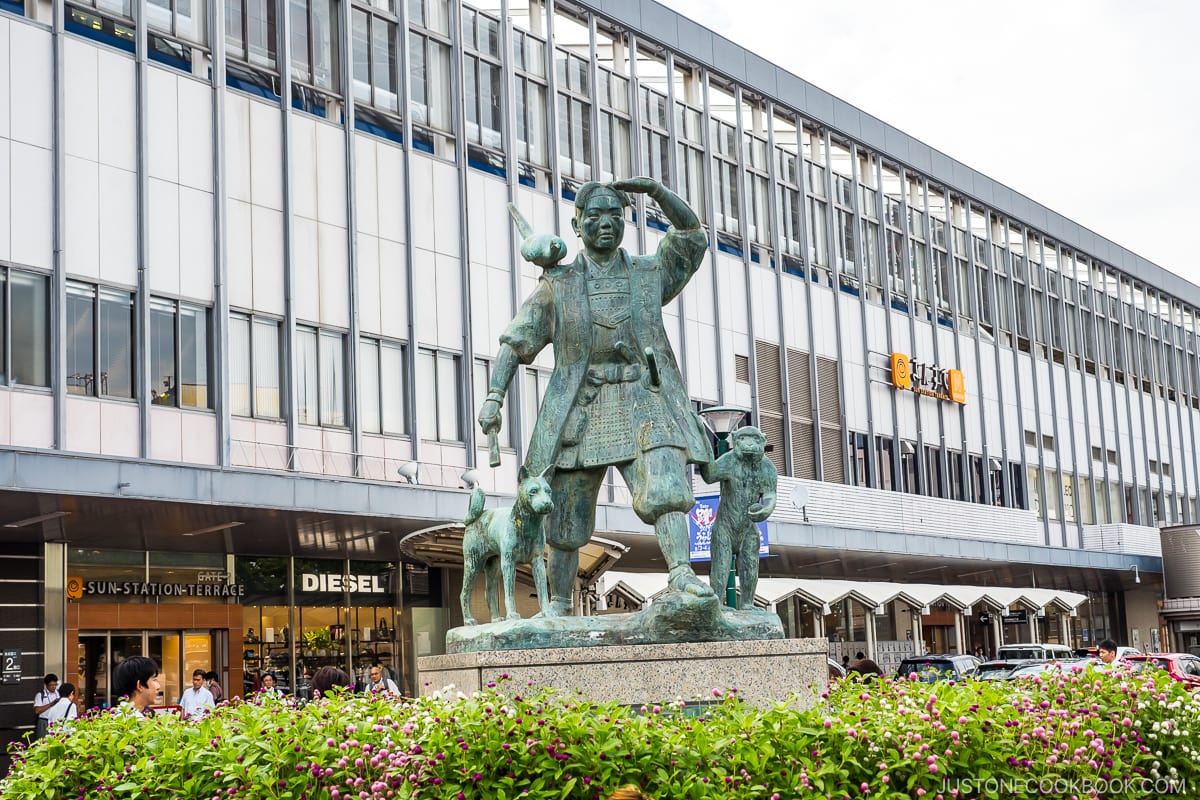 Where is Okayama City
Okayama is conveniently located halfway between Osaka and Hiroshima on the Seto Inland Sea. It is right on the Sanyo Shinkansen (bullet train) that connects Osaka and Fukuoka, which provides easy access with approximately a one-hour journey from both Osaka and Hiroshima. From Tokyo, the Shinkansen ride takes approximately three and a half hours.
This capital city of Okayama Prefecture is famous for its breathtaking scenery, rich culture and delicious foods. It is often called the land of sunshine as it gets more sunny days than most places in Japan. The most notable attractions include the Okayama Castle and Korakuen, the iconic landscape garden.
Okayama Station
We love it when you can easily explore a city without a car and Okayama certainly lives up to that! With a centrally located Okayama Station, you can either walk or take the public transport to most of the attractions. For example, it takes a short 20 min walk to the Okayama Castle and Korakuen Garden or a 12-15 minute journey by bus or trams (streetcars). With all the walking around town, you get a better sense of the city and earn yourself some yummy street snacks along the way!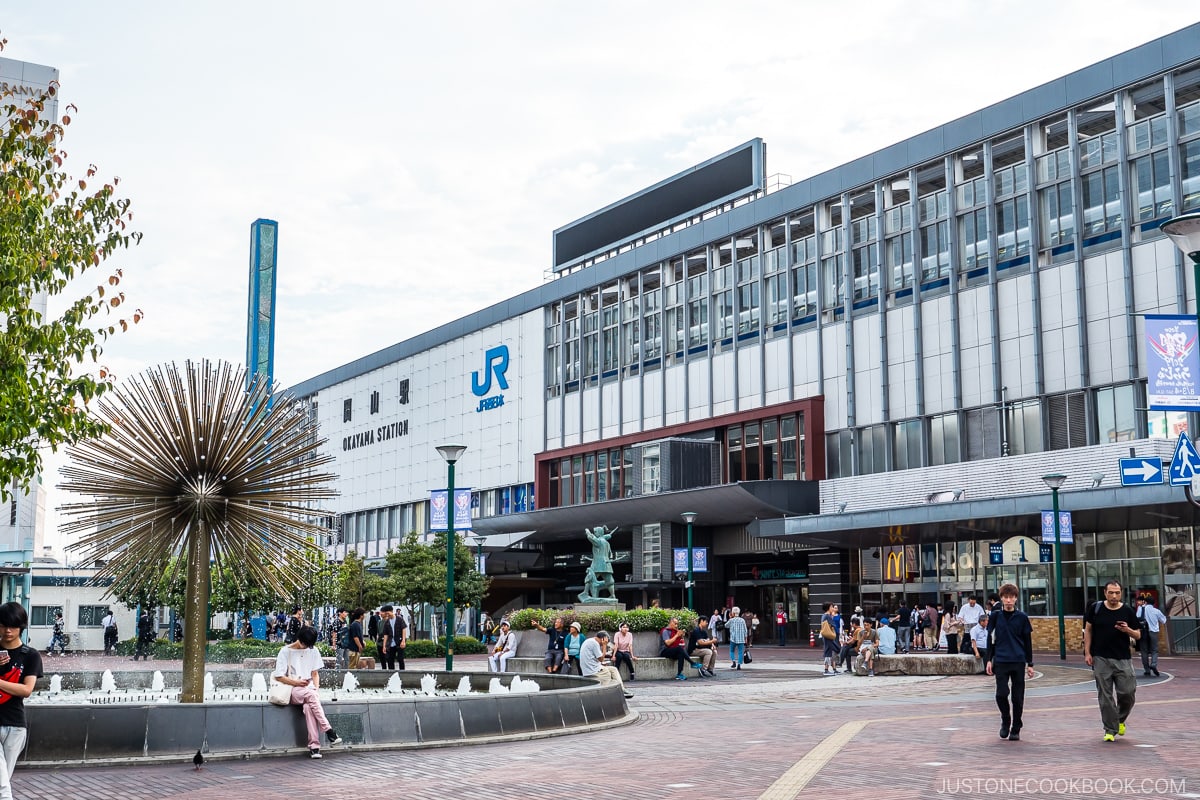 Okayama Castle and Ujo Park
Originally built in 1597, Okayama Castle is renowned for its striking black lacquer appearance, earning it the nickname "Ujo" or "Crow Castle."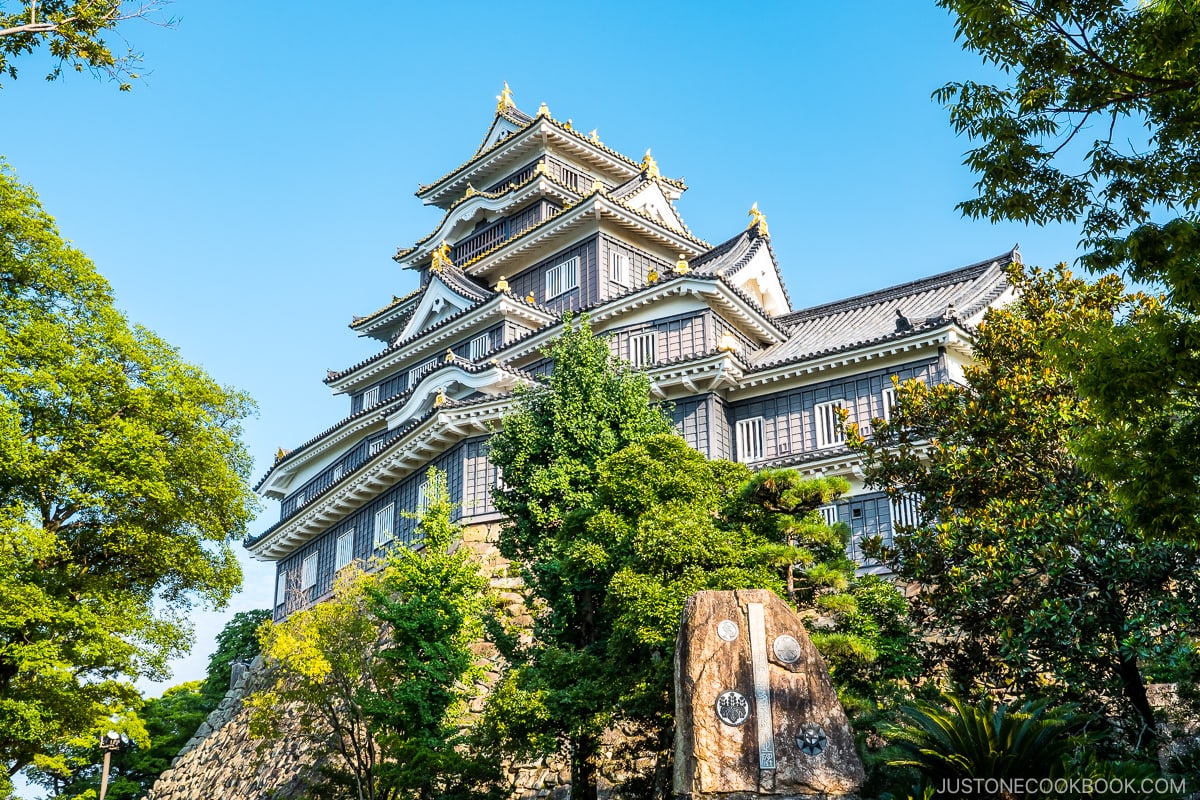 The original Japanese castle was burnt down in 1945 during World War II and the reconstruction was completed in 1966. The exterior and the surrounding gates that lead up to the castle tower are now a replica. The only original remaining structure is the Tsuki Yagara (moon-viewing turret) built in 1620.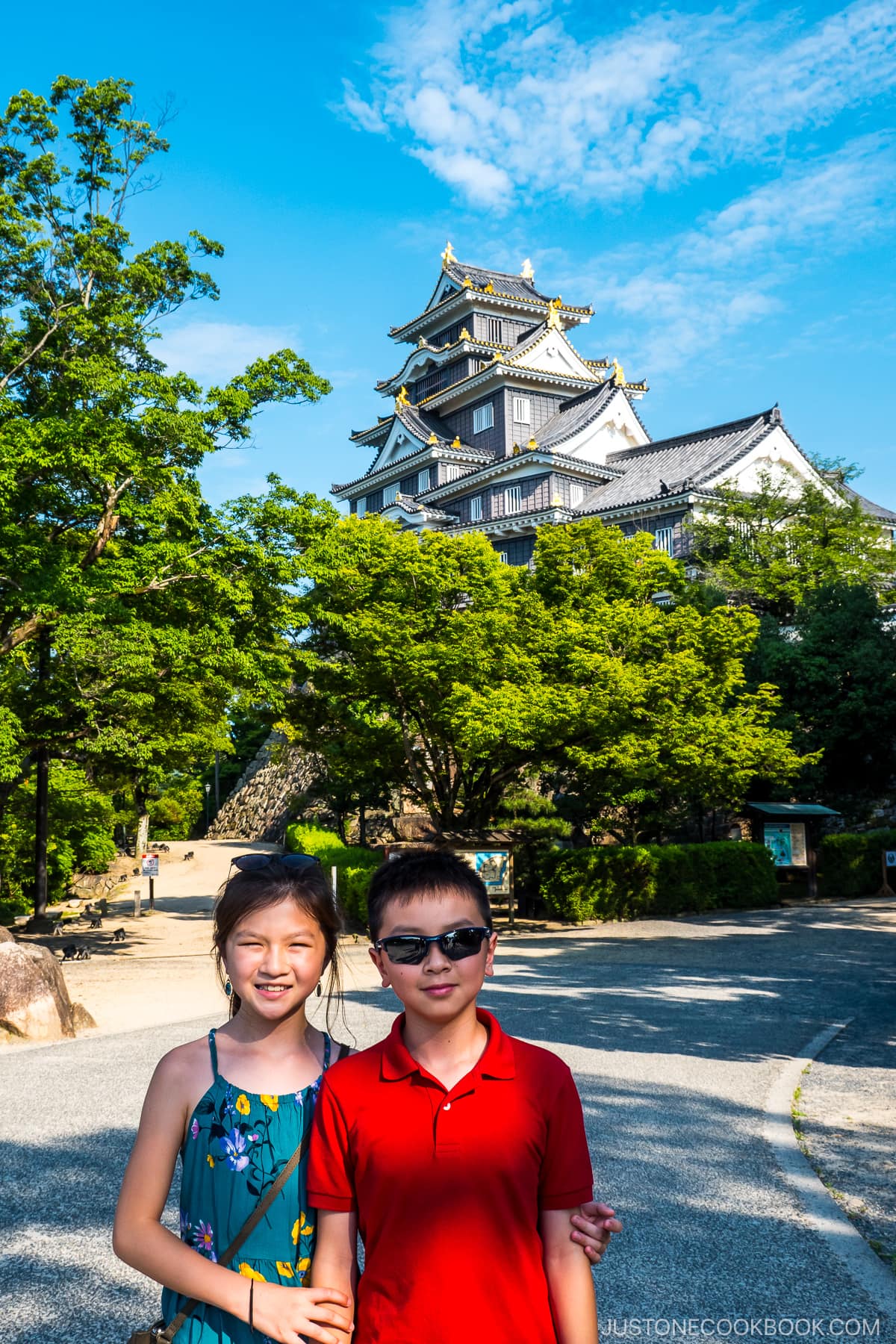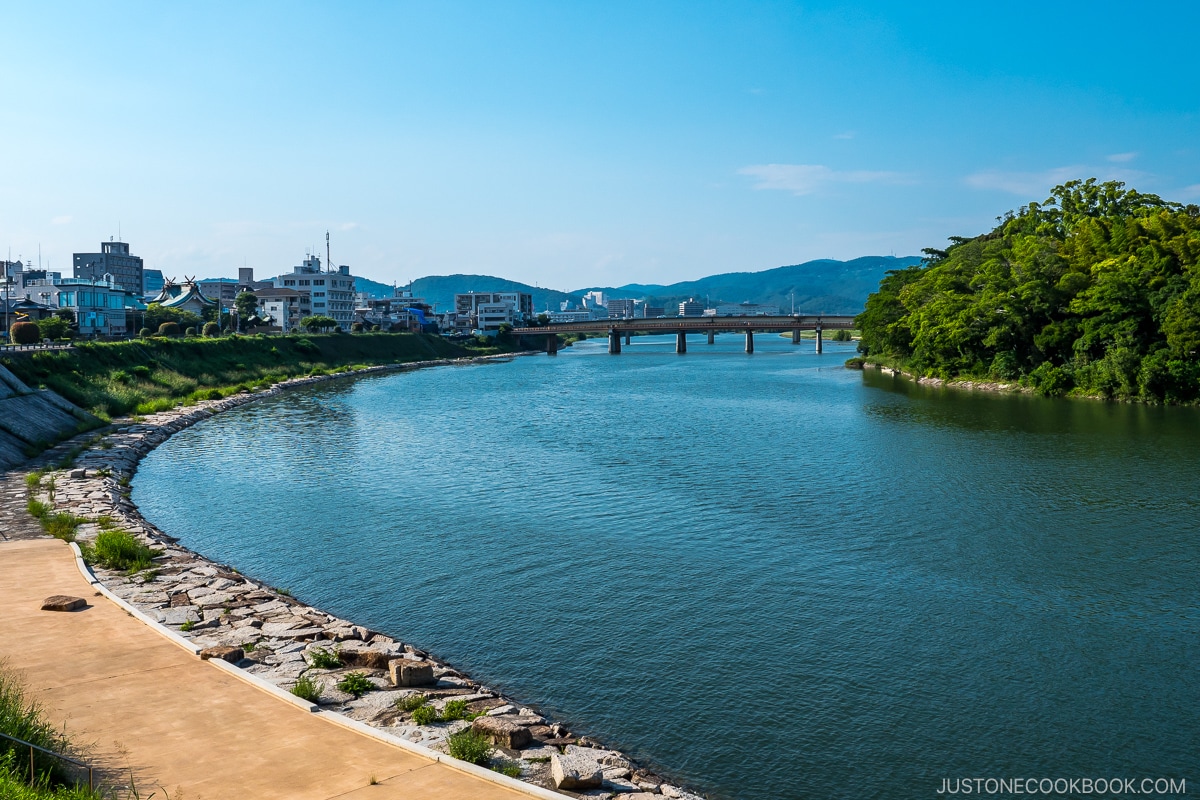 Inside, visitors can explore exhibits showcasing the castle's history and the 14 lords who resided there. The castle tower offers panoramic views of the surrounding area and Ujo Park.
Tsukimi Bridge
From the castle, head over to the picturesque Tsukimi Bridge, a pedestrian-only bridge that crosses the Asahi River. The ticket booth at the Korakuen's south gate is just past the bridge.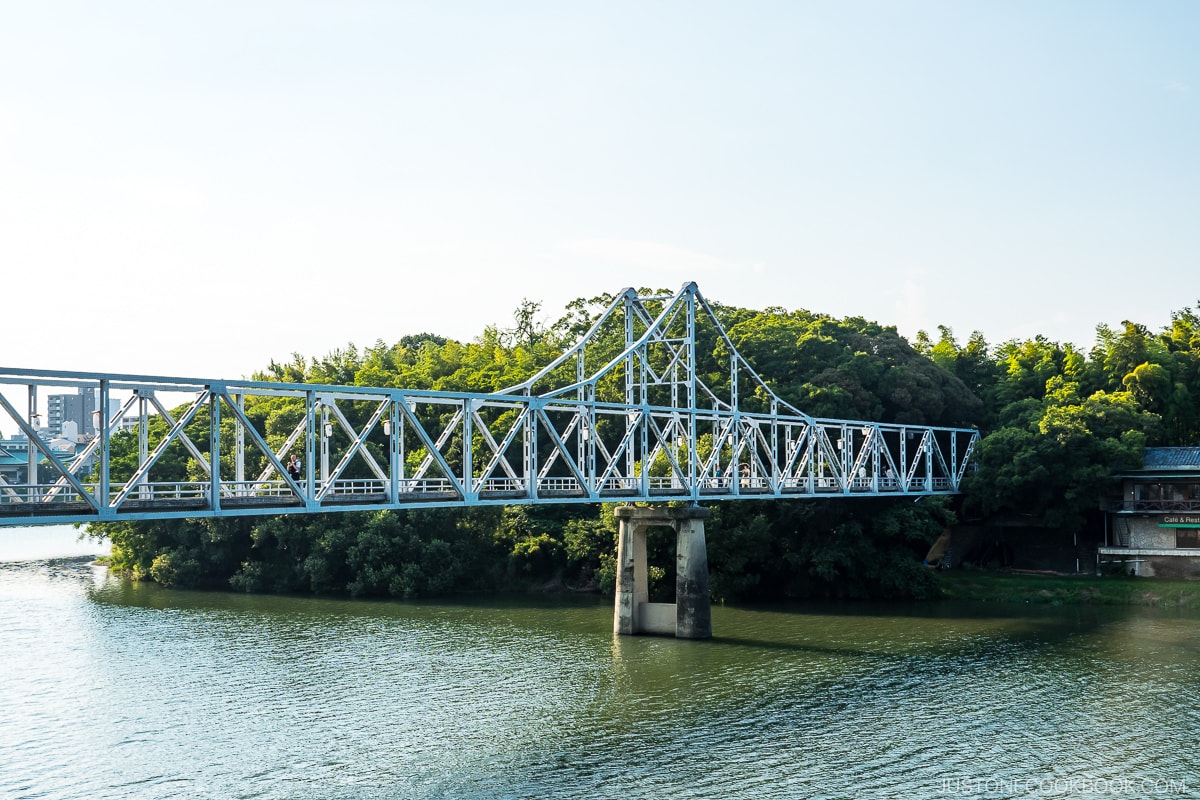 Okayama Korakuen Garden 後楽園
A must-visit in Okayama is Korakuen Garden, one of Japan's three famous gardens along with Kenrokuen (Kanazawa) and Kairakuen (Mito). This exquisite garden was completed in 1700 during the Edo Period and was initially intended for the private use of the Ikeda family, who resided in Okayama Castle.
Over time, various trees, including cherry, maple, and pine, were planted, and an artificial hill called Yuishinzan was added. In 1884, the garden was transferred to Okayama Prefecture and opened to the public.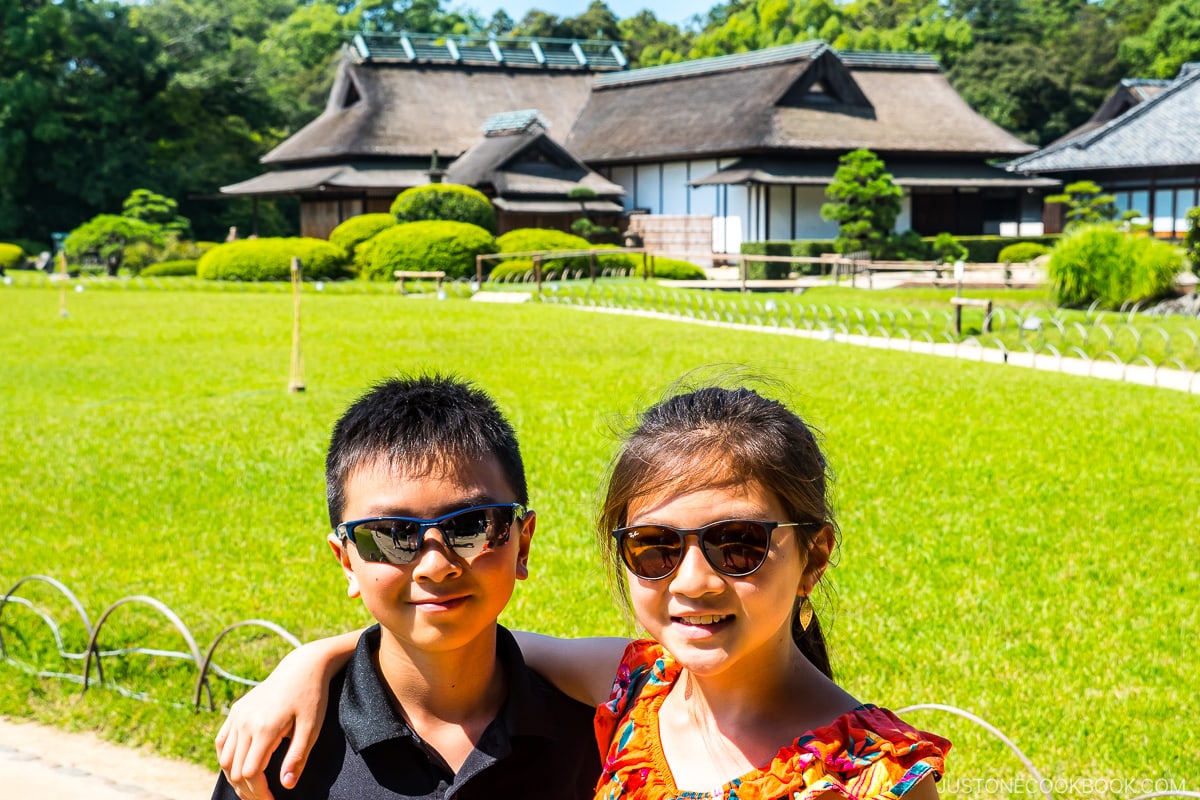 Prepare to be captivated by its vast landscapes, meticulously maintained teahouses and breathtaking views from Yuishinzan Hill. Each season brings its own distinct charm, with cherry blossoms and autumn foliage being particularly enchanting.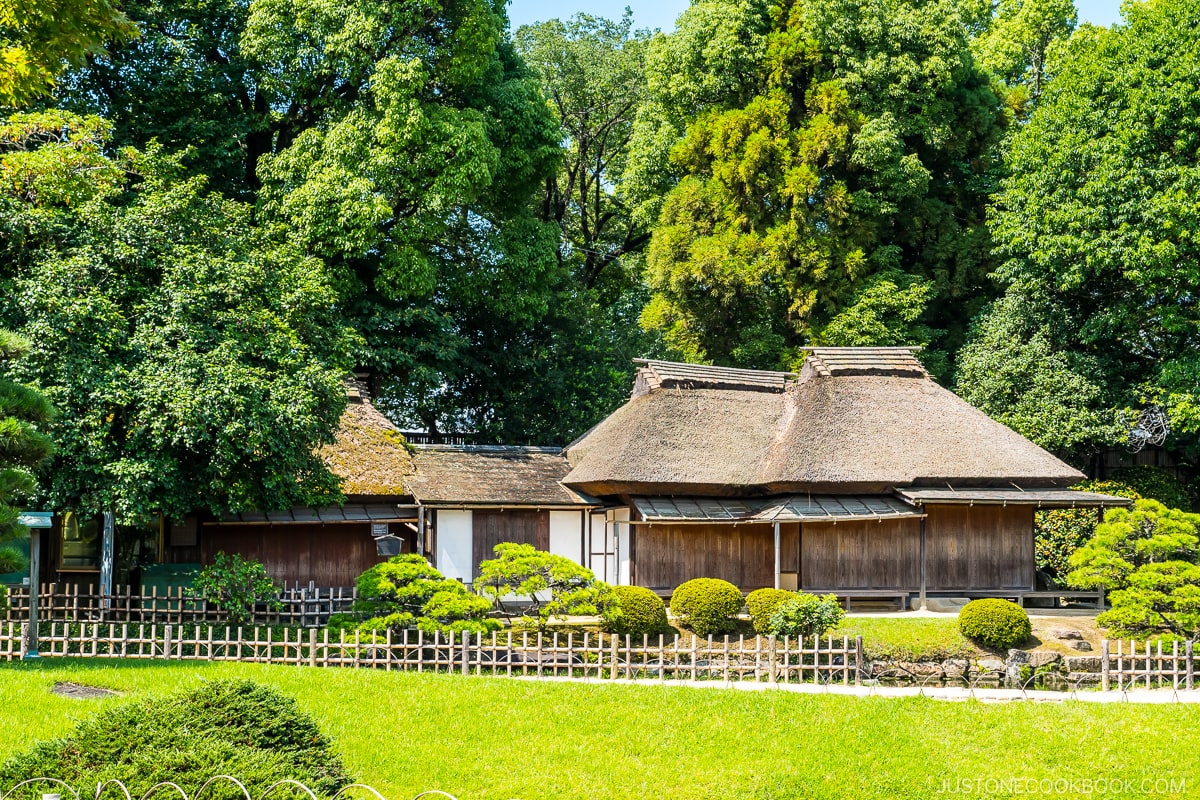 Okayama Shopping and Dining
After immersing yourself in the castle and garden, head back to Okayama Station area for some shopping and dining. You'll find a plethora of options, including the expansive Aeon Mall, one of the largest in Western Japan, boasting over 350 shops. For more traditional goods, explore Ekimae Shopping Street.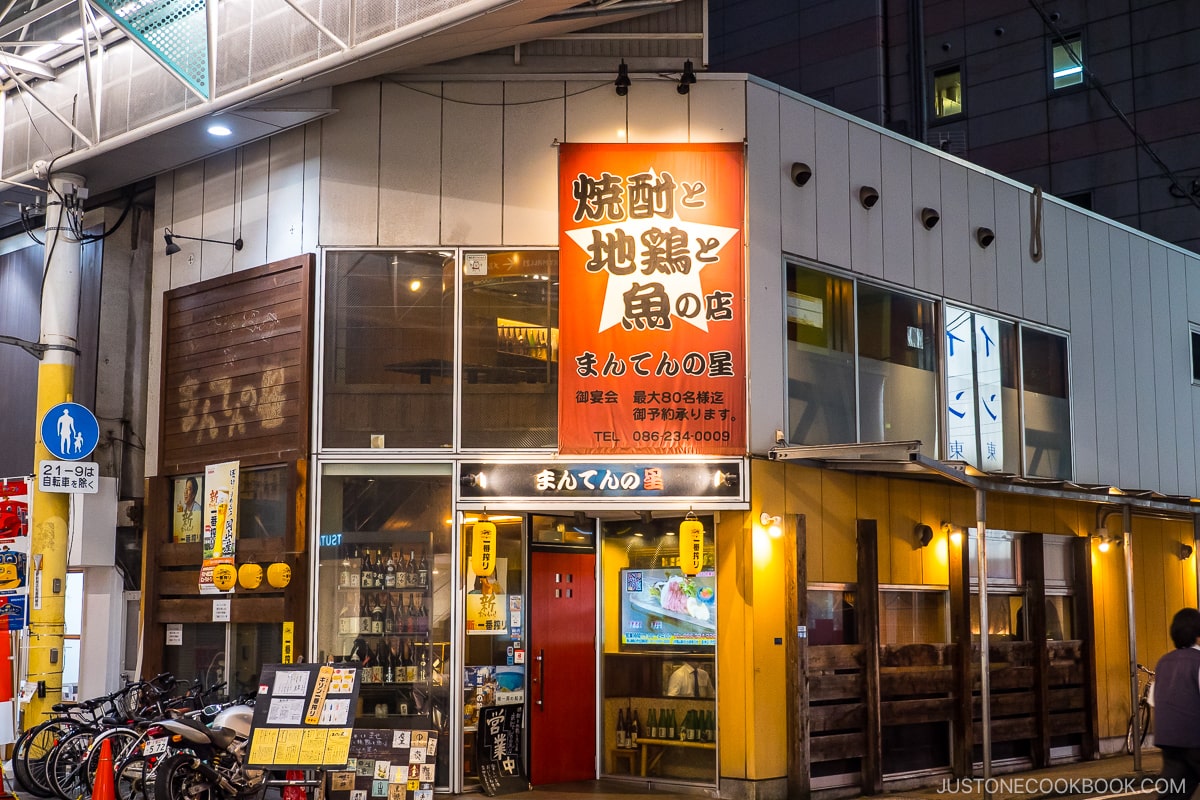 Famous Foods in Okayama
Okayama boasts a variety of renowned delicacies, among which the most famous are kibidango (millet dumplings), white peaches, and kakioko (oyster okonomiyaki). Kibidango was the food Momotaro used to befriend a talking dog, monkey, and pheasant on his way to defeat the demons. Make sure you try them during your visit.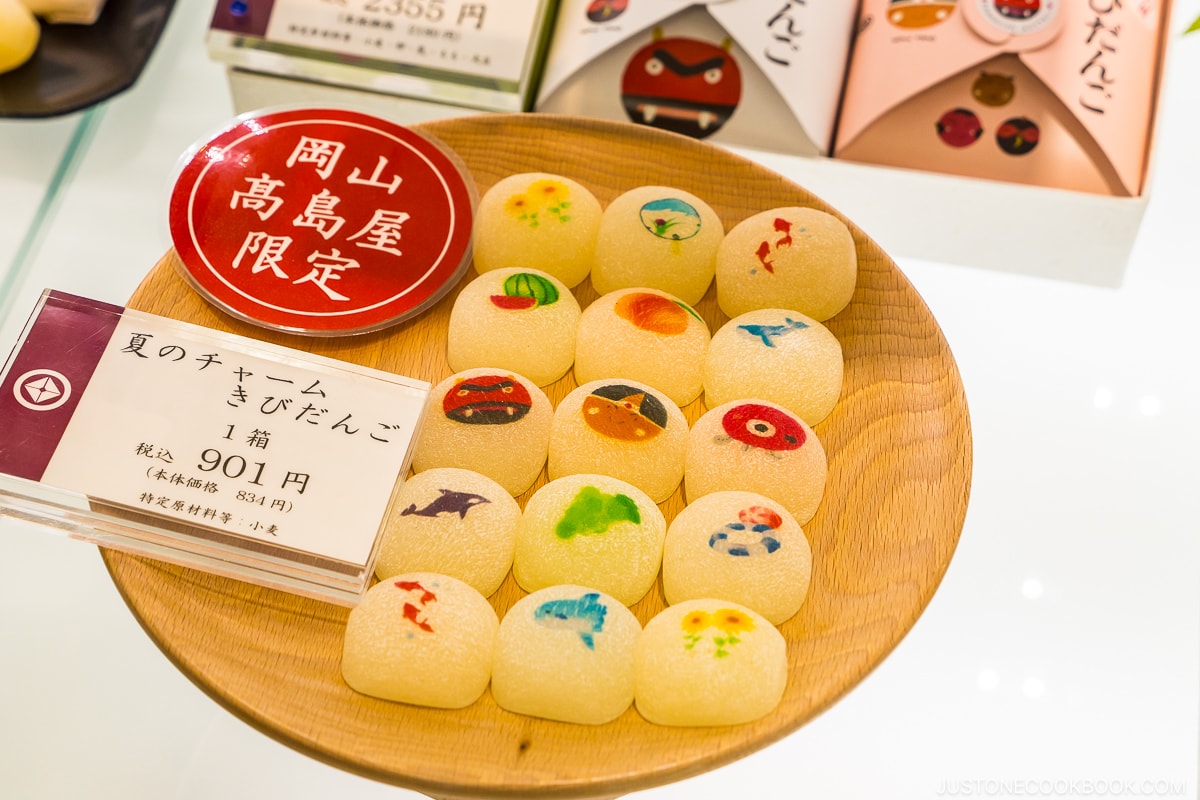 Izakaya Koiki 酒菜屋 古粋
Now, we're on our favorite topic: food. One thing that we highly recommend is to try out local izakaya (Japanese version of tapas bar) for sampling interesting regional ingredients and cooking preparation.
After a bit of searching, we had dinner at Izakaya Koiki. The food was incredible and we savored regional dishes like hamo fish tempura, smoked mackerel, corn and gobo kakiage (mixed vegetable tempura), and octopus and gobo mixed rice. Many izakaya also feature local sake and shochu, so be sure to ask for recommendations.
Mori – Okayama Okonomiyaki
Another amazing meal we had was at Mori, a small but popular shop specializing in Okayama-style Okonomiyaki (Japanese savory pancakes). They offer various styles of okonomiyaki and we ordered a few to sample, including the standard pork belly and the local specialty oyster okonomiyaki (kakioko). We also tried shiso okonomiyaki with mochi, which was surprisingly light and tasty. The shiso adds a lovely fragrance and refreshing herby note to the pancake. We enjoyed it so much that we ended up ordering two!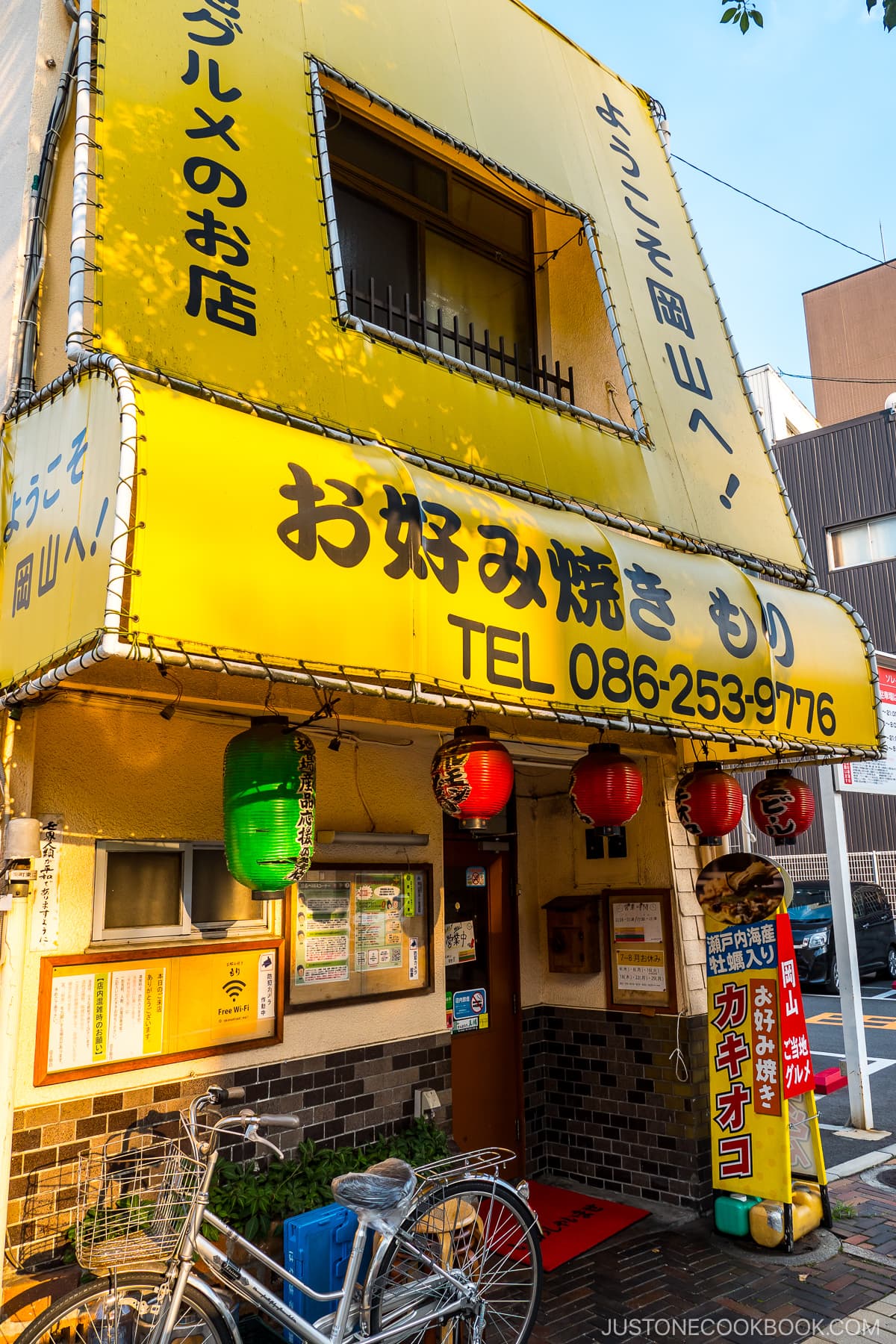 Okayama offers a delightful blend of history, natural beauty, and culinary delights. Our family had a great time visiting and it certainly worth a quick stop when exploring western Japan. If you are using a JR Pass (Japan Rail Pass), you can make a quick stop after visiting Himeji Castle and on the way to Hiroshima. We'll share our visit to the classic Kurashiki and Bizen pottery towns nearby next.