Nanakusa (春の七草) is Japanese seven herbs used for Nanakusa Gayu (七草粥), a rice porridge that is eaten on January 7th of each year.
What are the seven herbs?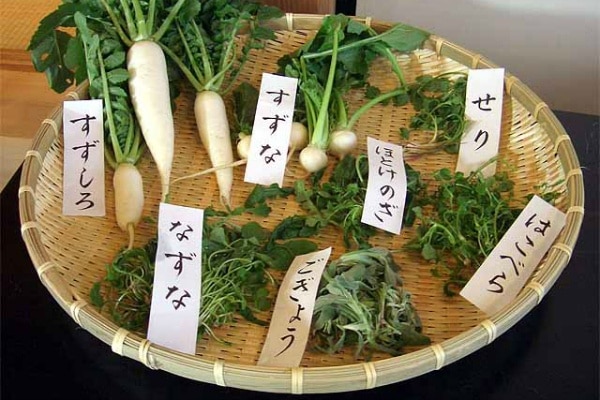 They are:
Seri (せり) / Water dropwort
Nazuna (なずな・ぺんぺん草) / Shepherd's Purse
Gogyo (ごぎょう) / Cudweed
Hakobera (はこべら) / Chickweed
Hotokenoza (ほとけのざ) / Nipplewort
Suzuna (すずな・かぶ) / Turnip
Suzushiro (すずしろ・大根) / Daikon radish
In Japan you can find a very convenient Nanakusa Set, which includes 7 types of fresh herbs like this.
However, this is something really difficult, if not impossible, for us to find outside of Japan.
I found these freeze-dried Nanakusa in a package in Nijiya, a local Japanese grocery store chain here in the Bay Area.  Inside the package, there are 2 small packets.  All you need to do is to add in these freeze-dried herbs in the cooked rice porridge.
Of course nothing beats fresh herbs, but these freeze-dried herbs are very convenient and taste pretty good for those who would like to follow this Nanakusa Gyau custom on January 7th.
Recipes with Nanakusa