Win a delicious gift set from S&B Foods featuring Japanese pantry must-haves such as Golden Curry Mix Medium Hot, Prepared Spicy Citrus Paste (Yuzu-kosho), Premium Wasabi Paste in Tube (Honnama Wasabi), La-Yu (Chili Oil) and more! 10 winners will be selected.
I'm so thrilled to partner with S&B Foods, the leading producer of Japanese consumer foods, to give away their delicious gift set to 10 lucky winners! From their signature curry roux to the slightly spicy and citrusy yuzu kosho (citrusy paste in tube condiment), these pantry staples are vowed to bring exciting flavors to your taste buds. I personally enjoy using these condiments to elevate my everyday cooking, so I'd love for you to try them out yourself. Enter now for the giveaway!
What's in the S&B Pantry Gift Set
About S&B Foods
S&B founder Mr. Minejiro Yamazaki was the pioneer in producing Japan's first homegrown curry powder in 1923. Since the inception, S&B Foods has been producing and distributing a dazzling variety of spices, condiments and cooking ingredients, including curry sauce mix, pasta sauce and so on.
Today, S&B Foods is not only an integral part of Japanese kitchens and culinary landscape, they have also brought the unique Japanese flavors to the world.
S&B Foods marks its 100th anniversary in 2023, a remarkable milestone for a food producer and marketer in the ever-evolving environment.
Visit the website to learn more!
GIVEAWAY RULES:
Please Note: Your email for the comment entry has to match with your email address in my Email Newsletter Subscription mailing list. We'll also need the winners' consent to share the address with us so S&B Foods can mail the gift set to you directly.
This giveaway contest closes on Monday, May 15, 2023, at 12 p.m. PST and is open to US only*.
Ten (10) winners will be selected via Random.org and contacted via email, so please include a valid email address in the email address entry box (please double-check your spelling!).
The winners are required to respond within 36 hours to claim the prize.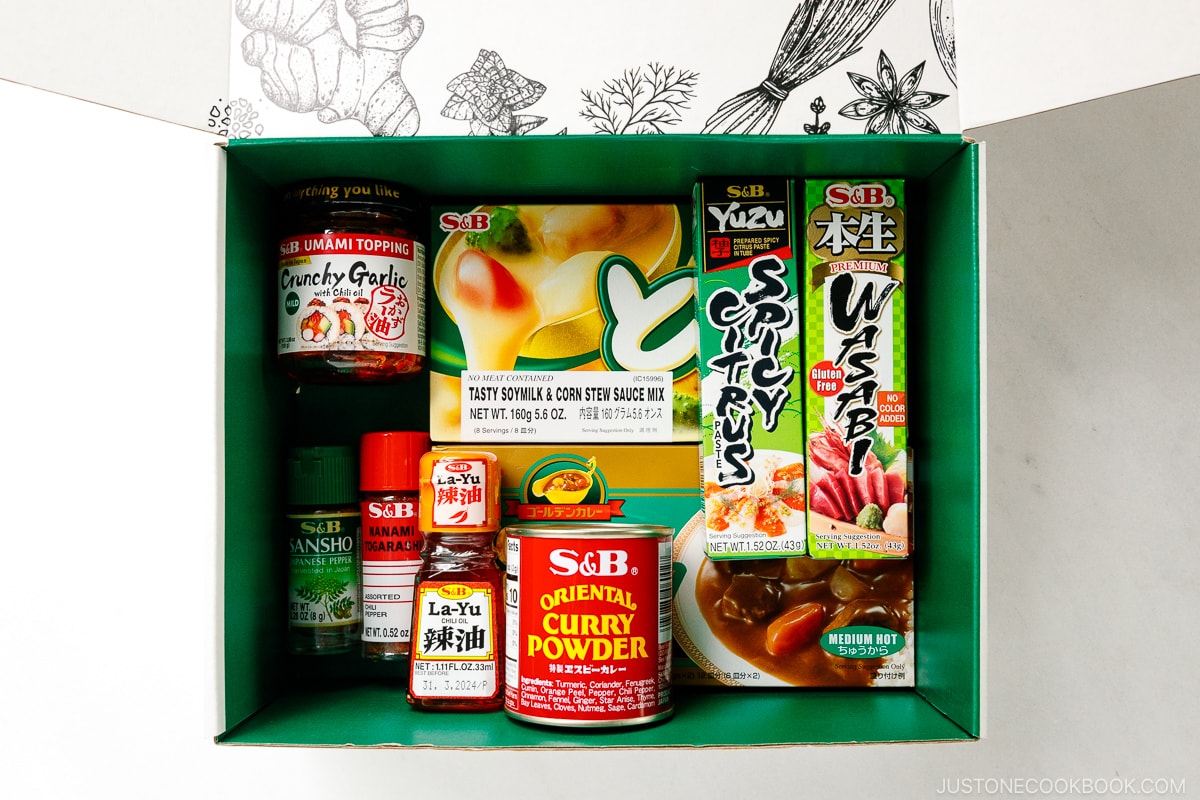 HOW TO ENTER (CLOSED):
You can enter up to 5 tickets (max) to increase your odds of winning. Good luck!
Ticket 1 (Required): Follow S&B Foods Instagram and leave a comment below by telling us how often you cook Japanese curries AND what are your favorite ingredients for cooking curries (chicken, beef, seafood, vegetarian, etc.)
Ticket 2 (Required): Subscribe to JOC Email Newsletter if you haven't and leave a comment below.
Ticket 3 (Optional): Follow my Instagram and leave a separate comment below.
Ticket 4 (Optional): Like my Facebook and leave a separate comment below.
Ticket 5 (Optional): Subscribe to my Youtube channel and leave a separate comment below.
***
The giveaway is now closed. The winners are:
Chris
Lydia
Sarah P
Adele
Tracey Boutin
Candace
Ai Nguyen
Claire Salama
Serena
Mi Ki
Congratulations! We'll be contacting you shortly.