There are plenty of activities to do in Sonoma and Napa Valley wine country while traveling with your pup. Taste amazing foods, sip delicious wines, and enjoy the beautiful outdoors with your loyal companion.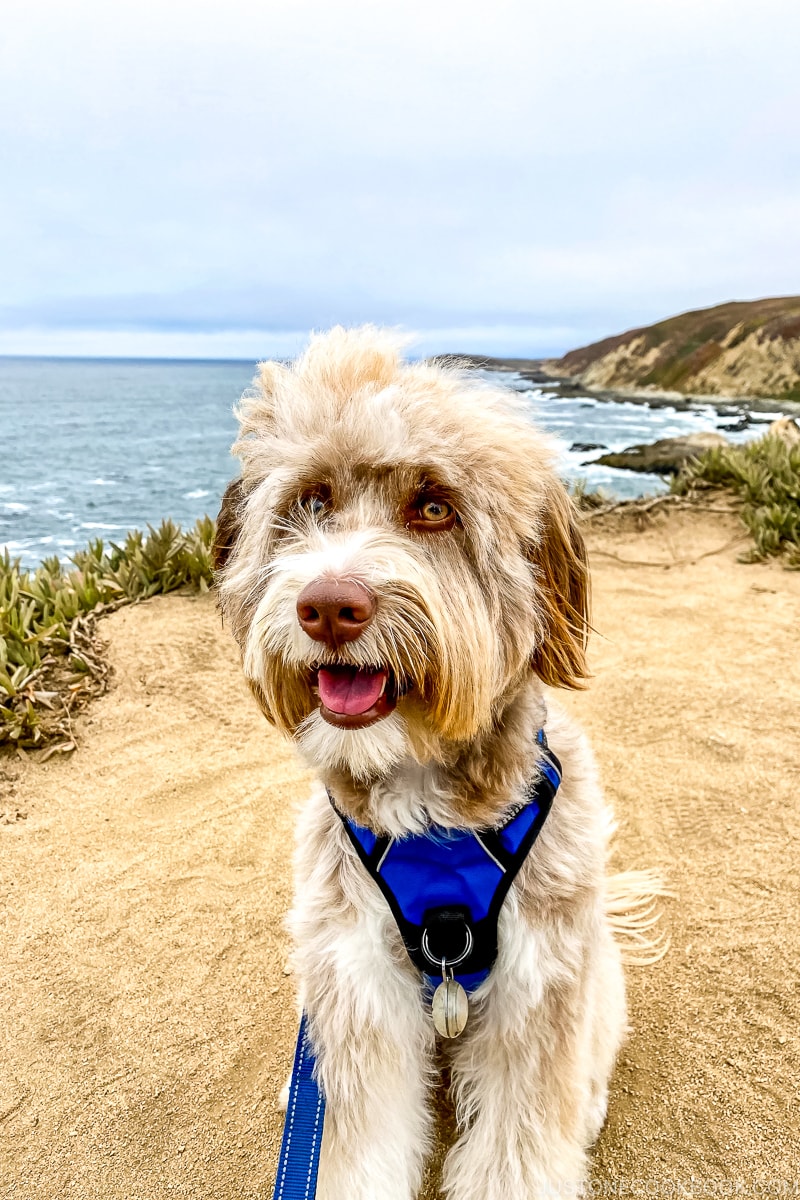 We love to take our dog (Miso) with us when we travel around the Bay Area. After multiple trips to Carmel – an uber dog friendly destination – we decided to try somewhere new and take a family trip to Sonoma and Napa Valley wine country. It took a little extra research, but it was well worth our time to find dog-friendly places to visit and restaurants to dine at. If you are planning to visit the wine country with your 4-legged family member, we hope this guide will help you with your travel planning.
Road Trip with Dog
Before going on a road trip with your dog, it's important to have a packing list of what to bring. During our stay in the wine country, the closest pet supply store was over 30 min away. It's a long detour if anything important is forgotten.
Another important tip is if your dog food requires refrigeration, make sure the hotel has a mini fridge in the room and not a cooler. Miso's food was spoiled several times and we didn't realized the fridge-looking appliance in the room is actually an electric cooler.
The coolers do not keep the food cold like a fridge. Miso was refusing his food several days into our road trip. We finally learned about the cooler and will be asking for a fridge for our future stays.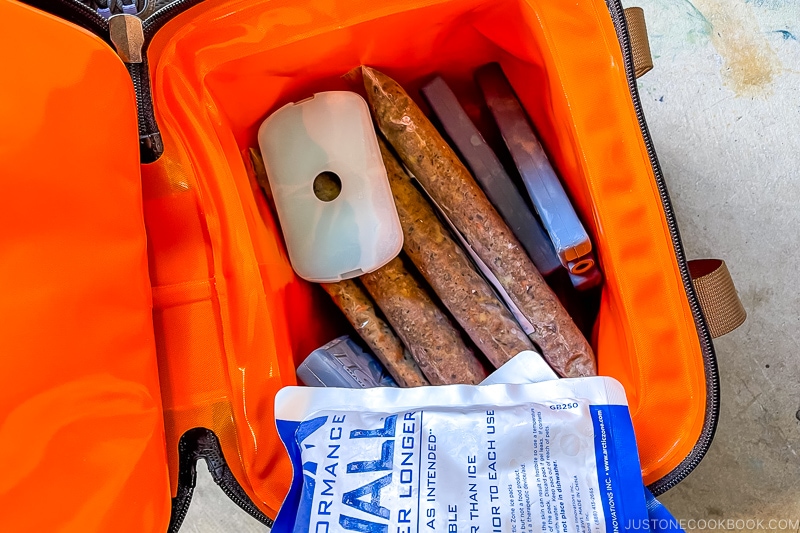 Sonoma and Napa Valley Wine Country
Sonoma and Napa Valley wine country are both located north of San Francisco next to each other. Sonoma stretches from the coast to the inland and Napa is to the right of it. They are both homes to popular wineries and are known for producing different types of wines. On this trip, we spent 2 nights in Sonoma and 3 nights in Napa to relax in the wine country.
Bodega Bay
After crossing the Golden Gate Bridge, our first stop is the coastal city of Bodega Bay. Bodega Bay is on the California coast right next to the Pacific Ocean. There are several popular seafood restaurants as well as beaches for visitors.
We had delicious crab sandwiches, fish and chips, and fish tacos for lunch at Fisherman's Cove. After lunch, we drove to the sandy shores and took in the scenery.
Healdsburg
Our sleep accommodation for the first two nights was in the charming city of Healdsburg.
Wildhaven Sonoma Glamping
Prior to the trip, we had the romanticized vision of family camping with our dog. The one that we see in commercials or ads with the dog right by the tent, wood fire burning, and beautiful clear sky with stars.
Since we're not an experienced camping family, we decided on glamping instead. At Wildhaven Sonoma Glamping, the tent is all set up and the campsite is right next to the Russian River so we can walk to the water in 30 seconds. The best part? The campsite and tent are dog friendly!
The tent cabins are well-appointed, heated beds, spacious, and clean. However, we were a bit disappointed by the how close they were to each other. The tents are about six feet apart and we could hear the conversation from the next tent as if we're right next to them.
Another consideration we didn't account for was Miso's barking. Miso likes to bark at new noises or unfamiliar movements, and it would not be welcome at night when people are sleeping. Luckily, we had made a plan B and booked a hotel room nearby just in case and Miso stayed there.
Taste of Tea Japanese Restaurant
After settling in our camp site, we walked around the lovely downtown Healdsburg and had our first meal at Taste of Tea Japanese Restaurant. The food and drinks were very good and the service was outstanding. They even brought Miso his own water cup.
Tubing in Lake Sonoma
We spent day two tubing and relaxing on Lake Sonoma. We rented the boat in the morning for 4 hours and brought sandwiches and chips to eat while on the lake. It was our first time tubing and the kids had an absolute blast. The warm weather and water combined made it a perfect day for water sports.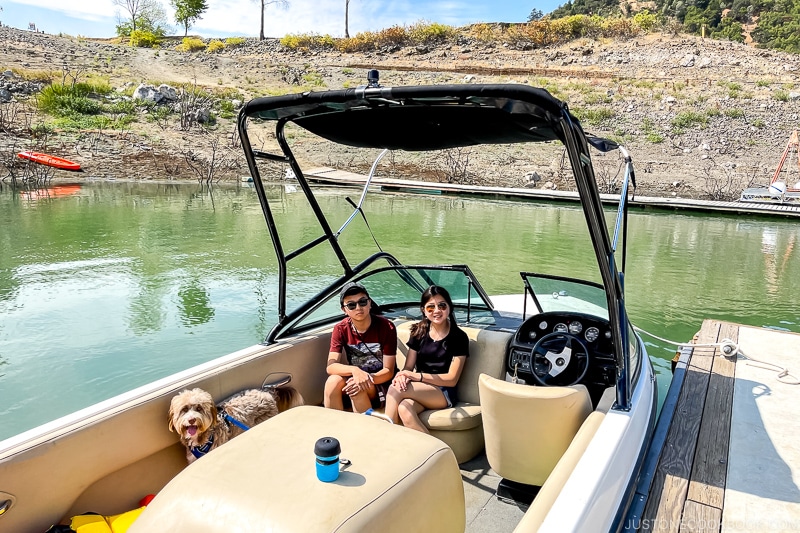 How did Miso do on the boat? Let's just say he prefers the land much more. Most of the time on the boat he wanted to be right next to my mom who joined us on the trip.
Bravas Bar de Tapas
Since we had Miso with us, indoor dining was not an option. Luckily, there are plenty of outdoor dining options available around Healdsburg. Dinner the second night was tapas at Bravas Bar de Tapas and we loved it! It's one of the favorite tapas restaurants we've tried around the bay area and we highly recommend it.
Bravas Bar de Tapas offers many classic tapas dishes such as sliced ham and octopus, and also interesting ones, such as pig ears.
Other Bites in Healdsburg
Healdsburg is a small town but has plenty to offer for food. Other places we loved include Noble Folk Ice Cream & Pie Bar and Black Oak Coffee Roasters. The coffee and pastries at Black Oak were really good and we had them for breakfast. Highly recommend both spots!
Sebastopol and Santa Rosa
We spent the second day visiting various parts of Sonoma, including Sebastopol, Santa Rosa, and Jack London State Historic Park.
Sebastopol
In Sebastopol, we made a stop at The Barlow to browse the stores and artists' showcases. There are also plenty of food choices to grab a bite, as well as wine tasting and breweries. If you prefer mom-and-pop shops, there are many along the main street just a few blocks away from The Barlow.
Santa Rosa
Our next stop was the Railroad Square Historic District in Santa Rosa, home of Snoopy and Charlie Brown!
We thought there would be more to do in the Railroad Square Historic District area but was a bit disappointed with the few numbers of shops and options for visitors. There was an interesting antique store in area which we spent a bit of time in.
However, we had a great meal on the patio at Grossman's and Miso got to meet a new friend. The Reuben at Grossman's was fantastic and highly recommended.
Jack London State Historic Park
Our next stop is Jack London State Historic Park and what a hidden gem! The museum is brand new with interactive displays and wonderfully updated. It's on Jack London's former property and him and his wive's graves are there as well.
The museum doesn't allow dogs inside but dogs are allowed on the hiking trail. We highly recommend this museum for any Jack London fans. Did you know Jack London wrote over 50 novels? It was so interesting to learn about his adventures and inspirations for his stories.
Solbar Restaurant
For dinner on day 3, we dined at the Solbar Restaurant. The dinner was fabulous and it was one of the most memorable meals we had on the trip. Each dish was beautifully presented and the flavors were delicate and on point. A must-try!
The Model Bakery
The next morning we made a pit stop at one of the most popular bakeries in St. Helena, The Model Bakery. The bakery is widely known for its English muffins. We recommend trying their other delicious pastries and buying the English muffin to go. You can freeze the English muffin to enjoy later on.
Old Faithful Geyser of California
Our day three itiniary centers around the natural wonders of Calistoga. A trip to Napa Valley is not complete without a stop at the Old Faithful Geyser of California. Despite what you may read on the web, the geyser does not erupt on schedule. There are multiple factors that can impact the geyser's eruption and that includes any earthquakes far far away.
The good news is that the tickets are good for multiple entries and 2 days. After arriving at the geyser, we waited close to an hour and decided to move on to the next destination. The staff had briefed us the previous day that the geyser didn't erupt for 8 hours and then continuously erupted for 5 hours. Not wanting to spend our time just waiting, we decided to head on to see Petrified Forest.
Later in the day, we called and were informed by the staff that the eruption was happening and we were able to catch it though not at its peak strength. If you didn't wish to miss the spectacles, we recommend calling ahead to find out the latest status with the geyser.
Petrified Forest
The next stop on our trip is the Petrified Forest in Calistoga. It was formed when Mt. St. Helena erupted 3.4 million years ago. The volcanic ash covered the fallen tree and created an environment where bacteria couldn't survive so the trees were not decomposed. Through time, these trees became fossilized and buried underground.
The Petrified Forest was discovered in 1870 by Charles Evan while raking his pasture. Today, it is a private park with a loop path. There are 8 excavated trees along the path. The loop is 1/2 mile long and a bit hilly. There's an optional detour to see the ash fall from the volcanic eruption.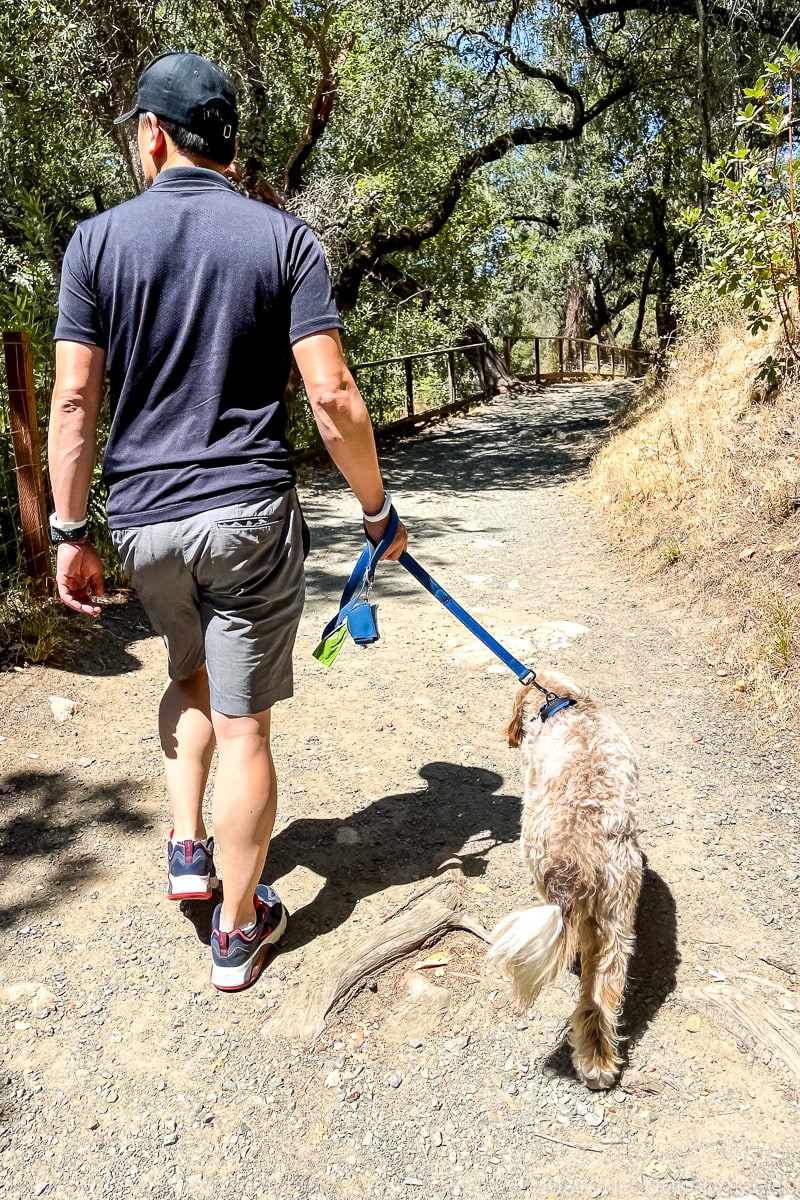 After Petrified Forest, it's time to find some yummy lunch!
Buster's Original Southern BBQ
We drove by Buster's Original Southern BBQ many times on the trip and couldn't resist stopping by. It's always an exciting experience to discover great BBQs. I still can't forget the moment I bite into the brisket at Franklin Barbecue.
Unfortunately, we were disappointed with Buster's Original Southern BBQ. The meats were either fatty or filled with tendons. Even though the sauce and the sides were good, the meat quality was disappointing. We would recommend skipping and find other food options.
Clos Pegase Winery and Brian Arden Wines
We stopped by two wineries after lunch and our goals for the trip are to find new wineries we haven't been before, and they need to be dog friendly as well.
The first winery was Clos Pegase Winery and the building was so interesting. The winery staff was warm and welcoming and we had a great time learning about the winery's history and tasting its various wines.
The second winery we visited for the day is Brian Arden Wines and even though it's a young winery, the wines were marvelous. We highly recommend making a stop at Brian Arden winery if you haven't been there.
Goose & Gander
For dinner, we selected Goose and Gander in St. Helena and it was a superb meal. Set in a cottage-like setting, the menu offered plenty of creative dishes. It's one of the few restaurants that actually asked how well done we would like our fish. Not only the fish were cooked perfectly, but everything else was just as amazing. Yes, another winner on the eating list.
Sam's General Store
Another highlight during our trip was trying out new cafes each morning. We stopped by Sam's General Store before our hike on day 4 and loved their pastries. It's a cute cafe in a renovated historic building. We were spoiled with the many types of pastries and quiche and the coffee selection.
Moore Creek Park
We searched for fun hikes in the area prior to the trip. Since it was quite warm, we wanted to find a hike that had some shades.
Many California state parks do not allow dogs whether leashed or not, so do your homework beforehand. We hiked the trails at Moore Creek Park to one of the peaks and took in the scenic lake view. The hike is not too strenuous and parts of it is well shaded.
Calistoga Inn Restaurant and Brewery
After hiking in the morning for a couple hours, we grabbed a quick bite at Calistoga Inn Restaurant and Brewery. The food was okay but the beers were good. Stop by on a hot day and cool down with one of their homemade brews.
Raymond Vineyards and Honig Winery
Our wine tasting adventure continued at Raymond Vineyards and Honig Winery after lunch.
Raymond Winery had their tasting in a beautifully decorated outdoor space. The winery staff was a friendly bunch and the wines were good. What's interesting though are the displays inside the winery. There were soil samples from many of the nearby regions to show how different they were. There are also aroma stations for visitors to smell and recognize the wines' profile.
Our second stop was Honig Winery and tasted several older wines. Of the wineries we visited on the trip, we loved Honig the most and highly recommend making a stop.
Bouchon Bistro
For our last dinner in the wine country, we went to the classic Bouchon Bistro by Thomas Keller. The service was excellent and all the dishes hit their marks. However, if you've been to Bouchon before we would encourage to try new restaurants as there are so many great ones in the area that are dog friendly.
Calistoga Roastery
On the last day as we were heading home, we grabbed breakfast at Calistoga Roastery and they were just as good. We were a little envious and marveled at the great number of pastry shops in the wine country! Only if we had the same options in where we live.
We hope this Sonoma and Napa Valley wine country guide gave you some idea on where to go with your four legged family member. It wasn't a hassle to have Miso with us but he was definitely ready to go home after the whirlwind trip.
We look forward to going back to Sonoma and Napa Valley wine country to try more restaurants, do wine tasting, and explore more dog friendly destinations. If you have any suggestions for our next trip, please leave them in the comments below.