Relax in a hot spring at the 1,300 year-old Takeo Onsen, and take in the breathtaking scenery during any of the four seasons at Mifuneyama Rakuen garden.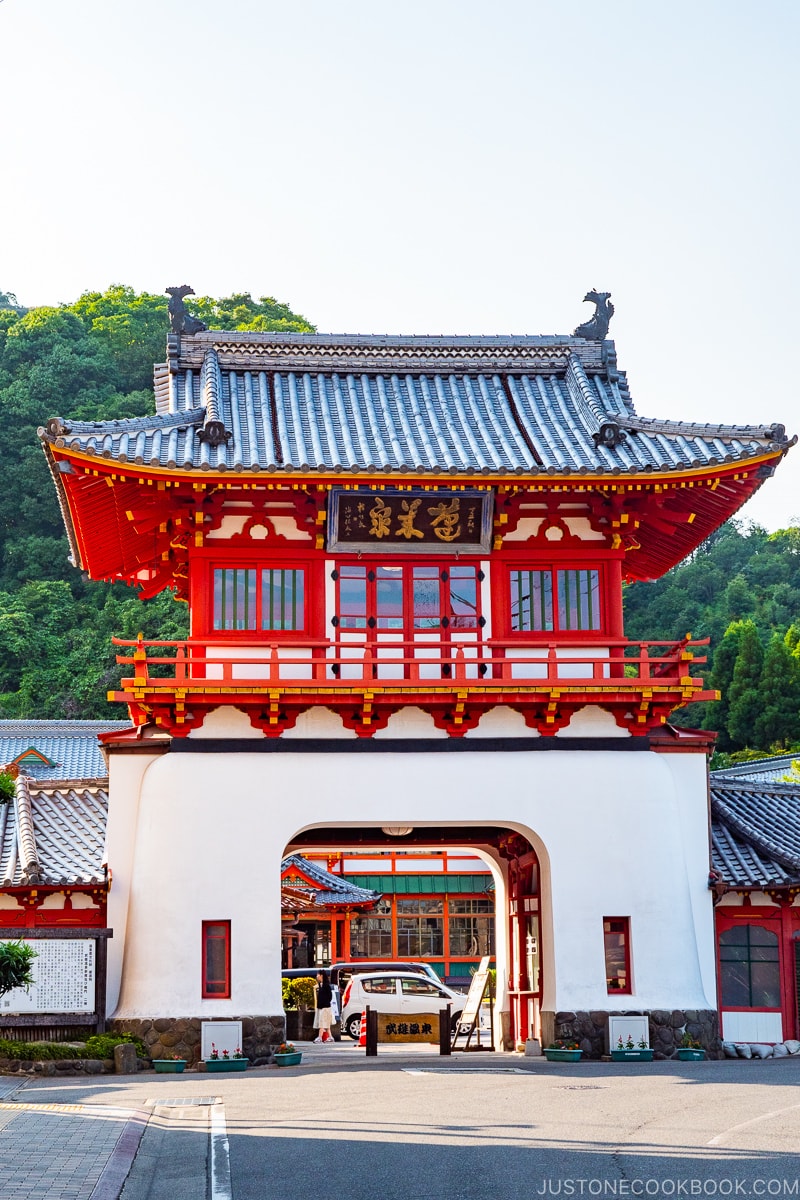 During our visit to Arita and Imari to learn about porcelains in Japan, we stayed in Takeo Onsen, about 10 miles away (15 km). Why did we stay so far away? Surprisingly, there aren't many ryokan or hotel options nearby Arita that we could recommend to readers. Anyhow, we were happy to explore Takeo Onsen 武雄温泉, a hot spring town with a thousand years of history.
Where is Takeo Onsen
Takeo Onsen (in Takeo City) is east of Arita on the Sasebo Line and it's a 17 min train ride or 22 min by car. Compared to Arita, there are many more commercial activities and options including hotels, rental cars, and restaurants.
What to Do in Takeo Onsen
Here is a list of things to do in Takeo City.
Takeo Onsen Tower Gate 武雄温泉楼門
Mifuneyama Rakuen Garden 御船山楽園
Takeo Shrine 武雄神社
Soak in an onsen (hot springs)
Takeo City Library 武雄市図書館
Saga Prefectural Space & Science Museum 佐賀県立 宇宙科学館 ゆめぎんが
Note: We were short on time so we skipped the Space & Science Museum on our visit.
Takeo Onsen Tower Gate 武雄温泉楼門
The signature building in town is the tower gate (also called Takeo Onsen Romon) at the entrance to Takeo Onsen. It was designed and built by Dr. Kingo Tatsuno in 1914. Dr. Kingo Tatsuno also designed Tokyo Station's signature brick building.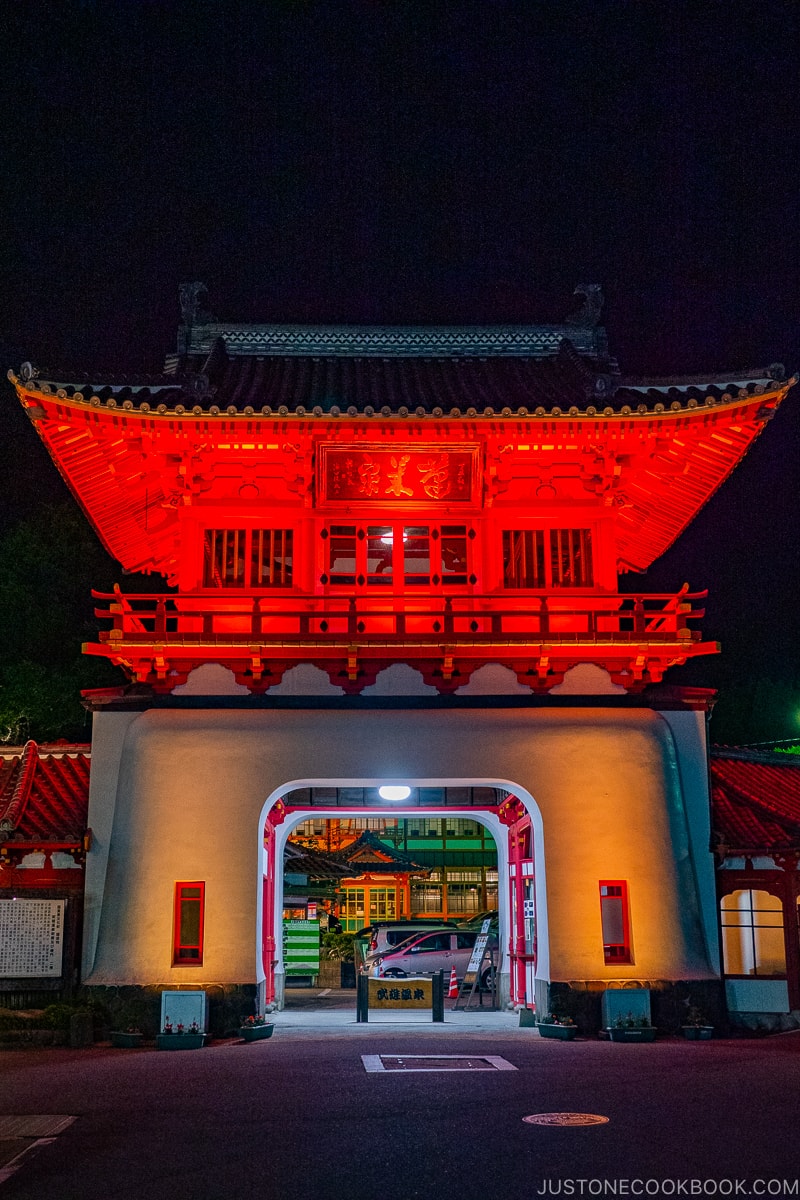 As impressive as it looks, the vermilion tower gate was built without using a single nail!
Here's an interesting fact. When Dr. Kingo Tatsuno finished building Tokyo Station, the interior dome only had eight of the 12 zodiac symbols. The zodiac symbols representing the four directions are missing.
It turns out he had placed the four missing zodiac symbols in the four corners of the Takeo Onsen Tower Gate. Such a cool story right? Dr. Kingo Tatsuno was born in nearby Karatsu, about 1 hour north of Takeo Onsen by car.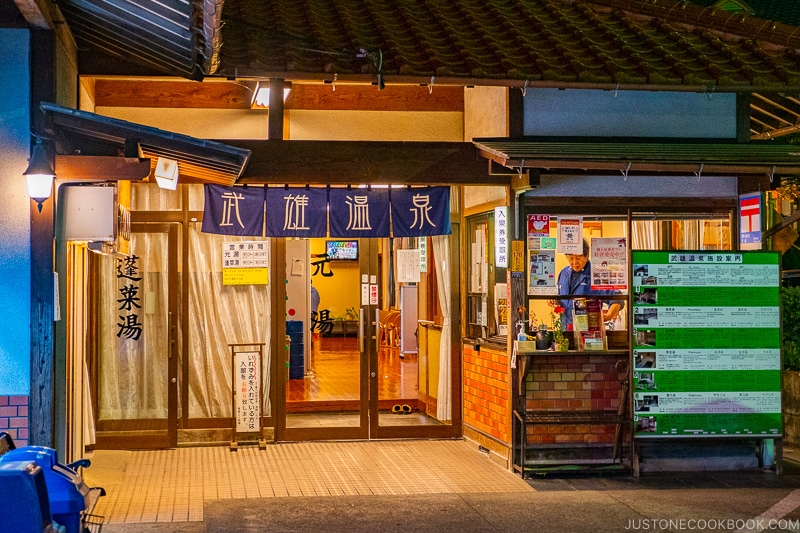 The Takeo Onsen hot spring facility build in 1891 is currently the oldest in Japan. Besides the main motoyu, there are a few other bath options at the facility and they vary in cost and amenities provided. Takeo Onsen's hot springs are known for its alkaline water that can help to heal skin conditions. Visitors often visit the onsen for Bijin-no-yu, or beautifying baths and for relaxation.
Next to the public bath is the Shinkan building. It currently houses a ceramic workshop, souvenir shop, and a museum on the history of Takeo Onsen.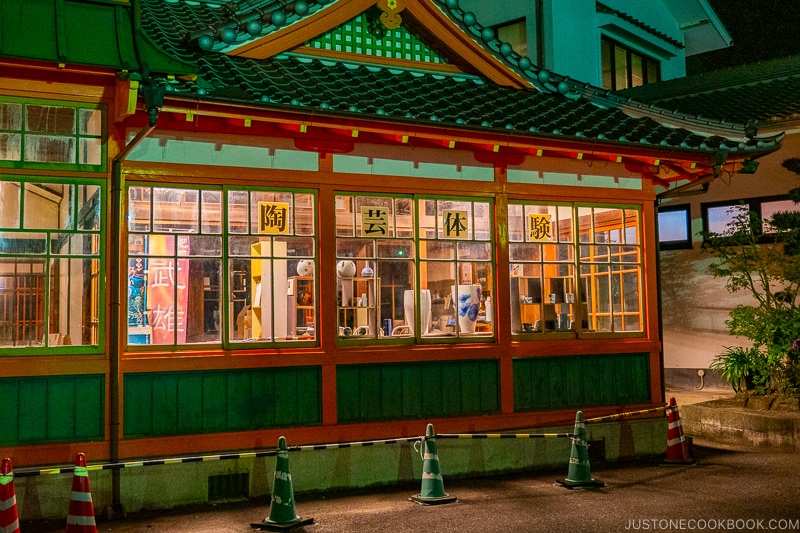 Mifuneyama Rakuen 御船山楽園
The second stop in Takeo City is the magnificent Mifuneyama Rakuen garden. The garden was built in 1845 by Nabeshima Shigeyoshi and spread over 120 acres (500,000 sq meters).
The garden is known for the azalea hill in the spring during full bloom (over 200,00 azalea) and its cherry blossom scenery.
We were there in the summer and all the flowers were already gone. Nevertheless, the lush green terrain was no less impressive.
Once you enter the park, there are paved paths for visitors to walk on.
As we strolled around the pond, we noticed projectors set up all over Mifuneyama Rakuen. What's going on? It turns out  TeamLab, the multitalented art group, transforms the garden for four months a year during the night time.
Here are some clips from TeamLab for Mifuneyama Rakuen.
One of the paths leads visitors up the hill where you can experience the view from higher ground. Along the trail, we had to walk through maze-like shrubs that were lit with lights.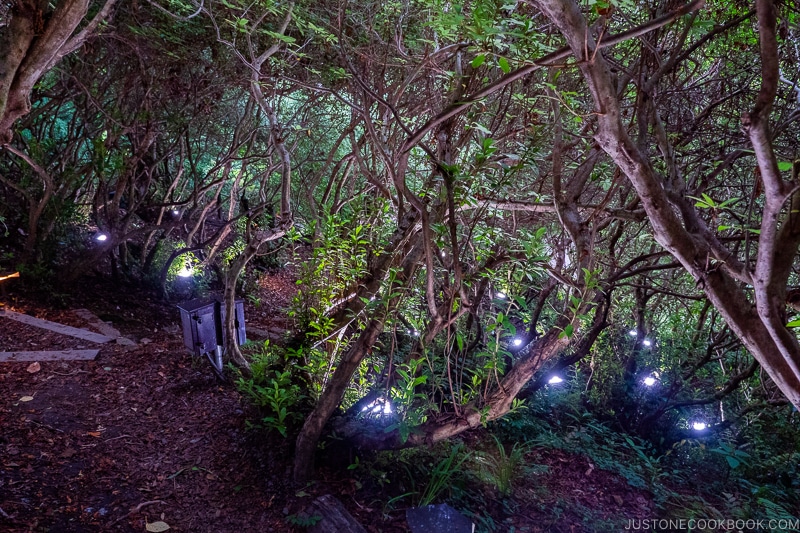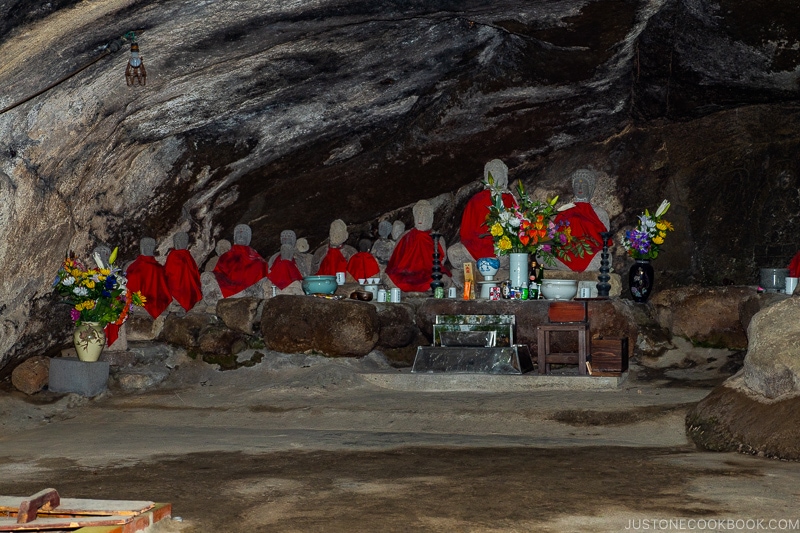 If your schedule allows, we highly recommend visiting Mifuneyama Rakuen in the spring or when the TeamLab shows are playing.
Takeo Shrine
Our next stop is Takeo Shrine. The shrine is known for the 3,000-year-old camphor tree on the shrine grounds.
At the entrance of Takeo Shrine is the "couples cypress". The branches and the roots of the two trees are intertwined and praying to it is supposed to bring good luck for marriage, relationship, and business.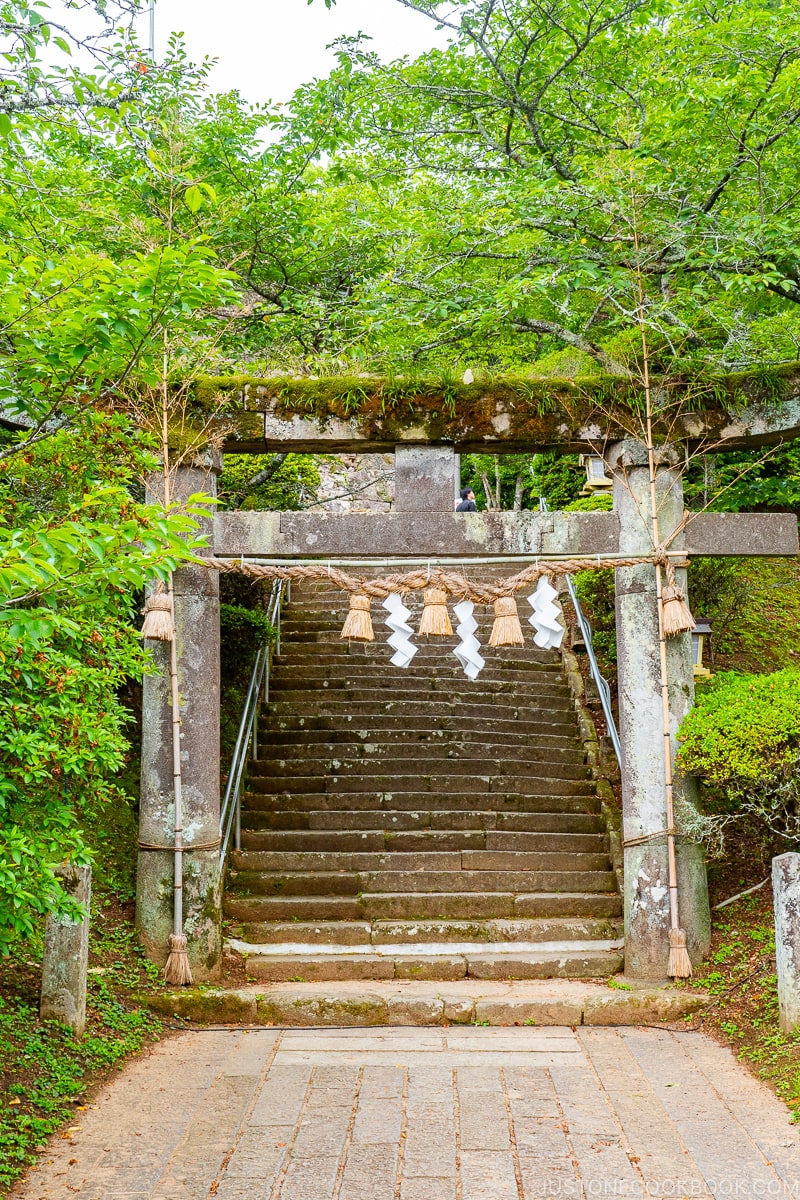 The main hall of Takeo Shrine is white and cream, which is unusual as compared to the typical Shinto shrines that are red.
There is a torii gate to the left of the main shrine leading to the giant camphor tree (武雄の大楠).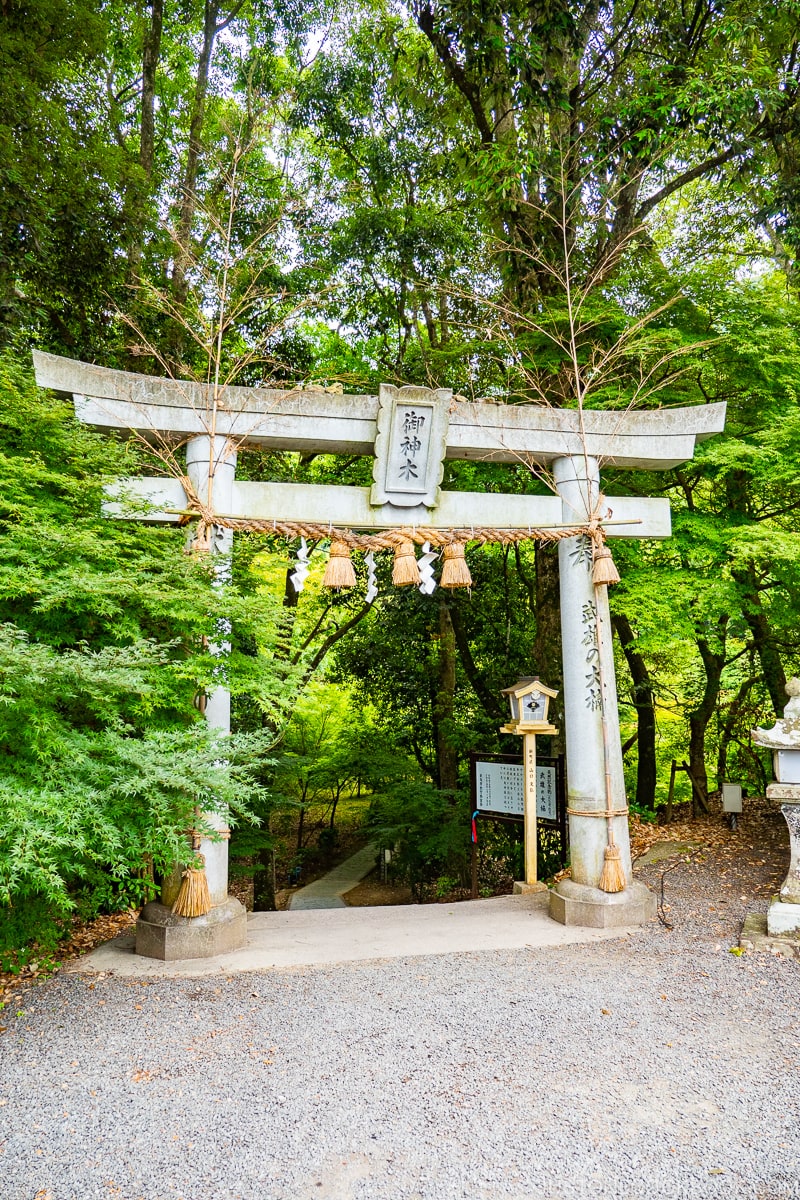 The path was surrounded by well-manicured trees and beautiful hydrangea in full bloom. Further along, it goes through a bamboo forest where the scenery was straight out of a postcard.
The camphor tree at Takeo Shrine is recognized as the 7th oldest tree in Japan. It is over 85 feet tall (27 meters). There is a shrine at the base of the tree for prayers.
Hotel Shunkeiya Takeo Onsen
After a day of sightseeing, there is nothing better than soaking in an onsen. One of the highlights we look forward to on all our trips in Japan is staying in a ryokan to relax in the hot springs, dine on kaiseki ryori, and sleeping on an ofuton.
Our room at Hotel Shunkeiya was different from the standard ryokan room setup. It is a plain but spacious rectangular room without patio seating.
After relaxing in our room and a quick soak in the hot springs, it's time for dinner! When you stay at a Japanese ryokan, the typical dinner offered is kaiseki ryori.
Hotel Shunkeiya's dinner featured local ingredients and the food was decent but not the best quality (if we were to be picky).
We stayed there for two nights and were served completely different dishes each dinner. Here are some of the highlights.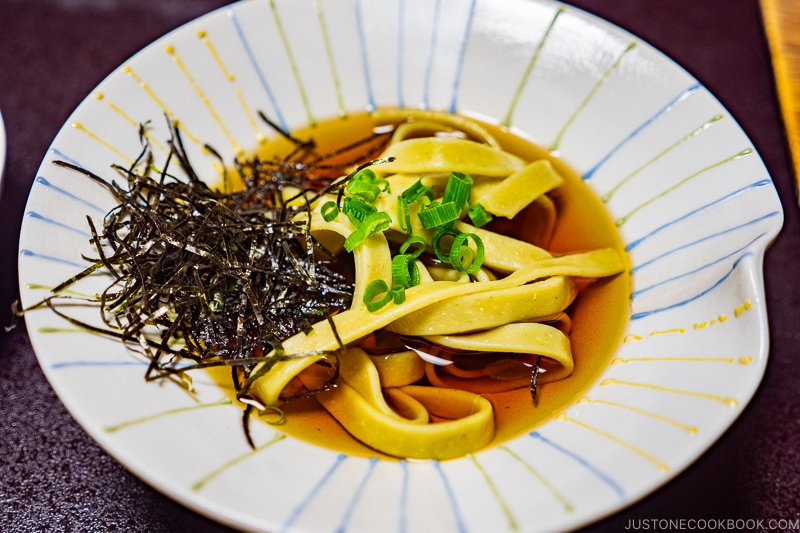 Hotel Shunkeiya was in a convenient location and easily accessible. We were satisfied with its service, cleanliness, and amenities. However, we would have been happier if the food met our expectations.
Takeo City Library
Our last stop is the Takeo City Library. What? A city library? It's actually one of the most popular tourist attractions in Takeo City.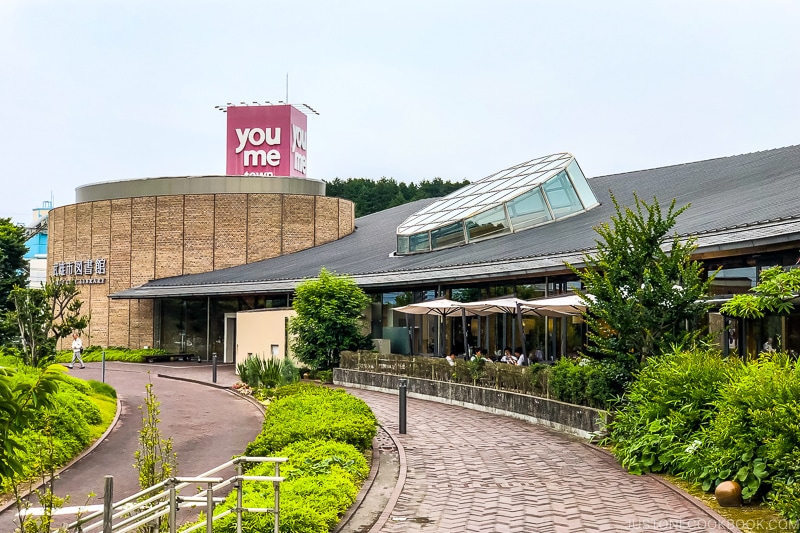 Takeo City library completed a major renovation in 2013 and the modern building is super cool. Besides being a library, there's also a Tsutaya bookstore inside along with a Starbucks.
More than 800,000 people visit the library each year and there are even signs showing visitors the best spots to take photos inside. The library also allows visitors to borrow books.
We hope you enjoyed our final post for the Arita and Imari area. Next, we are heading the Dutch theme park Huis Ten Bosch.
If you are interested in exploring Kyushu, don't miss our Kyushu travel guides.