This post may contain affiliate links. Please read my disclosure policy for details. As an Amazon Associate I earn from qualifying purchases.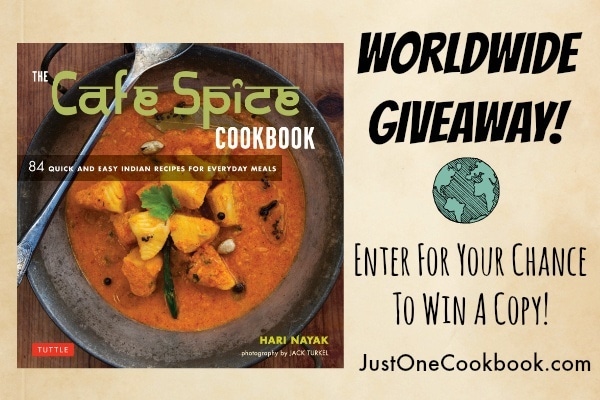 Today I'm partnering with Tuttle Publishing to give away one (1) copy of The Cafe Spice Cookbook by Hari Nayak! This giveaway contest is open to everyone worldwide.
This easy-to-follow Indian cookbook allows home chefs to recreate their favorite dishes with delicious results.
The Cafe Spice Cookbook presents delicious Indian recipes featuring all-natural ingredients that enable one to create delicious meals in minutes. It is inspired by the Cafe Spice line of "grab n' go" Indian meals found in Whole Foods and Costco, and now on college campuses across the U.S.A.
This Indian cooking book provides you with all the instructions you'll need to prepare healthy Indian food anywhere and anytime, using ingredients available at any supermarket or health food store. Tempting offerings like Chicken Tikka Masala and Shrimp & Mango Curry will thrill your friends and delight your family.
Favorite Indian recipes include:
Shrimp Stuffed Pappadum
Chickpea Curry with Sweet Potato
Okra Masala
Paneer with Creamed Spinach
Lobster Khadai
Tandoori Spiced Roasted Chicken
Pork Vindaloo
Tomato and Curry Leaf Quinoa
Naan Bread
Milk Dumplings in Saffron Syrup
And many more!
Tuttle Publishing has amazing collection of books, especially topics extending in Asian and Japanese cultures. You can start checking out their bestsellers if you are looking for new books to read. I will be giving away more books in the future with Tuttle Publishing, so stay tuned!
To enter for your chance to win a copy, please pick ONE or MORE of the following choices to stay connected with me:
and leave a comment letting me know your choice. If you follow/subscribe more than one, don't forget to leave a separate comment for each of your choices.
Bonus Entry!
and leave a separate comment saying you "liked" their page.
This giveaway closes on Wednesday, July 22, 2015 at 12 p.m. PST and is open to participants worldwide (everyone!).
One (1) winner will be selected via Random.org and contacted via email, so please include a valid email address in the email address entry box (please double check your spelling!). The winner is required to respond within 72 hours to claim the prize.
Full Disclosure: This giveaway is sponsored by Tuttle Publishing.
*****
Thank you for participating this giveaway! The winner is…
Congratulations Josh Mitchell (#69)! I'll email you shortly…