Lake Kawaguchi is a popular travel destination just a few hours from Tokyo, take in the majestic views of Mt. Fuji and the lake, relax in the hot springs, and ride the thrilling roller coasters at Fuji-Q Highland.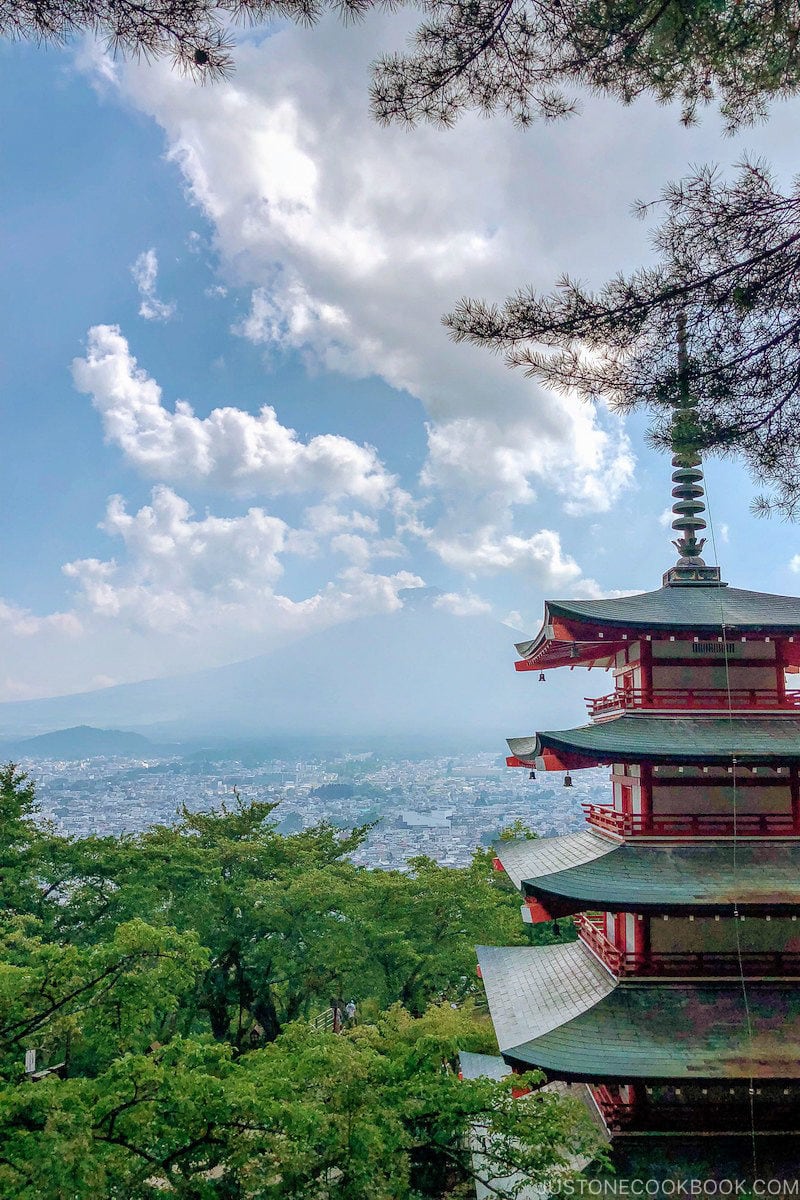 Besides Hakone, another one of our family's favorite hot spring areas nearby Tokyo is Yamanashi Prefecture (山梨県). Home to many renowned hot springs areas, Yamanashi prefecture is also well-known as a major fruits and wine-producing region in Japan. As a landlocked prefecture, it is surrounded by beautiful national parks including Mt. Fuji on the southeast and the Southern Alps along the west. Although it's not near the ocean, it is home to the Fuji 5 lakes including the tourist-friendly Lake Kawaguchi.
We've divided Yamanashi Travel Guide into two posts, the first one covering the area around Lake Kawaguchi and the second covering fruit picking and wine tasting around Isawa Onsen and Fuefuki City. Ready to soak in relaxing hot springs and have some fun? Let's go!
Lake Kawaguchi 河口湖
Lake Kawaguchi is a popular tourist destination in Yamanashi prefecture. The eastern part of the lake is more developed with museums, hot springs resorts, restaurants, and a cable car ride to the top of Mount Tenjo. Other activities around the lake include fishing and boat ride to enjoy the beautiful scenery. With many activities to do in the area, we actually haven't spent much time at the lake itself but have enjoyed a fireworks festival there.
How to Get to Lake Kawaguchi
Lake Kawaguchi (Kawaguchiko Station) is located about 2 hours by train from Shinjuku Station. Some of the train options are a direct ride from Shinjuku without any transfers. For more flexibility to explore the area, we highly recommend renting a car if you are comfortable driving in Japan.
Mt. Fuji Panoramic Ropeway
A good way to take in the view of the lake and the surrounding area is to ride the Mt. Fuji Panoramic Ropeway. Ropeways are popular at tourist destinations throughout Japan (we've ridden them in Hakone, Kinugawa Onsen, Sapporo, and Hakodate).
The cost to ride the Mt. Fuji Panoramic Ropeway is 900 yen for adults and 450 for children. (alternatively, visitors can hike up to the observation deck).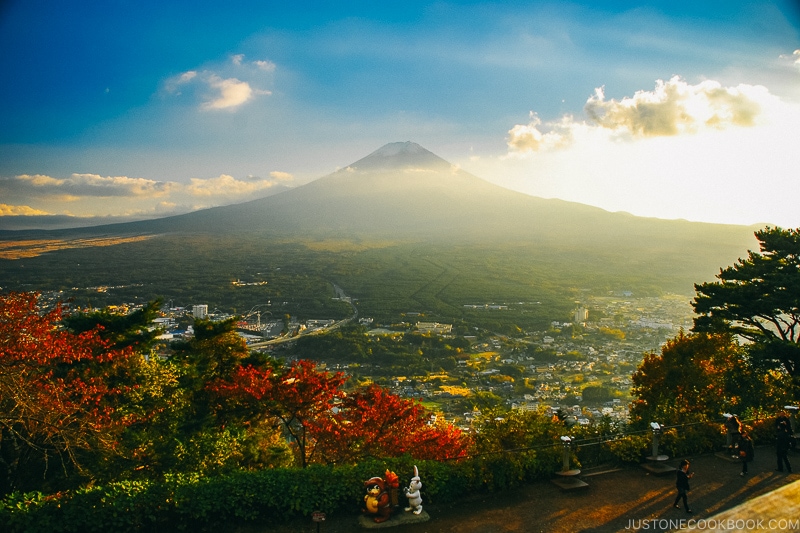 Mt Fuji 富士山
You can't miss the majestic views of Mt. Fuji as your travel around the Lake Kawaguchi area. Mt. Fuji is the tallest peak in Japan and it can be observed from Tokyo (60 miles away) as well as many nearby cities and prefectures on clear days.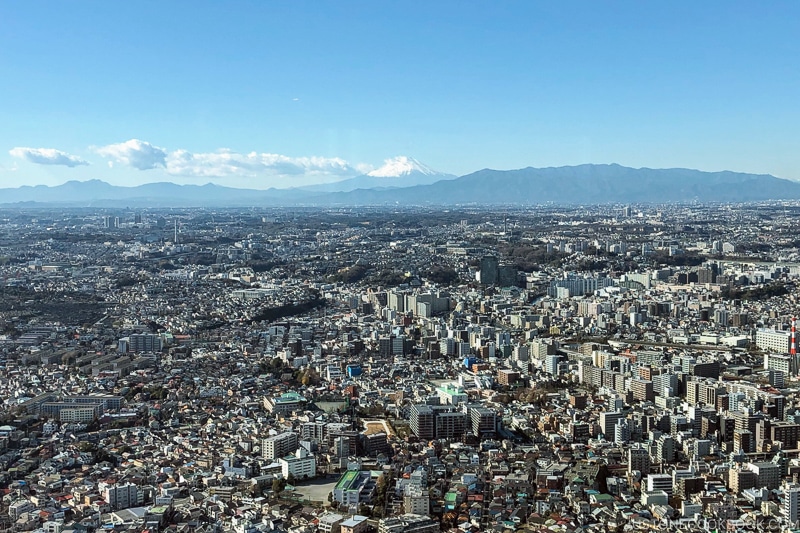 The northern half of Mt. Fuji lies in Yamanashi Prefecture (southern half is in Shizuoka Prefecture) and is featured prominently everywhere you look. Mt. Fuji's snow-capped peak has been depicted in art for centuries and commonly used in represent Japan in posters and brochures.
Whenever Nami sees Mt. Fuji from shinkansen, car, or ropeway, she gets very excited as the mountain has a special meaning and place for all Japanese.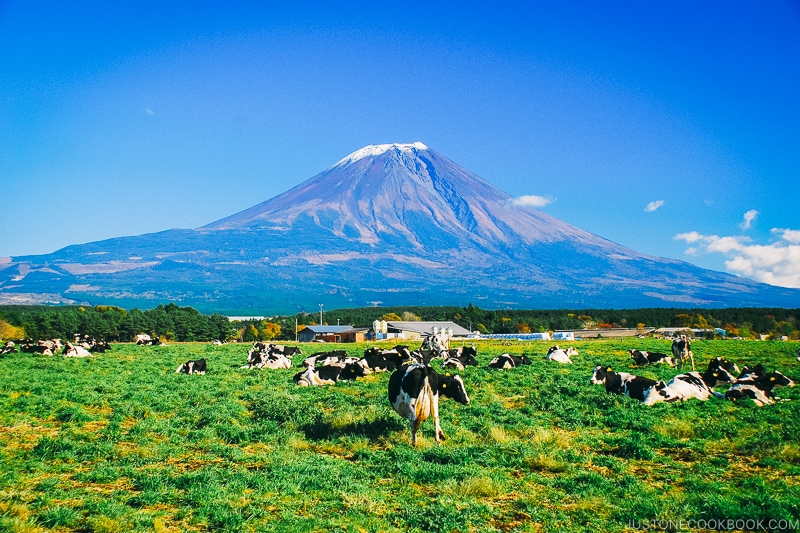 Mt. Fuji is a popular destination for mountain climbers from all over the world and the climbing season is from June through August when the snow clears. One of the most popular stops for climbers is Fuji Subaru Line 5th Station and it is easily accessible from Lake Kawaguchi.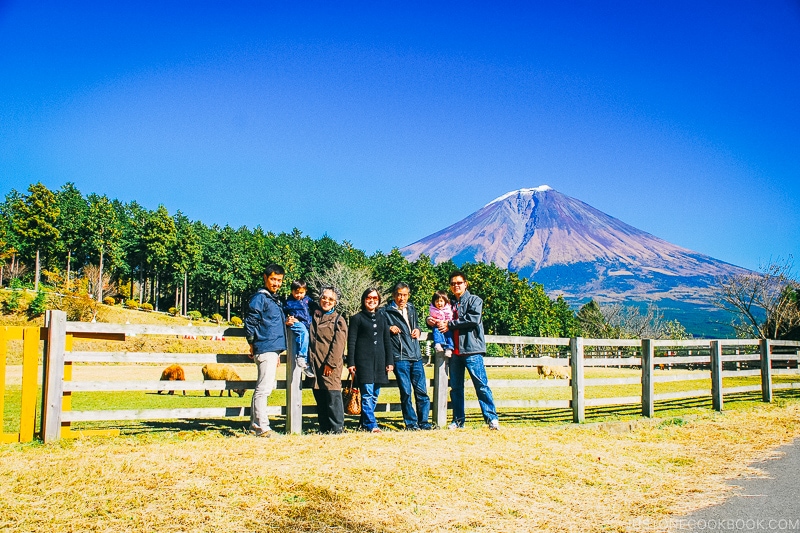 Fuji-Q Highland 富士急ハイランド
One of the popular destinations in the Lake Kawaguchi area is the Fuji-Q Highland amusement park. It is known for thrilling roller coasters and we've spent a fair share of time there visiting Thomasland when our children were younger.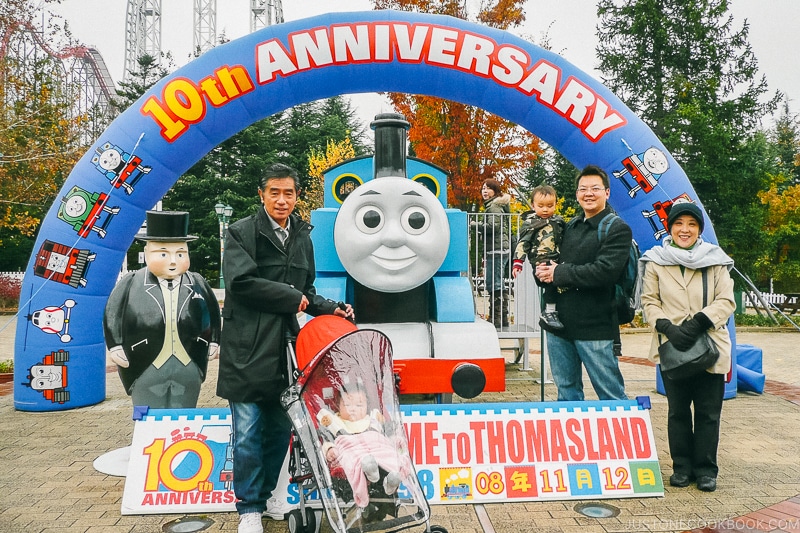 The thrill rides include Fujiyama (once held the record as the world's tallest roller coaster) and Takabisha, the current world record holder for the steepest roller coaster. Our family loves roller coaster and we plan to visit Fuji-Q Highland in the summer of 2020 to enjoy all the thrill rides.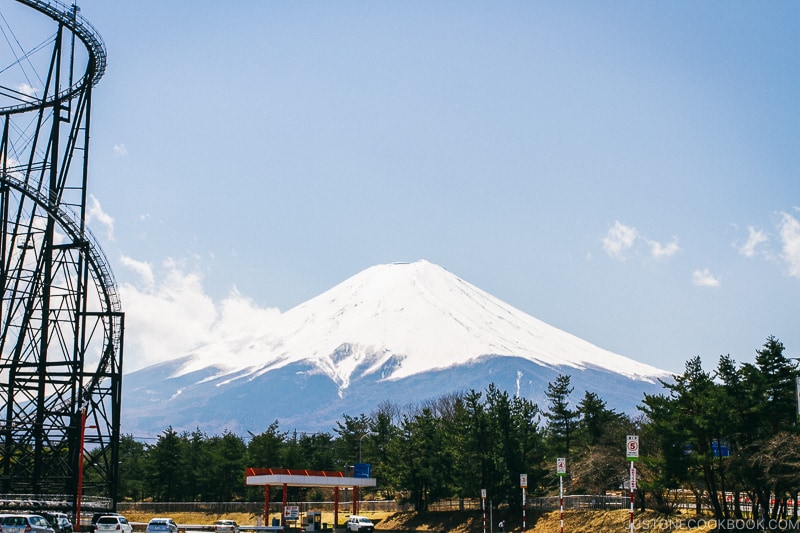 Arakurayama Sengen Park 新倉山浅間公園
Many of you have probably seen the breathtaking picture of Mount Fuji with a pagoda to the right in the shot and may wonder where it's taken. The location where these photos are taken is actually not far from Lake Kawaguchi and located at Arakurayama Sengen Park.
The park is located on top of a hill near a shrine (Arakura Fuji Sengen Jinja). If you are interested in visiting, navigate to Arakura Fuji Sengen Jinja. Don't worry about parking, there are plenty of spaces of visitors (at least when we were there) From the parking lot, there is the first flight of steps to get the shrine but be prepared.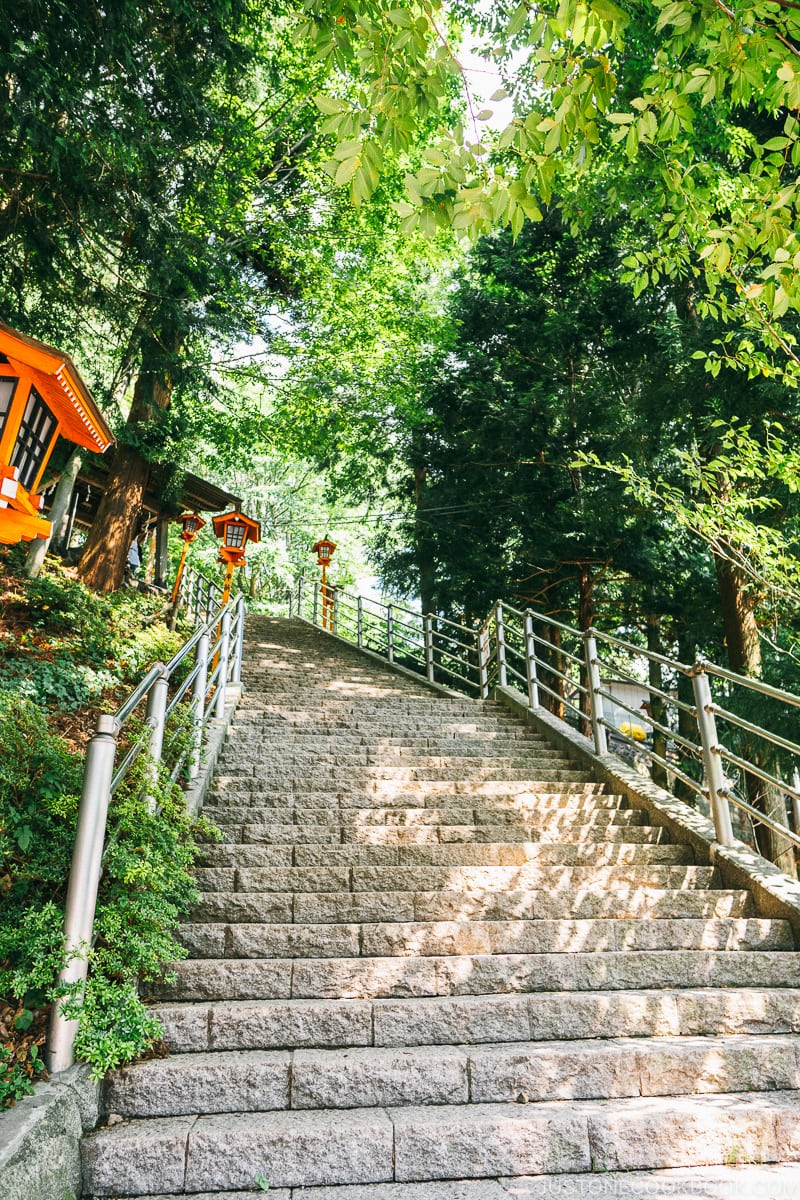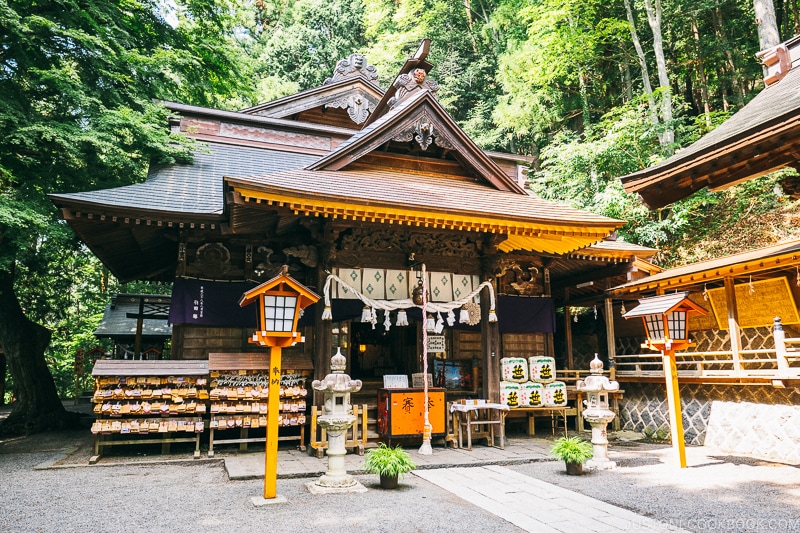 Near the shrine, you will find several long flights of steps to get to the top. Just be warned it'll be quite a hike with over 398 steps!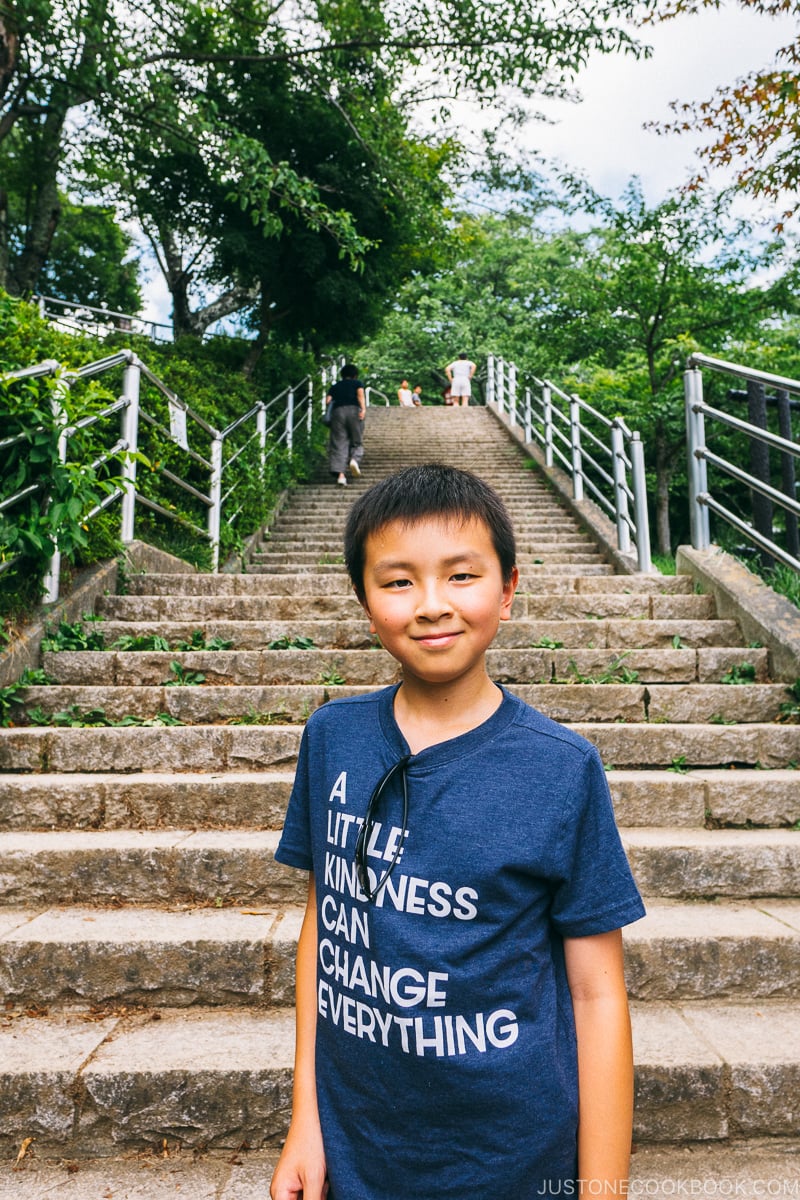 Along the way, you start to get an idea of the great views of the surrounding area waiting for you at the top.
Chureito Pagoda
As visitors arrive at the top of the steps, they'll see Chureito Pagoda. The pagoda is a peace memorial dedicated to the city's (Fujiyoshida) citizens who have died in the wars.
Head to the right of the pagoda and you will find a short path to the magical spot to take in the view of Mt. Fuji with the signature pagoda on the right. Unfortunately, we were there on a day the clouds wouldn't cooperate with us and show us Mt. Fuji in its entirety. Mt. Fuji's peak is notorious for hiding behind clouds.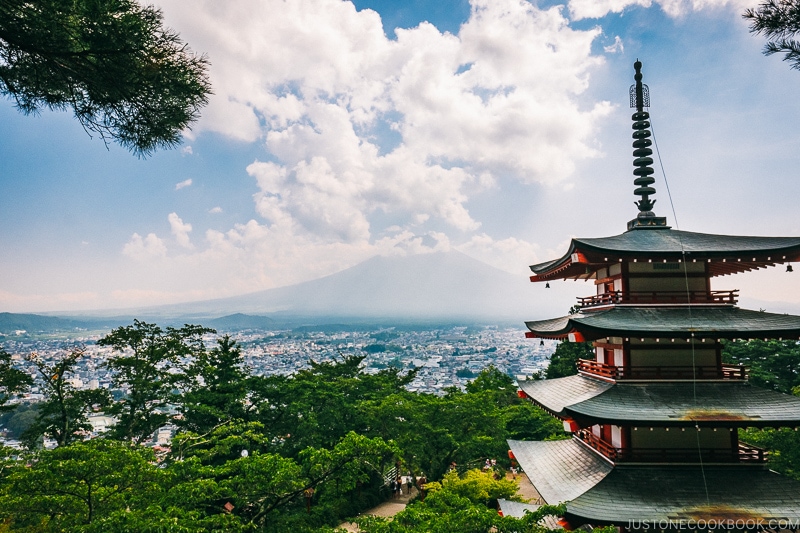 If you are interested in hiking more, there are additional hiking trails that will take you to the top of Arakurayama Summit.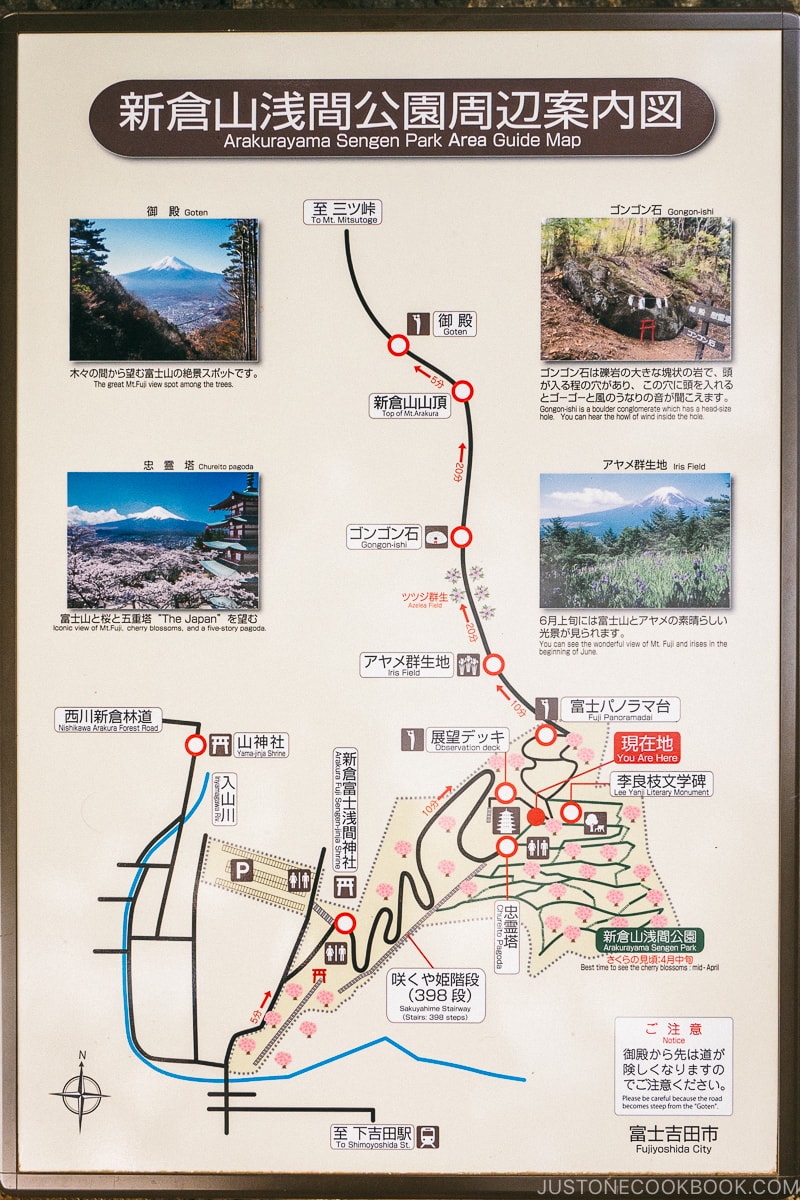 Makaino Farm Resort まかいの牧場
If you have young children and want to plan activities for them around Mt. Fuji area, we recommend stopping by Makino Farm Resort. It's a bit out of the way but quite entertaining for younger ones.
At the children-friendly farm, activities include feeding farm animals, riding ponies, milking cows, and a petting zoo.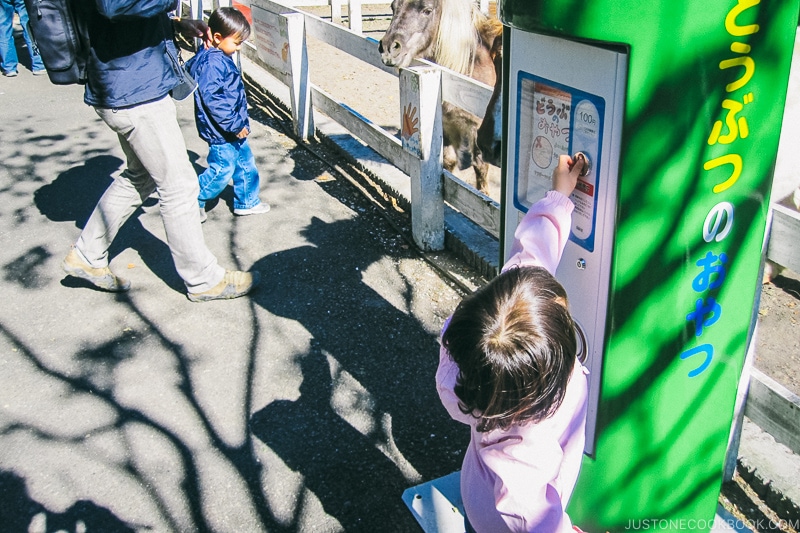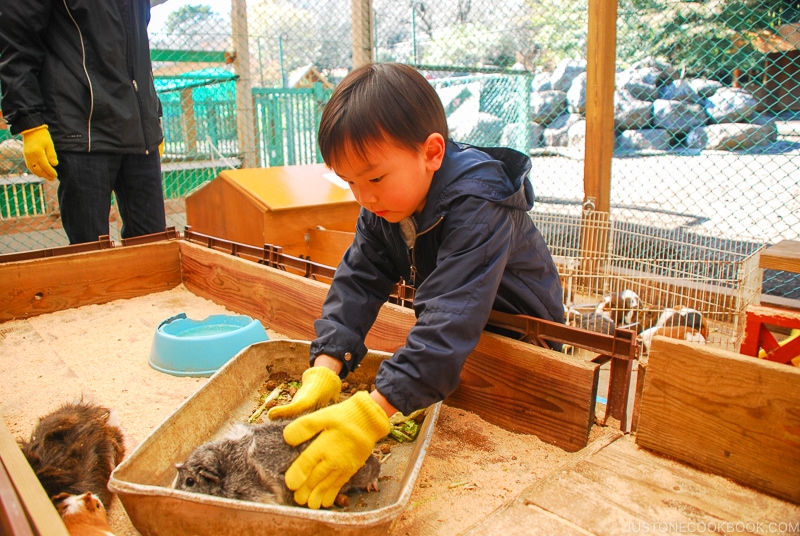 Hotel Kaneyamaen 富士山温泉 ホテル鐘山苑
After touring the Lake Kawaguchi area for the day, what's left? Relax at a ryokan and soak in the hot springs of course!
When we go to Yamanashi Prefecture we usually stay near Isawa Onsen. However, during a recent visit to Lake Kawaguchi for the fireworks festival, we stayed at Hotel Kaneyamaen.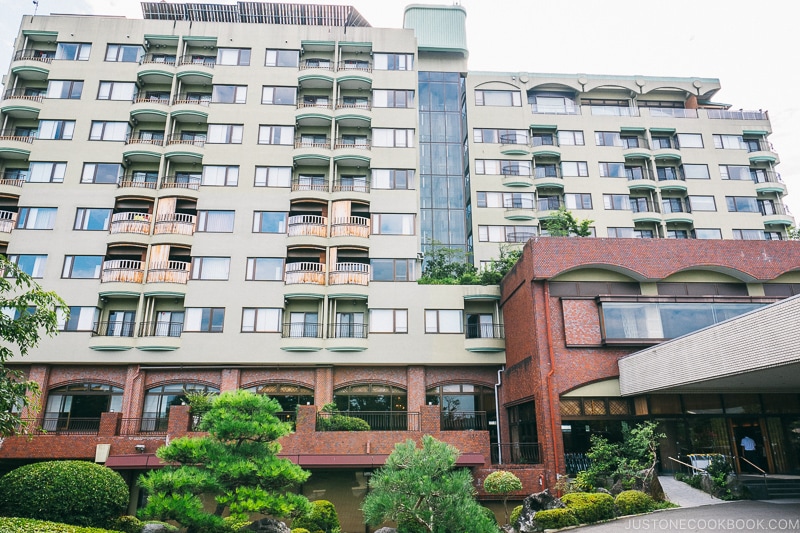 Hotel Kaneyamaen is a Japanese ryokan but it is quite unique. Most ryokans offer similar experiences for their guests, cozy rooms, hot springs, and a kaiseki meal. There are a few things that set Hotel Kaneyamaen apart from other ryokans.
It has an expansive Japanese garden where guests can walk around and enjoy tea (20 acres!)
The hotel provides entertainment options for guests, Japanese drum (Taiko) show in the lobby and firework display in the summer
There is a swimming pool (seasonal)
We really enjoyed our stay at Kaneyamaen and would highly recommend it (especially for someone who has never experienced Japanese ryokan). The hotel is maintained really well and really goes a step further to make their guests feel welcome.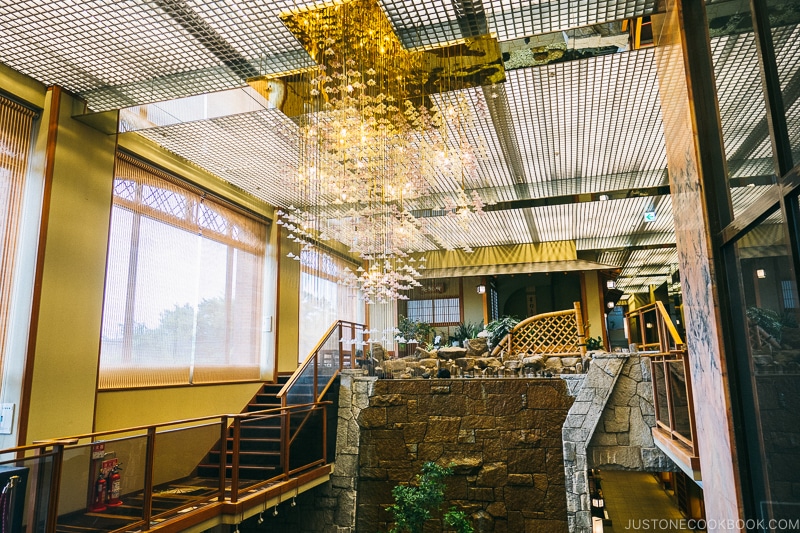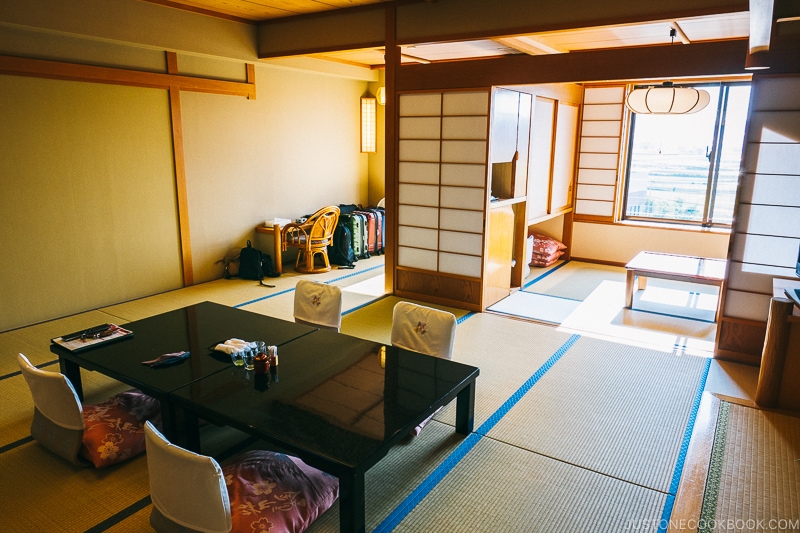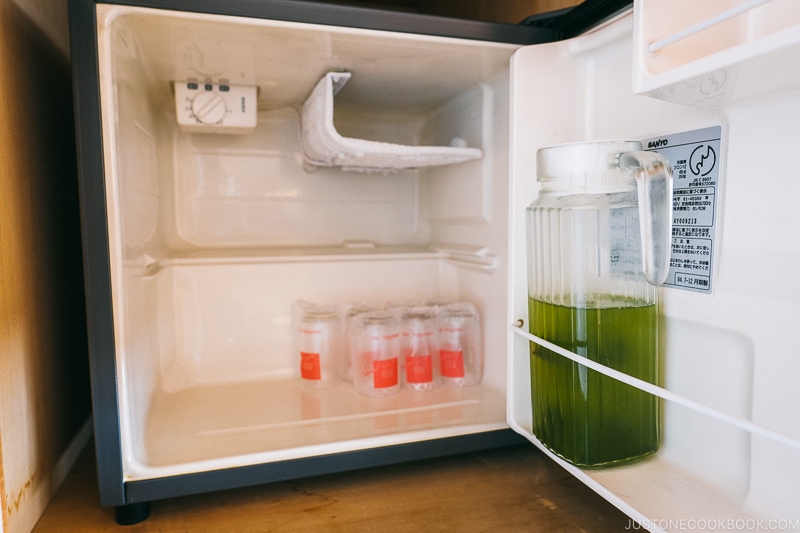 The Garden at Hotel Kaneyamaen
One of the key feature of the hotel is its garden. The garden at Hotel Kaneyama is unusually massive at almost 20 acres (80,000 sq meter). There are several tea houses, rest areas and benches, and small shops for hotel guests to walk around.
At the main tea house, hotel guests are served complimentary Japanese sweet and green tea.
The main tea house is surrounded by the beautiful garden and it was quite relaxing to enjoy an afternoon snack with tea there.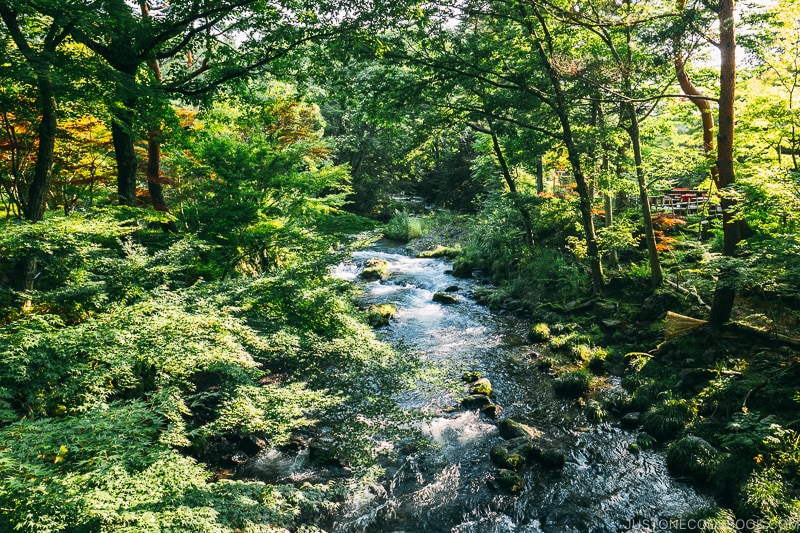 Kaiseki Dinner at Hotel Kaneyama
Compared to most ryokans the dining room at Hotel Kaneyama was enormous. However, unlike most ryokans it has an open kitchen where you can see the staff preparing the meal.
Overall the dinner was very well prepared and exceeded our expectations for such a large hotel. The dishes at dinner were quite unique, a departure from typical classic ryokan dishes.
The service was excellent as well and the hotel accommodated our request for an early dinner so we could arrive at the fireworks festival on time.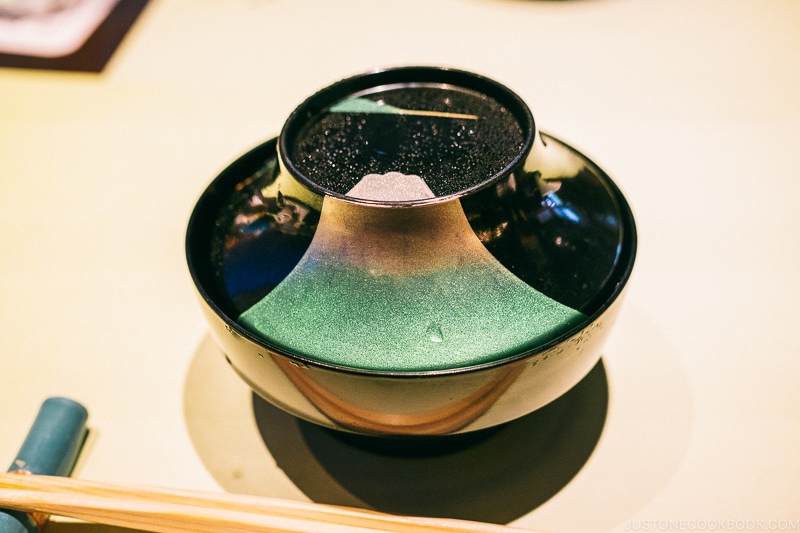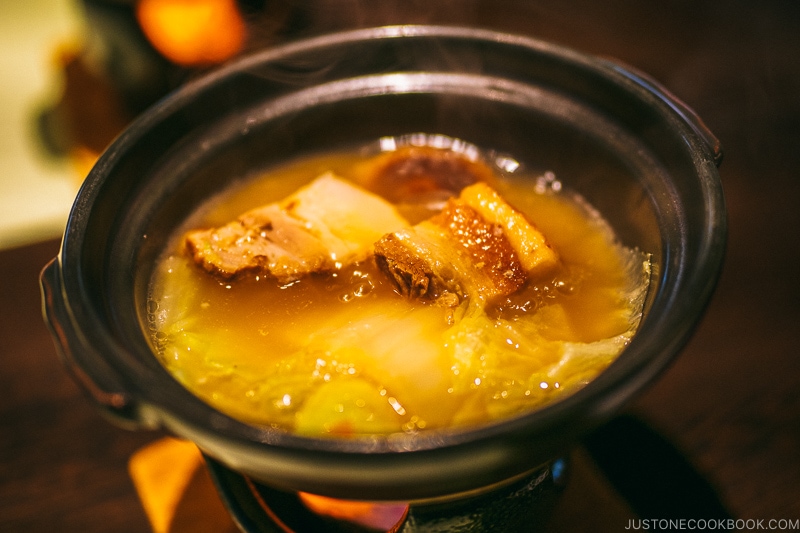 During the time when we stayed at the hotel for the fireworks festival, it had transformed a room to host festival games for children. What a nice gesture and our kids had a lot of fun!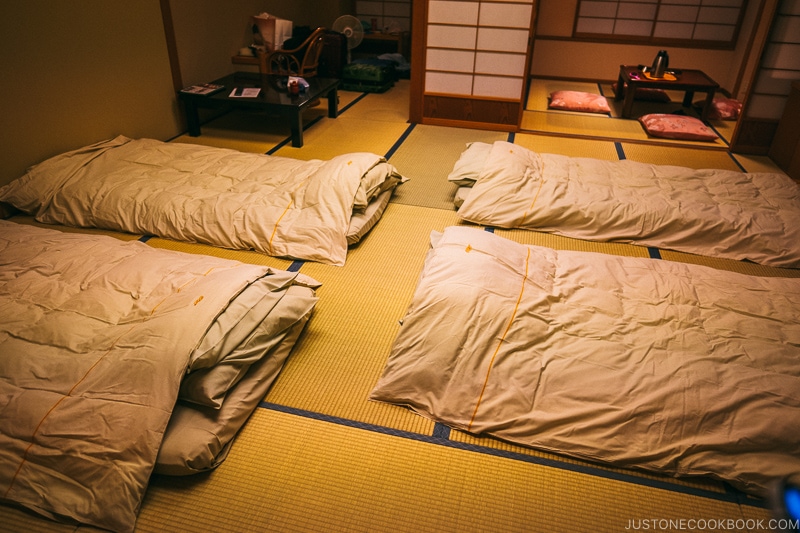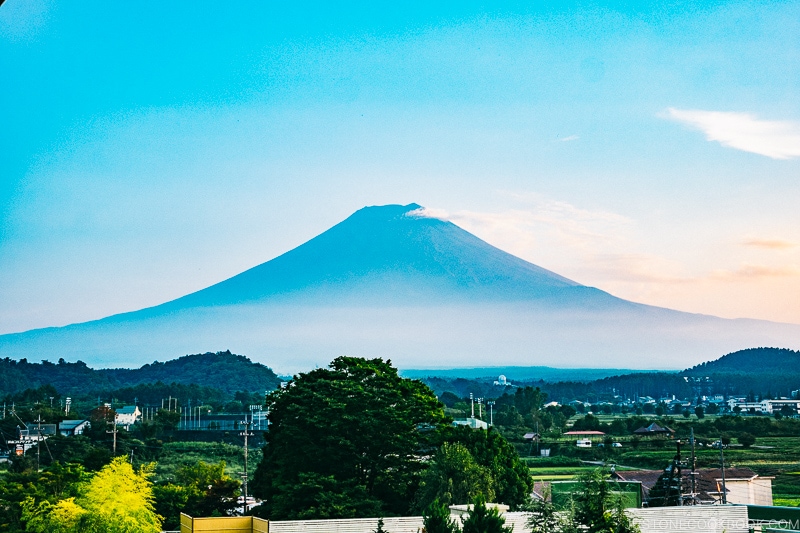 Lake Kawaguchi Fireworks Festival 河口湖湖上祭
During our visit to Lake Kawaguchi, we were able to attend a fireworks festival and we've shared our experiences with fireworks in Japan in this post.
Shortly after dinner, the hotel arranged shuttles to drive guests to Kawaguchiko Station. We then walked down to the lakeshore from the station.
By the time we got to the lakeshore, there were thousands of people that have already secured their spots but we were able to find some space to settle down.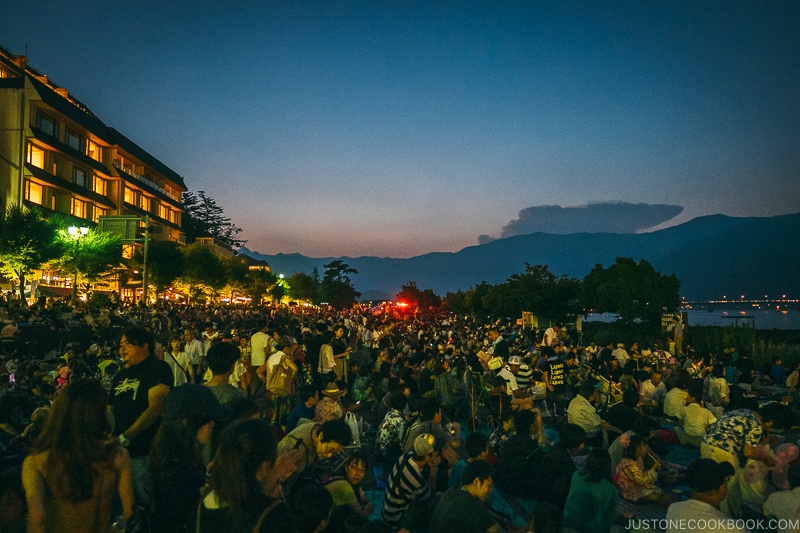 If you plan to attend a fireworks festival in Japan during the summer, keep in mind the pavement will be very hot so make sure you bring a small chair or stool to sit on.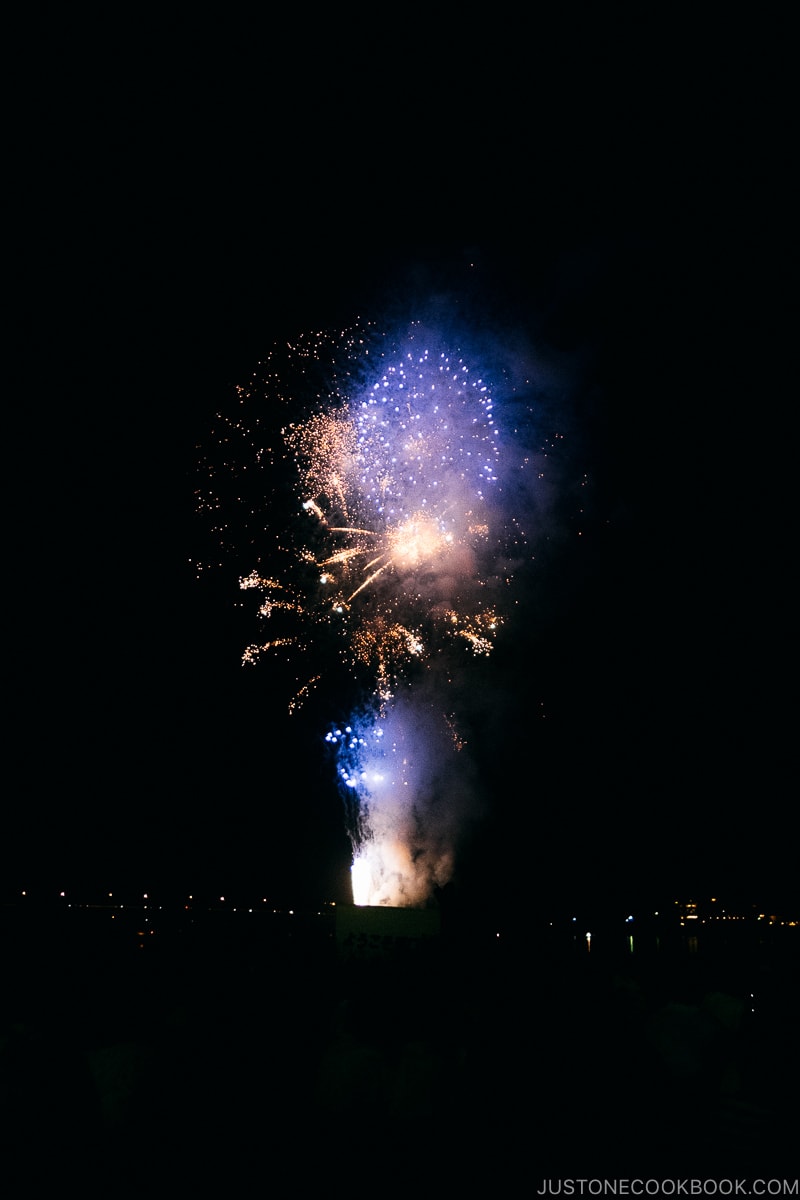 We hope you've enjoyed our guide for the Lake Kawaguchi area. There are plenty of activities to do and sceneries to enjoy, and of course hot springs to soak in.
If you've been to Lake Kawaguchi and have recommendations for JOC readers, please add your comments below. We'll see you next in Isawa Onsen and Fuefuki City for fruit picking and wine tasting.
Yamanashi Travel Guides
Yamanashi Fruit Picking and Wine Tasting
Things to do Around Lake Kawaguchi