A fun guide on Asakusa 浅草, an older part of Tokyo. Read more on the things to see and do, including Sensoji and Kappabashi.
I often get asked by readers, "Nami, I am planning to go to Tokyo soon, can you suggest an itinerary for me?"  To be honest, I have a really tough time answering that question.  Nearby Tokyo, there are
1) Touristy places like Disneyland, Tokyo Tower, Ooedo Onsen Monogatari, Tokyo Skytree,
2) Historic/Museum locations like Imperial Palace, Meiji Jingu, Asakusa,
3) Scenic locations such as Yoyogi Park, Happoen Garden, Ueno Park,
4) Shopping!  In Shibuya, Roppongi Hills, Omotesando, etc.
Not to mention the sporting events like baseball and soccer games, or children oriented activities at Kidzania.  I haven't even got to the side excursion you can take to Yokohama, Hakone, and other nearby places.  Based on Tripadvisor, there are 788 points of interests alone around Tokyo and I am sure that's not a complete list.  Tokyo is an unique city that has activities and events for all ages, depending on what your interests are.  Although it's hard for me to suggest a multi-day itinerary, I'll start sharing bits and pieces of my own experience traveling around Japan on JOC, and hopefully my tips will give you an insight on the locations I visited.
Transportation
On this past trip to Japan, we realized we spent too much on transportation fees flying to and traveling by bullet trains (shinkansen) to different cities.  What we realized is if we had planned our trips better, we could have probably saved quite a bit on transportation by using a Japan Rail Pass (JR Pass).  If you are only planning to stay in 1 area like Tokyo, this is not a good deal.  However if you know you'll be taking the bullet train to Osaka from Tokyo, and perhaps other cities within Japan, this pass could be a huge money saver.  Only foreigners and Japanese nationals who lives aboard permanently qualifies for a JR Pass.  They start at US$300 for an adult for a 7 day pass to $600 for a 21 day pass.  The round trip bullet train from Tokyo to Osaka is almost $300 by itself so it's definitely worth it if you plan to travel on JR lines.  Keep in mind this pass does not apply to metro line and other private lines, only works on JR lines.  In case you are wondering (see the chart below), "Green Car" is the equivalent of business class with wider seats.
If you have a Japan Rail Pass, Narita Express from the airport to Tokyo is free.  Otherwise I would recommend taking the airport limousine (it's a 50 seat bus and not a limo) to the hotel from the airport instead.  It costs less and takes you directly from the airport to all the major hotels so you don't have to drag your luggage around the subway systems (some of the older stations have no elevator or escalator).
Japan Rail Prices as of July 2014
Mobile Data Plan in Japan
The transit info has been on Japanese mobile services (i-mode) for a long time but unless you read Japanese and has access to Japanese cell service, it's difficult to use and get.  In the recent years, Google maps also offers the same service and it's available in English!  Yay for non-Japanese visitors!  However, Google maps does require a data plan in Japan.  In the US, the mobile carriers charges outrages fees for international data plan, from $30 for 120MB to $120 for 800MB.  Due to this high cost, I've been using an unlocked iPhone and getting a bmobile data plan in Japan when I visit.  It's $40 for 1GB of data and it's good for 14 days or until your data runs out.  The great part is you can order and pick up the the sim card at the various airports as you arrive.  There is easy instruction included on how to setup the sim card and you'll be up and connected in no time.  Based on what I read on the web, do not get the 14 days prepaid one, only get the 1GB prepaid as the 14 days one is quite slow.  The 14 days one is fast enough for Skype and video chat (runs on NTT Docomo's network).
Using Google Maps in Japan
Using Google maps in Japan is similar to how it works in the US (but on steroid).  It tells you the approximate walking time and distance, time of the train, cost of train, arrival time, and everything you could think of going from point A to point B.  You can pick what time you want to leave and which day to plan ahead.  The Google Map transit info covers everything from JR, metro, subway, monorail lines, bus, to Shinkansen (and it' almost never wrong).  Google Maps in Japan works quite well with typing the search location in English, e.g. Tokyo Tower, Tokyo Skytree, Shinjuku Station, etc.
Here is an example of how to use Google Map in Japan below going from Tokyo Skytree to Tokyo Disneyland (click on the images to enlarge).
Just a side note, we noticed that typically in Japan our iphone battery drains faster maybe because we're constantly on trains and walking, it's helpful to have an extra battery.  I use the PowerAdd battery because it charges both ipads and iphones, and with enough juice to fully charge iphone twice.
Visiting Asakusa (浅草)
We were leaving our hotel after going to Tokyo DisneySea (next to Disneyland) and on the way back home, Mr. JOC suggested that since we'll be going through Tokyo, let's take the kids on a detour and visit some places.  My son is really crazy about the Tokyo Skytree and have been wanting to visit.  As some of you may know, my family lives in Yokohama and it's about a 40 min train ride to Shibuya in downtown Tokyo.  From my house to Tokyo Skytree, it would take at least 1 and half hour by train.  However, from Tokyo DisneySea, it's just a short 30 min ride.  We didn't even tell our children so we can surprise them.  Before getting to Tokyo Skytree, we decided to stop by Asakusa (浅草) which is only one station away and to visit Sensoji, the oldest temple in Tokyo, and Nakamise, a shopping street that dates back back to 1688.
Kaminarimon (雷門) & Nakamise-dōri (仲見世通り)
Asakusa is located in Taito-ku (Taito District) near the Sumida river.  It is an older part of the city, but it has its charms.  There are many temples and shrines in the area but the one best known is Sensoji (浅草寺).  As you arrive at Sensoji, your attention is immediately drawn to its impressive gate Kaminarimon (雷門, Thunder Gate).  On the side of the the gates are the statues of the wind and thunder gods.  One you make it through the gate, you arrive at Nakamise-dōri (仲見世通り).  It's 2 blocks of little shops that sells everything from Tokyo souvenirs, toys, chopsticks, and various Japanese snacks like Yokan (Japanese jelly), Osenbei (Rice Crackers), and Ningyoyaki.
Ningyoyaki (人形焼) is a Japanese snack with a pancake like exterior and red bean paste filling.  With machines making the ningyoyaki these days, it's a delicious treat where 10 only costs USD$2.  There are some stores on Nakamise-dōri that still make them the traditional way as well.  It was fascinating watching the skilled artisan pouring the batter into the mold, then squeezing the red bean paste into each slot one by one, and then grilling over fire.
Other food stalls include shops that sells dango (sweet rice dumplings) in various flavors as well as mochi.  Traditional craft stores includes ones that sells beautiful chopsticks.  I am hosting a WORLDWIDE giveaway for 2 sets of elegant chopsticks (a pair each) to readers.  Click here to enter!
Hozomon Gate (
宝蔵門

)

After you pass through Nakamise-dōri, you see the red gate, Hozomon (宝蔵門).  Here, you can walk up to the burning incense and wave the smoke towards the part of your body you want to be blessed.  Before entering the main temple, make sure to wash your hands first.  The proper way is
Hold the ladle with your right hand and rinse your left hand
Hold the ladle with your left hand and rinse the right hand
Hand the ladle back to your right hand one more time and pour some water into your left hand and rinse your mouth (do not drink from the ladle).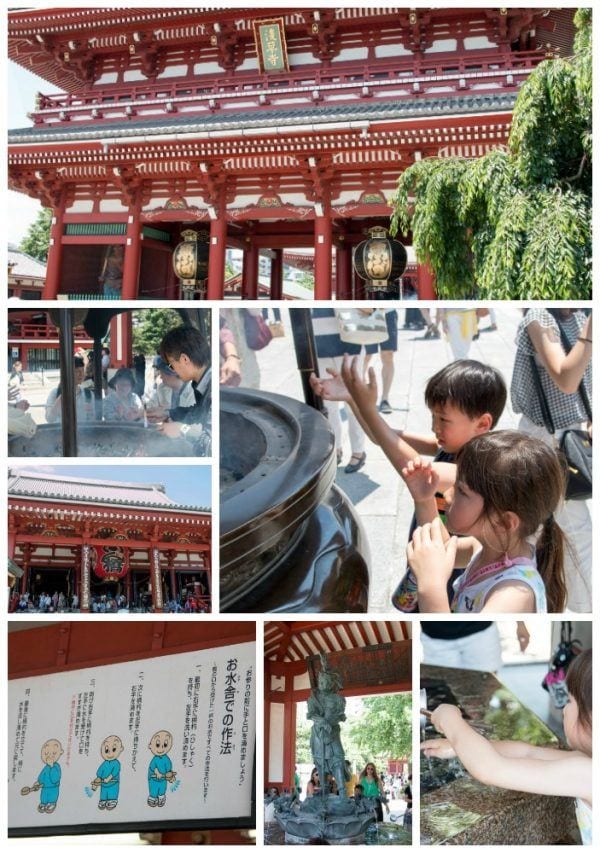 Kannondo Hall (観音堂)
As you arrive in the main hall, Kannondo Hall (観音堂), the god Kannon sits at the center surrounded by other gods.  After you are done praying, you can get a Omikuji (おみくじ), and read your fortune.  In the Japanese tradition, if you get a bad fortune (凶), roll up the paper and tie it up on the rack nearby.  Pray to the bad fortune and hope the gods will protect you from harm.  Looking back at the entrance from the main hall, you'll see the grand five story pagoda (五重塔) easily spotted from nearby areas.
After walking around the temple, our family had lunch at Nobu…. No, not that Nobu!  The Asakusa Nobu of course.  It's a cute little Japanese diner that serves yoshoku (western style Japanese food) and only seats 12 people.  The husband and wife team prepares each dish quickly in front of the guests.  We especially enjoyed the daily beef filet special ($15) that was limited to just 20 a day.  It came with two different dipping sauce and the soy sauce base one with ume (Japanese plum) was really yummy and the sourness breaks up the fatty texture of the beef.
Kappabashi (合羽橋)
After visiting Sensoji, there are a few spots you can go to and one of them is Kappabashi (合羽橋), literal translation a foodie's heaven.  Yes I am kidding, it's actually 3 blocks of shops that caters specially for restaurants and everything you would want in your kitchen.  You can find pots, restaurant furniture, fake food, knives, and every tool imaginable you would ever need in your kitchen.  I found the prices of the Japanese bowls and plates to be considerably cheaper than what I could get in the US.  And yes, the bowls and plates did come back with me.
Hope you enjoyed the little tour of Asakusa, and stay tuned for upcoming posts on Tokyo DisneySea, Tokyo Skytree, Kyoto, and more!  If you're interested in our past Japan and Taiwan trips, click here to continue reading!
Don't want to miss a post? Sign up for the FREE Just One Cookbook newsletter delivered to your inbox! And stay in touch on Facebook, Google+, Pinterest, and Instagram for all the latest updates. Thank you so much for reading, and till next time!