Yamanashi prefecture is known in Japan as a major fruit and wine region and home to many famed hot springs areas. Join us as we go fruit picking and wine tasting around Isawa Onsen and explore Fuefuki City.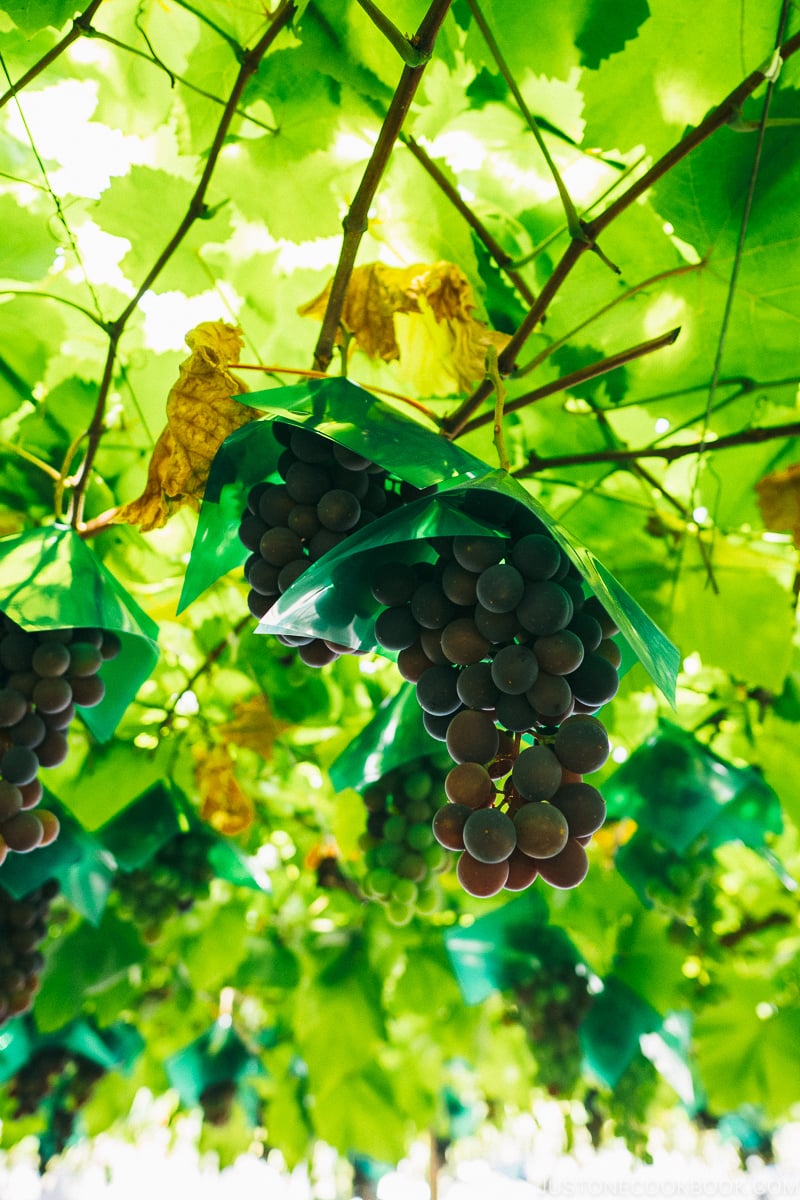 Looking to get away from the lights and sounds of city life in Japan? We recommend taking a relaxing trip to Yamanashi Prefecture and take in the beautiful sceneries and enjoy its many offerings.
Yamanashi prefecture is known in Japan for its famed onsen (hot spring) area, including Yumura Onsen, Shimobe Onsen (aka Takeda Shingen's hidden hot springs), and Isawa Onsen. Our family's favorite is Isawa Onsen as its easily accessible by car or train from the Tokyo area. Besides onsen, Yamanashi is also known for its fruits, wine, hoto noodles, and Shingen mochi. Ready to check them out? Let's go!
Isawa Onsen 石和温泉
We've previously covered how to get to Isawa Onsen in the Japanese New Year's post. It's about 2 hours trip from Tokyo area by car or train. Isawa Onsen is in Fuefuki City located at the center of the prefecture.
There are many activities to do nearby and if you don't have a car, alternatively you can take a taxi to many of the locations. Public transportation is not as convenient here as the large cities.
Isawa-Onsen Station has a unique shop typically not found in most train stations. Since Yamanashi is known for its wine, the station has a wine tasting store. There are many wines visitors can try (for a fee) and purchase.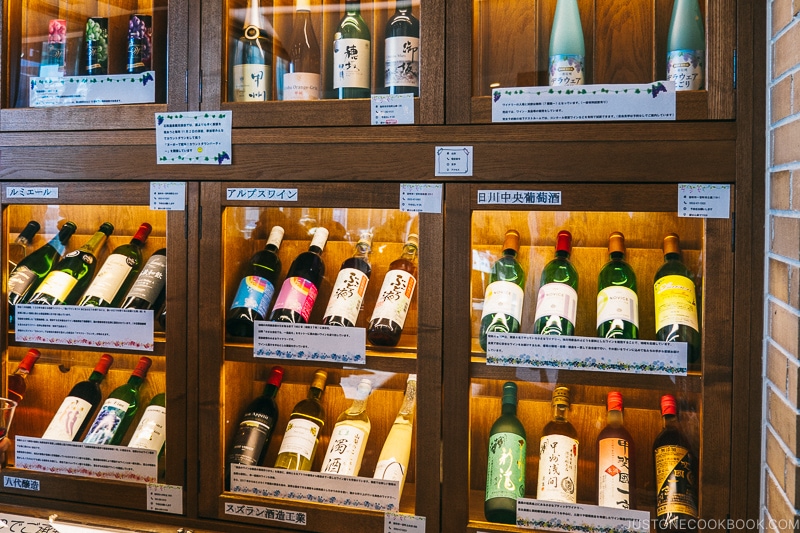 Peach Picking in Yamanashi
Yamanashi is known for three fruits, grapes, peaches, and plum. During the harvest season, visitors can go to the fruit farms and pick fresh fruits from the trees. Our family's favorite fruits in Japan are white peaches and kyoho grapes so summer was the perfect season to visit.
The fruit farm we went to was Riso Orchards 理想園 and they offered a variety of fruit picking choices. Just as a heads up, fruits in Japan are really expensive compared to most places.
There are specialty fruit shops in Japan where prices are a bit ridiculous. Examples of these are $200 for 6 peaches or $100 for a single square watermelon.
The day we were there, it costs 2,000 yen to pick 3 peaches, and they'll serve 1 peach and grapes afterward. Other choices include
All you can eat premium fruits for 2,300 yen
Pick Delaware grape for 1,500 yen
All you can eat kyoho grape for 1,500 yen
We selected the 3 white peach picking package since our whole family absolutely loves them.
We waited for about 10 min and a van came to pick us up. The drive to the peach orchard was only 3 min away.
After giving us the brief instruction and warning (peach picking could result in itchy skin), we went to search inside the orchard for the largest peaches.
The experience was very anti-climatic as we were done in less than 10 min. The van took us back to the orchard stand and we were served fruits.
The peaches and grapes were absolutely delicious and we couldn't get enough.
Katsunuma Budou no Oka 勝沼ぶどうの丘
There are many wineries throughout the area and I've listed the popular ones below. If you don't have time to visit individual wineries, we recommend going to Katsunuma Budou no Oka (the hill of grapes).
Katsunuma Budou no Oka is located on a hill so you can take in the panoramic view of the nearby towns nestled between the mountain ranges.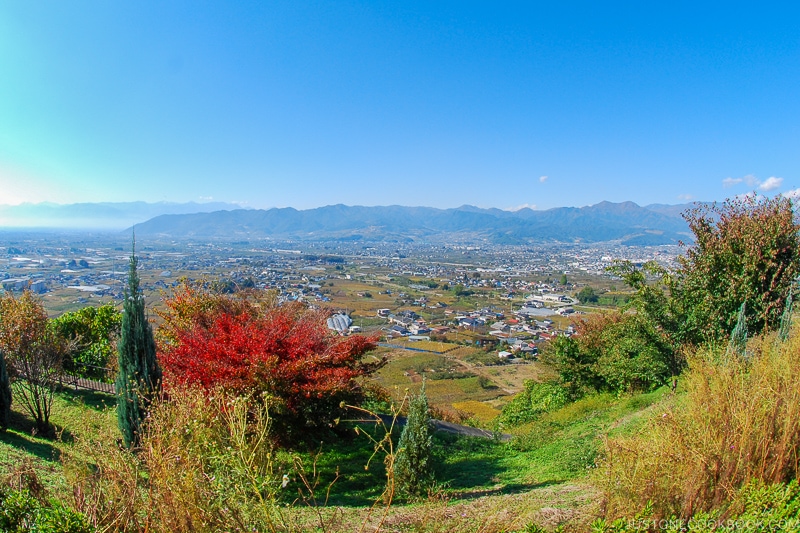 At the Budou no Oka, there are a number of facilities including restaurants, a hotel, and hot springs. The restaurant choices are plenty and you can choose from Japanese food, yoshoku (western cuisine), yakiniku (Japaense BBQ, and a hoto noodle restaurant.
Most importantly, there's an underground wine cave with over 200 wines you can try.
For wine tasting, it's just 1,520 yen per person (please check the website for the latest prices) and you can taste all the wins they have.
Popular Yamanashi Wineries
Here are the popular wineries in the region. Keep in mind Japan has really strict drinking and driving rules so the driver will not be able to taste any wine.
Fuefukigawa Fruit Park
If you are traveling with children and want suggestions for places to go, stop by the scenic Fuefukigawa Fruit Park. The park is located on a hill overlooking Yamanashi City. On a clear day, you can see the top of Mt. Fuji behind the mountains.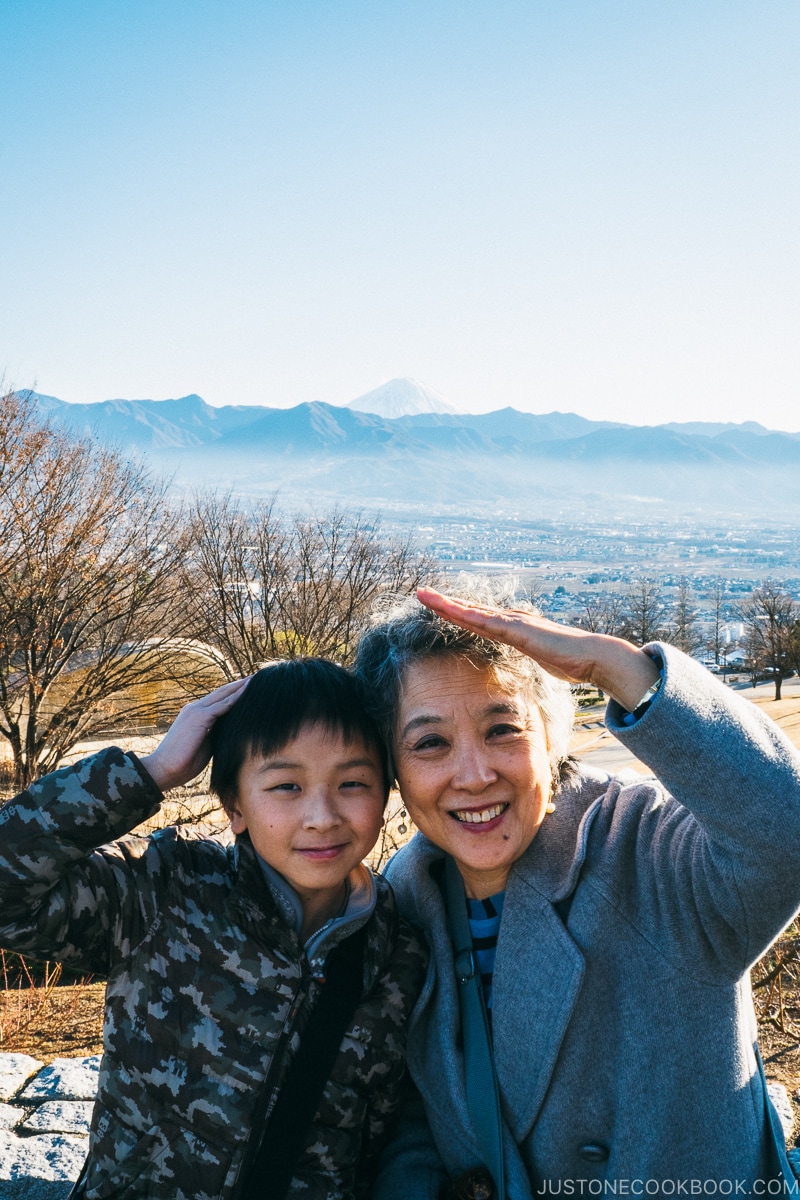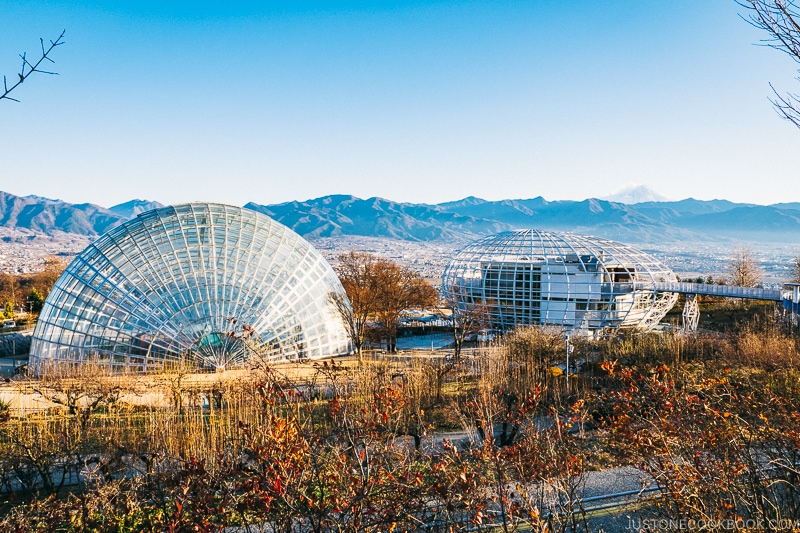 At the fruit park, there are several domed buildings. The first one is the Fruit Plaza, a large event hosting space. There's a children's play area and resting spots for visitors to sit inside as well.
The next area is the Fruit Museum, the theme covered in the museum is on how can animals and plants co-exist on our planet. There is a large section focused on the history of grapes and the importance of grape and peaches in Yamanashi Prefecture.
Other facilities at the park include a tropical greenhouse, Fruit Workshop (gift shop and reading room), and a train visitors can ride from the parking lot to the top of the hill.
Kikyo Shingen Mochi Factory
There are a few items you see everywhere when you travel around Yamanashi Prefecture, and they are fruits related gifts and snacks, wine, hoto, and Kikyo Shingen Mochi. What is Kikyo Shingen Mochi?
Shingen-mochi is mochi coated in kinako (soybean) flour and drizzled on top with muscovado sugar syrup. You see their signature blue and red boxes all over the nearby area and gift shops.
At the factory, you can see how the mochi is packed with the syrup bottle.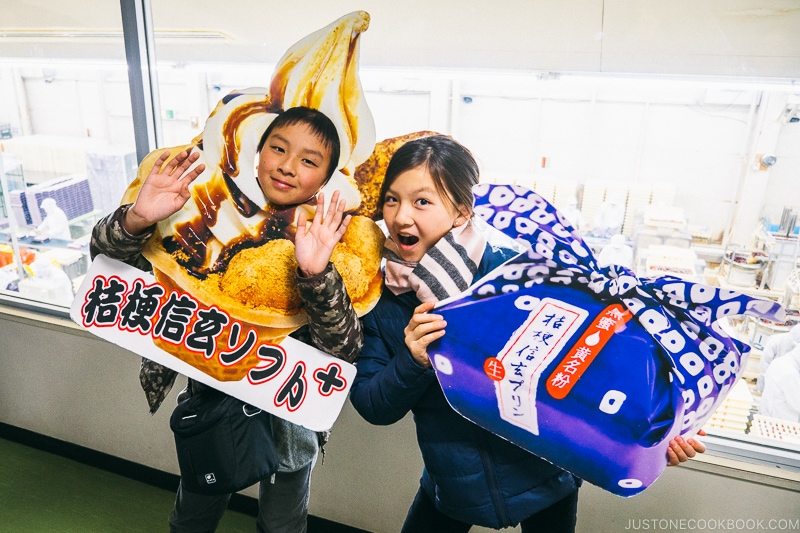 Besides the factory tour, there are some exhibits on display. Such a the following flower arrangement, completely made of food-grade ingredients.
Yamanashi Hoto Noodles
While traveling in Yamanashi, a local specialty dish you don't see outside of the area too often is hoto noodles (recipe). Hoto noodles are similar to udon, but the noodles are much thicker and flat. The soup is also hearty and typically made with niboshi (anchovies) stock.
Although hoto is popular in the area, not everyone enjoys hoto noodles due to its texture. However, if you enjoy thicker noodles with vegetables and hearty soup stock, give it a try.
Fuefuki City (Isawa-Onsen Station)
If you don't have a car or means to get around, the area Isawa-Onsen Station is flat and easy to walk around on foot. There are shrines and temples to stop by as well as shops and restaurants.
Kutsuroginotei Kunitachi くつろぎの邸 くにたち
After a day of activities, it's time to relax. The majority of the ryokan (Japanese style inn/hotels) are located around Sakura Hot Spring Street in Fuefuki City.
For this we visit, we stayed at Hotel Kunitachi. Compared to Hotel Sekifu where we stayed for the new year, Kunitachi is much smaller with only 19 guestrooms.
The interior of the hotel is mostly wood and it feels warm and homey. The floors are tatami mats so guests are required to take off shoes as soon as they enter the hotel.
In the center of the hotel is a small garden with koi pond.
There are a number of small touches the ryokan exhibits their omotenashi (Japanese way of wholeheartedly look after guests) during our stay. In the summer, the hotel provides complimentary shaved ice for guests to cool down from the heat. For the kids, they provided sparklers to light at night.
The room we stayed at included both western beds and Japanese futon, and there is an outdoor bath to soak in.
Kaiseki Dinner at Kutsuroginotei Kunitachi
The kaiseki dinner was well prepared and most dishes were good quality.
Lastly, there are no pictures allowed but the hotel has a hot stone spa guests can use called arashinoyu. Wearing provided bathrobes, in a spacious hot enclosed room (80 C/175 F). Visitors lie down in a bed of medicinal stones and the staff will shovel more hot stones on top. It is believed that the medicinal stones along with hot springs will expel harmful waste accumulated in the body.
The staff will provide instructions on how long to stay, how much water to intake, and how many times to go in and out of the room.
Yamanashi Prefecture
We hope you've enjoyed our adventures in Yamanashi Prefecture and you'll consider visiting during your trip to Japan. Our family loves the quiet town surrounded by natural beauty, and the best part is it's just a short getaway from the Tokyo area. If you have been to Isawa Onsen and Fuefuki area and have recommendations, please leave them in the comments below.
Yamanashi Travel Guides
Things to do Around Lake Kawaguchi