Join us on the Yufuin Travel Guide as we enjoyed the renowned onsen at Musouen Hotel, feasted on Kaiseki Ryori, learned how to make Japanese pottery, and devoured Purin Dora.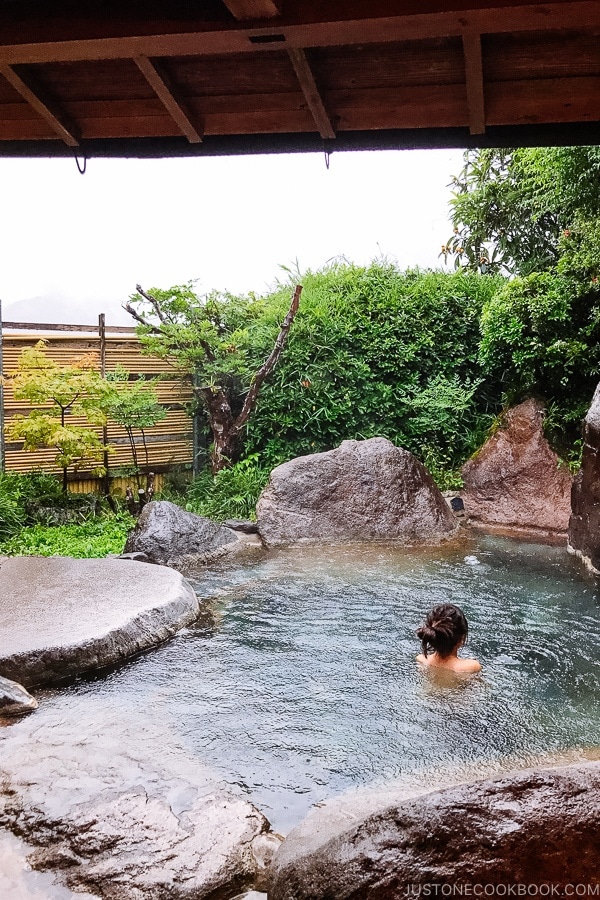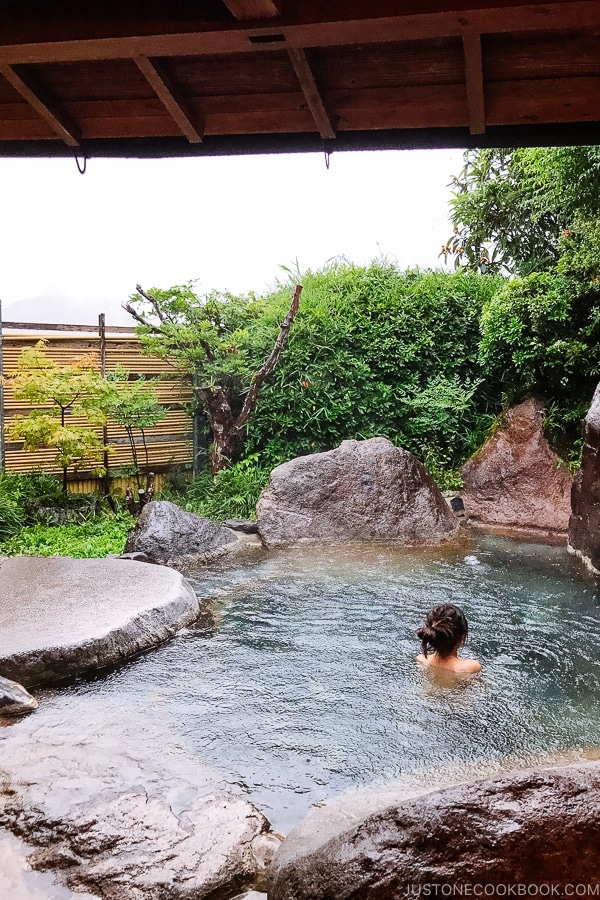 Our family took a trip to southern Japan last year and had an amazing time. Even though it's still Japan, the food, the scenery, and the culture are very different from large cities like Tokyo, Kyoto, or Osaka.
We've been sharing a travel guide for each location we visited once a week. If you missed our posts for Hiroshima, Miyajima, and Beppu, here are the links to visit the Hiroshima Peace Memorial Museum, Itsukushima Shrine, and the Hells of Beppu. For each location below that we visited, we are also sharing a local recipe the same week.
Hiroshima (広島) – recipe Grilled Oysters
Miyajima/Itsukushima (宮島/厳島) – recipe Baked Japanese Fried Oysters
Beppu (別府) – recipe Chicken Tempura (Tori-ten)
Yufuin (由布院/湯布院)
Kurokawa (黒川)
Kumamoto (熊本市)
Fukuoka (福岡市)
Ready to tour Yufuin with us? Let's go!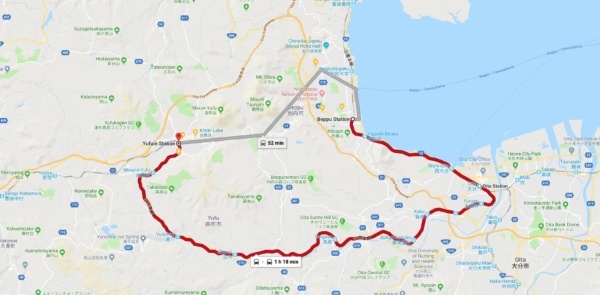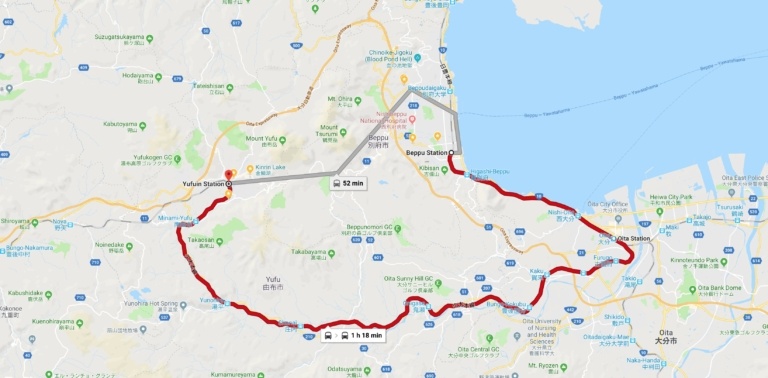 Yufuin is actually not too far from Beppu (20 miles/33 km), it takes about 50 min by car and 1 hour 20 min by train. If you take the train from Beppu you will need to transfer at Oita Station (大分駅). Even though switching trains could be a hassle sometimes, one of the most interesting experiences for us while traveling in Japan is riding on all different types of trains.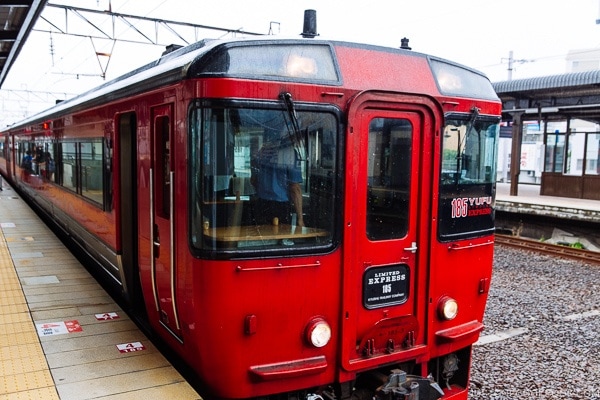 The scenery along the train ride was very soothing and therapeutic with forest views and rice fields as the train rolls through the hills.
Yufuin – 由布院/湯布院
Although Yufuin is located not far from Beppu, it couldn't be any more different. While Beppu is a large hot spring destination resort city, Yufuin is a small town with boutique art museums, galleries, and smaller restaurants and shops. It is best known for Kinrin Lake and of course hot springs!
There aren't that many "tourist" activities to do in Yufuin so for our family, we selected something we've never done together before. Read on for more details!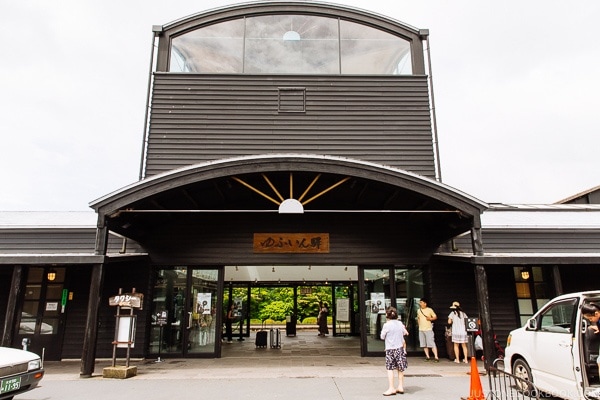 Yunotsubo Kaido (湯の坪街道)
As you exit Yufuin station, you can walk straight ahead. The street is called Yunotsubo Kaido and it's the main street in Yufuin. There are a variety of shops and food stalls along the path. If you keep walking on the path it'll connect you to Kinrin Lake (金鱗湖). Click on the guide below to see what you can eat or do on Yunotsubo Kaido.
Kinrin Lake 金鱗湖
After a 30 min stroll on Yunotsubo Kaido, the path ends at Kinrin Lake. Kinrin Lake's water comes from 2 springs at its bottom. The best time to view the lake is during the fall and winter seasons when it is covered by a mist in the mornings. There is a Marc Chagall Museum next to the lake as well as coffee shops where you can unwind and relish the beauty of the surrounding.
Pottery Experience at Toki (とうき)
While in Yufuin, we knew it was going to rain pretty hard when we were there so Nami made a reservation for us to make our own Japanese pottery bowl at Toki. It was quite an interesting experience.
The owner of the shop showed us how the pottery wheel worked and demonstrated how to make a Japanese bowl. He took only just a few minutes and made a perfect bowl right in front of us. It seemed so easy.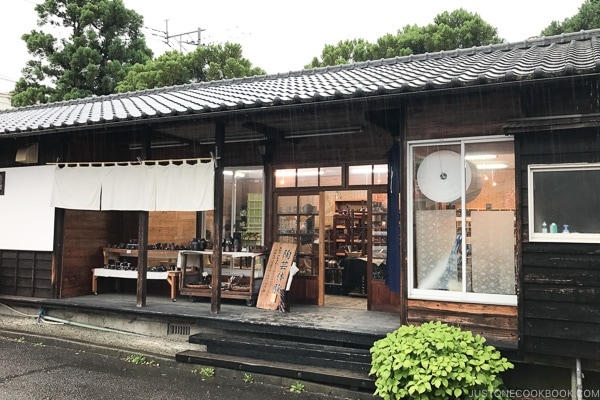 Our children went first and we controlled the wheel for them while they were shaping the bowls. Their hands are still small so they were having a hard time sculpting their bowls correctly. We thought we were going to do much better but it was unexpectedly tricky. Out of the four of us, Nami's looked the best.
As you can see in the picture below, our bowls didn't end up as elegant as we expected. It was quite challenging to shape the bowl and have it taper from thicker at the bottom to thinner at the rim. Regardless, our family had a great time and it was a great memory. As part of the pottery-making package (2,500 yen), the shop will bake the pottery in a kiln and ship the finished products to your address in Japan.
Musouen Hotel 山のホテル 夢想園
During our visit to Yufuin, we stayed at the Musouen Hotel. It's a traditional Japanese Ryokan situated in the hills south of Yufuin Station. The hotel does not offer a shuttle so you will have to get a taxi or walk to the hotel. It's about a 5 min taxi ride or 20 min walk. The hotel is rustic and charming and brings you to a different time as you walk through its charismatic wooden doors.
The buildings at Musouen are all just 1 or 2 stories tall so you can really enjoy the picturesque scenery around without the views obstructed. On a clear day, you can see Mt. Yufu from the hotel property and outdoor bath. As you look around the hotel grounds you can't help notice the beautiful moss that had grown over rocks and landscaping.
On to the rooms. Instead of western doors, the hotel rooms in our building had traditional Japanese sliding wooden doors.
As we entered the room we had expected the standard ryokan room layout but were pleasantly surprised by what greeted us. As you slide the doors open, there was a large foyer area with wooden sliding doors on both sides. The one on the left leads to a sunken bath and the one on right is the restroom. In most traditional Japanese hotels, the restroom usually in a separate area from the bathtub. Straight ahead there is another sliding door that actually leads to the main rooms.
As we open the second sliding door we were really surprised, there were another 3 rooms. This is by far the largest ryokan room we've stayed at! The first room had wooden floors and what seems like a hearth in the middle of the room (covered with wood). The 2 other rooms had tatami floors with an additional balcony sitting area. (Just to note we pay for our own travel and this was a standard room we booked through JTB).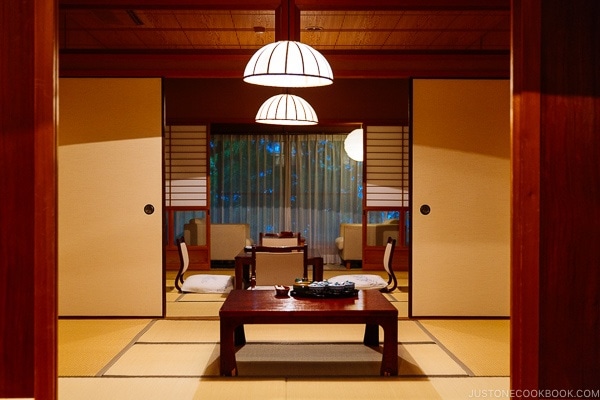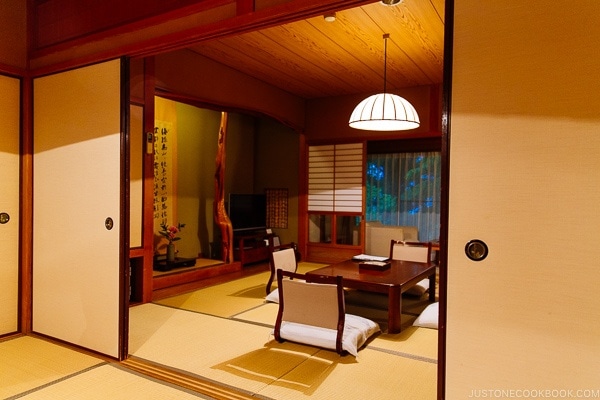 After we finished unpacking, it's time for onsen (hot spring)! Musouen has a few famed gigantic outdoor baths with incredible views (no pictures allowed in the public bath so click here for Musouen onsen images).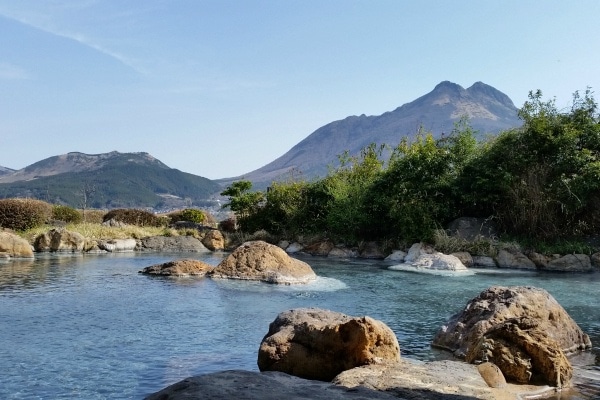 Besides the outdoor baths, what's really cool is about Musouen is whereas most ryokans charge extra for private hot springs, Musouen has a collection of private outdoor and indoor baths the hotel guests can use for free.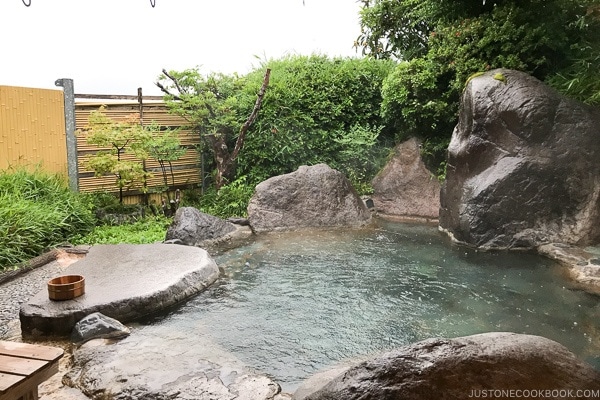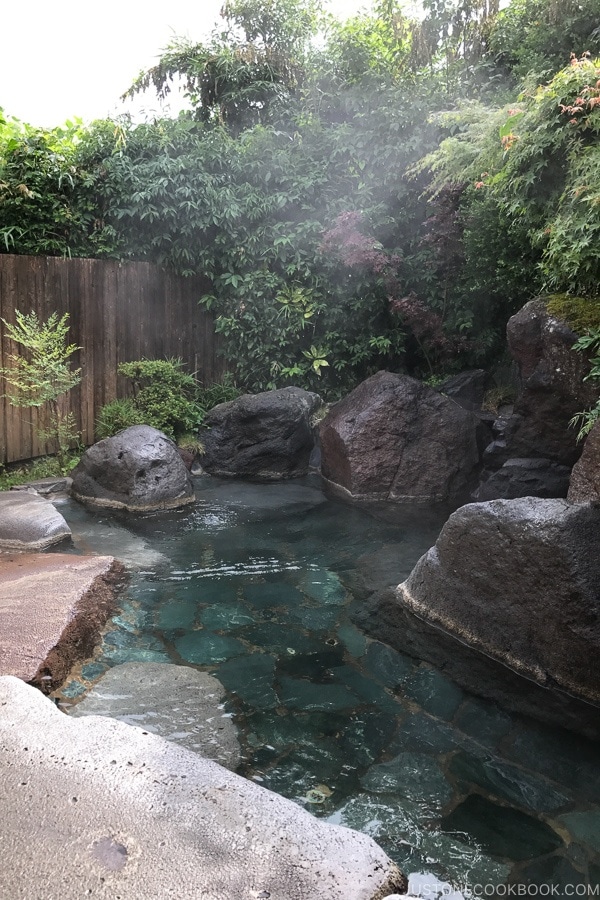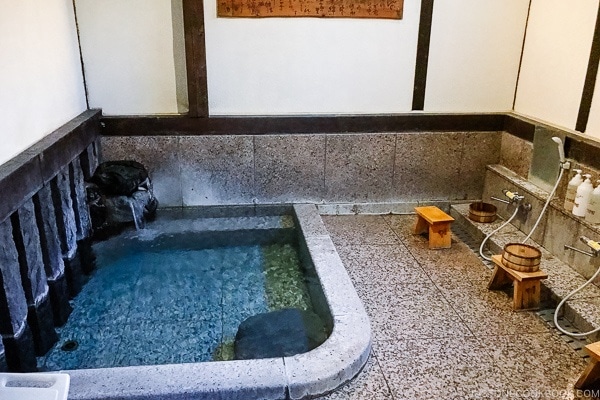 After soaking and relaxing in onsen, we head to the dining room for Kaiseki Ryori. Typically during our ryokan stay, we try to go to the onsen at least 3-4 times. The first time after we arrive, then one more time after dinner. Sometimes we'll soak right before sleeping and definitely one more time in the morning before we check out.
Back to the meal. Instead of serving guests meals in their rooms, Musouen had a dining building where hotel guests dine at. Over the years we find it more and more ryokans are serving guests in a large dining room rather than serving the meal in the hotel room (our theory is to save cost).
The kids were happy with the children's meal.

For the adult's meal, it wasn't too overly delicate compared to other ryokan meals we've had. The ingredients were fresh and it was satisfactory.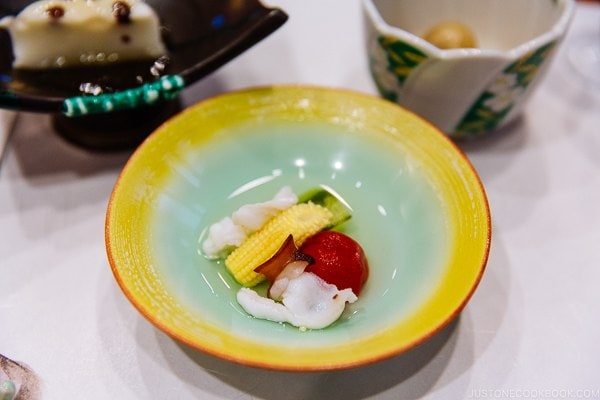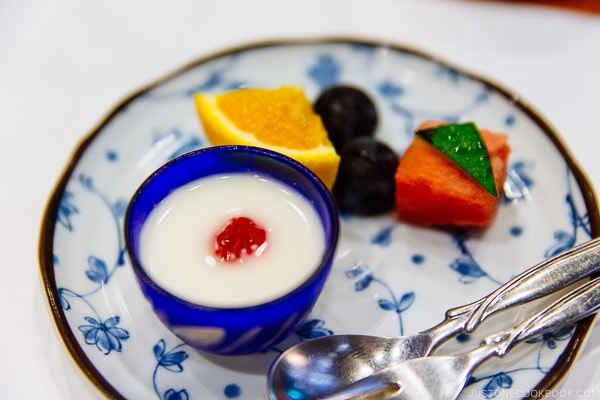 Right before bedtime, there was a knock on our room door and the hotel had sent us purin (flan/creme caramel) as a nightcap. It was so delicious!
And here's our breakfast the next day.
---
We hope you enjoyed the Yufuin post. It was blissful and tranquilizing for us to get away from the chaos and noise of large cities and relish in the peace and beauty of Yufuin and Musouen. For the next travel post, we'll travel by bus to Kurokawa Onsen, another onsen destination. Stay tuned and don't forget to subscribe our FREE Just One Cookbook newsletter delivered to your inbox!
If you are interested in our Travel Blogs, you can view them here.