The windy city is known for many things including its multitude of great foods. Join us as we enjoy delicious Chicago food at some of its most iconic and popular restaurants.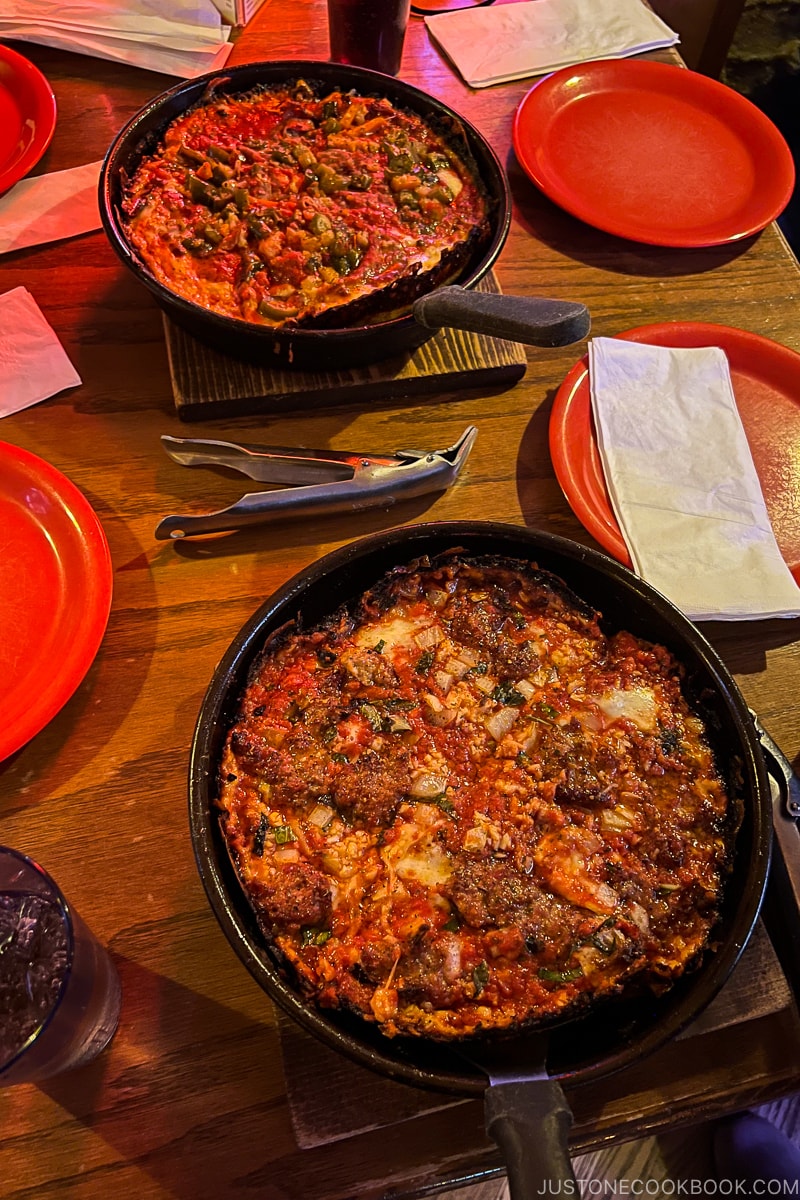 A few months before visiting Chicago, we already started planning our meals so we could experience as much signature Chicago food as we can. Nami reached out to the JOC community for restaurant recommendations and many of you responded with some excellent leads on where to eat. Thank you!
Here are restaurants and coffee shops with the highest number of recommendations from JOC readers.
We started making reservations based on the readers' list but had a couple of challenges. The first was we had limited days in the city and not enough time to try them all. Some of the restaurants are only open for dinner. The second challenge was we had a full itinerary so we weren't able to wait at restaurants that do not take reservations (Au Cheval is known for 2-3 hour wait).
In the end, we had to skip some of the restaurants but we were still able to have fantastic meals in Chicago. Join us as we share our Chicago food experiences with you below. The restaurants are listed in the order we ate them.
Wildberry Pancakes and Cafe
One of the travel hacks we learned on a recent trip to Los Angeles was that we saw Doordash and other food delivery services bringing food to the hotel lobby we were at. We were able to use the same strategy in Chicago and it was a lifesaver for us in the morning. The weather was freezing so it would have made going to breakfast a bit challenging.
Instead, we ordered most of our breakfast meals to be delivered to the hotel and the doorman were kind enough to bring them to our room. On the first day, we started with Wildberry Pancake and Cafe. It was favored by the readers and is also the 15th most reviewed restaurant on Yelp in the US.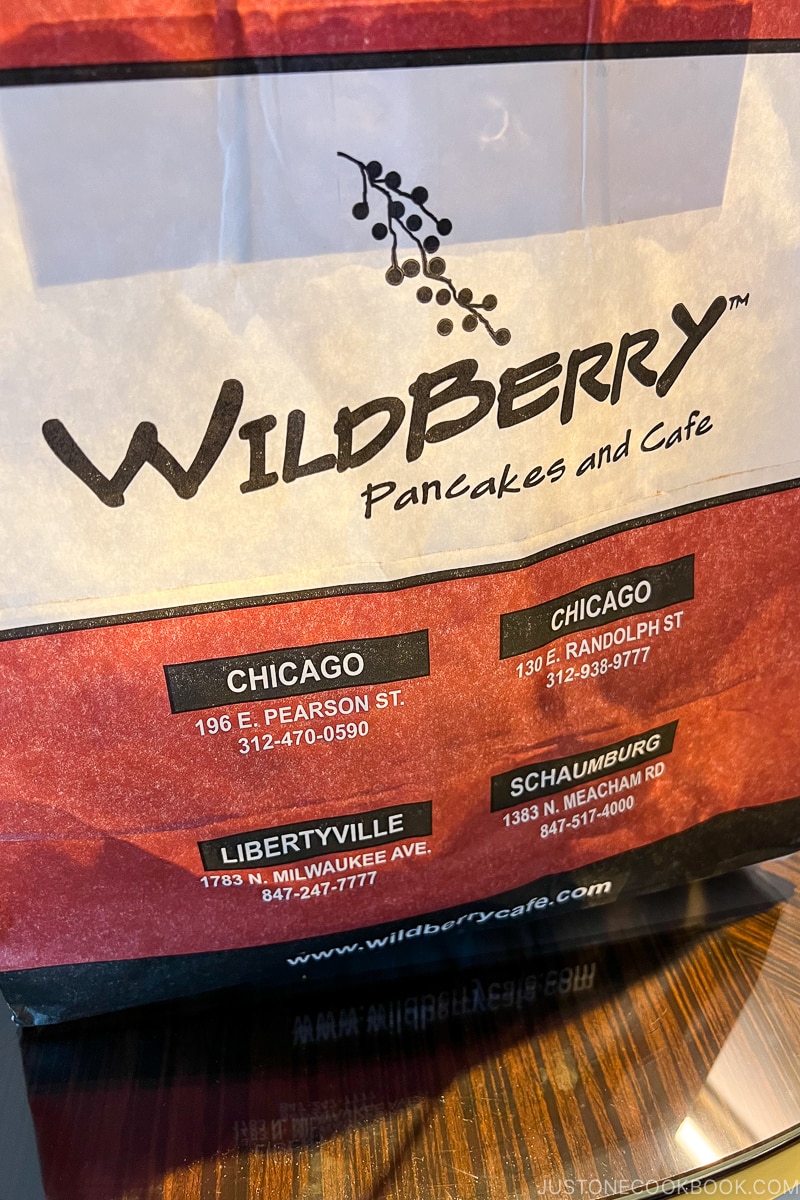 How good was it? It was so yummy that we ordered from Wildberry again on our last day before leaving Chicago. The pancakes were amazing. They were fluffy and moist with perfect texture, and the flavors simply hit the spot. We tried both Signature Berry Bliss Pancakes and Blueberry Lemon Curd Pancakes and they were both good. We also ordered their savory dish Butcher Block Skillet, and our son loved it. He's more into savory breakfast than sweets. Do not miss your opportunity to eat breakfast at Wildberry when you're in Chicago!
One thing to keep in mind is the Wildberry serving portions are humongous. Each order was enough for two people to share.
Ramen-San
On the first day, we walked on Mag Mile while it was really cold. We were craving warm comfort food and didn't want to walk too far. We ended up at Ramen-san, run by Lettuce Entertain You group which has over 50 restaurants in a variety of cuisines.
Ramen-san has a vibrant atmosphere and can get crowded during lunch time. We were able to get a table pretty quickly and ordered tonkotsu ramen, karaage, pork belly bun, and a salmon sushi roll. With the very filling breakfast from Wildberry, we weren't too hungry but the food did its job and warmed us up. The food was decent, not outstanding but not bad either. The ramen broth lacked depth compared to the ramen shops in the San Francisco area.
The Purple Pig
For the first dinner, we ate at The Purple Pig. It was one of the most recommended restaurants from JOC readers for Chicago food. I actually ate there over 10 years ago on a business trip and remembered the meal fondly so I was excited to be back with the family.
My memory didn't fail me and what a splendid meal it was! We ordered enough food to feed 8 people and we finished everything! Every dish was flavorful, well expressed, and complex. In addition to standard menu items, there were many interesting dishes including crispy pigs' ears (yes it was good). Besides the food, the service was outstanding and the restaurant was fully packed on a weekday night.
The Purple Pig set a super high bar for the rest of the restaurants on our trip. If someone has only one dinner to eat in Chicago, we would say The Purple Pig. It's that good!
Beatrix
The next day's breakfast we ordered Beatrix through Doordash. With the previous night's feast still digesting in our tummy, our family shared a french toast, hash browns, and bacon & cheddar egg sandwich.
The breakfast from Beatrix was delicious and got us powered up for the day.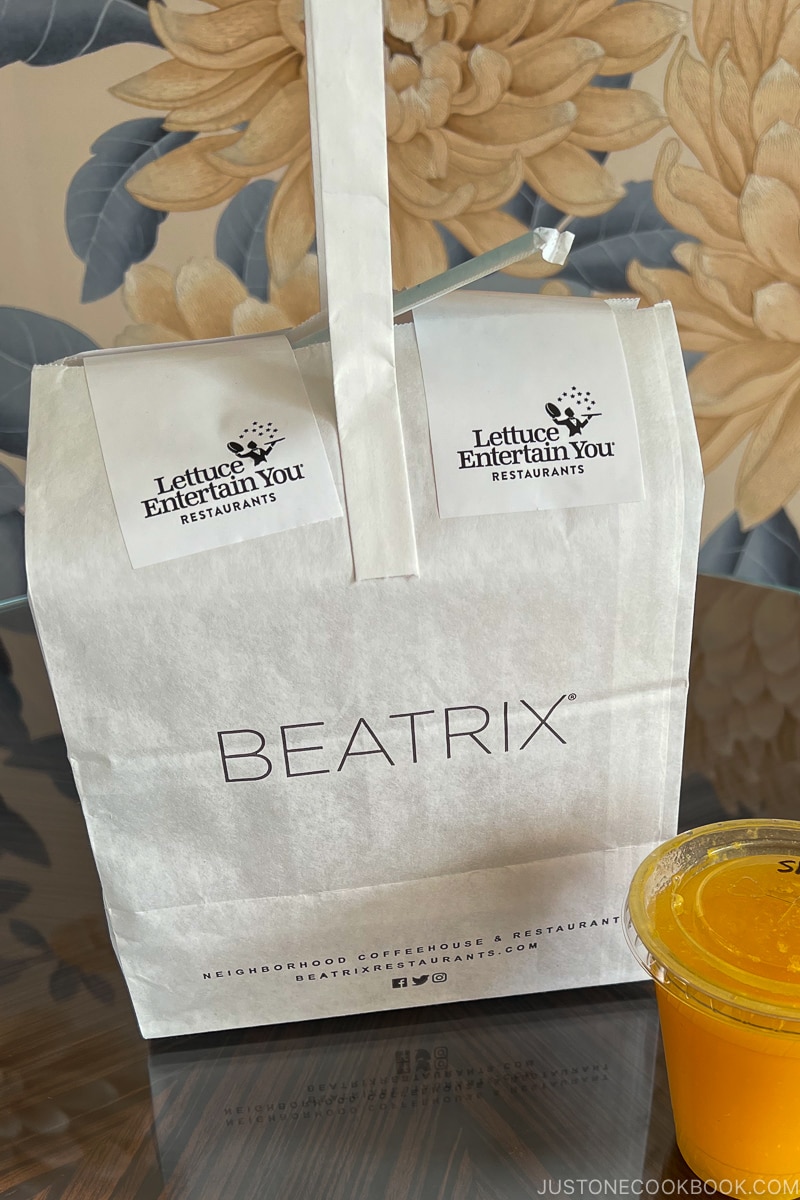 Portillo's Hot Dogs
For lunch, we stopped by the popular Portillo's Hot Dogs for some Italian beef sandwiches and dog dogs. The restaurant is decorated with a retro theme and interesting objects, including antique cars and sports memorabilia. The seating is first come first served. After placing the order, when the food is ready the order number will be called.
We loved Portillo's Italian beef sandwiches and hot dogs! So much so that we went back a second time! The soft buns and the tender beef slices go perfectly together. Getting hungry just thinking about the food at Portillo's.
If you're there, don't forget to try their chocolate cake milkshake, it's super good!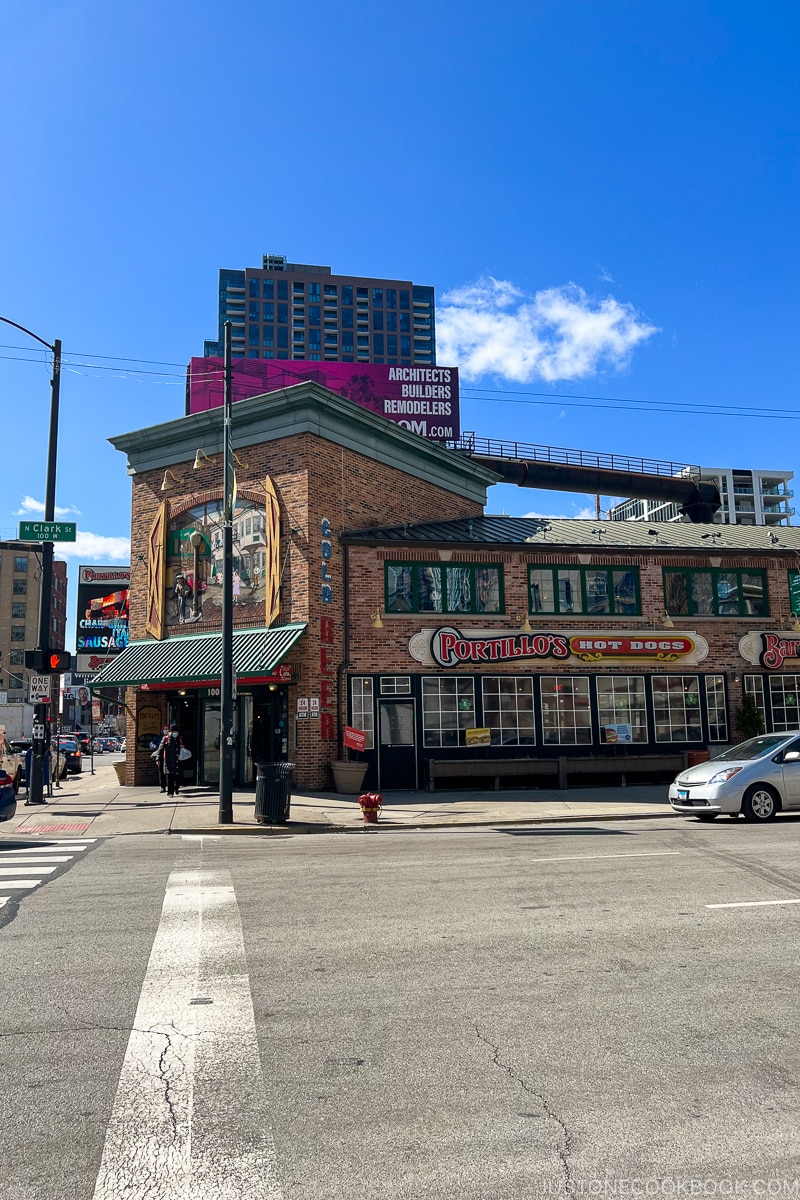 Girl & The Goat
For the second day's dinner, we dined at Girl & The Goat, another favorite of many JOC readers and number 10 on Yelp's most reviewed restaurants.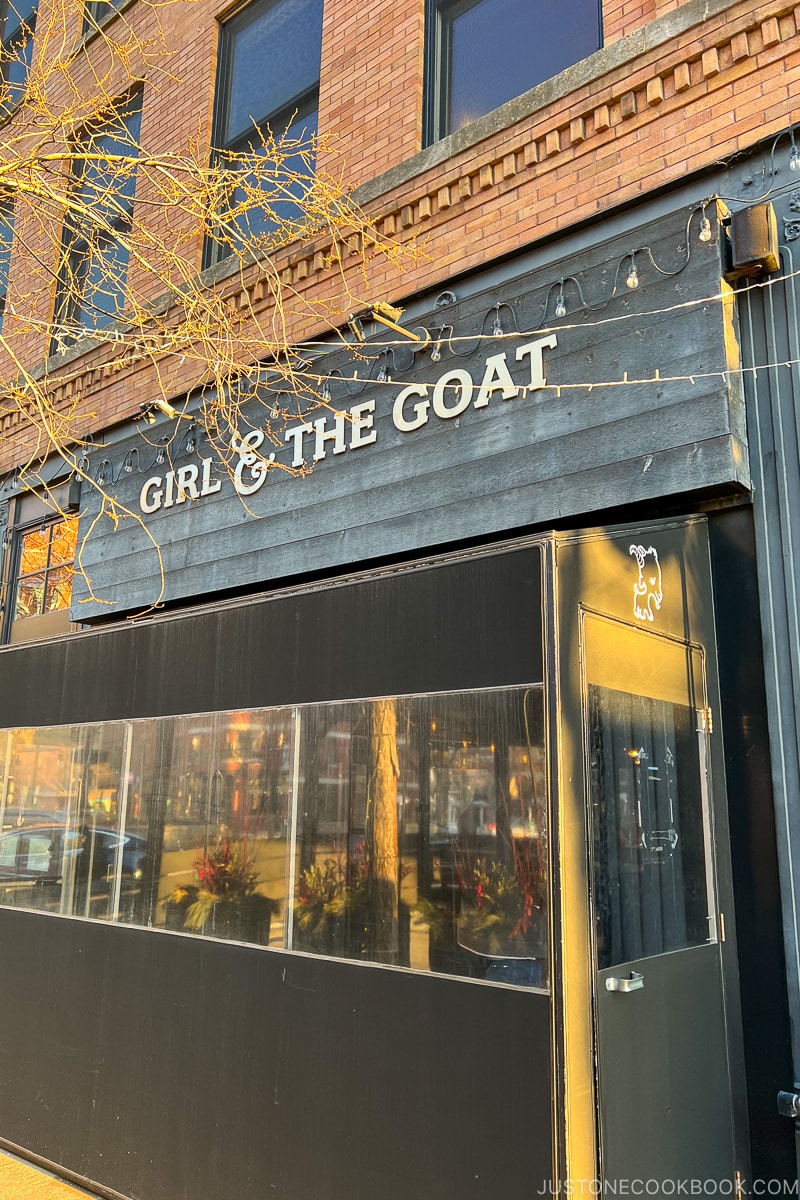 Girl & The Goat was packed and vibing when we checked in for dinner and we couldn't wait to try the food. Our server was super friendly and helped us select some of the signature dishes as well as a few other ones he suggested.
The meal had a few hits but we were somewhat disappointed. The standout dish we liked was pork shank and roasted pig face. Most of the other dishes had interesting concepts, however, the flavors were clearly missing. For example, the roasted beets with yuzu kosho had no yuzu kosho taste whatsoever. The chili crunch chicken completely lacked spice. Perhaps our expectations were too high?
Love to hear your comments below if you've dined at Girl & The Goat.
Starbucks Reserve Roastery on Michigan Ave
The next morning, we grabbed pastry at the world's largest Starbucks! We couldn't resist comparing its pastry offering to a typical Starbucks. While there weren't a lot of options, the pastry quality was much better than standard Starbucks. The texture was airier, buttery flavors more present, and just better quality in general. The best part: the pastries didn't taste like they were made at a factory.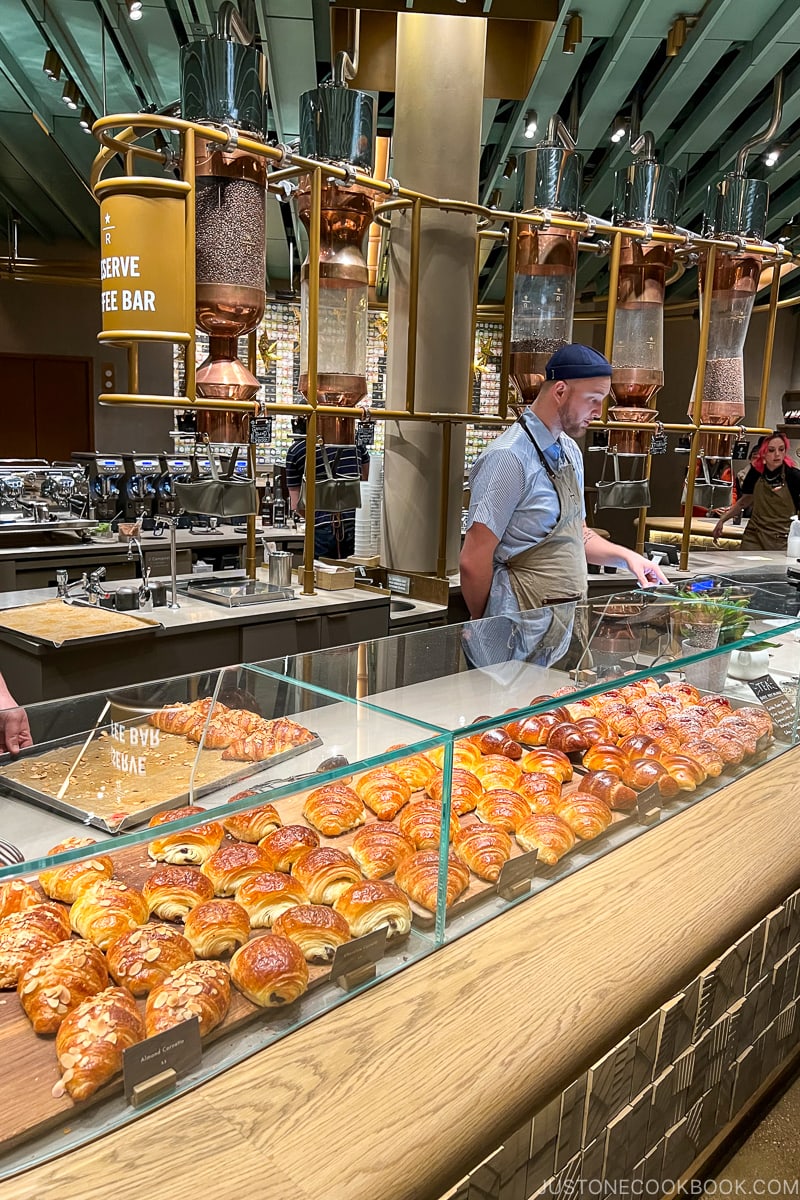 Pequod's Pizza
Chicago pizza is synonymous with deep dish pizza and there are so many different restaurants to select from. Lou Malnati, Gino's, and Giordano's just to name a few. Based on the readers' recommendation and our research, we decided on Pequod's Pizza.
Pequod's deep dish is known for its caramelized crust with mozzarella cheese perfectly charred along the edge.
The pizzas were fantastic and loaded with tasty ingredients. The only mistake we made was ordering two mediums for the four of us. It was way too much food and we couldn't bring the leftovers back to the hotel.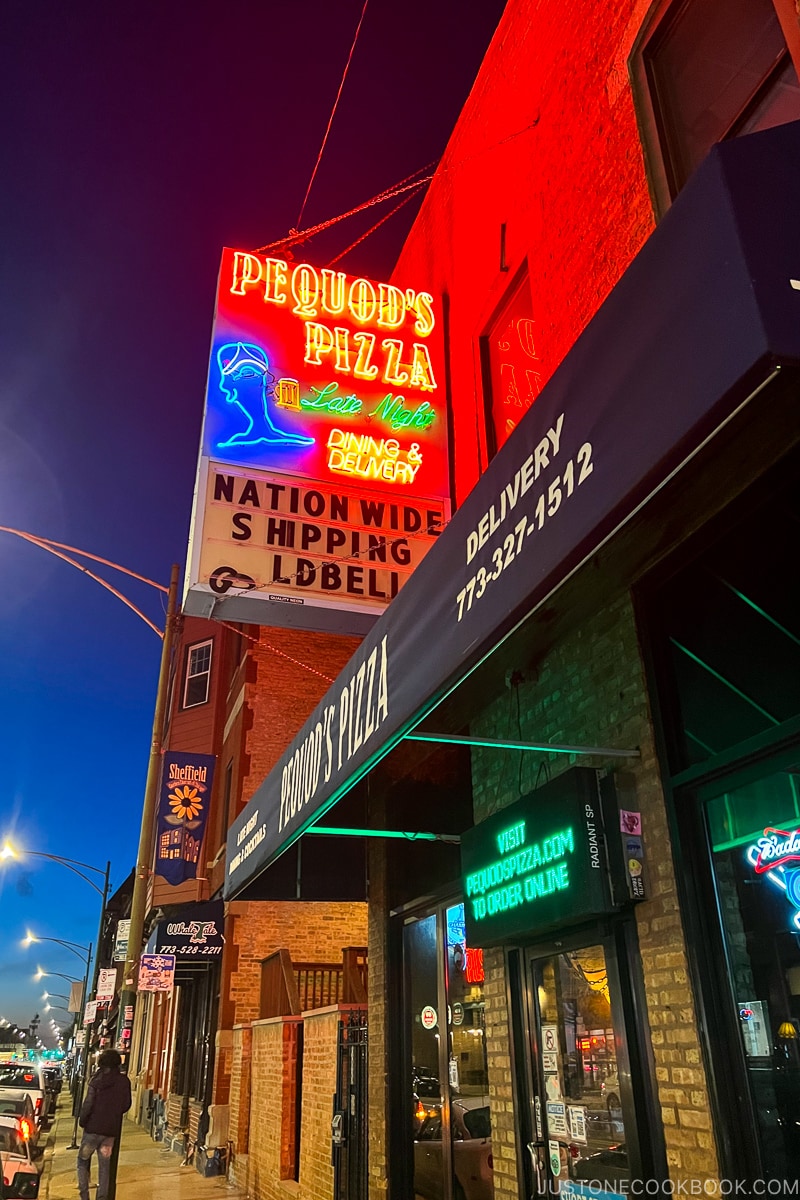 Standing Passengers Coffee House
If you follow Nami on Instagram, you've probably noticed we love to explore local independent coffee shops when we travel. One of the coffee shops we visited in Chicago was Standing Passengers Coffee House (because of its close proximity to Aya Pastry).
Standing Passengers Coffee House has a cool artistic vibe and doubles as an art gallery. The coffee was really tasty and we loved the artwork on the bags from Dark Matter Coffee.
Aya Pastry
After picking up coffee from Standing Passengers Coffee House, we headed to Aya Pastry. It's one of the most talked about shops in Chicago and the owner is Japanese (Aya Fukai). The pastries we tried were all really good but the scallion cheddar biscuit was phenomenal. Try it if you get a chance!
A little further out from downtown Chicago but this gem is worth the trek.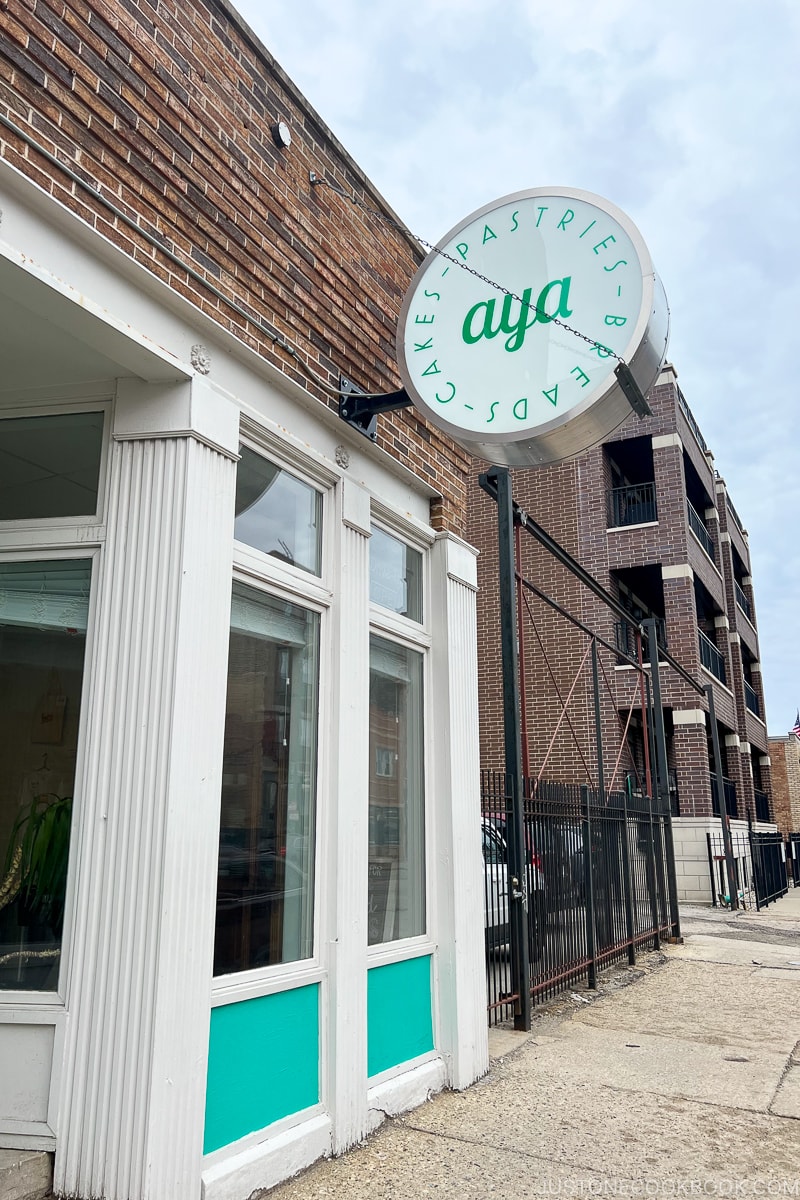 Farmhouse in Evanston
During our visit to Northwestern University, we grabbed a quick lunch at Farmhouse. Along with tasty sandwiches we had deep-fried cheese curds! For a college town, we were surprised that the choices of good lunch in Evanston seem to be limited.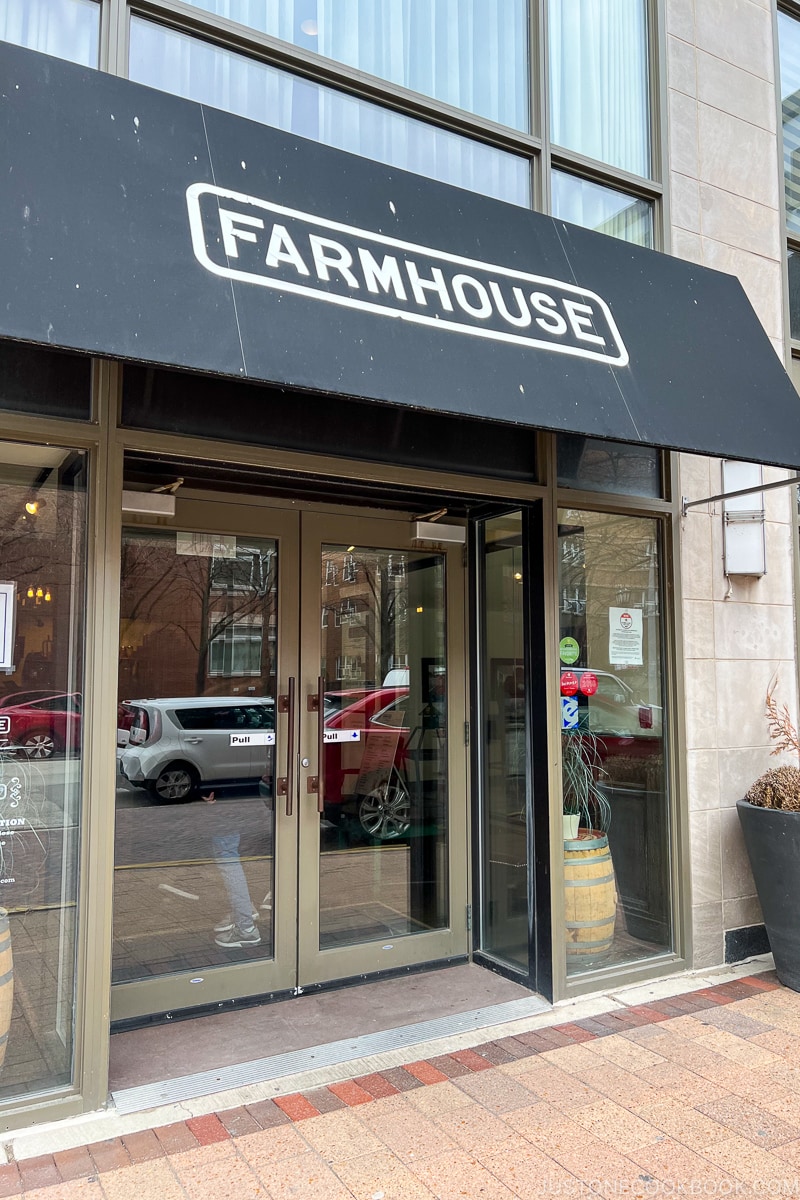 avec River North
After visiting Northwestern, we headed back to Chicago for our fourth dinner. It was a memorable and excellent meal at avec River North. The menu offers a colorful selection of Mediterranean-inspired dishes and we loved every dish we ordered. The flavors of each dish came through and since our family loves Mediterranean food, we thoroughly enjoy the meal. The only dish we weren't too crazy about was the thin focaccia bread with cheese but that's more a personal taste than the dish itself.
All in all, if you love wine to go with your food, you're guaranteed a good time at this elegant restaurant.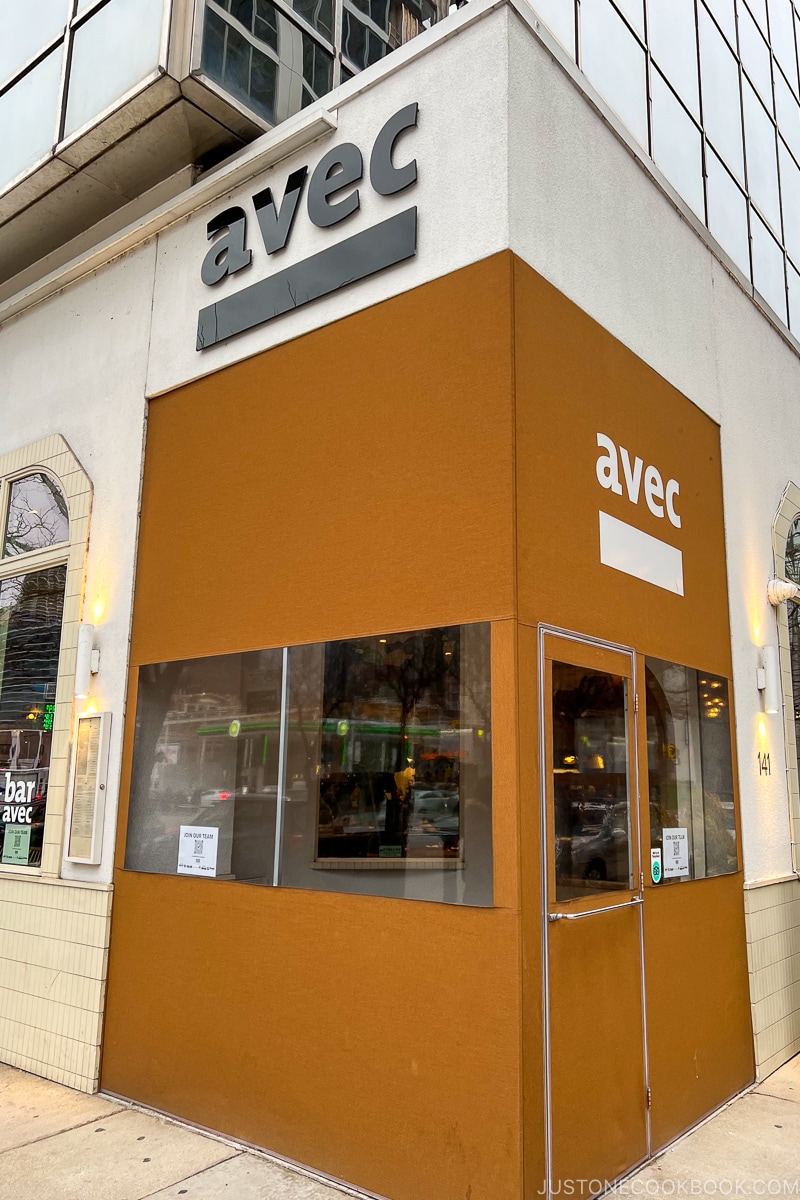 Sawada Coffee
The next morning, we got to try Sawada Coffee (owned by Hiroshi Sawada), another spot highly praised by JOC readers. Sawada coffee is known for its signature military latte and camouflage doughnuts. The military latte includes espresso, matcha, vanilla, and cocoa powder. They also have a popular black camo latte with hojicha.
We tried the military latte and were surprised at its complex flavors, and enjoyed it! Another drink we tried was their high five mocha, it has sansho pepper and orange peel, and our son liked it. Ever since the Chicago trip he became a mocha fan.
Along with the drinks, we also ordered a blueberry muffin, a chocolate donut, and their signature camouflage doughnut. The camouflage doughnut is covered in matcha, caramel, and coffee flavor glaze. Both donuts and the muffin were really yummy so we would recommend trying.
The coffee shop is a bit far from where we stayed but Doordash delivered!
The Loyalist
For dinner on the 5th day, we went to The Loyalist. It's the casual dining sibling of the 2-Michelin star Smyth. The restaurant is located in the basement below Smyth and has a very relaxed vibe with exposed wood beams and brick walls. It's very dimly lit inside and gives off a cozy intimate feeling.
So what did we eat there? The Loyalist cheeseburger is rated one of the best in Chicago and in the country so it was one of the items we had to try. To make sure we have room to try other food, the restaurant cut it into four pieces for us. How was it? It tasted like heaven. The patty is a mix of short rib, chuck, and ground bacon. Topped with melted cheese, onion mayo, and sesame buns, we've never tasted a burger that good. It literally melts in your mouth. Before going, I was thinking what's the big deal about a burger. When we each took our bite, we all said "wow" and secretly hoped for more.
Embarrassed to say, we weren't hungry that day after having Portillo's for lunch again and planned on having a light dinner. However, it turned into a full-on pigout for the family. All the food was so good and well executed.
The last dish to come out was the half roasted chicken and it was perfection. The entire bird was juicy and every last bit was flavorful. How did they do that? I was literally picking at the bones until there was not a single piece of meat left.
Hanabusa Cafe
On our 6th day, we skipped breakfast and grabbed brunch at Hanabusa Cafe after visiting the Art Institute early. It's conveniently located just a few blocks from Cloud Gate (giant jelly bean).
Hanabusa is a souffle pancake cafe and we wanted something light and not too filling for our big dinner on the same evening.
The souffle pancakes were good and we enjoyed them. If you've never tried souffle pancakes, here is Nami's recipe to make it at home. It's not difficult to make but takes a while so be patient!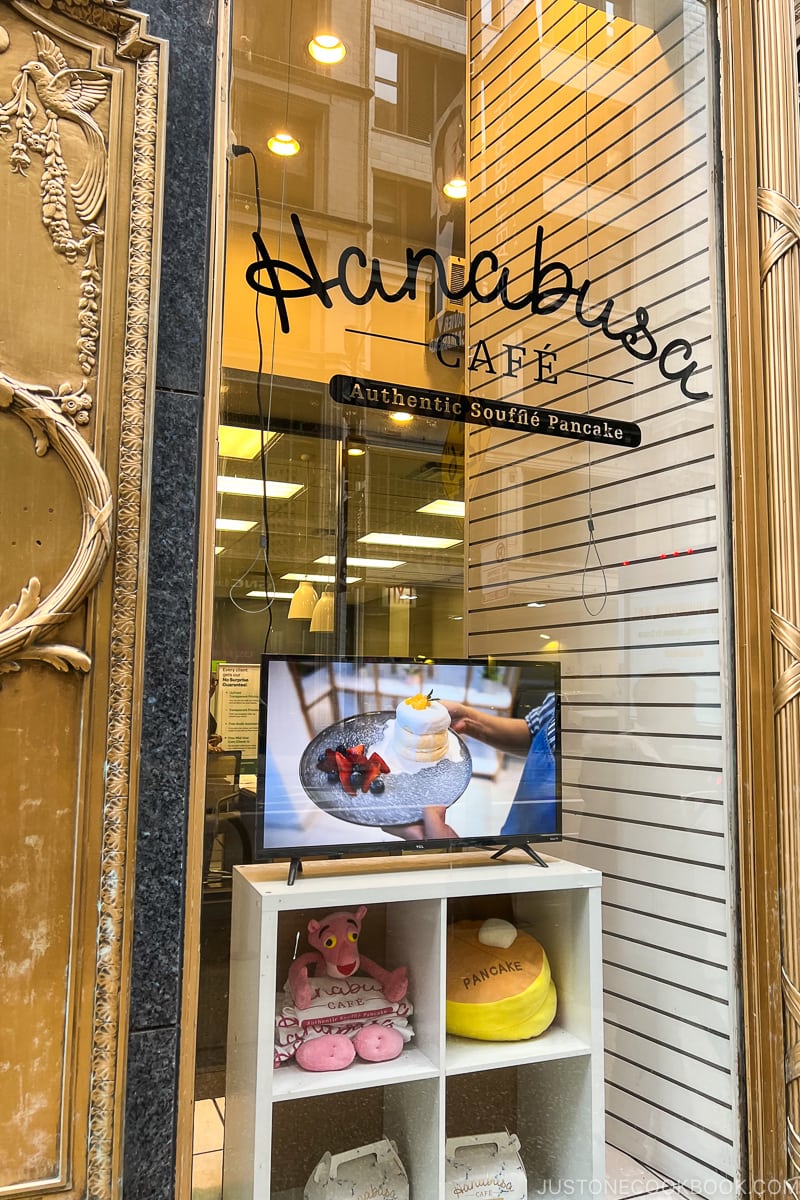 Alinea
Our dinner for the last evening in Chicago was at one of the best-known restaurants in Chicago, Alinea by Chef Grant Achatz. It is a Michelin 3-star restaurant and the first for the entire family to dine at one. We were spellbound ever since we watched Alinea on Netflix's Chef Table, and couldn't wait to experience the meal. Here's Nami's story from the dinner and if you have plans to eat there soon, don't watch or read so you can be surprised.
Alinea currently offers two types of reservations, The Gallery and The Salon. The Gallery is on the first floor and all the guests are served the same course at exactly the same time. The Salon is upstairs on the second floor and the guests are served their meals staggered. From our research and what the staff told us, the food served for The Gallery and The Salon are the same. The Gallery has the benefit of seeing the kitchen and some additional elements to the dining experience. For our family, we picked The Salon.
The meal was exquisite and completely over the top! It starts off with a number of small bites. Our favorite was the arctic char cooked in maple syrup. It was super tender and smoky with a perfect amount of sweetness. The cool part is after eating the arctic char, we were asked to flip the glassware over and there was smoked char roe in gelatin as another dish.
No menu was presented so there was a whole element of surprise for each and every dish. All the items were creative and served in unique tableware, such as foie gras stuffed in a shrimp head-shaped glass.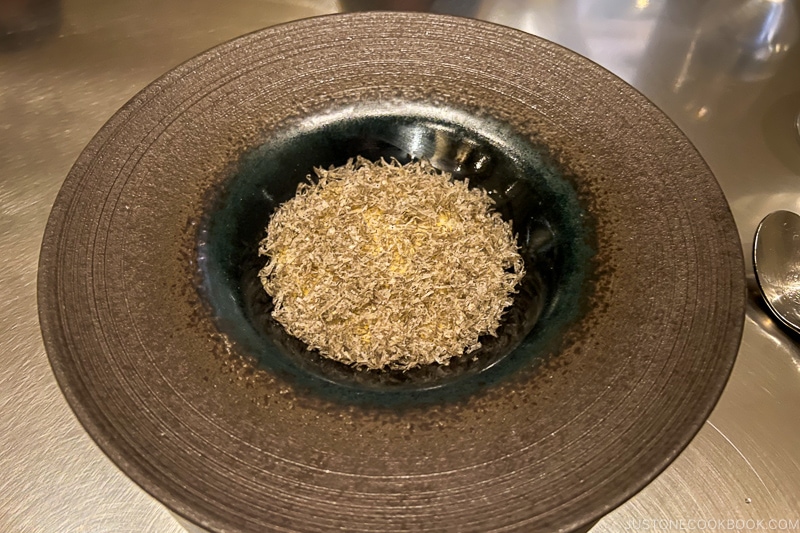 The courses throughout the evening were divided into themes. Each theme had multiple components that were cleverly put together. The seafood course had a bouillabaisse along with scallops where we could add our own herbs.
Country Themes at Alinea
Other themes for the dinner were country based and they included Thailand, Japan, and Mexico. The Thailand course was super cool with a small fire at the center of the table. The course consists of coconut in a shape of a squid in curry and freshly shaved celery root.
The Japan course was composed of uni rice served in a beautiful spiked tableware and tsukemono.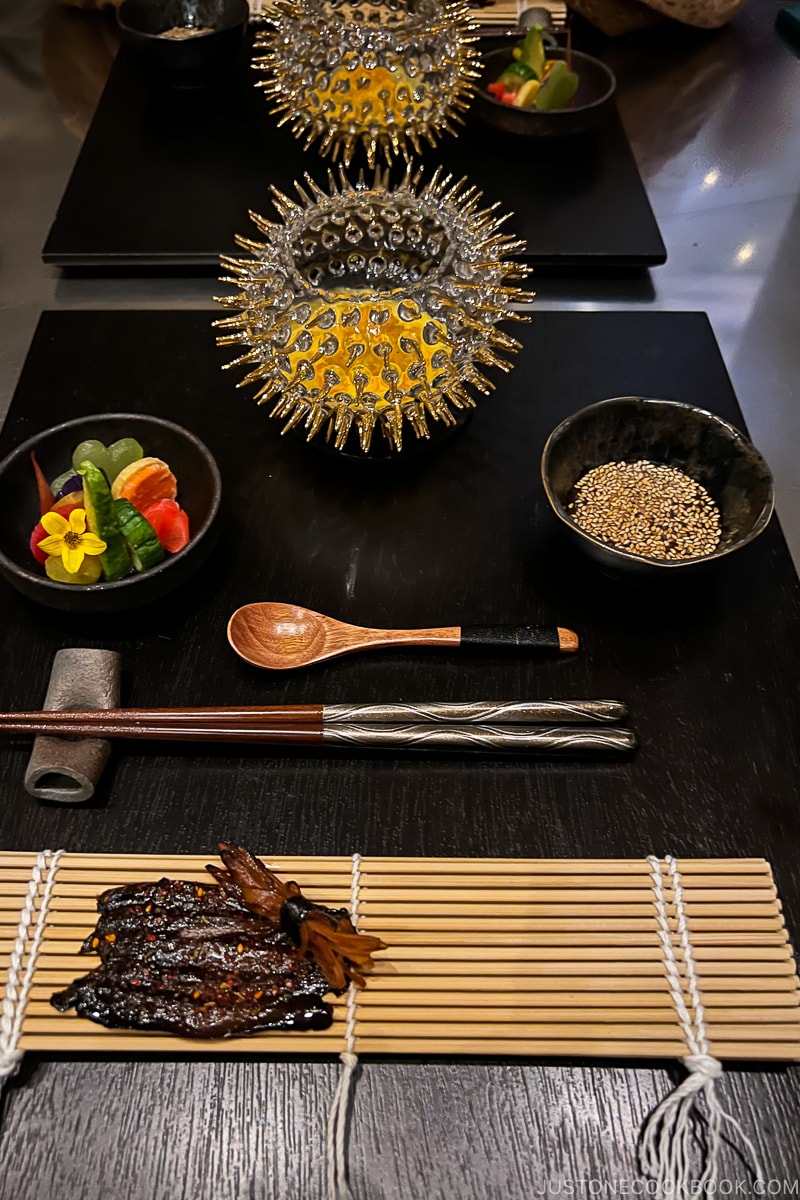 The Mexico course had several elements including some food served in glass skulls, and we ate the eyeballs! The main course was gold-covered squash in mole.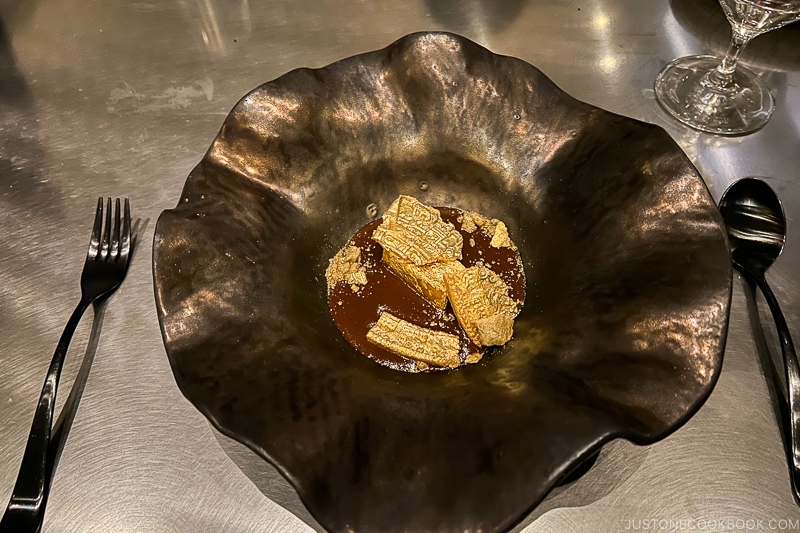 The last main course was wagyu with bresaola shaped in rose served on top of a rich truffle sauce.
The grand finale of the meal was the dessert. The staff covered the table with a rubber mat and proceeded to paint it with rose apple, butter pecan, dark chocolate, and other sauces.
Then two blocks of frozen custard made with liquid nitrogen were smashed to complete the dessert.
There were so many things going on during the meal that it was hard to appreciate at the moment. The anticipation for the next surprised dish kept the evening intense and fast-paced. Three hours quickly flew by. We were blown away by the top-notch service and the innovative and theatrical presentation. It's one meal that our family will always remember.
We hope you enjoyed our Chicago culinary experience. There were many restaurants we wanted to try but were unable to fit in our schedule. We look forward to going back to try more fantastic Chicago food.