Oyakodon is cooked in one pan where onions, chicken, and egg are simmered in an umami-rich, dashi-based sauce. It is then poured over a bowl of fluffy steamed rice. Simple, delicious, and utterly comforting, this is the kind of one-bowl meal you can cook in less than 30 minutes!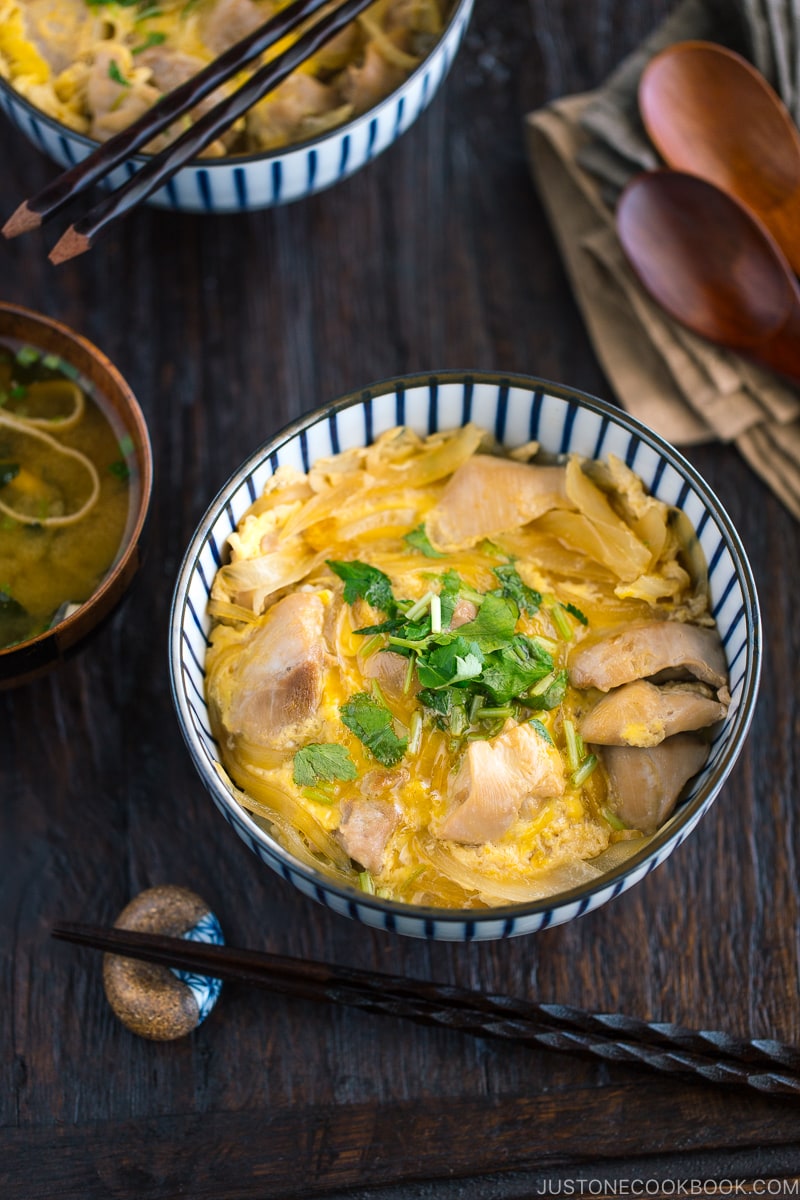 When it comes to mainstream fast food, Japan offers not only hamburgers and french fries, but the menu also extends to noodles and donburi (rice bowl) meals.
During lunchtime, you'd see diners and cafeterias around the office buildings crowded with Japanese salarymen and office ladies making their fuss-free fast food orders. These lunch spots usually serve up quick one-bowl meals, and Oyakodon (親子丼) or Oyako Donburi (親子丼ぶり) is often one of the popular choices.
How To Make Oyakodon (Chicken & Egg Bowl)
What is Oyakodon?
Classic soul food of Japan, the literal translation of Oyakodon (親子丼) means "parent-and-child rice bowl." Chicken (as in parent), egg (as in child), and onions are simmered together in a dashi and soy sauce-based broth then served on top of steamed rice.
Similar to Gyudon and Katsudon, Oyakodon is not only a long-time favorite at restaurants but also a favorite to make at Japanese home. Just as the name implies, everything about the rice bowl brings comfort and warmth.
5 Reasons You Must Make Oyakodon
1. One-pan/bowl meal
When thinking of easy weeknight meals, one pan and one-bowl meal is an ideal solution. Fewer dishes = easy cleanup!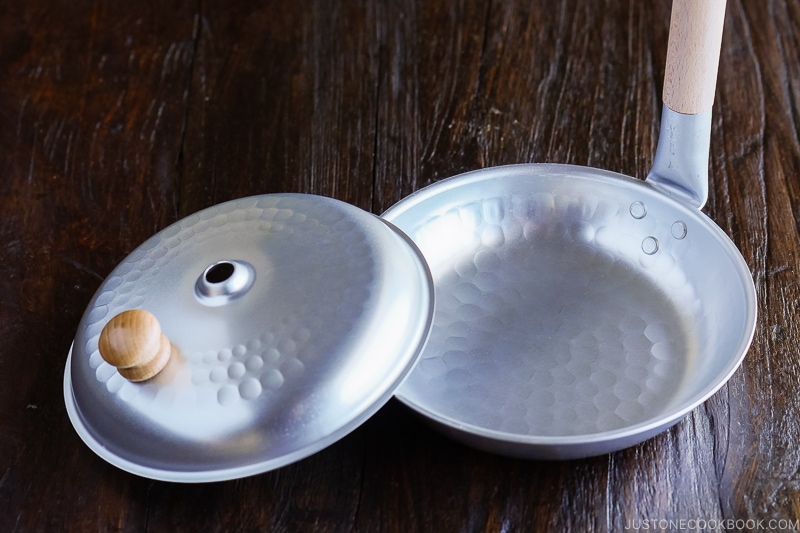 In Japan, Oyakodon is typically made in this single-serving Oyakodon pan. It helps to slide all the ingredients, including the sauce and half-cooked egg, to the rice bowl. In today's recipe, I'll use a small frying pan to do the same. You don't need this special Oyakodon pan. 🙂
2. Quick and easy 30-minute cooking
These dishes can be whipped up with minimal time and effort. I first learned how to cook Oyakodon during home and economic class in middle school. Until these days, it is still one of my go-to comfort foods. If you have teenagers at home, Oyakodon is a great dish they could easily master. The kind of survival meal that will sustain them when they go to college.
3. No oil, fresh healthy ingredients
The onions and chicken are simmered in light dashi and soy sauce-based sauce. There's no frying involved at all.
4. Common ingredients in the pantry
Chicken, egg, and onion are pretty standard ingredients in most cuisines. I usually have these ingredients handy in my refrigerator (or freezer in case of chicken).
As for the condiments, if you cook Japanese or Asian food often, you most likely have sake (or Chinese rice wine), mirin, and soy sauce.
For the dashi broth, I recommend making it in a large pot so you can keep in the refrigerator for up to a week. It takes minimal time and effort to make this soup stock. With a big batch, you can take a portion out to make Oyakodon, and a portion out for miso soup. Now you have a filling rice bowl and a soothing miso soup. Win! If you prefer a short cut, instant dashi is a perfectly acceptable option too.
5. Satisfying comfort meal at home
You have tender chicken and soft creamy egg over a fluffy bed of rice. The rice absorbs delicious dashi sauce and every mouthful is sweet-salty-savory. Here you have it: a belly-filling, delicious comfort meal in one bowl.
More Easy Donburi (Rice Bowl) Recipes You'll Love: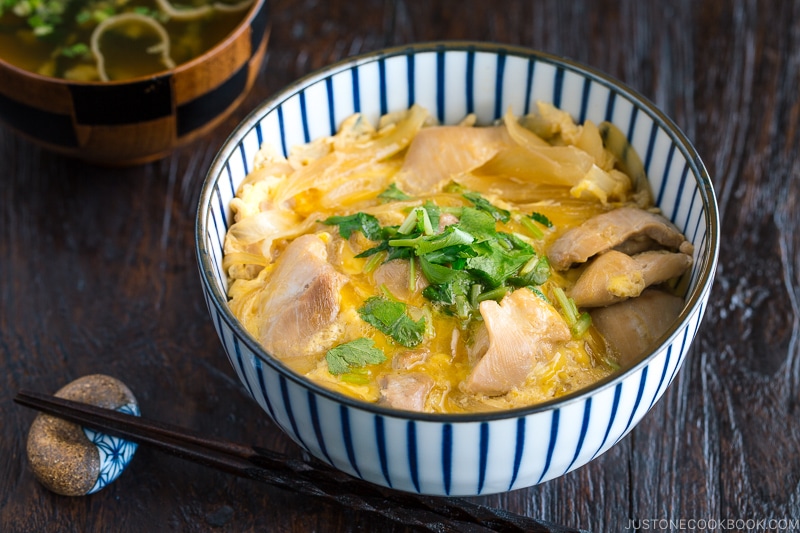 Wish to learn more about Japanese cooking? Sign up for our free newsletter to receive cooking tips & recipe updates! And stay in touch with me on Facebook, Pinterest, YouTube, and Instagram.
Oyakodon (Chicken and Egg Bowl)
Oyakodon is cooked in one pan where the onions, chicken, and egg are simmered in an umami-rich, dashi-based sauce. It is then poured over a bowl of fluffy steamed rice. Simple, delicious, and utterly comforting, this is the kind of one-bowl meal you can cook in less than 30 minutes!
Video
Ingredients
2

boneless, skinless chicken thighs

½

onion

(3 oz, 85 g)

2

large eggs (50 g each w/o shell)
Japanese Ingredient Substitution:
If you want substitutes for Japanese condiments and ingredients, click
here
.
Instructions
Gather all the ingredients.
To Prepare the Seasonings Mixture
Combine the dashi, mirin, sake, and soy sauce in a bowl or a liquid measuring cup.

Add the sugar and mix all together until the sugar is dissolved. Depending on the size of your frying pan, you may not need all the broth. You can keep the leftovers in the refrigerator for 3 days.
To Prepare the Ingredients
Thinly slice the onion and chop the mitsuba (or green onions). Beat one egg in a small bowl (you will need to beat the other egg when you work on the second batch).

Slice the chicken thighs diagonally into pieces that are about 1½-inches (4 cm) long and ½-inch (1.3 cm) thick. I recommend using the "sogigiri" cutting technique so the chicken pieces will be of equal thickness and to create more surface area for fast cooking.
To Cook the Oyakodon
Typically, Oyakodon is made individually for each serving, using this oyakodon pan. This small pan lets you slide the finished dish onto the rice bowl easily while the egg is set but still runny (in Japan, eggs are safe to eat raw). To demonstrate in this recipe, I use a small 8-inch (20 cm) frying pan. Divide the ingredients in half. Of course, alternatively, you can cook 2 servings together in a bigger pan.

With the stove off, add 1 serving of the sliced onions to the pan in a single layer. Add roughly one-third to one-half of the seasonings mixture (the amount may vary depending on the size of your frying pan). Pour just enough on top to cover the onions.

Add 1 serving of the chicken on top of the onions. Make sure the onions and chicken are evenly distributed. Then, turn on the heat to medium and bring it to a boil.

Once boiling, lower the heat to medium low. Skim off any foam or scum that appears. Cover and cook for about 5 minutes or until the chicken is no longer pink and the onions are tender.

Taste the broth and see if you need to adjust. Slowly drizzle the beaten egg evenly over the chicken and onions. Cook covered on medium-low heat until the egg is done to your liking. Usually, oyakodon in Japan is served while the egg is almost set but still runny.

Add the mitsuba (or green onion) right before removing from the heat. Slide the cooked chicken and egg onto the steamed rice and drizzle the desired amount of remaining sauce on top.
To Serve
Serve the Oyakodon with shichimi togarashi on the side if you'd like.
To Store
You can keep the leftovers in an airtight container and store in the refrigerator for up to 3 days or in the freezer for a month.
Nutrition
Calories:
389
kcal
·
Carbohydrates:
36
g
·
Protein:
32
g
·
Fat:
10
g
·
Saturated Fat:
3
g
·
Polyunsaturated Fat:
2
g
·
Monounsaturated Fat:
4
g
·
Trans Fat:
1
g
·
Cholesterol:
293
mg
·
Sodium:
679
mg
·
Potassium:
448
mg
·
Fiber:
1
g
·
Sugar:
6
g
·
Vitamin A:
299
IU
·
Vitamin C:
3
mg
·
Calcium:
50
mg
·
Iron:
3
mg
©JustOneCookbook.com Content and photographs are copyright protected. Sharing of this recipe is both encouraged and appreciated. Copying and/or pasting full recipes to any website or social media is strictly prohibited. Please view my photo use policy
here
.
Editor's Note: The post was originally published on February 4, 2011. The video and new images are added in October 2017.