Here's a scrumptious selection of donburi (Japanese rice bowl) recipes to make on your busy weeknight! You'll find oyakodun, gyudon, chicken katsu donburi, vegetarian poke, and many more favorites on the menu.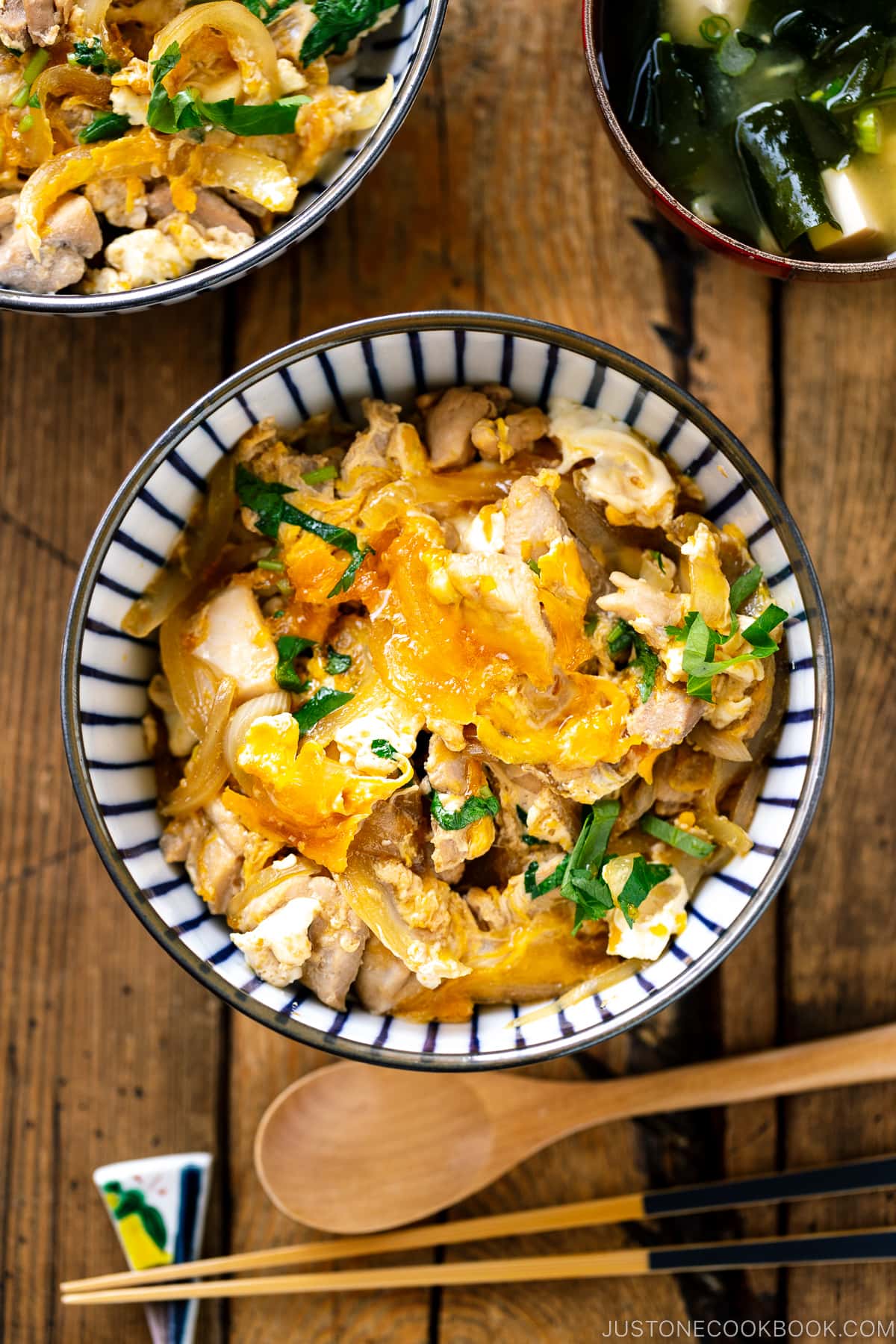 Donburi rice bowls are the quintessential Japanese comfort meal. "Don" (丼) refers to the bowl that the dish is served in, so for a typical donburi, you get a bowl of fluffy steamed rice with toppings such as vegetables and meat or seafood all in one meal.
In Japan, you can even find fast food chains specializing in donburi where you make your order and payment through a vending machine before picking it up at the serving counter. Fulfilling and super convenient, it's no wonder why they are a popular choice of quick meal amongst the office workers.
For me, the concept of donburi is nothing short of genius. From grains and protein to veggies and sauce, the wholesome components of a rice bowl makes it ideal to cook at home. Because they are weeknight-friendly, I often include donburi in my meal plan for the family. My favorite part? Its flexible template for using up seasonal and leftover ingredients.
If you like the idea of delicious rice bowls, here are our most popular donburi recipes you can throw together anytime of the week.
20 Most Popular Donburi Recipes You Must Try at Home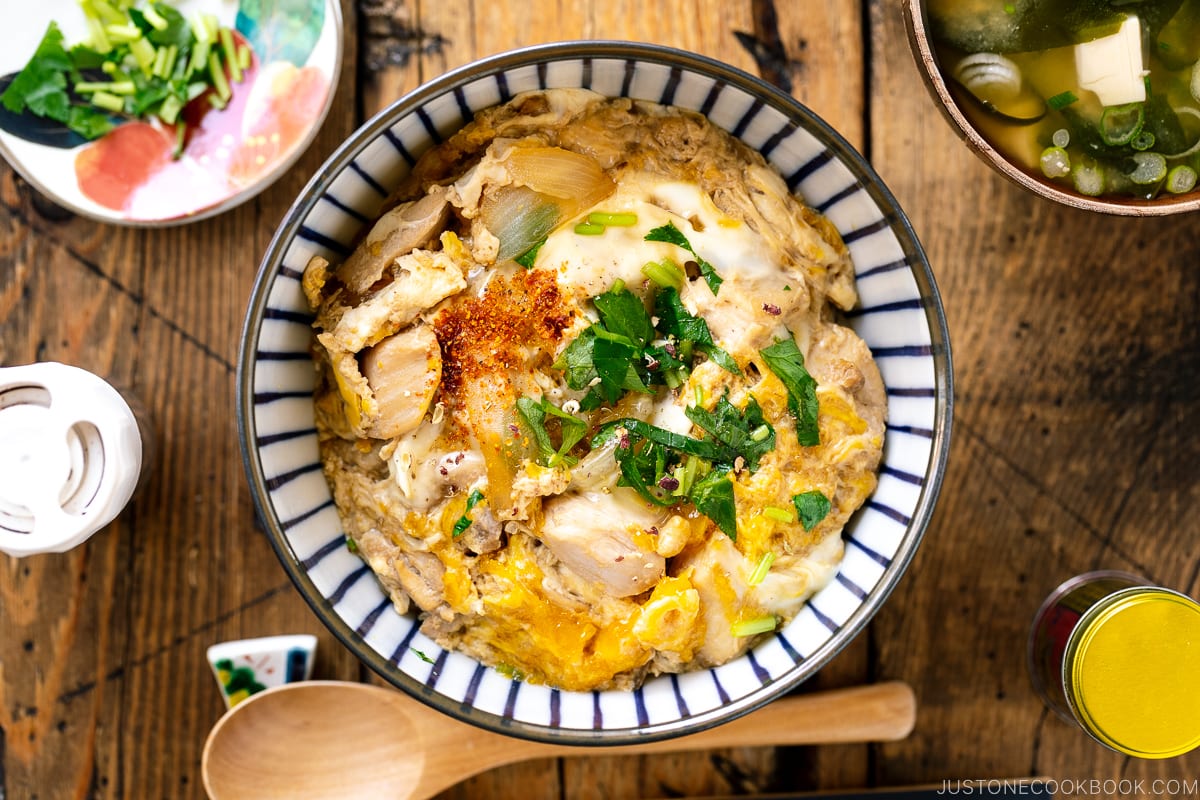 Oyakodon literally means "parent-and-child rice bowl" in English. A play on the chicken-and-egg combination, this protein-filled home style dish wins for its simplicity. It's hearty yet nutritious, making it a favorite meal to start the week.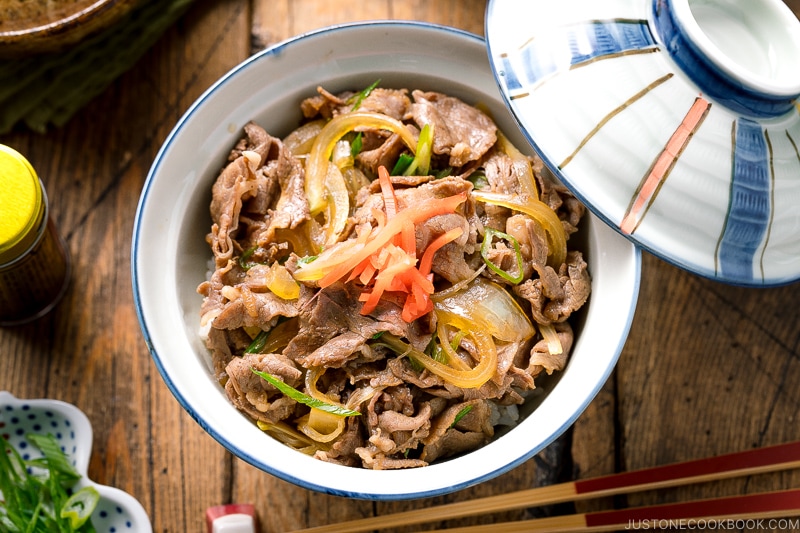 Thinly sliced beef simmered with onion in a savory-sweet sauce, Gyudon (beef bowl) is probably one of the most popular types of donburi in Japan. You'll love how easy it is to cook at home. I like to top it off with a beaten egg for extra protein and garnish with some pickles and chopped scallion for colors and freshness.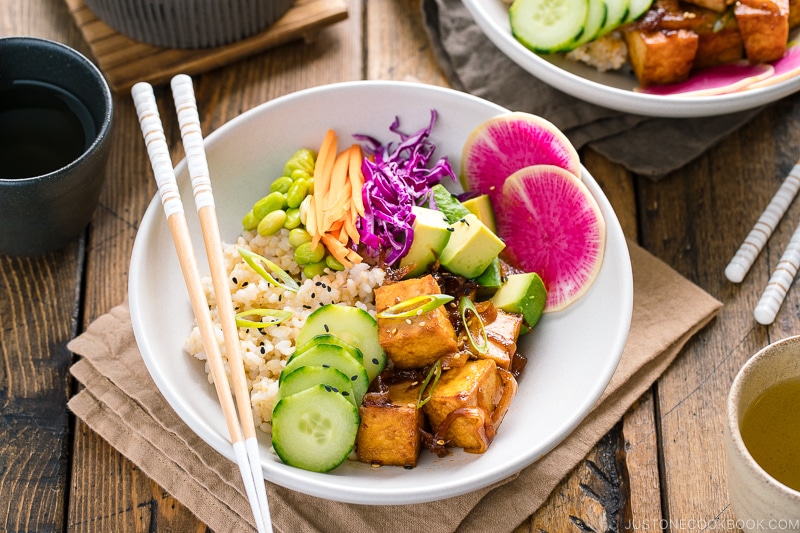 This Vegan Poke Bowl features savory pan-fried tofu, vibrant vegetables, and brown rice. It's everything you need for a satisfying healthy dinner. Only 20 minutes to make!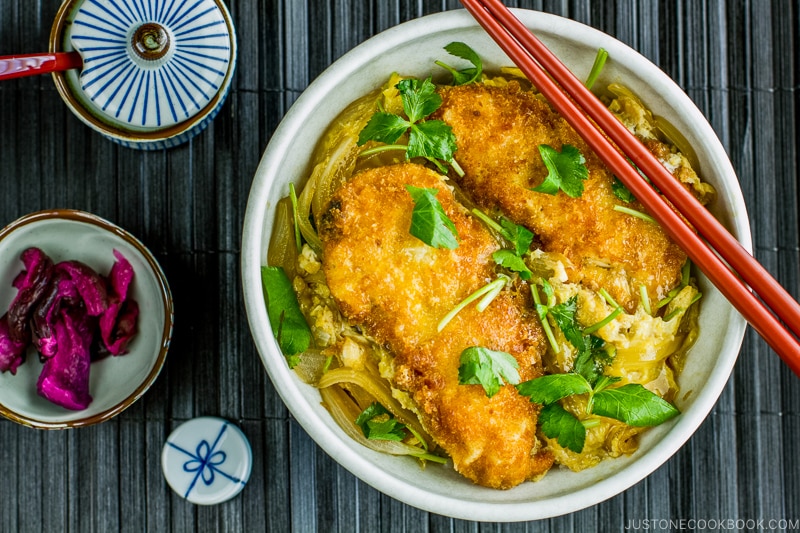 Chicken Katsudon (Chicken Cutlet Rice Bowl) features crispy chicken katsu that has been simmered in savory dashi sauce with thinly sliced onion and a scrambled egg. My recipe teaches you how to shallow fry the chicken cutlet, so it's less messy and less oily to cook at home.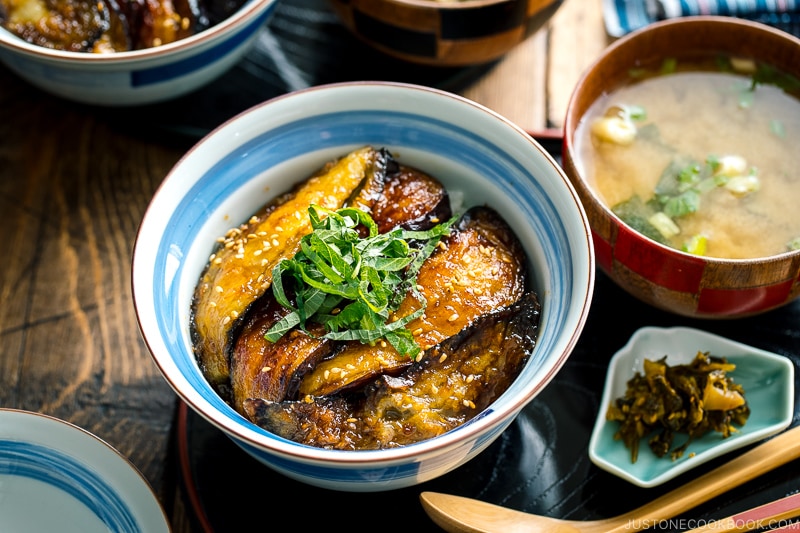 Thinly sliced eggplant seared till golden brown, coated with sweet soy sauce, and served over a warm bowl of rice. Seriously the most luxurious vegan rice bowl anyone can hustle up for a weeknight dinner.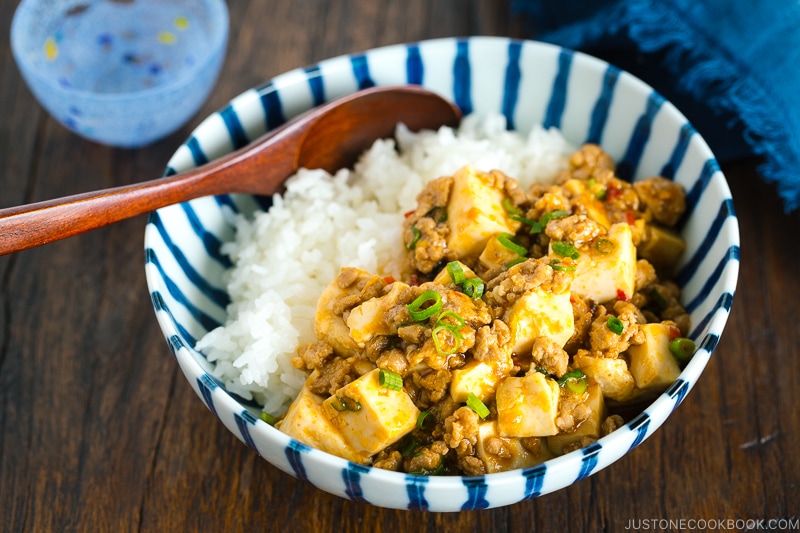 Silken tofu with ground pork mixture cooked in an intensely flavorful sauce and served in rice bowl style, this Japanese Mapo Tofu recipe will not disappoint when you crave for something bold. It's milder and less spicy than the Sichuan-style mapo tofu so children can enjoy.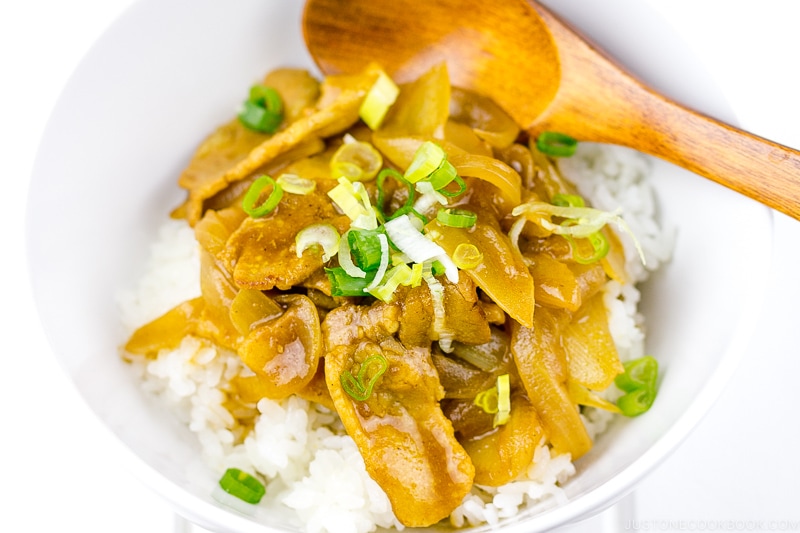 You'll only need less than 5 ingredients to make this flavorful curry rice bowl. Feel free to swap the pork with chicken, beef, or pan-fried tofu.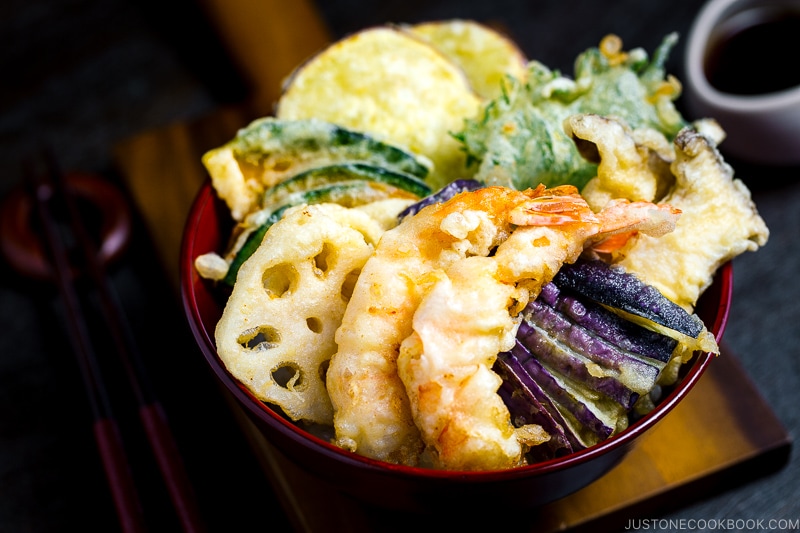 Golden crispy shrimp and vegetable tempura served over steamed rice and drizzled with tentsuyu (tempura dipping sauce), this Ten Don recipe is a real treat for a special Saturday night dinner. For a complete meal, enjoy with a bowl of miso soup and a side of refreshing salad.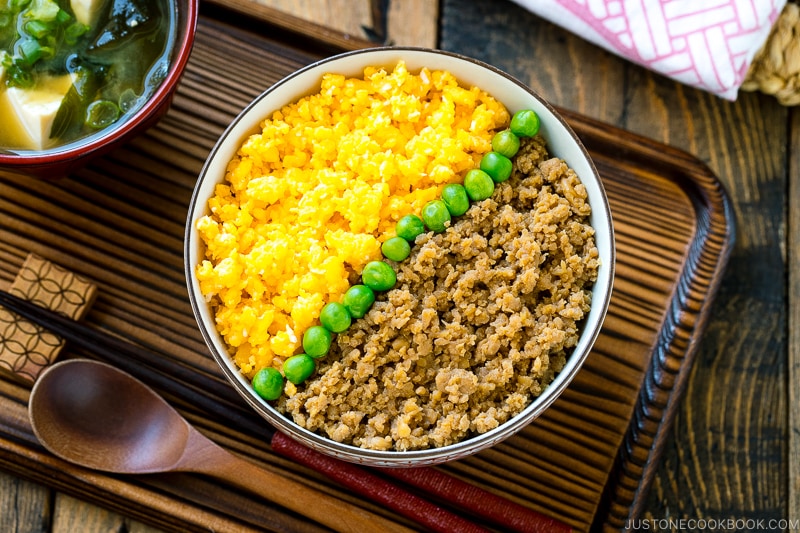 Soboro Don (Minced Chicken & Egg on Rice) is colorful, nutritious, and easy to pull together. If you have little kids at home, this is the kind of recipe you want to keep in your back pocket. I call it the 'happy meal' for my children.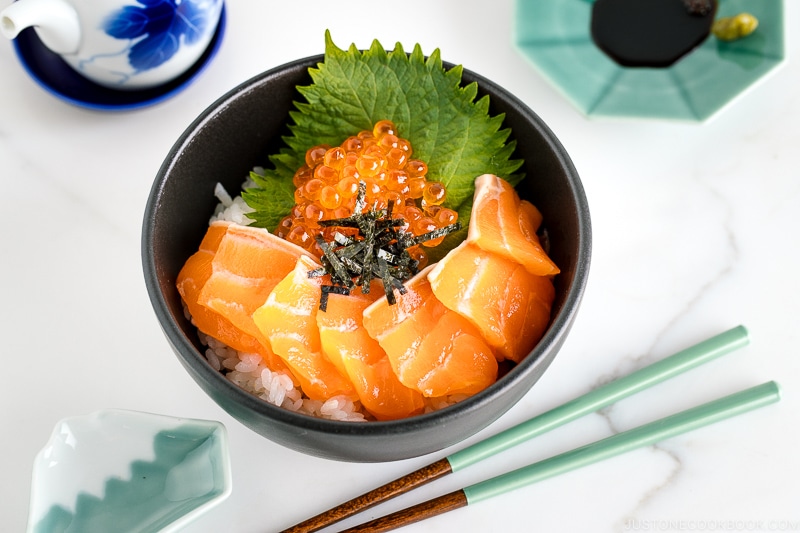 This Salmon Sashimi Bowl recipe features sashimi salmon and ikura fish roe but served in a casual donburi style, which is perfect for Japanese home cooking. If you cook the rice in advance, 15 minutes is all you need to assemble the rice bowl together.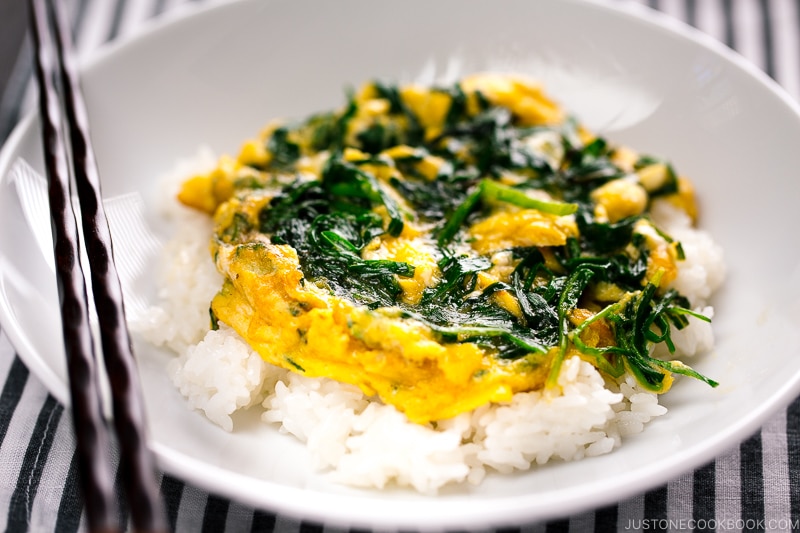 Soft fluffy egg stir fry with garlic chives served over hot rice, Niratama Danburi is homey and extra comforting. The distinctive flavor of garlic chives defines the simple dish. You can find the deep green, flat-shaped garlic chives (also known as Chinese chives) at your local Asian grocery stores or Asian produce markets. Alternatively, you can sub it with regular chives, spinach or other greens.
Unagi is a specialty in Japanese cuisine. The delicious combination of warm rice and sweet caramelized sauce over the perfectly grilled unagi is simply irresistible. To make Unagi Don at home, you can buy pre-grilled unagi or the ones that are grilled and vacuum-packed for a minimal effort.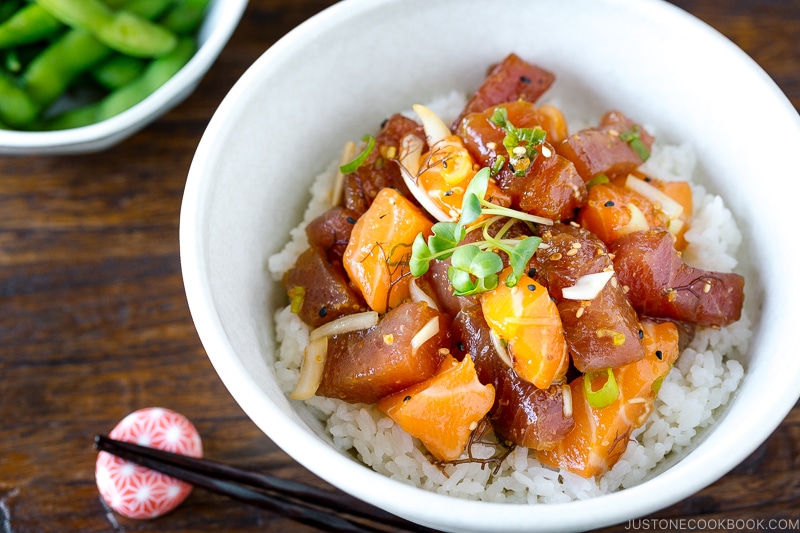 A Hawaii's soul food, we have seen an explosion of popularity of poke across the US. This raw fish salad in a bowl is heavily influenced by Japanese cuisine. My version of poke uses both sashimi-grade tuna and salmon, but you can adapt the toppings to your preference. It's so good that you want to make it over and over again.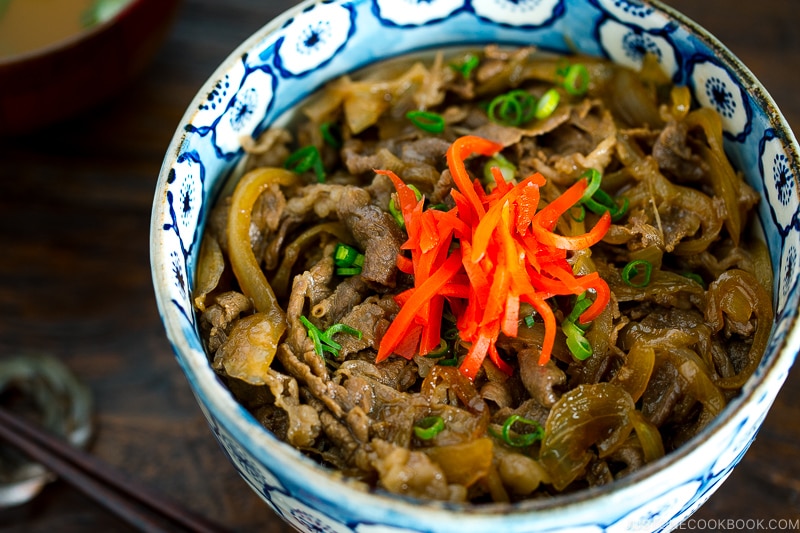 Savory and juicy sliced beef served over steamed rice, this delicious Yoshinoya Beef Bowl is a weeknight meal keeper. It consists of a bowl of steamed rice topped with thinly sliced beef and tender onion, simmered in a sweet and savory dashi broth seasoned with soy sauce and mirin.
Juicy deep-fried pork cutlet and runny egg cooked in a savory and sweet dashi broth and placed over hot steamed rice, this Baked Katsu-don recipe will be your new favorite weeknight meal!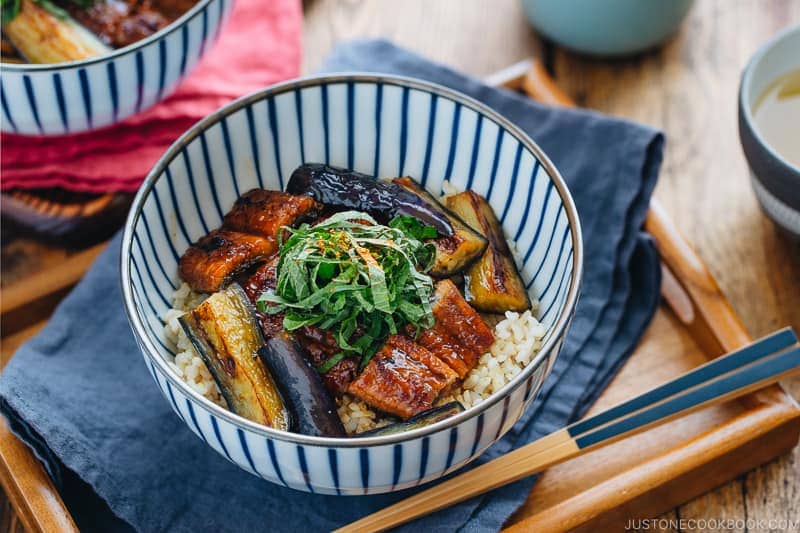 This hearty and savory rice bowl is a little luxurious yet simple enough to pull it together. The contrasting textures from the eggplant and unagi topped off with a sweet, caramelized sauce, it cannot be anymore satisfying!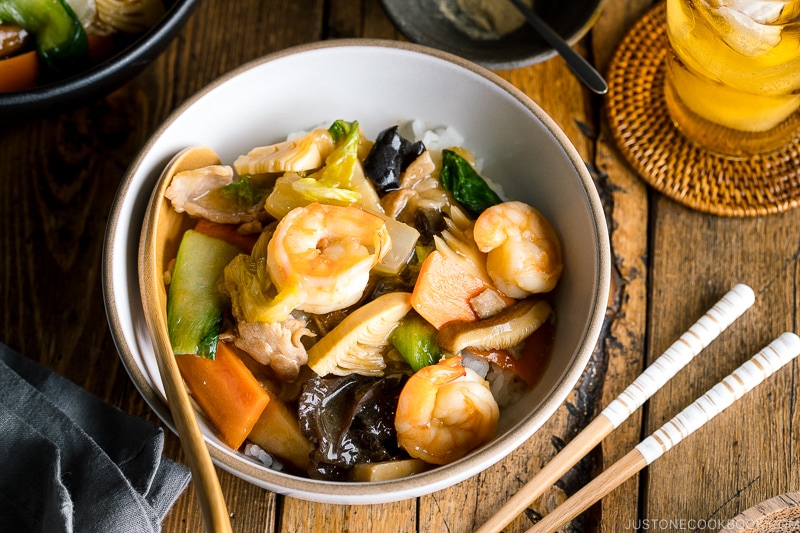 Stir-fried seafood, meat, and vegetables cooked in a soy-infused sauce, this Chinese-style rice bowl has all the flavors of your favorite take-out!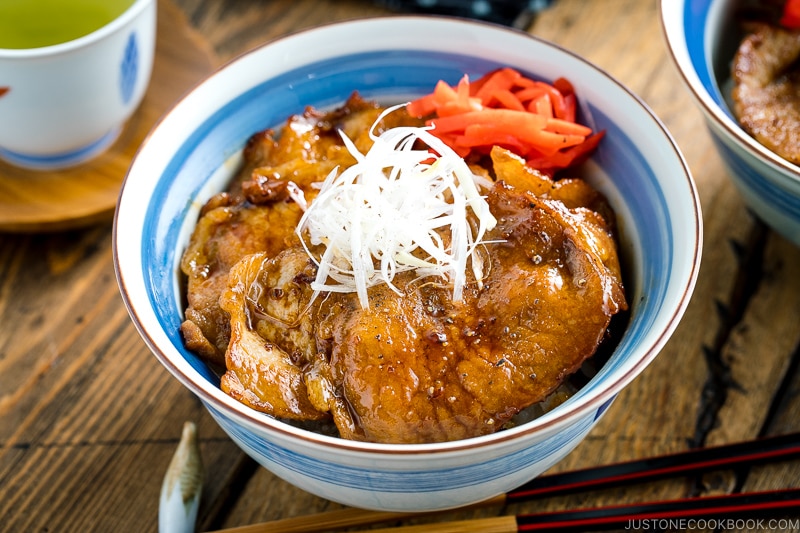 Originated in Hokkaido, Japan, butadon is a rice bowl dish featuring grilled pork slices with caramelized soy sauce. The sweet and savory flavor is a major win!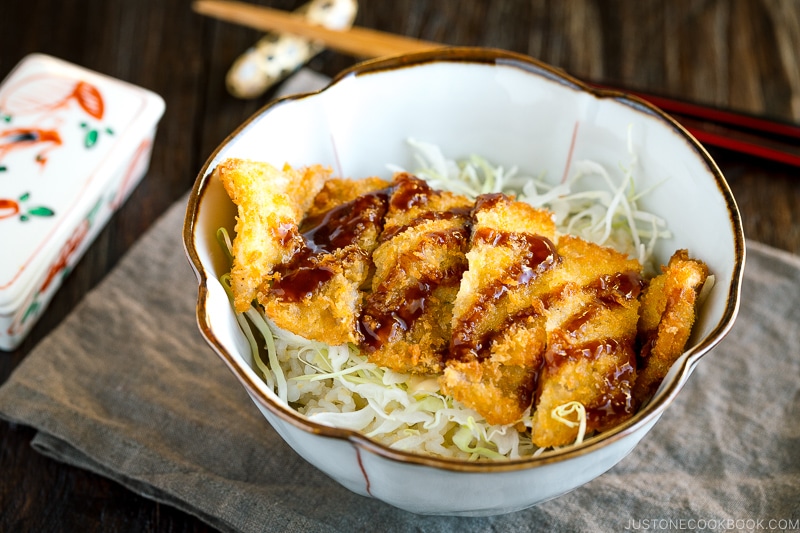 When you serve super crunchy & juicy Japanese pork cutlet over a bed of steamed rice and shredded cabbage, you get this crispy tonkatsu donburi that will get everyone to the table fast!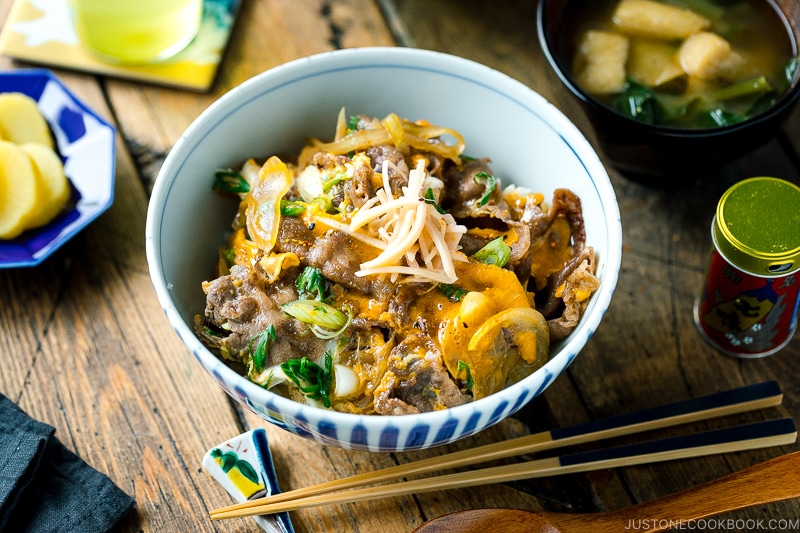 With thinly sliced beef and eggs cooked in a savory-sweet sauce and served over steamed rice, you'll devour every bite of this rice bowl. 20 mins is all it takes!
---
More Popular Japanese Recipes You'll Love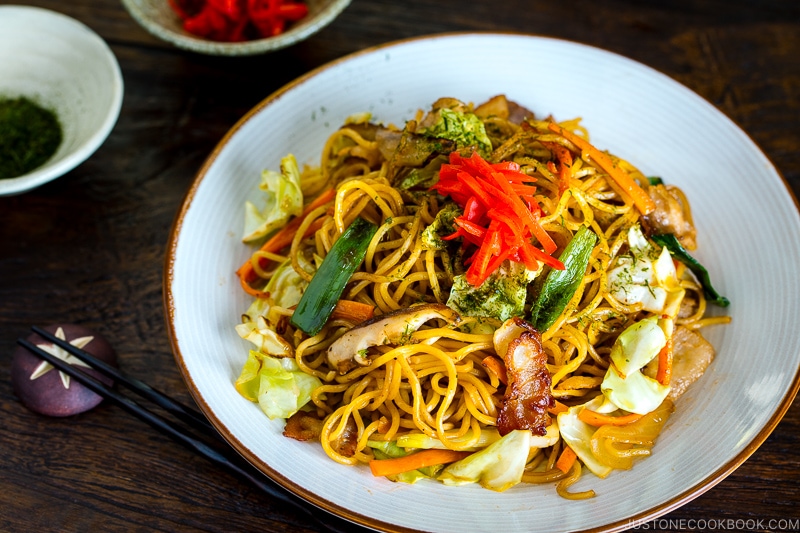 Wish to learn more about Japanese cooking? Sign up for our free newsletter to receive cooking tips & recipe updates! And stay in touch with me on Facebook, Pinterest, YouTube, and Instagram.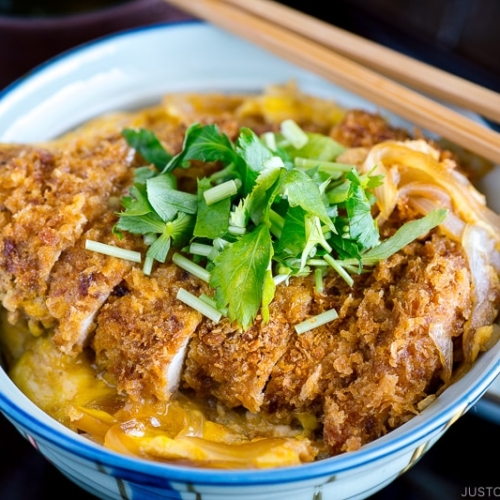 20 Most Popular Donburi Recipes for Weeknight Dinners
From oyakodon, gyudon, to katsudon, here's our most popular donburi (Japanese rice bowl) recipes to make on your busy weeknight!
Japanese Ingredient Substitution:
If you want substitutes for Japanese condiments and ingredients, click
here
.
Instructions
Select recipes you want to try from the list above.

Follow the detailed instruction in each post (substitutions included).

Make and enjoy the authentic donburi (rice bowl) recipes at home!
©JustOneCookbook.com Content and photographs are copyright protected. Sharing of this recipe is both encouraged and appreciated. Copying and/or pasting full recipes to any website or social media is strictly prohibited. Please view my photo use policy
here
.