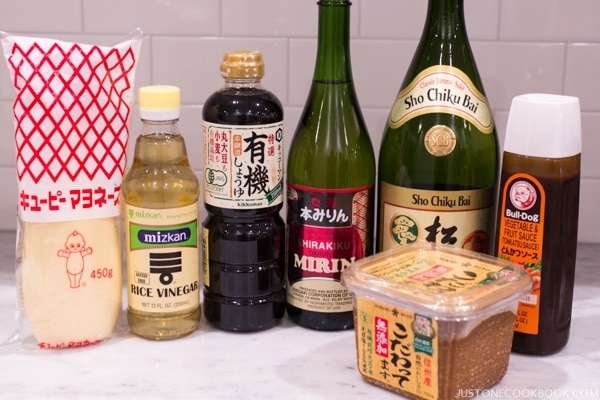 Here is the working list of ingredient substitution for Japanese cooking that frequently appears when you cook Japanese dishes. Click on the ingredient to learn more about it, and substitution is written below each ingredient. (11/2018)
Condiments
Dashi (Japanese stock): Unfortunately, there is no substitute if you want to make Japanese food.  Dashi is the fundamental of Japanese flavors and without it, you can't produce authentic flavors. The good thing is that dashi is super easy and simple to prepare (just need 30 minutes or less).  All you need is water, kombu (edible kelp) or/and dried bonito flakes (katsuobushi). You can choose one of 3 ways to make dashi. If you're vegetarian, make Kombu Dashi or Shiitake Dashi. You can use dashi packet (tea bag style) to cut down on time. Learn more about different types of dashi here.
Mirin (sweetened sake): 1 Tbsp mirin = 1 Tbsp water (or sake) + 1 tsp sugar.
Miso (soy bean paste): Unfortunately, there is no substitute for the flavor of miso. Korean Doenjang (soybean paste) can't be used as they have a different taste.
Rice vinegar: White vinegar (more tangy and stronger) or apple cider vinegar (mild, but it has a faint apple flavor).
Sake: Dry sherry, Chinese/Korean rice wine, or water.
Dry Ingredients
Panko: (American) breadcrumbs, but it will be less flaky and light
Potato starch: Use corn starch instead.
Meat + Fish + Protein
Produce
Daikon: For any simmered dishes, you can use turnips or other root vegetables that are available for a similar texture.
Gobo: Any similar crunchy root vegetables.
Kabocha: Butternut squash or acorn squash, however, they are less sweeter than kabocha.
Lotus root (Renkon): Any similar crunchy root vegetables. You may find lotus roots in Chinese or Korean grocery stores.
Mitsuba: Unfortunately, there is no herb that tastes like mitsuba. Please use chives or green onion/scallion to garnish your dish.
Negi/Long Green Onion: You can use leeks for the texture or use more green onions/scallions. The texture is similar to leeks but the taste is similar to green onions/scallions.
Nagaimo: Grate potato can be used for grated nagaimo.
Shiso: Unfortunately, there is no herb that tastes like shiso.  Closest substitute is perilla leaf you can get in a Korean grocery store.
Sweet Potato (Satsumaimo): You can use American sweet potato (more orange color), but it'll be less sweet. Adjust the sweetness with sugar, mirin, or other alternatives.