Sake, or Nihonshu, is a Japanese alcoholic beverage made of short-grain rice. It's a centuries-old drink and a vital part of Japanese culture that's drunk and used in Japanese cuisine.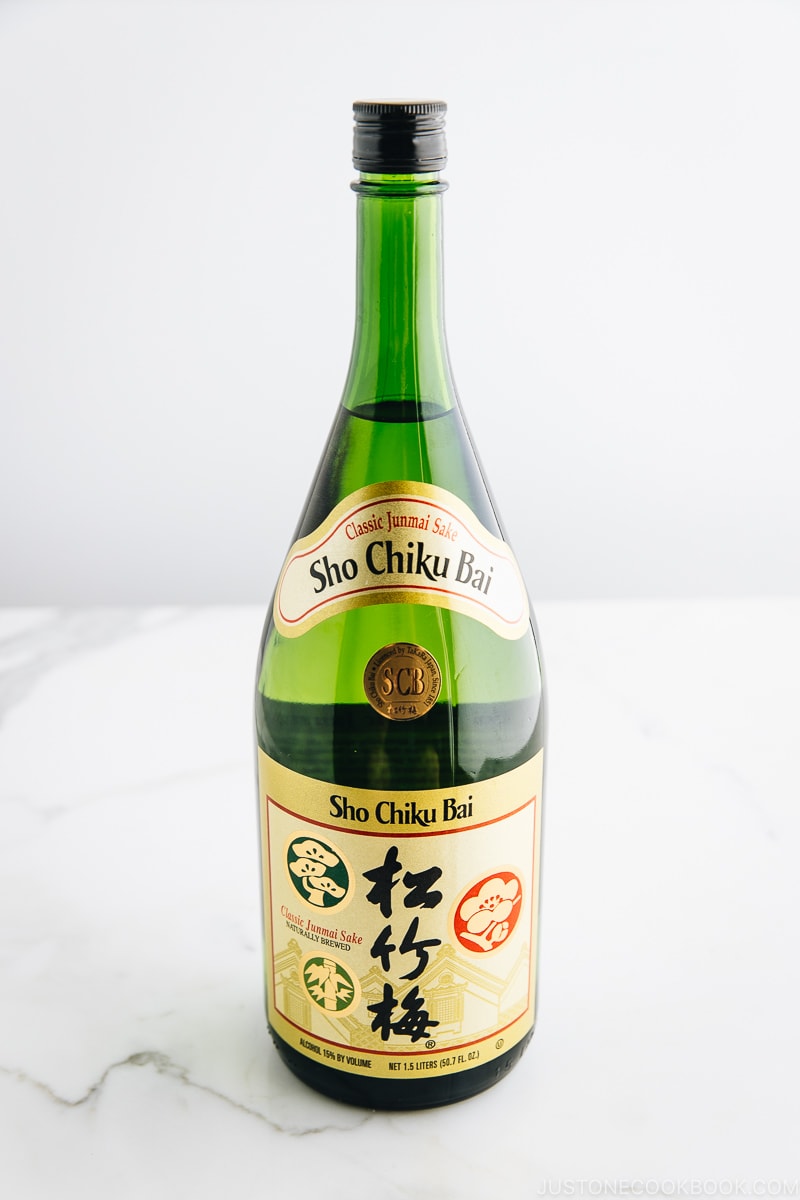 Sake (pronounced sah-keh), Nihonshu, or Japanese rice wine, is a brewed alcoholic beverage of rice, koji (Aspergillus oryzae), yeast, and water. It has an alcoholic content of 15-20% and can be clear, straw-yellow, or cloudy. The flavor can range from hearty umami-rich to light and acidic.
What is Sake
In Japanese, "sake" refers to all alcoholic drinks. The Japanese word is Nihonshu (日本酒), "Japanese alcohol," or more technically Seishu (清酒), "pure/clean alcohol." 
Although it is sometimes called "rice wine," it is made through a brewing process similar to beer and is not like wine. It goes through parallel fermentation, where the rice starch is converted to sugar and alcohol by yeast.
Premium sake lies in the quality of rice and water, and there are regions across Japan famous for their high-quality brew. Like wine, rice for sake is different from rice for eating. Lower-grade sake called honjozo contains brewer's alcohol to mellow out the taste. Sake is deeply ingrained in the Japanese culture, through festivals, rituals, and there are famous sake breweries and prefectures.
Japanese use it for cooking as well, just like how you use wine for cooking. It is often used in marinades for meat and fish to tenderize and remove their smell. The alcohol evaporates with the odor, so it's safe to serve children and the elderly.
It also adds umami and a natural sweet flavor, often added to soup stock, nimono (simmered dishes like Nikujaga), and yakimono (grilled dishes like Teriyaki Chicken).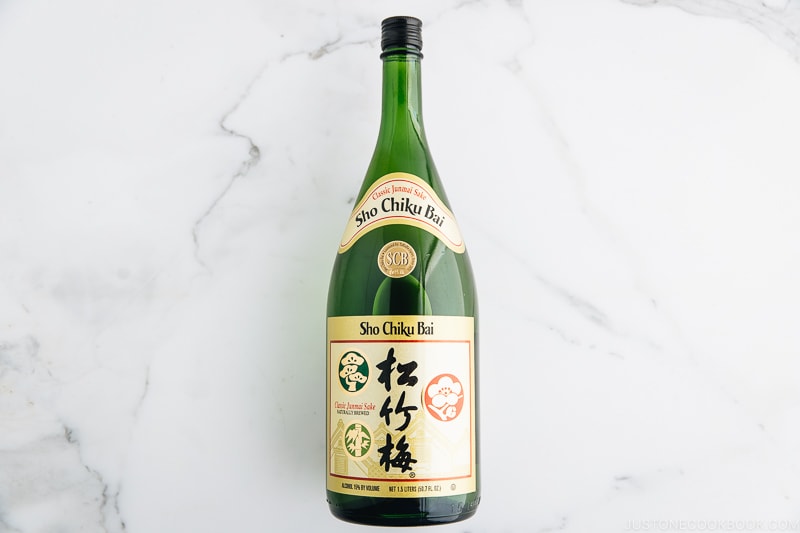 What Does It Taste Like
The flavor can range from hearty umami-rich to light and acidic. Depending on the type, the taste can be fruity, like melon or apples. It can be robust and heavy or dry and light like white wine.
Differences Between Sake & Mirin
The Japanese use sake and mirin in Japanese cooking. Sake contains higher alcohol and lower sugar, while mirin has a higher sugar and lower alcohol content.
For further reading, Japanese Pantry Essentials: Sake vs Mirin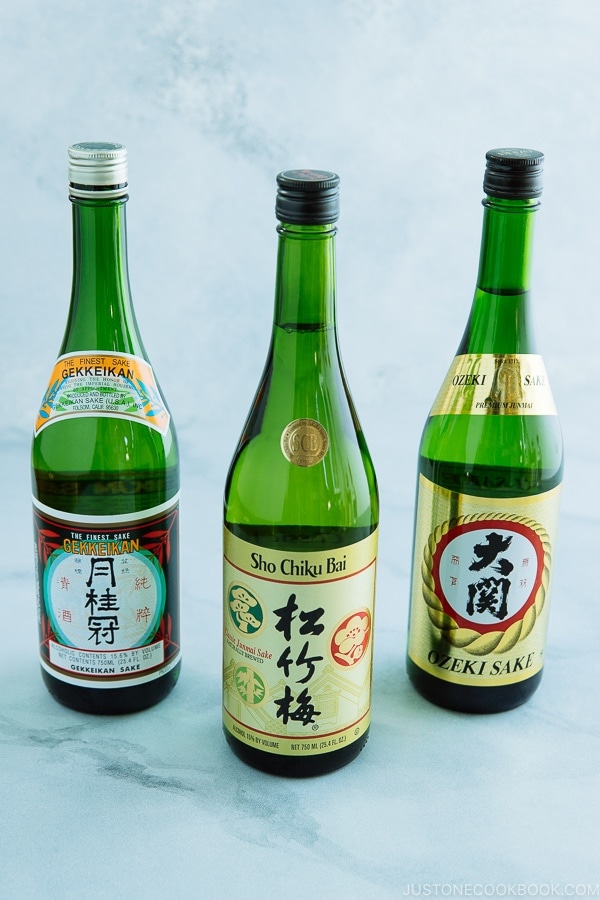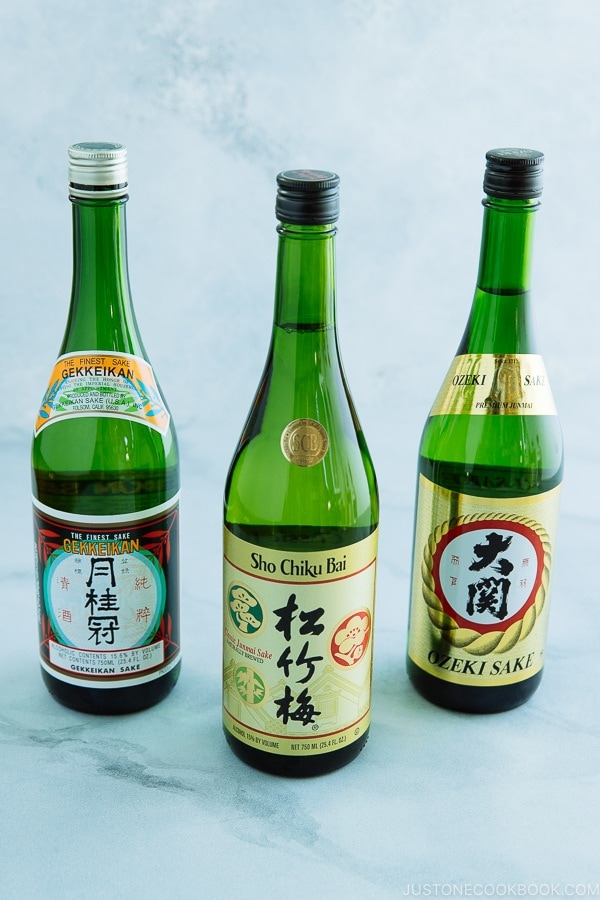 Sake for Cooking
Similar to white wine, there are many styles available. It can range from dry to sweet and delicate to robust.
At Japanese or Asian grocery stores, you can find inexpensive bottles like Gekkeikan, Sho Chiku Bai, or Ozeki, as shown above.
You can also use cooking sake (ryorishu 料理酒). Japanese manufacturers are legally required to add salt (2-3%) to cooking wine to make it unfit for drinking so that shops without alcohol licenses can carry the products.
As it contains salt and other ingredients, I use regular drinking sake (one of the three brands above).
For more details about sake, you can read here.
Where To Buy
In the U.S., you can find drinking sake from a well-stocked liquor store. You can also find bottles in Japanese grocery stores or Asian grocery stores that have an alcohol license. You can find cooking sake in the Asian aisle in your local grocery store or online at Amazon.
How To Store
For cooking purposes, use up opened bottles within half a year if stored in a cool, dark place.
Substitutions
It is one of the essential ingredients in Japanese cooking. However, you can substitute it with dry sherry or Chinese rice wine if you can't find it. If you cannot consume alcohol or prefer to omit it, replace it with water or dashi broth.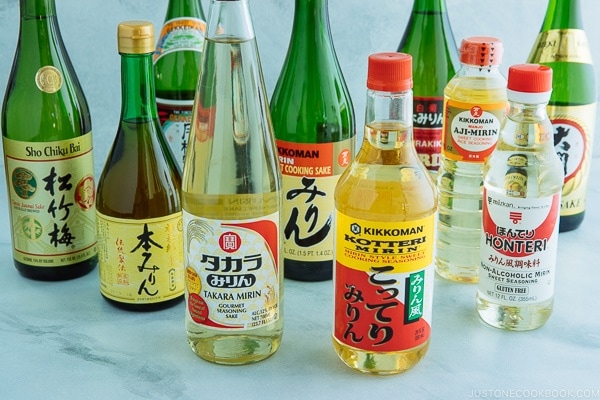 Recipes With Sake
Just like wine, you can use it as a critical flavoring to a dish. Its robust character that can intensify and accent the flavor of food makes it terrific for seafood, chicken, pasta, or pork dishes.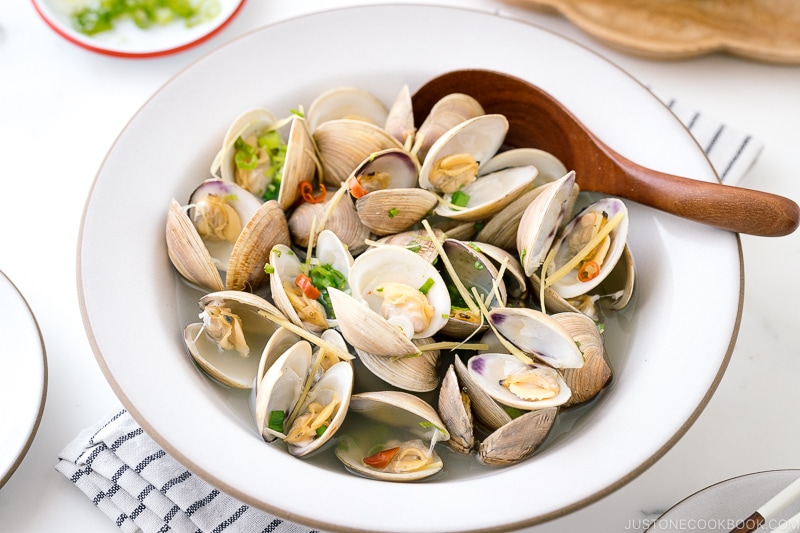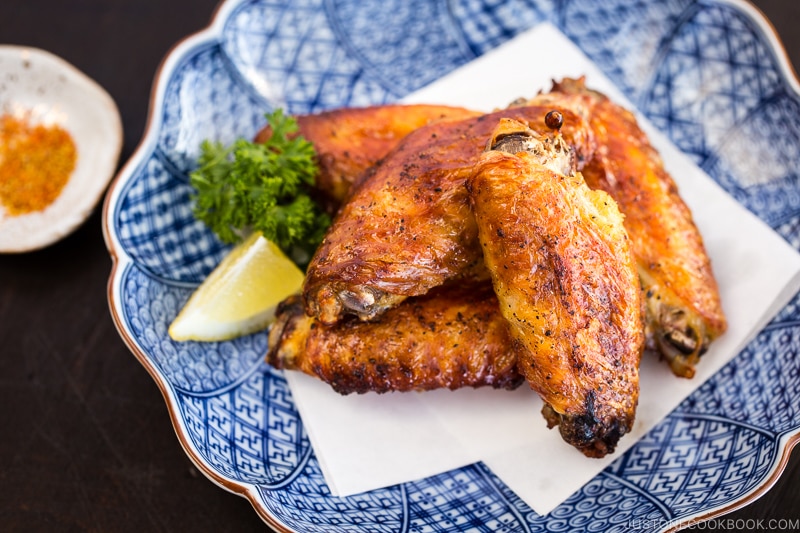 Learn More
Curious to dig deep into the world of sake? What do the terms junmai ginjo, genshu, nama sake, and nigori sake mean and what are the different varieties of rice grains for sake brewing? How can I pair sake with Japanese cuisine and savory flavors? Here's a four-part series for further reading.
---
Wish to learn more about Japanese cooking? Sign up for our free newsletter to receive cooking tips & recipe updates! And stay in touch with me on Facebook, Pinterest, YouTube, and Instagram.