Print Recipe
Jump To Recipe
Here's a classic chicken teriyaki recipe prepared in the authentic Japanese cooking method. Glazed in a flavorful homemade sauce, this recipe will be on your dinner routine. No bottled sauce needed!
When I first came to the US as a foreign student, I didn't have a car for the first few months because I lived in a dormitory. My parents assumed that I would eat at the cafeteria at school everyday, which I did for a few months.
It didn't take me long to get bored with the cafeteria's menus. Luckily I got my first driver's license and a car, and I moved into an apartment right away.  I started to cook on my own mainly because I missed my mom's food terribly.  The closest Japanese supermarket was miles away and as a fairly new driver I was scared of driving on the high speed American freeways.  Luckily, American supermarkets in the area carried some Asian products so I could get some basic ingredients there. That saved the cost of flying home to Japan to ease my craving for my mom's home cooked meals. One of the dishes I have been making since then was Chicken Teriyaki as it reminds me the taste and comfort of home.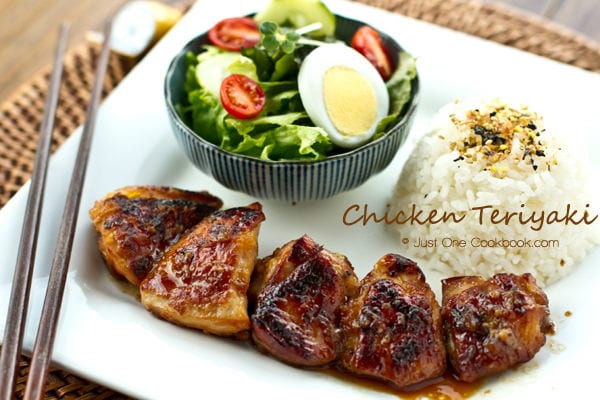 When my friend Jen at  The Three Little Piglets asked if I can make a Japanese dish with a few easy-to-find but essential ingredients to share on her blog, I thought authentic Chicken Teriyaki would be a great first introductory dish for cooking Japanese food.
If you are not aware, the "teriyaki sauce" in a bottle does not taste like real teriyaki sauce in Japan.  Like I mentioned in my Beef Teriyaki post, teriyaki actually refers a cooking technique in Japanese: teri means "luster" given by the sweet soy sauce marinade and yaki means "cooking/grilling" and it's not really the name of the sauce.
Cooking authentic Chicken Teriyaki Japanese method
Although Chicken Teriyaki may originated from a grilled dish, but Japanese home cooks prefer to prepare the dish by pan frying the chicken. Since not many households are equipped with a grill, pan frying is a simple and convenient method to make this favorite Japanese dish at home. Chicken thighs are preferred because they don't dry out quickly. Allow the chicken to marinade with the sauce for a few hours will ensure they come out moist and tender.  In a hot frying pan, brown the chicken until the skin is nicely crisp. The sauce is then added in the same pan until thickens. With the remaining sauce, you want to spoon it over to glaze the chicken. 
What's in the sauce for Chicken Teriyaki?
The basic Teriyaki sauce is made of 4 simple ingredients: soy sauce, sake, mirin and sugar. Sometimes aromatics can be added for extra flavors. In this recipe, I added grated onion and ginger for additional depth and zing. The homemade version is about adjusting the ratio of these ingredients to suit your tastebud. That is why we don't use bottled sauce in Japan. It is not overly sweet and free of addictive. Corn starch is also not needed for teriyaki sauce because soy sauce and sugar will caramelize during the simmering process, which thickens the sauce. 
Simple and bursting with flavor, I believe anyone can cook up this classic Japanese dish at home. Serve the Chicken Teriyaki with steamed rice with a salad or steamed vegetables on a side, you will have a delicious weeknight meal for the whole family. 
Are you ready to cook authentic Chicken Teriyaki at home? You can get the recipe below or click HERE to check the recipe on Jen's blog.  If you enjoy baking, you will love following her blog.  I personally can't wait to try her Just Like Doubletree Cookies and Orange Cardamom Madeleines.  Hmmmmm!  It makes me drool by just talking about them!
Don't want to miss a recipe? Sign up for the FREE Just One Cookbook newsletter delivered to your inbox! And stay in touch on Facebook, Google+, Pinterest, and Instagram for all the latest updates. Thank you so much for reading, and till next time!
Chicken Teriyaki
Ingredients
1

lb

boneless chicken thigh with skin

(1 lb = 454 g)

1

Tbsp

neutral flavor oil (vegetable, canola, etc)

(for Step 4)

2

Tbsp

sake

(for cooking)

1

tsp

neutral flavor oil (vegetable, canola, etc)

(for Step 7)
Teriyaki Sauce:
2

Tbsp

soy sauce

2

Tbsp

water

1

Tbsp

sake

1

Tbsp

mirin

1

Tbsp

granulated sugar

¼

onion

(grated, including juice)

1

ginger

(1 ginger = 2.5 cm) (grated, including juice)
Instructions
Cut each chicken thigh into 4 pieces. Prick the chicken with a fork so it absorbs more flavor.


Combine the teriyaki sauce ingredients in a medium bowl or Ziploc bag.


Add the chicken into the bowl and marinate for at least 2-3 hours in the refrigerator.


Heat the oil in a non-stick pan over medium high heat and place the chicken pieces skin side down, RESERVING the sauce (Do not add any liquid so that chicken will brown nicely).


When skin side is nicely browned, flip the chicken and add sake. Quickly cover the pan and cook over medium heat for 8-10 minutes.


Remove the chicken to a plate and wipe off excess grease from the pan.


Heat the oil and put the chicken back in the pan, skin side down, and cook until the skin becomes crispy.


Flip the chicken and pour the reserved sauce and cook until the sauce is reduced. Use a spoon to pour the sauce on top of the chicken while cooking.


Transfer the chicken to a plate and drizzle the remaining sauce on top.
Recipe Notes
For those of you who're interested in my grater, here's the grater I use.

Recipe by Namiko Chen of Just One Cookbook. All images and content on this site are copyright protected. Please do not use my images without my permission. If you'd like to share this recipe on your site, please re-write the recipe in your own words and link to this post as the original source. Thank you.