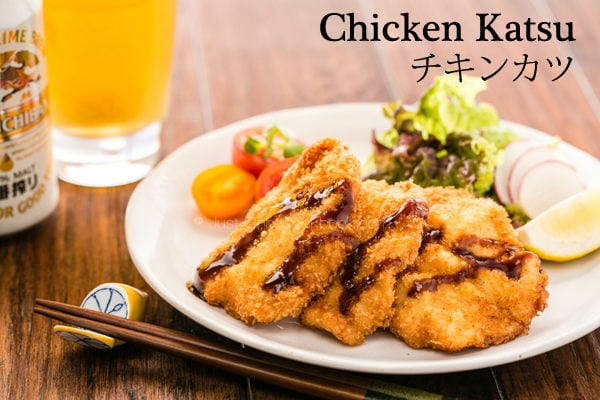 When you become parents of school-age children, your after school hours become pretty chaotic.  My children have piano lesson, swim lesson, ballet lesson…and homework that is due next day.  On many days, it's only one hour left before dinner time and I still haven't planned what to cook.
To avoid hearing "I'm hungry" for the next 2 hours, I have a few go to recipes that are perfect for these occasions.  These dishes typically utilize the (Japanese) ingredients I always keep in my kitchen.  Chicken Katsu is one of those easy recipes.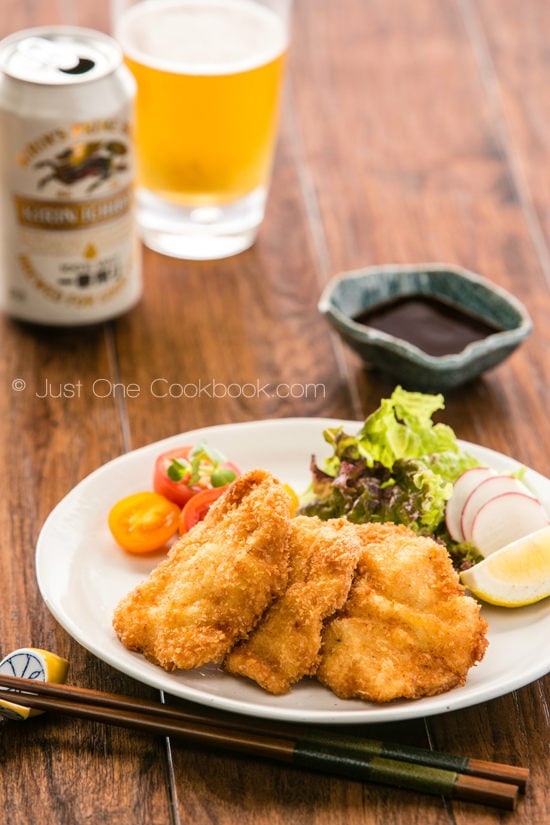 Even though the main ingredient is just chicken breast, when it's breaded with flour, egg, and panko and deep fried, the chicken transform into crispy and juicy satisfying meal.  Chicken Katsu is very similar to chicken cutlet but for Japanese style cutlet, we enjoy it with So-su (ソース; "Sauce").
When we say So-su or "sauce" in Japan, it refers to a thicker version of Worcestershire sauce slowly cooked with vegetables and fruits.  You might have tried some variations of this Japanese "sauce" when you eat Okonomiyaki, Yakisoba, Tonkatsu, Korokke, and other dishes in restaurants.  It's not very common to make "sauce" from scratch at home in Japan since it requires many hours of cooking fruits and vegetables, so most people prefers to buy it from store instead.  However, for readers who have no access to Tonkatsu Sauce, I tried my best to make something similar.
Although deep fried food may be considered heavy or oily sometimes, if you fry it right the food tastes light and not too oily.  It takes practice to become comfortable with deep frying, but it's a good skill to have for broadening your cooking options.
If you have leftover (or cook extra), don't forget to make sandwiches with Chicken Katsu (so good!!).  Also try my Chicken Katsu Don which has been popular and one of the frequently cooked dish by readers.  Enjoy!
Don't want to miss a recipe? Sign up for the FREE Just One Cookbook newsletter delivered to your inbox! And stay in touch on Facebook, Google+, Pinterest, and Instagram for all the latest updates. Thank you so much for reading, and till next time!
Chicken Katsu
Easy chicken katsu recipe with chicken breast deep fried in flour, egg, and panko, drizzle with tonkatsu sauce.
Keyword:
panko chicken, tori katsu
Ingredients
3

boneless skinless chicken breast

(3 chicken breasts = 1.6 lb)

2

Tbsp

sake

Sea salt

Freshly ground black pepper

All purpose flour

2

large eggs

neutral flavor oil (vegetable, canola, etc)

(for deep frying)

Tonkatsu Sauce

(see Notes for homemade recipe)
Instructions
Gather all the ingredients.

Rinse the chicken and pat dry with paper towel. Slice the chicken diagonally.* This cutting technique is called

"Sogigiri"

in Japanese. Each piece will have more surface area so it will cook faster.

Put the chicken in a bowl and add sake, salt, and pepper. Set aside for 15 minutes.


Dust the flour on the chicken and remove excess flour.


Then dip it in beaten egg.


Lastly, dredge the chicken in panko and remove the excess. If you have time, let the chicken sit in the refrigerator for 15 minutes.


Heat 1/2 inch of oil in the cast iron skillet. Drop a piece of panko to see if the oil is ready. If you are new to deep frying, use a thermometer to check the temperature of oil (Read

How To Deep Fry Food

). The oil for Chicken Katsu should be 350F (180C) degree.

Put 2-3 pieces of chicken in at a time. If you put too many chicken pieces, the temperature of oil will drop too quickly and the chicken will end up absorbing too much oil.


Deep fry until both sides are golden brown, about 5-6 minutes. Then transfer to a wire rack or paper towel-lined tray to remove excess oil.


Between batches, make sure to pick up breadcrumbs. When you don't pick them up, the breadcrumbs will get burnt and the oil will get darker. Make sure to keep the oil clean throughout deep frying.

Recipe Notes
Tonkatsu Sauce: Homemade recipe, click here.
The Japanese use chopsticks to eat Chicken Katsu, so if you plan to deep fry a whole chicken, you have to cut into small pieces after deep fry. However, it takes a longer time to deep fry a large piece of chicken, so I recommend to cut the chicken into smaller pieces before deep frying.
I use different pots and pans for deep/shallow frying and today I used a cast iron skillet to shallow fry.
Recipe by Namiko Chen of Just One Cookbook. All images and content on this site are copyright protected. Please do not use my images without my permission. If you'd like to share this recipe on your site, please re-write the recipe in your own words and link to this post as the original source. Thank you.