Piping hot mashed potato with meat encased in a crunchy golden panko shell, the Japanese Baked Croquette (Korokke) is simply irresistible. This recipe requires no deep frying, making it healthier and easier to prepare at home.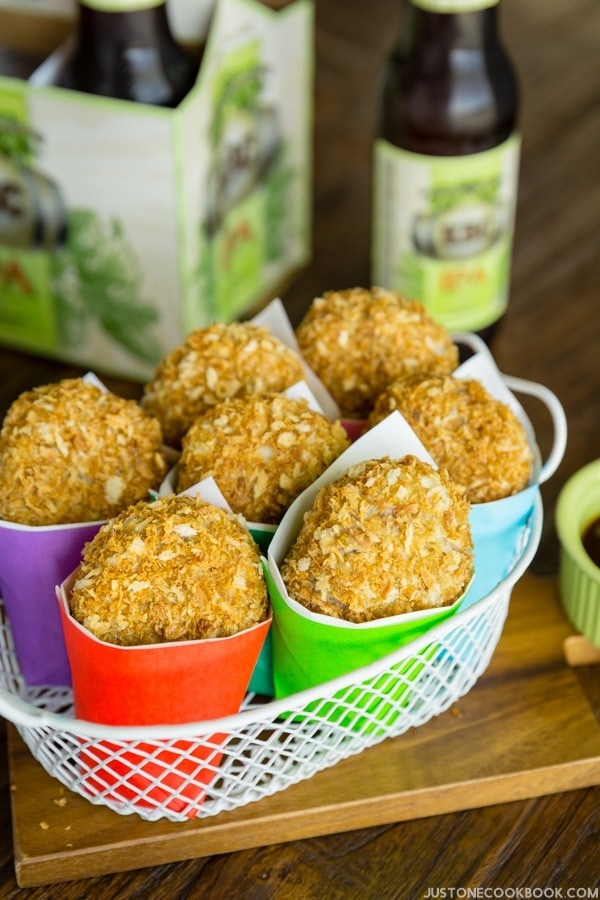 If you have been following my blog for a while, you probably know how much I love Korokke (コロッケ), a Japanese croquette. It's always my first and last homemade meal that I request from my mom whenever I visit my home in Japan.
I have shared my mom's Korokke recipe on the blog (here) and it's one of the most popular recipes on Just One Cookbook. Throughout the year, I've been requested by many readers if they could bake Korokke instead of deep-frying. So today, I am really excited to share the baked version. The method is very similar to how I make this popular Baked Tonkatsu recipe.
What is a Japanese Croquette?
A culinary import from France, the Japanese adopted these beloved fried potato rolls when French croquette was introduced to Japan in the early 1900s. Japanese croquettes are closely resembled to the French version, but the main difference is we typically serve them with tonkatsu sauce. We call this dish Korokke and write it コロッケ.
Japanese croquette consists of panko-breaded, deep-fried patties, filled with mashed potatoes with ground meat and onions. There are some variations which include curry flavors, cream filling with seafood, and vegetable filling like kabocha squash.
The shape is usually flat oval, although my mom makes her version thicker than store-bought Korokke. In case you wonder why I love my mom's Korokke so much, it's because she uses really good quality ground beef and she's very particular about which potatoes to use too. If you're in Japan, you want to get 男爵芋. Her Korokke also includes more ground beef, so it is really outstanding.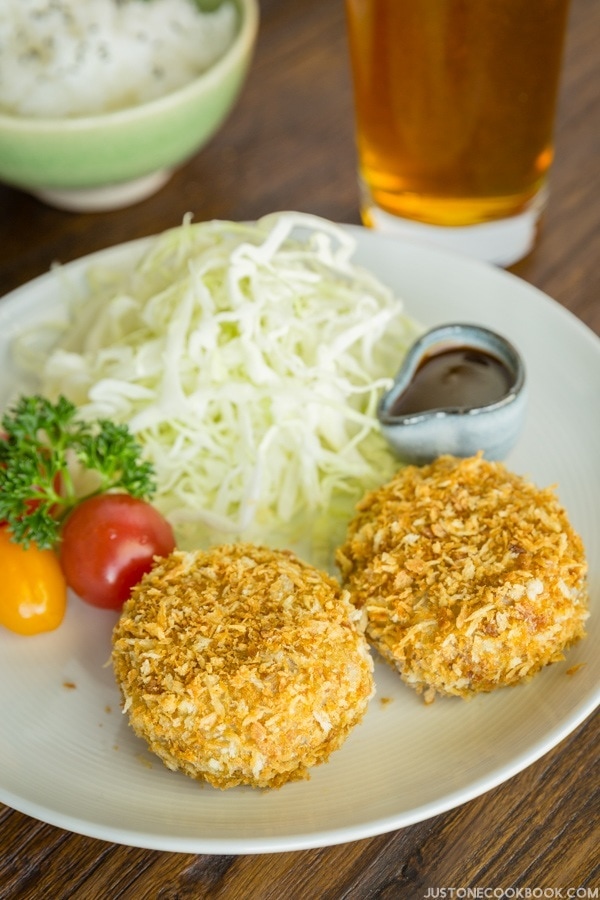 Baked Croquette vs. Deep-Fried Croquette
My love of Korokke has passed down to both of my children so they often request for it. Like many of you, I love deep-fried food but it's messy to clean up and the house definitely smells a bit unpleasant. Well, you no longer have to worry because baked croquettes make all those headaches go away.
Your next question is probably, which one tastes better, baked or deep-fried?
As a huge Korokke fan, I have to be honest with you and admit that nothing beats deep-fried Korokke out of the deep fryer. The crispy shell on the outside and the piping hot mashed potatoes mixed with juicy beef on the inside. Croquette, borrow from the French word croquer, "to crunch" says it all. It's simple, yet amazing comfort food.
However, this BAKED recipe is REALLY REALLY CLOSE to the deep-fried version! And my family agrees.
For those of you (actually many of you — thank you!!) who tried my Baked Tonkatsu recipe can testify how close the baked Tonkatsu is compared to deep-fried Tonkatsu. This version of Korokke is just like that.
If you love Korokke, I highly recommend giving this baked version a try. You are guaranteed with no mess and no oily smell in the kitchen, and a much HEALTHIER Korokke to enjoy. If you do try, please let me know what you think in the comment below.
Great Party Finger Foods!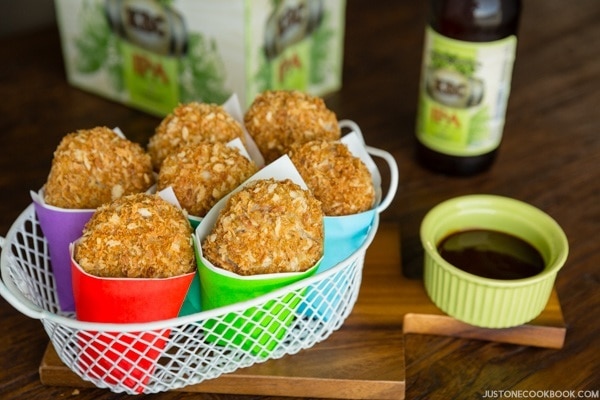 If you make your Korokke slightly smaller, they can fit perfectly in these Origami Cups (tutorial video here). These crunchy treats are great for appetizers, or even as a main dish for kids' parties (in that case, make sure the croquettes are cooled slightly).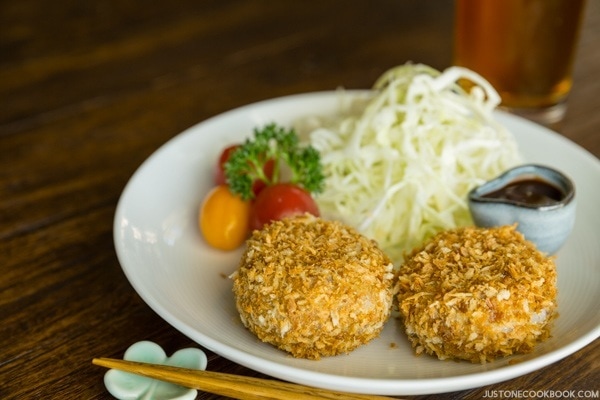 Wish to learn more about Japanese cooking? Sign up for our free newsletter to receive cooking tips & recipe updates! And stay in touch with me on Facebook, Pinterest, YouTube, and Instagram.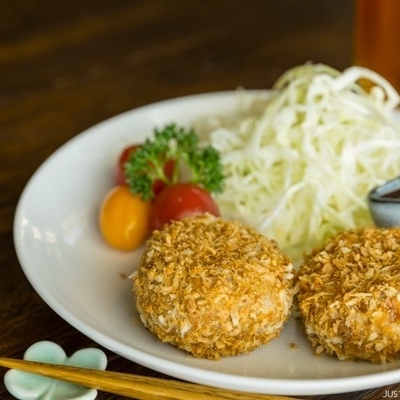 Baked Croquette
Piping hot mashed potato with meat encased in a crunchy golden panko shell, Japanese Baked Croquette (Korokke) is simply irresistible. This recipe requires no deep frying, making it healthier and easier to prepare at home.
Video
Japanese Ingredient Substitution:
If you want substitutes for Japanese condiments and ingredients, click
here
.
Instructions
Gather all the ingredients.
To Make the Patties
Peel and cut

2 lb russet potatoes

into thirds or half and place in a large pot. Add water until it covers the potatoes by 1 inch (2.5 cm). Bring it to a boil and cook the potatoes until a skewer goes through easily, this will take about 20 minutes depending on the amount of water.

While cooking the potatoes, you can finely dice

1 onion

.

In a large fry pan, heat

1

Tbsp neutral oil on medium-high heat and sauté the onion until soft. Then, add

1 lb ground beef

and cook until no longer pink.

Season with

freshly ground black pepper

and

¼ tsp Diamond Crystal kosher salt

. Remove from the heat and set aside.

Combine

2½ cups panko (Japanese breadcrumbs)

and

2

Tbsp neutral oil in a separate frying pan and toast over medium heat until golden brown. Transfer the panko into a bowl or shallow dish and allow to cool.

When a skewer goes through the potatoes easily, transfer the potatoes to a large bowl and drain.

Mash the potatoes and season with

freshly ground black pepper

,

½ tsp Diamond Crystal kosher salt

, and

1 Tbsp unsalted butter

.

Add the meat mixture into the mashed potatoes and combine well. Some onions and meat yield more juice after cooking. In that case, avoid adding any juice into the potatoes. Wet potatoes will make it harder to shape the croquettes.

While the mixture is still warm, but not hot, make thick oval patties, about ½ inch thick. Let the patties rest in the refrigerator for 15–30 minutes.
To Bread the Croquettes
Preheat the oven to 400ºF (200ºC). For a convection oven, reduce cooking temperature by 25ºF (15ºC). Coat the patties with

½ cup all-purpose flour (plain flour)

and pat off any excess flour.

Then coat the patties with

3 large eggs (50 g each w/o shell)

(beaten) and finally the panko.
To Bake
Place the croquettes on a baking sheet lined with a wire rack (so the bottom of croquettes will be crunchy) or parchment paper. Bake at 400ºF (200ºC) for 10 minutes. Serve immediately with

tonkatsu sauce

.
To Store
In order to store the Baked Croquettes, please bake all the croquettes first since you use raw eggs. Let cool completely, put them in an airtight container, and store in the freezer for up to a month. To reheat, thaw them in the refrigerator overnight, put half defrosted (or frozen if you didn't thaw in advance) croquettes on a baking sheet lined with parchment paper and bake at 350ºF (180ºC) for 15–45 minutes (based on how defrosted they are) or until the inside is warm. I don't recommend microwaving because the croquettes will explode. You can only microwave for a very short time, but finish in the oven for a crispy shell and hot on the inside.
Nutrition
Nutrition Facts
Baked Croquette
Amount per Serving
% Daily Value*
* Percent Daily Values are based on a 2000 calorie diet.
©JustOneCookbook.com Content and photographs are copyright protected. Sharing of this recipe is both encouraged and appreciated. Copying and/or pasting full recipes to any website or social media is strictly prohibited. Please view my photo use policy
here
.