Soft and creamy on the inside and crunchy on the outside, Japanese Croquettes or Korokke is my absolute favorite Japanese food. This is my mother's best recipe and I'm sharing her secrets with you.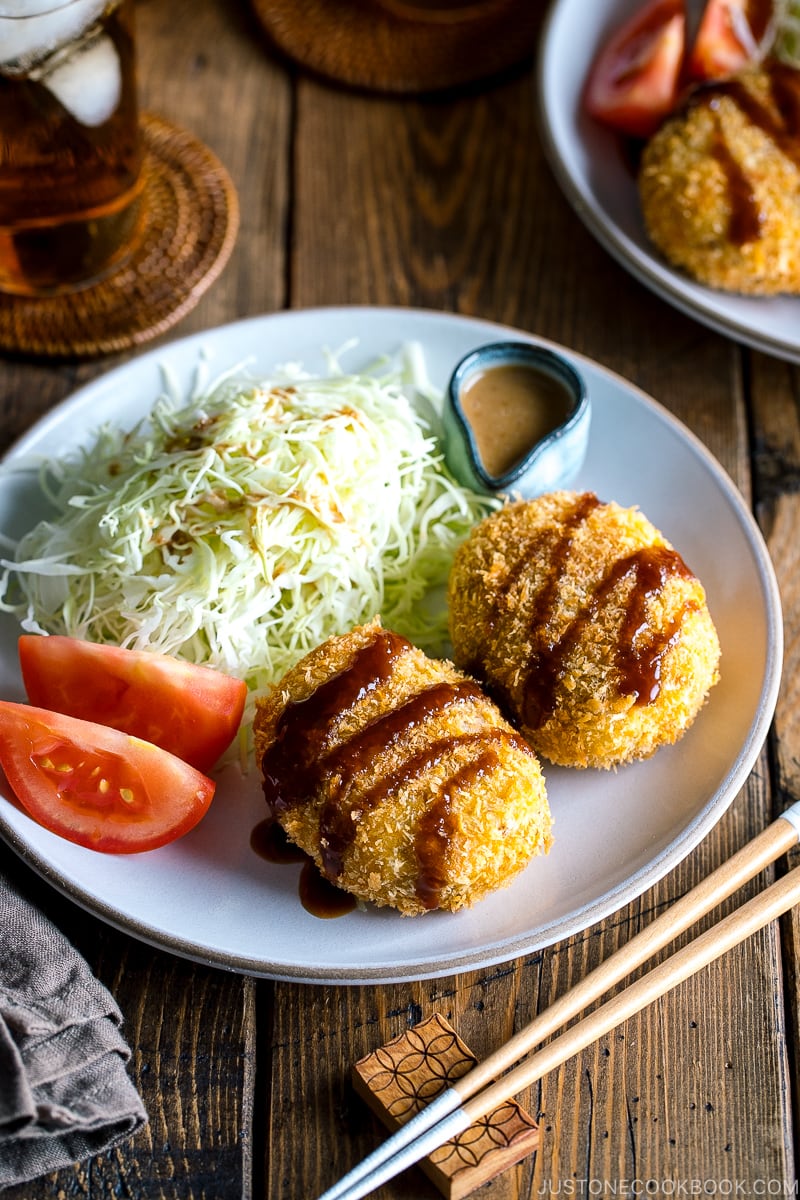 If there was one food that I must have when I visit my parents back in Japan, it would be Japanese Croquettes or Korokke (コロッケ). Not any kind of korokke but the ones that my mother makes. I could never resist the crispy panko exterior that breaks away into a luscious potato and meat mixture. It is the most delicious and comforting reminder of home!
Today I'm going to share my mother's recipe. She often tweaks her korokke as a way to explore new flavors, such as one time she added miso for an extra boost. You too can do the same! Feel free to add a dash of curry powder, incorporate carrot and shiitake mushrooms (see this recipe), or swap the potato and meat with kabocha (see this recipe).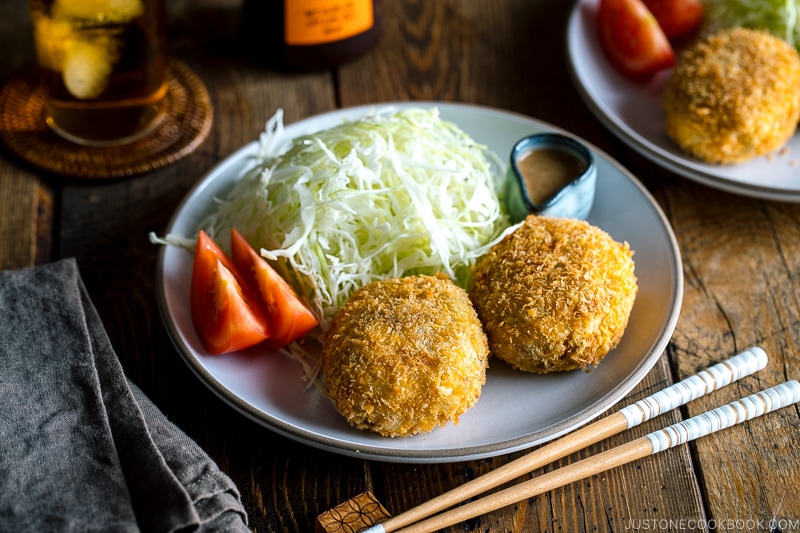 What are Japanese Croquettes?
Japanese croquettes are called Korokke (コロッケ) and the classic style is made of mashed potatoes mixed with sauteed ground beef and onion. The flat oval-shaped patties are breaded with light and airy panko breadcrumbs and deep-fried till golden brown and crispy.
Korokke was introduced in Japan around the late 1800s as a potato filling instead of the traditional French creamy croquettes due to the lack of dairy in Japan. These Japanese potato croquettes became one of the top 3 popular Yoshoku (western-influenced dishes) in the early 1900s (Taisho period) along with beef steak and Tonkatsu.
In Japan, Korokke is a homemade food as well as a street food. You can buy fried korokke to take home at butcher shops, order it at diners and restaurants, and buy it in pre-cooked food (Sozai) and bento section at supermarkets and convenience stores.
Having tasted my mom's homemade korokke, I just couldn't bring myself to eat the ones from the stores or restaurants because they are made of mostly potatoes and the taste is rather bland. That's why you have to make them yourself at home!
Why You'll Love This Korokke
More meat for extra flavor – My mother's recipe includes more meat than most recipes or store-bought. Never too plain.
Crunchy shell on the outside, and slightly chunky, starchy texture on the inside.
Great for making ahead (meal prep) and easy to reheat!
Perfect for packing in bento (make mini sizes!)
Another delicious panko-breaded dish you can eat with your favorite Tonkatsu sauce.
4 Key Ingredients to Make Korokke
It's important to get the right quality ingredients, especially for a simple recipe like this. Please read below carefully.
1. Russet Potatoes
In the US, the most common potatoes are Russet potatoes, red potatoes, and Yukon Gold potatoes. For making Korokke, the Russet potatoes are the ideal choice since the starchy, fluffy, and light texture makes for the perfect bite. They are the best at soaking up the juice and flavor from the meat and onion.
If you're in Japan, there are "May Queen" (メークイン) and "Danshaku" (男爵) potatoes. For Korokke, use Danshaku or do as my mom who uses roughly 85-90% Danshaku and adds 10-15% May Queen because she likes to be different… She also believes she should boil potatoes with the skin on, and then peel it with fingers while they are hot. Because it could possibly burn fingers, I excuse myself for not following her method 100%.
2. High-Quality Ground Beef
Typically, Japanese croquettes use ground beef but sometimes can use ground pork. I usually use high-quality 85% lean ground beef for more flavor. The korokke sold from the butcher shops are delicious, and you know the reason – high-quality meat!
You can use ground turkey or chicken, but I think the flavor could be a little lacking compared to beef.
For those who want to make a vegan/vegetarian version, you can omit the meat completely. Instead, switch it with finely chopped shiitake mushrooms or other mushrooms you have. You can also add dense vegetables such as corn and carrot, which do not have much moisture, but you can also sauté them until the moisture is evaporated.
3. Yellow Onion
I use yellow onions whenever I caramelize or stir fry till golden. The amount of flavor and sweetness you'll get from cooking those yellow onions, as opposed to other kinds, is significantly higher. The key is to stir-fry until the moisture evaporates so the croquettes do not contain extra moisture. For a nice char, leave the chopped onion for a long stretch of time between stirring.
4. Panko (Japanese breadcrumbs)
Try finding Japanese brand breadcrumbs called Panko. The light, airy, larger flakes tend to stay crispier longer than standard breadcrumbs because they don't absorb as much grease. See the brand I normally use in this post.
5 Important Tips for Making Korokke Patties
Read these tips carefully before you start cooking!
1. Start boiling the potatoes from cold water.
I learned to boil root vegetables from cold water as a method to protect the shapes and textures. That means you add the potatoes and water in the pot at the same time, as opposed to adding them later to the boiling water.
Due to the density of potatoes or any root vegetables for this matter, it takes a long time for the heat to reach the center. Therefore it's best to start cooking them from water to prevent the skin or outer layer from disintegrating before the inside is cooked.
2. Moisture is a big no-no!
During the cooking process, it's important to remember not to introduce moisture to the patties. There are 3 cooking steps in this recipe where you should remove excess moisture.
3. Mash and season the potatoes while hot.
While the potatoes are hot, mash and let the steam escape. My mom usually keeps some potato chunks unmashed to create texture. Season the potatoes and add the meat mixture while the potatoes are hot so that they will absorb all the flavor. Do not knead the mixture (you don't want it mushy!); gently combine well together.
4. Do not include the air.
When you're shaping the potato and meat mixture into an oval patty shape, try not to include air pockets.
5. Let the patties cool completely before breading.
This step is very important. Resting and cooling down the patties prevents the korokke from exploding while deep frying. The cold patties in the hot oil will not release any steam; therefore korokke will not explode in the oil. It also helps the ingredients to meld together.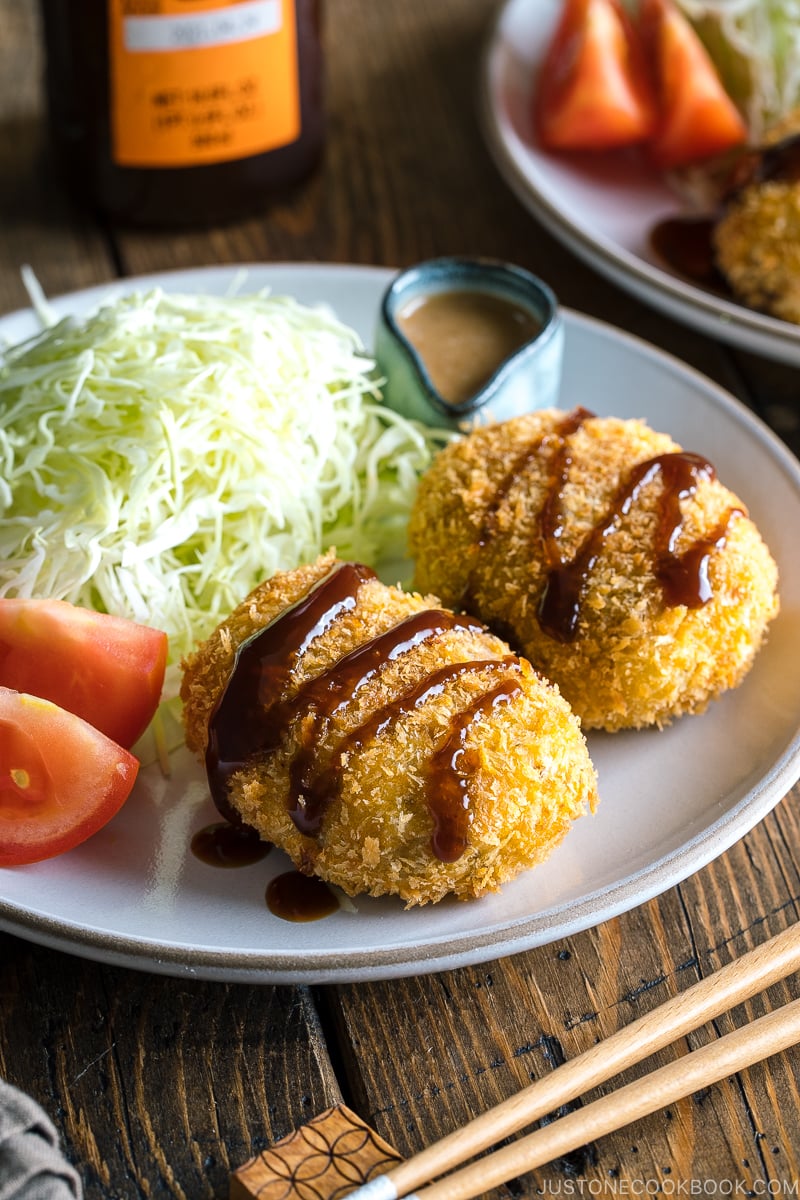 Helpful Tips for Deep Frying
The best part of deep frying Korokke, besides how delicious it is, is that the inside gets cooked fully. You do not need to worry about undercooking. This is why I believe Korokke is one of the easiest foods to practice deep frying.
Here are my tips for deep frying Korokke.
Add enough oil to cover the croquettes completely.
Use a cooking thermometer to check the oil temperature (no guessing!). Once you are used to it, you can use the chopstick or panko tricks to determine the oil temperature.
Deep fry 2-3 pieces at a time. When you put too many pieces, the oil temperature will drop too quickly and the Korokke will absorb too much oil.
Once you add the Korokke in the oil, don't touch until it turns golden brown on one side.
How to Bake Korokke instead of Deep-Frying
I knew you would ask if you can bake instead of deep-frying! I got you covered. I do have a recipe for Baked Croquette!
Wish to learn more about Japanese cooking? Sign up for our free newsletter to receive cooking tips & recipe updates! And stay in touch with me on Facebook, Pinterest, YouTube, and Instagram.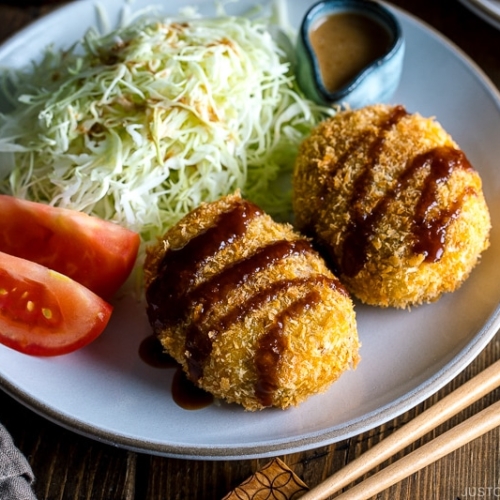 Japanese Croquettes (Mom's Korokke)
Soft and creamy on the inside and crunchy on the outside, Japanese Croquettes or Korokke is my absolute favorite Japanese food. This is my mother's best recipe and I'm sharing her secrets with you.
Ingredients
Japanese Ingredient Substitution:
If you want substitutes for Japanese condiments and ingredients, click
here
.
Instructions
Gather all the ingredients.
To Make the Potato and Meat Mixture
Wash

2 lb russet potatoes

under cold running water. Peel them with a vegetable peeler and remove the eyes. Tip: Use russet potatoes for their starchy, fluffy, and light texture. They are the best variety at soaking up the juice and flavor from the meat and onion.

Cut each potato into equal 4 pieces. Tip: To cook evenly, it's important that they are of similar size.

Put the water and potatoes in a large pot, cover, and bring to a boil over medium heat, leaving the lid slightly ajar to prevent the pot from boiling over. It will take about 15 minutes to come to a boil. Reduce the heat to maintain a gentle boil and cook until done, about 15–20 minutes.

Prepare the rest of the ingredients while you wait for the potatoes to cook. First, mince

1 onion

finely (we call this cutting technique mijingiri in Japanese). Cut the onion in half. Lay one half flat side down on the cutting board. With the knife tip pointing toward the root end, make ¼-inch vertical slices to within ½ inch of the root end. Then, with the knife edge toward the root end, make ¼-inch horizontal slices, again keeping the root intact.

Finally, make perpendicular cuts down through the vertical slices you made. Repeat with the other onion half. If you need to chop the onions finer, run your knife through them using a rocking motion. Hold down the tip of the knife; otherwise, the onions will go flying around the room.

Preheat a large skillet on medium heat, then add

1 Tbsp neutral oil

. Then, add the minced onions.

Sauté the onions until translucent and tender, about 12–15 minutes. Take care not to burn the onions. Tip: Make sure there is no moisture left in the onions so that the croquette don't get soggy. Leave the onions for a long stretch between stirring to give them a nice char.

Add

1 lb ground beef

to the pan and break it up with a wooden spoon.

Season the mixture with

½ tsp Diamond Crystal kosher salt

and

¼ tsp freshly ground black pepper

.

Stir to combine and cook until the meat is no longer pink. Turn off the heat and remove the pan from the stove to let it cool slightly.

Once in a while, check if the potatoes are done cooking. Insert a skewer into a bigger piece of potato; if it pierces the potato easily, it's done. Remove the potatoes from the heat and drain off the water completely. When you do so, use a lid to keep the potatoes from falling out of the pot.

Move the pot back to the stove. Shake the pot over low heat and let the remaining moisture completely evaporate (without burning the potatoes), about 2–3 minutes. Then, transfer them to a large bowl.

With a potato masher, mash the potatoes while they are still hot, allowing the steam to escape in the process. Add

1 Tbsp unsalted butter

. Tip: Keep some potato chunks for texture.

Add

½ tsp Diamond Crystal kosher salt

and

¼ tsp freshly ground black pepper

and combine well.

Gently squeeze the liquid from the meat mixture by collecting it to one side of the pan. We do this to avoid adding excess moisture to the potatoes.

Add the drained meat mixture to the bowl with the mashed potatoes and mix to combine.
To Form the Patties
While the mixture is still warm (but not hot), form it into oval-shaped patties roughly 3 inches in length. Take care not to create air pockets in the patties.

Placed the patties on a tray or plate. Cover and let the Korokke patties rest in the refrigerator for 15–30 minutes. Do not skip this step! Tip: Cooling the patties prevents the croquettes from exploding while deep-frying. If the patties are cold, they will not create and release steam. If you skip this process, the internal temperature of the warm patties will rise in the hot oil and create steam, which will then puncture a hole in the panko coating and explode. Resting in the refrigerator also helps the ingredients meld together.
To Bread the Croquettes
Prepare one tray each for

½ cup all-purpose flour (plain flour)

and

2 cups panko (Japanese breadcrumbs)

. Crack

3 large eggs (50 g each w/o shell)

into a small bowl and beat with a fork.

Dredge each patty in flour and shake off the excess.

Then, dip each patty in the egg and coat with the panko, pressing the breadcrumbs to make sure they adhere.
To Deep-Fry
Once you finish breading the patties, add

4 cups neutral oil

to a medium pot. Make sure there's at least 2 inches (5 cm) of oil in the pot so the croquettes are completely submerged.

Bring the oil to 340–350ºF (171–178ºC) over medium heat. Use a cooking thermometer to check the oil temperature (so there's no guessing!) Once you get used to deep-frying, you can use the chopstick or panko tricks to determine if the oil is ready for deep-frying.

Deep-fry 2–3 croquettes at a time until they are golden brown, about 2–3 minutes. Tip: Do not touch the croquettes until one side is golden brown. The inside is already cooked, so all you need to do is to fry until they're golden brown.

Transfer the croquettes to a wire rack or a plate lined with paper towels to drain the excess oil. Continue deep-frying the rest of the patties.
To Store
You can store the leftovers in an airtight container and freeze up to a month. To reheat, put the defrosted or frozen croquettes on a baking sheet lined with aluminum foil or parchment paper. Bake at 350ºF (180ºC) for 15–20 minutes if defrosted or 45 minutes if frozen. Check if the inside is warm before serving.
Nutrition
Nutrition Facts
Japanese Croquettes (Mom's Korokke)
Amount per Serving
% Daily Value*
* Percent Daily Values are based on a 2000 calorie diet.
©JustOneCookbook.com Content and photographs are copyright protected. Sharing of this recipe is both encouraged and appreciated. Copying and/or pasting full recipes to any website or social media is strictly prohibited. Please view my photo use policy
here
.
Editor's Note: This post was originally published on March 26, 2012. The post has been updated with a video, new images, and content in July 2020.