Cozy up with this bowl of piping hot miso soup with yuzu kosho. Yuzu kosho is a Japanese citrus pepper paste that gives a kick to Japanese dishes like this hearty pork belly miso soup with loads of vegetables. After drinking this delicious miso soup, you will be hooked on this combination of miso soup and yuzu kosho!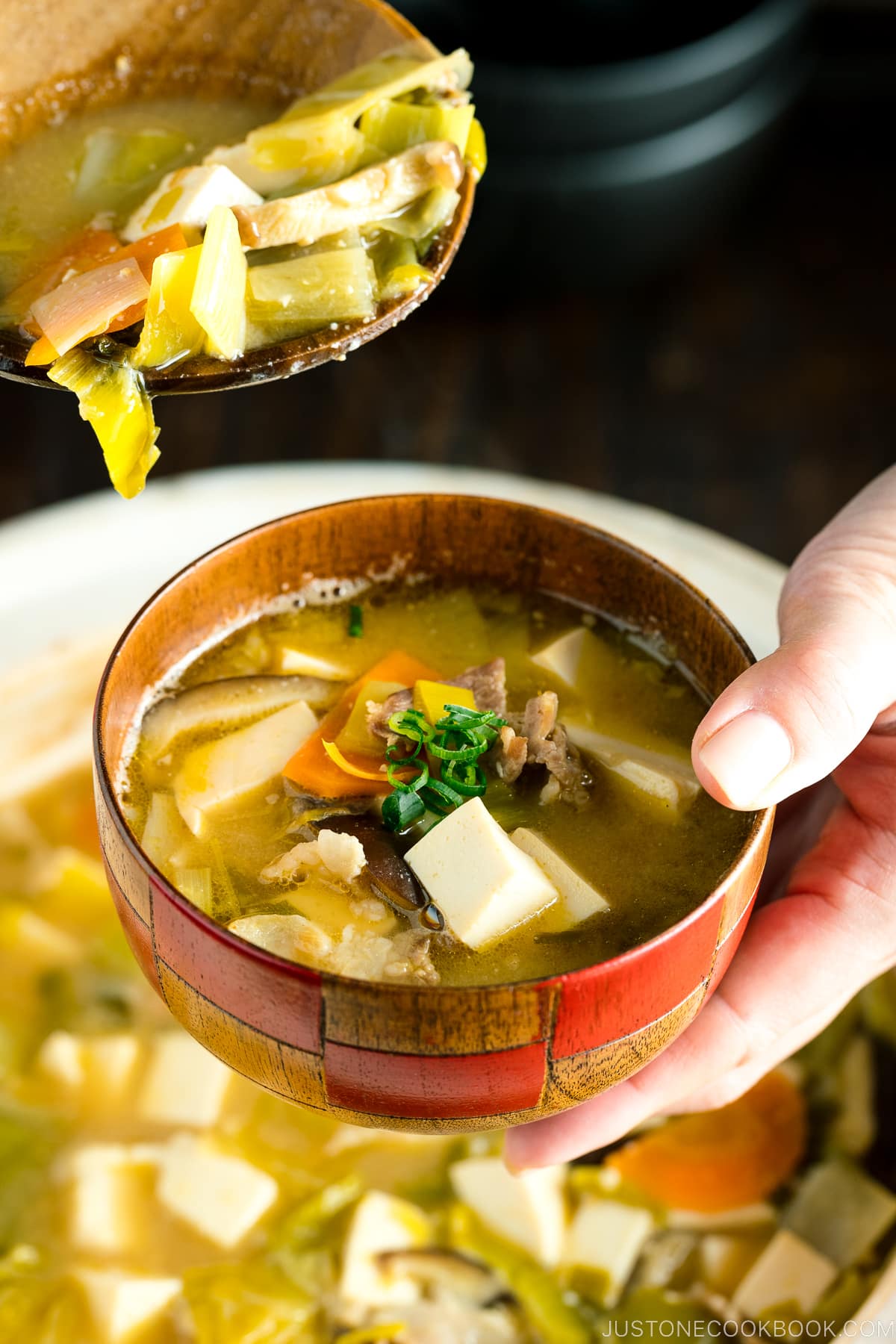 Soups are ideal for serving nutrient-dense foods that nourish our bodies. That is why the Japanese drink a warm bowl of miso soup almost every single day. There are many versions of miso soup one can make at home, but this Miso Soup with Yuzu Kosho is everything my family and I desire for dinner at home. Simmered in a dashi broth, it's deliciously layered with pork belly, shiitake mushrooms, sweet cabbage, carrots, leek, and tofu, and lightly spiced with a very special condiment – yuzu kosho.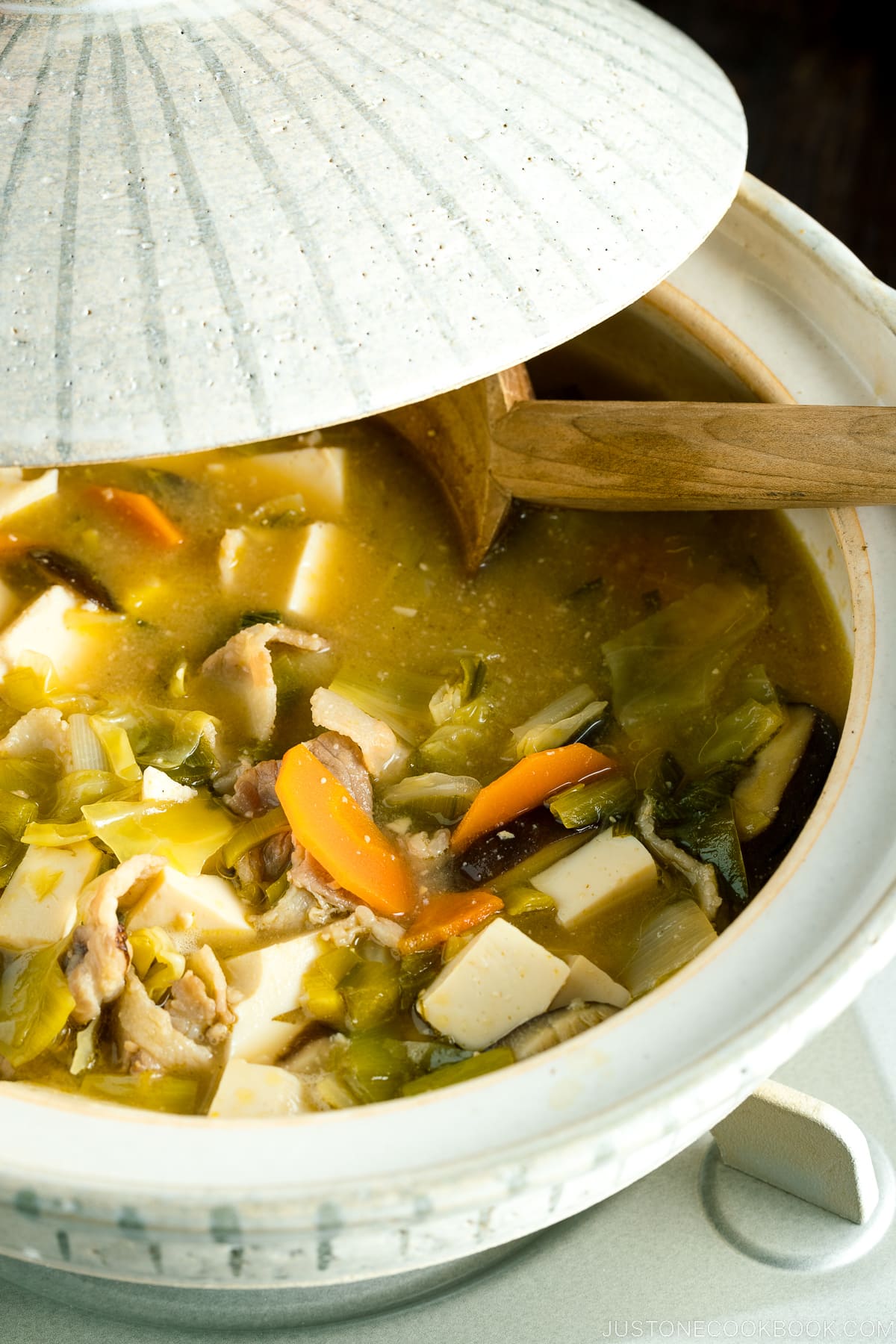 Miso Soup with Yuzu Kosho
I remember vividly when I first tried miso soup that was flavored with yuzu kosho. It was at a breakfast setting at a Japanese ryokan in Kurokawa Onsen, Kyushu (read here). The lady who served our hot breakfast told me to add in yuzu kosho to the miso soup. I thought I've heard her wrong and found myself repeating after her "yuzu kosho in miso soup?", but only with a highly dubious face. She smiled and gave me some reaffirmation nods.
Now, while I enjoy using yuzu kosho to season meat or to flavor yakitori and other dishes, I've never heard of seasoning miso soup with yuzu kosho. Curiously, I took the lady's advice and gave it a try. I first drank the miso soup as it was, and it was delicious, then I added a tiny bit of yuzu kosho to my soup and drank it again. Wow…I was blown away instantly!
Watching my deep satisfaction, Mr. JOC followed suit and added some yuzu kosho into his miso soup. Needless to say, he too was taken by how insanely delicious this little pepper paste did to the soup. We both happily drank up our soup and asked for okawari (second serving). The lady was so happy to see how amazed we were and she kept asking if we want another okawari.
Citrusy, slightly spicy, slightly salty but incredibly aromatic, who would have thought this condiment can add so much more punch to the everyday soup that I've been drinking all my life. I would never forget my first taste. Since we returned home to the States, we've been enjoying our miso soup with yuzu kosho frequently and we've been telling our friends and family about this little new discovery, and I would love for you to try it too.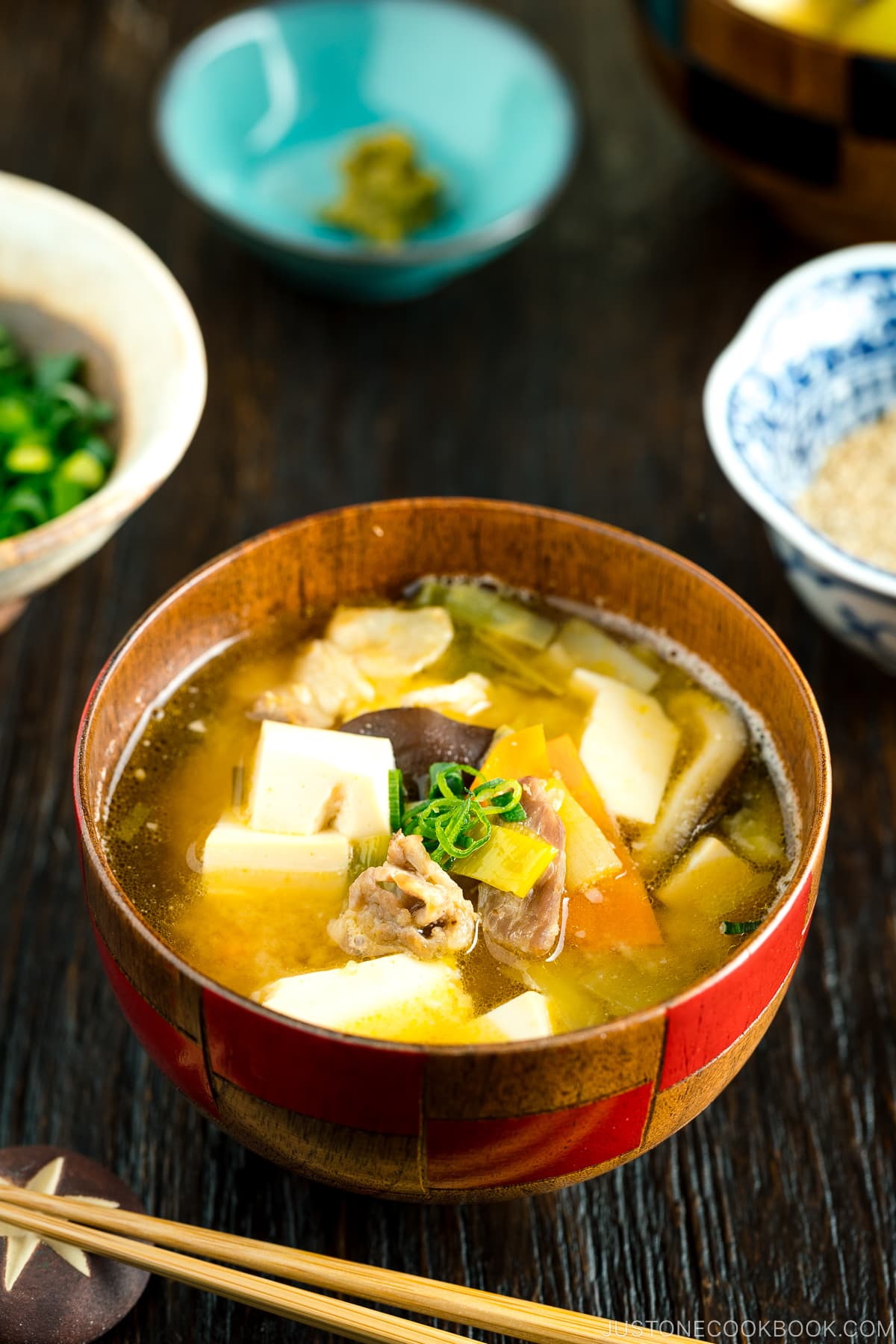 What's Yuzu Kosho?
Yuzu kosho is still a relatively unknown condiment to most outside of Japan, but when I was recently Google Trends searching Yuzu Kosho, I was surprised to see it actually has a higher result than the direct translation of "yuzu pepper". I think many Japanese restaurants are using Yuzu Kosho on their menus these days, and many customers are probably searching it on their phone while trying to decide what to order.
So what is yuzu kosho? Yuzu is a winter citrus that's used in Japanese cooking. It has a flavor somewhere between a lemon, mandarin orange, and grapefruit! It looks like this, and I have used this citrus to make Yuzu Sorbet. Yuzu kosho is simply a paste made from chili peppers, yuzu peel (when it's still green), and salt. It is then allowed to ferment to bring out the flavors even stronger.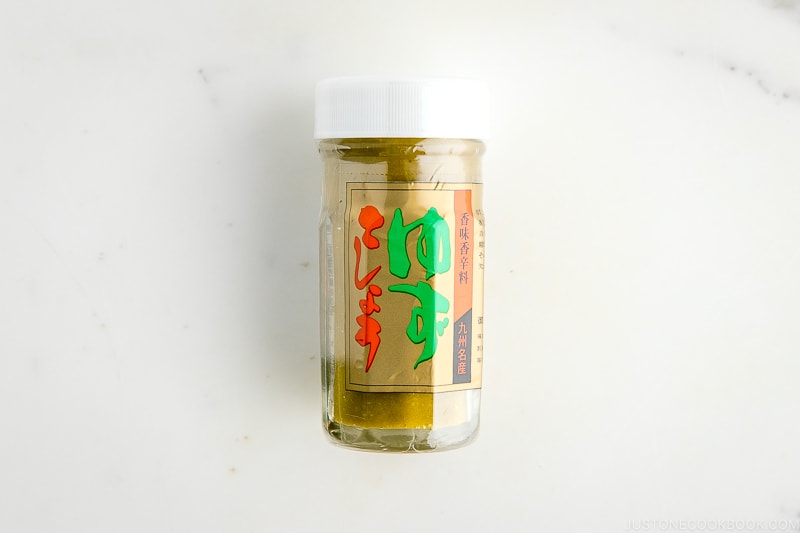 The best yuzu kosho is the one pictured above. It comes in a jar and costs about $8-9. You can find it in the spice aisle (where they carry wasabi, karashi mustard, shichimi togarashi, etc) at Japanese grocery stores. You can also find a different brands on Amazon.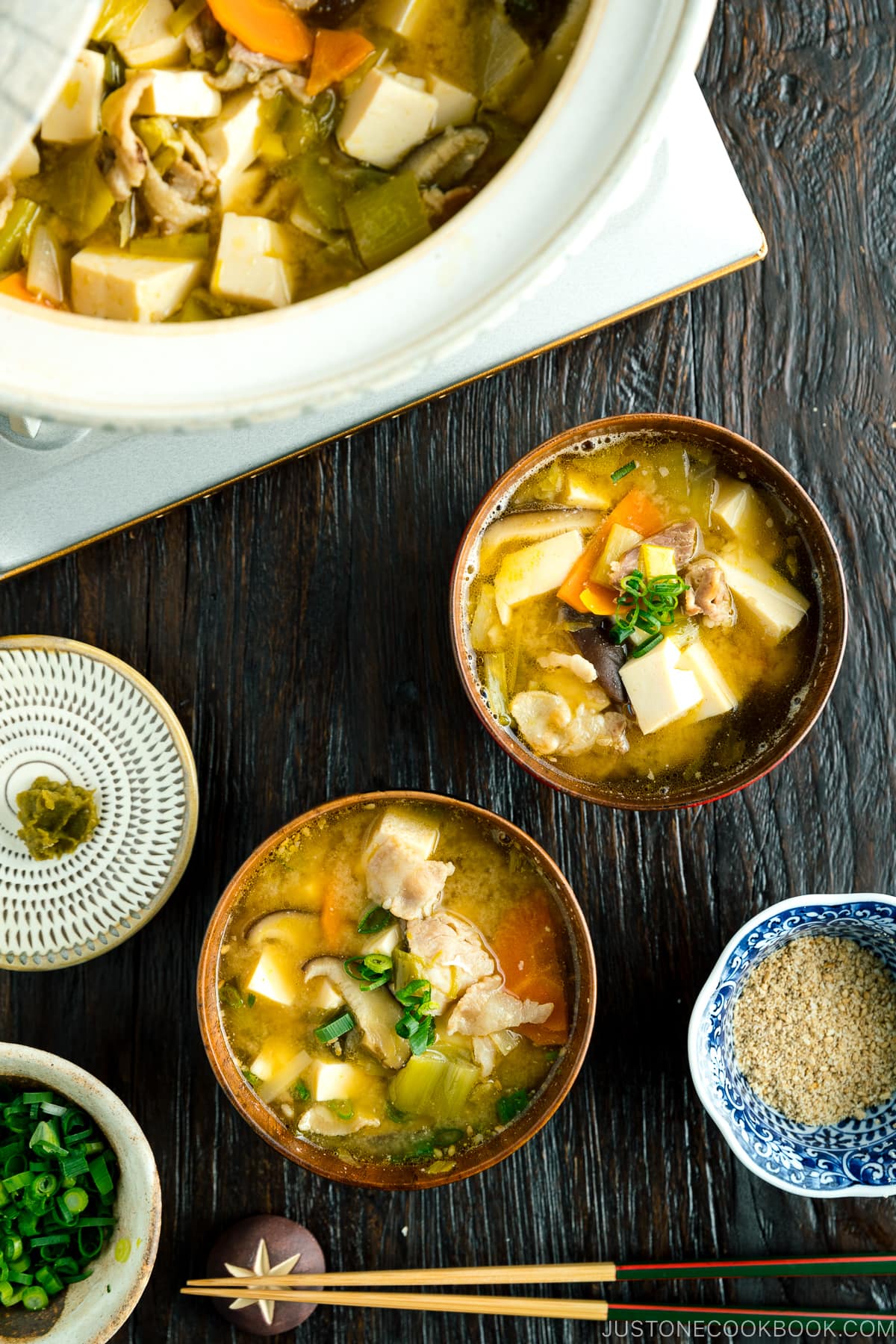 Substitutions and Variations
Miso soup is all about customization. If you couldn't find thinly sliced pork belly, that's okay. You can leave it out. Just know that pork belly is not bacon; it's the same cut as bacon but it is fresh/raw and not cured like bacon. Not a fan of mushrooms or tofu? That's okay too.
You can make a vegetarian/vegan version with kombu dashi (just leave out katsuobushi) and add in lots of vegetables. You can add pretty much any vegetable in your miso soup, even though they may not be the typical Japanese options. If you only have kale in your hands, of course, you can throw in some kale in your miso soup. Just because we don't use kale in Japanese food, it doesn't mean we can't have miso soup with kale.
If you're not sure with your selection of vegetables, leave a comment below and I'll see if it's a good match.
Whether you're making regular or vegetarian miso soup, you must use dashi for the soup broth. Do not substitute with chicken broth or water because dashi is the only ingredient that makes miso soup taste authentically Japanese.
If you love miso soup, I hope I've convinced you to add a jar of yuzu kosho to your pantry so you can have your miso soup with this amazing pepper paste. The spicy, citrusy and aromatic flavors of the condiment really do the trick to elevate the bowl of soup and everything just taste a whole lot more delicious.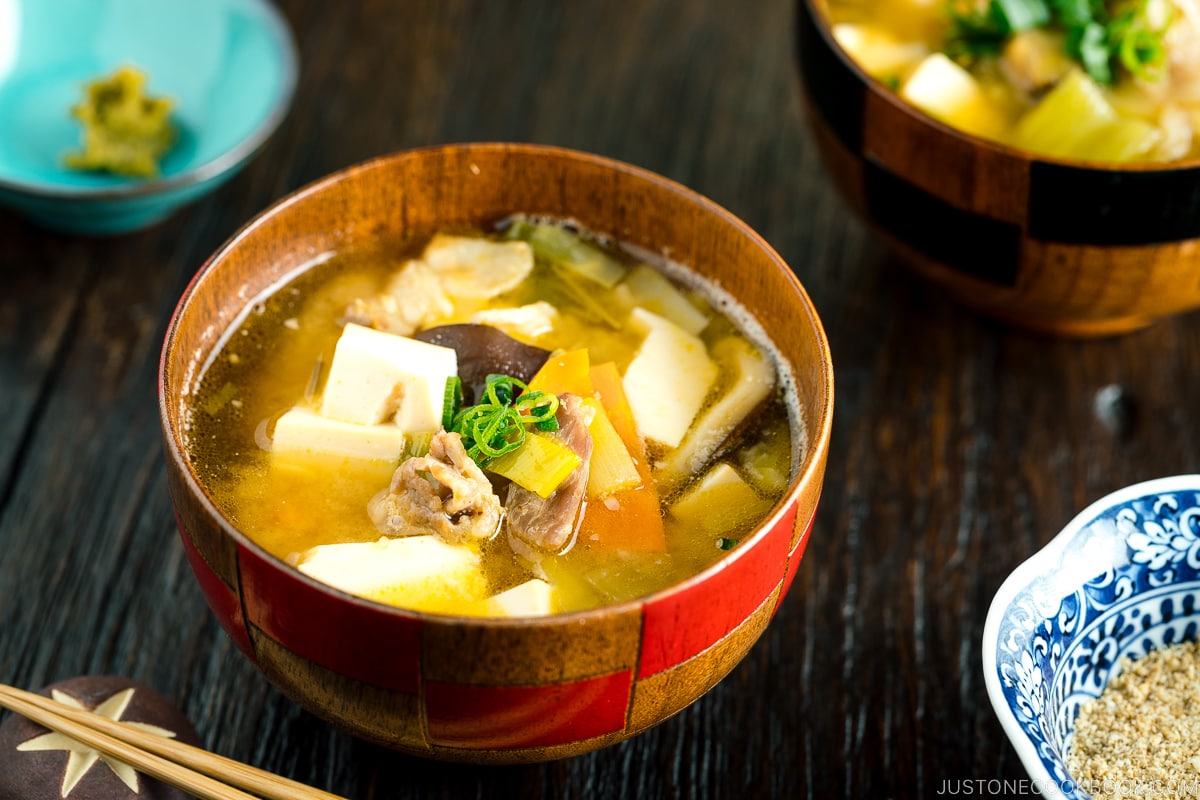 Wish to learn more about Japanese cooking? Sign up for our free newsletter to receive cooking tips & recipe updates! And stay in touch with me on Facebook, Pinterest, YouTube, and Instagram.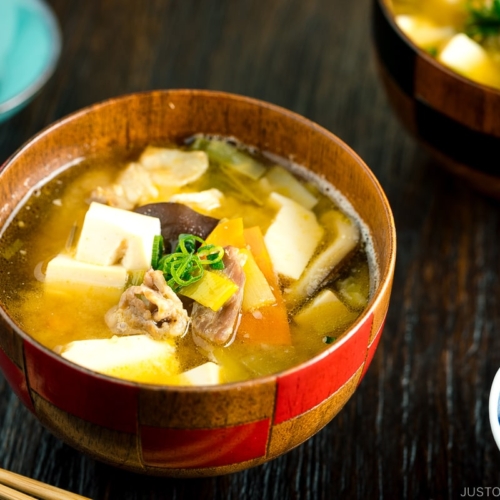 Miso Soup with Yuzu Kosho
Cozy up with this bowl of piping hot miso soup with yuzu kosho. Yuzu kosho is a Japanese citrus pepper paste that gives a kick to Japanese dishes like this hearty pork belly miso soup with loads of vegetables. After drinking this delicious miso soup, you will be hooked on this combination of miso soup and yuzu kosho!
Video
Japanese Ingredient Substitution:
If you want substitutes for Japanese condiments and ingredients, click
here
.
Instructions
Gather all the ingredients first.

To make dashi: In a measuring cup (or a large pot), add 4 cups water and kombu and let it steep. You can do this process overnight or as soon as you start preparing. This is kombu dashi. If you're using dashi powder or dashi packet, follow this tutorial, and use it at Step 12.

Cut the pork belly into 1 inch (2.5 cm) pieces.

Cut the leek in half lengthwise, and then cut the halves into 1-inch pieces widthwise. Rinse under cold water to make sure there is no dirt inside the pieces.

Cut the cabbage leaves into small pieces.

Remove the stem of shiitake mushrooms and slice thinly.

Cut the carrot in half lengthwise, and slice thinly. Cut the green onions thinly.

Transfer the kombu dashi into a pot (if you didn't use a pot at Step 2). Slowly bring the kombu dashi to a boil over medium low heat. When the water is almost boiling, remove the kombu to avoid sliminess. If you are vegan/vegetarian, skip next two steps (Step 9 and Step 10).

Add 3 cups katsuobushi and cook for 15 seconds. Then turn off the heat and let the katsuobushi steep in the pot for 15 minutes.

Meanwhile, in a separate large pot (or donabe), heat 1 Tbsp sesame oil over medium heat. Once the pot is hot, add the pork belly and stir to cook.

Once the pork belly is 80% cooked through, add 1 Tbsp sake and stir to combine. Then add chopped leeks.

Once leeks are wilted, add the rest of the vegetables and mushrooms. Stir to coat with the oil. Then using a fine-mesh strainer, strain the dashi into the pot.

Bring the soup mixture to a boil, skimming the foam and scum on the surface while cooking. Turn off the heat and add 2 Tbsp miso first, and then gradually add in more as you taste the soup. Each miso brand and type of miso tastes differently and the sodium level varies, so you want to taste before adding more miso.

Add the tofu into the soup and turn on the heat to continue to simmer until tofu is nice and warm (tofu is edible chilled, so you don't have to worry about "cooking" it). Just make sure not to let the miso soup boil. It should take not more than 3-4 minutes to warm the tofu, and the soup is now ready.

Before serving, scoop out a small portion of Yuzu Kosho from the jar and place it on a small plate. Grind 2 Tbsp sesame seeds and put in in a small bowl. Serve them alongside with the donabe or soup pot. After you ladle the soup into individual serving bowls, add a pinch of Yuzu Kosho, sprinkle sesame seeds, stir in and enjoy!
To Store
You can keep the leftovers in an airtight container and store in the refrigerator for up to 3 days and in the freezer for 2 weeks.
Nutrition
Nutrition Facts
Miso Soup with Yuzu Kosho
Amount per Serving
% Daily Value*
* Percent Daily Values are based on a 2000 calorie diet.
©JustOneCookbook.com Content and photographs are copyright protected. Sharing of this recipe is both encouraged and appreciated. Copying and/or pasting full recipes to any website or social media is strictly prohibited. Please view my photo use policy
here
.