Tofu, the creamy white soybean blocks, are a staple in many Asian cuisines. It's nutritious, loaded with many health benefits, and comes in many shapes and firmness.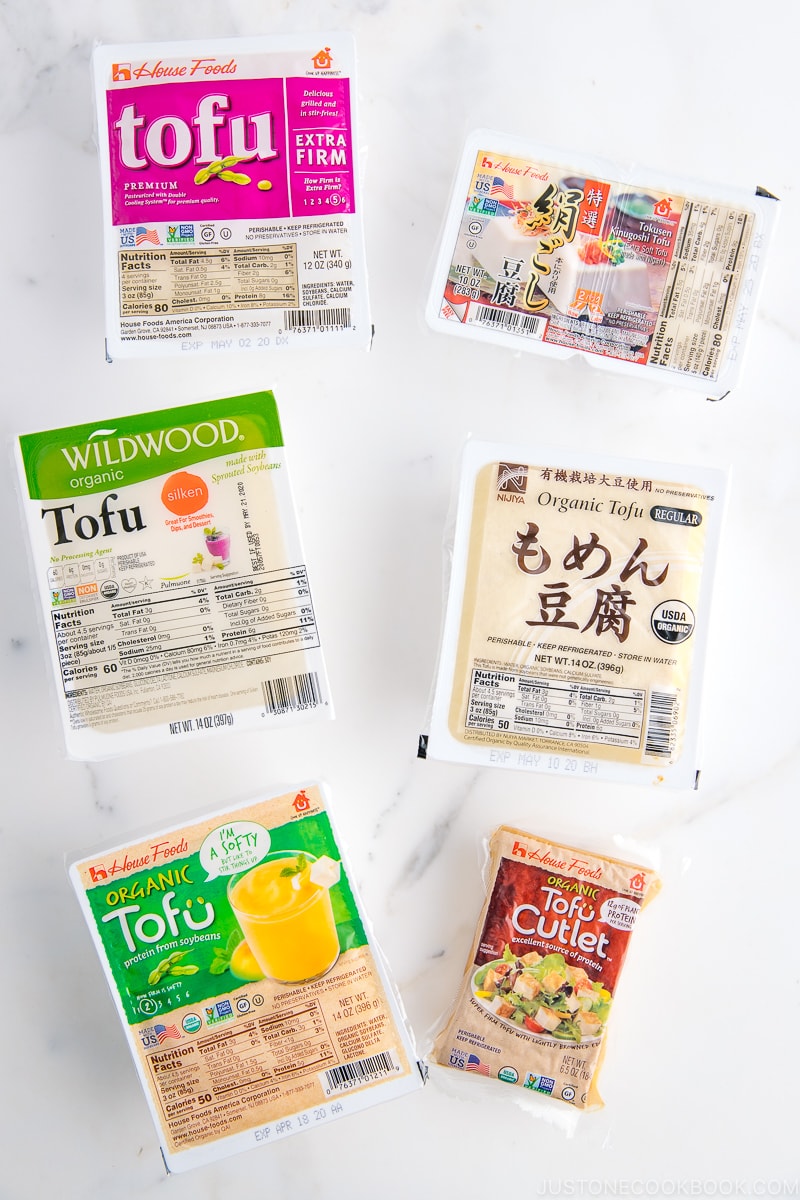 Tofu (豆腐) or bean curd has been around for a long time and is considered an ancient food for Japanese and many Asian cuisines. It may be the original meat substitute, but there's more to it.
If you want to eat more plant-based foods, familiarize yourself with the world of tofu!
What Is Tofu
Tofu is soybean curd and is renowned for its plant-based protein.
These white blocks and curds come in various shapes and forms. In Japanese cooking, it is well-treasured and considered a must-have pantry item. We love it because it's incredibly versatile, affordable, and nutritious. Because it is an inexpensive source of protein, it's said to be one of the best poor man's food. Four ounces of firm tofu has nine grams of protein and only 80 calories!
The basic process is similar to cheese making. It is made by cooking whole soybeans in water, grinding them, and straining the soymilk. The soymilk is then coagulated and then pressed into soft white blocks. The liquid is strained from the solids, dictating the final texture and type.
Its popularity has spread worldwide beyond the vegetarian and health food community. In the U.S., tofu has existed since the 70s and is now a mainstream food product. It stands up well to stir-frying, deep-frying, and baking. It's a great addition to any Asian or non-Asian dish.
Tempeh is another soy-based protein, but it is made from compressed whole fermented soybeans. It's higher in protein and fiber than tofu and has a firmer, chewier texture.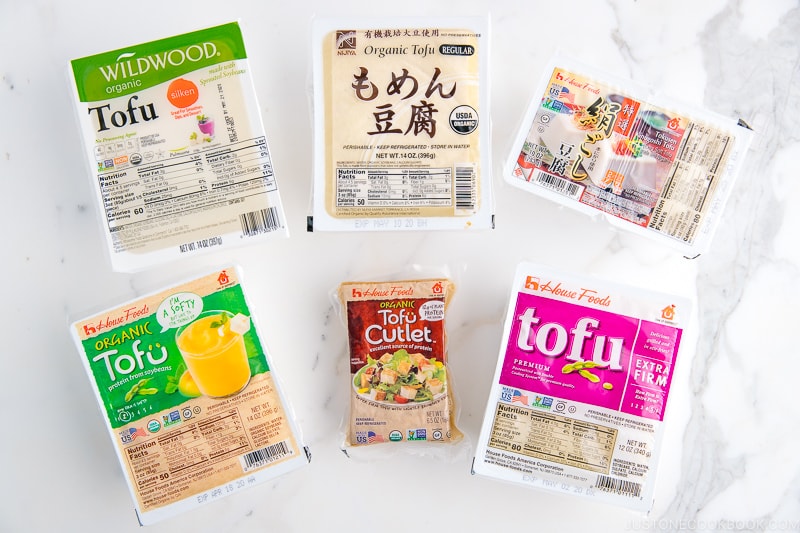 What Does It Taste Like
It has a mild, subtle beany flavor and slight sweetness. The texture is relatively smooth, with a consistency ranging from custardy to extra firm. The coagulant makes a difference in the varieties.
For those who are new or unfamiliar with it, some may think it's bland and lacks flavor.
The beauty lies in its transformative ability, which can easily absorb flavors. It can be the star of the main dish, as a side that complements your meal, or as a secret binder to improve the texture of your food. Besides savory dishes, you can even use it to make desserts or smoothies!
Varieties
In Japan, you can find countless versions of tofu products. In the U.S., the most common varieties include:
1. Silken Tofu (Soft Tofu)
The undrained, unpressed silken tofu has the highest water content and a custardy texture. Different brands can have varying consistencies depending on how much soy protein it contains. It can be eaten as is but works well when blended with other ingredients or used as a thickener. It doesn't hold shape well, so be extra careful when handling it.
Uses and recipes: Use in classic Japanese dishes such as Miso soup and Mapo Tofu. They are also great in smoothies, desserts, puddings, salad dressings, sauces, and dips.
2. Regular Tofu
Regular tofu is pressed, has a spongy texture, and comes in several varieties, from medium to extra firm. They are sold in liquid-filled containers to help preserve freshness. Drain the excess liquid by lightly pressing the block on paper towels before use.
Medium to Medium-Firm: It works well in soups and hotpot dishes.
Firm to Extra Firm: These types have minimum water content, bounce, and firm texture. They are best in stir-fries and fried dishes.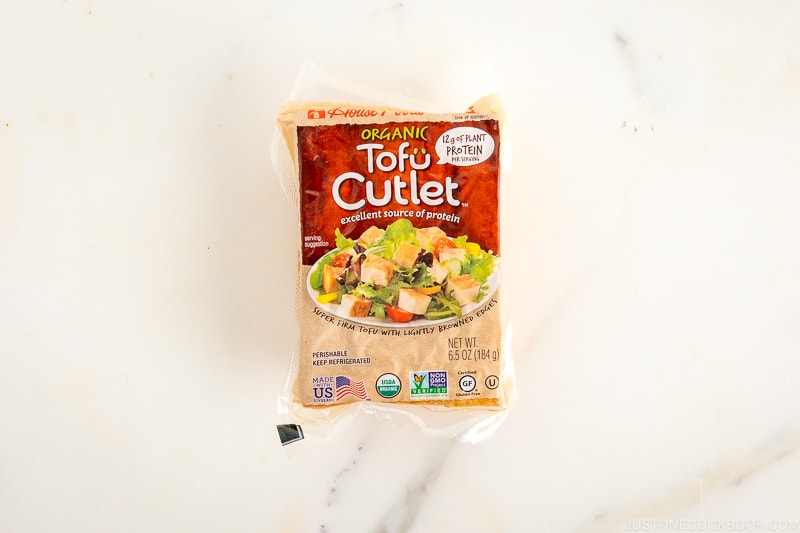 Think of tofu as a blank canvas! Here are just some ideas:
Marinate and pan fry it.
Slice it and put it on the grill.
Use it in simmered dishes.
Enjoy it cold with just a simple drizzle of soy sauce.
Crumble and mix it with ground meat for the best-textured burger or meatballs.
Pan fry and use it as a pizza base.
Mash it and use it as a dressing over blanched vegetables.
Use it in desserts!
What To Do with Leftovers
If you don't use an entire block, place leftovers in an airtight container, soak it in cold water, and store it in the refrigerator for up to three days. Replace the water every day.
Can I Freeze It?
You can freeze it. Chop them into cubes, freeze them on a baking sheet, and throw them together in a freezer container once they harden. Thaw on the counter for at least an hour before cooking, and squeeze out any extra moisture. It will have a firmer, chewier, and almost sponge-like texture. You can cook it just as you would fresh.
Delicious Recipes Using Tofu
Where To Buy
Most US grocery stores carry at least one or two types, often in the refrigerated section with meat-substitute products or the produce section with Asian vegetables.
Japanese and Asian grocery stores offer diverse options such as flavored, deep-fried, egg tofu, yuba, noodles, and fermented.
Health Benefits
It is high in protein and contains all the essential amino acids your body needs. Here are just some of the many nutritional benefits.
Contains soy isoflavones, which may help lower blood pressure, high levels of which may increase your risk of heart disease
Lowers LDL (harmful cholesterol levels)
High in calcium, manganese, and iron
May promote brain and bone health
Enhance the skin and hair, boost energy, and help maintain a healthy weight.
---
Wish to learn more about Japanese cooking? Sign up for our free newsletter to receive cooking tips & recipe updates! And stay in touch with me on Facebook, Pinterest, YouTube, and Instagram.