Japanese-style Mapo Tofu (Mabo Dofu) is incredibly flavorful but a lot less spicy than the original Sichuan dish. This is a family-friendly recipe that children will enjoy, too. It's a delicious yet simple weeknight meal that's ready in just 30 minutes!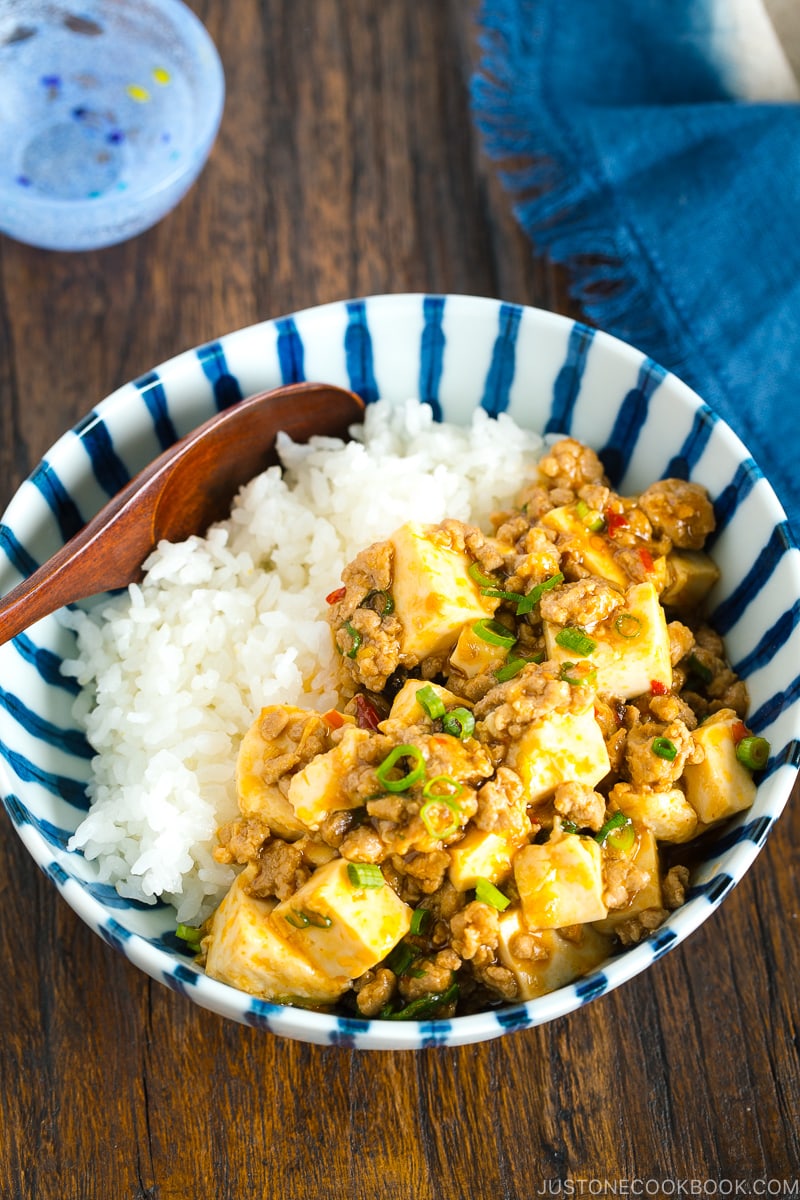 Mapo Tofu (麻婆豆腐) is easily one of our family's favorite meals! It is so simple to make yet incredibly soul-satisfying. I love making the dish on a hectic weeknight when 30 minutes is all that I could spare to cook dinner for the family.
We often eat mapo tofu donburi-style, with the tofu-and-sauce mixture over fluffy steamed rice. Yes, who doesn't like a one-bowl meal for easy cleanup! I think you and your family are going to enjoy it.
What is Mapo Tofu?
Mapo tofu is a popular Chinese dish from Sichuan province known for its fiery bright red sauce. The classic recipe is made with simmered silken tofu flavored with ground pork or beef, fermented bean paste (douban and douchi), chili oil, and Sichuan peppercorns. The dish is spicy, aromatic, deeply flavorful, and has a unique numbing character imparted from the Sichuan peppercorns.
While the Sichuan-style mapo tofu is known for its boldness and intensity, the Japanese version has a milder character as it has been adapted to the Japanese palate. Nevertheless, Japanese mapo tofu is still packed with lots of umami— thanks to the layering of flavors. Also, the spice level is tamed. If you're looking for a not-spicy mapo tofu, this recipe is for you!
I'd say Japanese mapo tofu is ideal for anyone who is spice adverse and even your kids will devour it.
Introduction of Mapo Tofu to Japan
In Japan, mapo tofu is called mabo dofu and it's written either as 麻婆豆腐 or マーボー豆腐 in Japanese.
How did the dish arrive in Japan you might wonder? It was introduced to Japan in the 1970s by Chen Kenmin, a famous Chinese chef in Japan. I mentioned Chef Chen in my previous post here. He was the culinary hero that brought many popular Chinese dishes to the Chinese restaurants in Japan.
Thanks to Chef Chen, you'll find a number of famous Chinese dishes such as mapo tofu, ebi chili (chili prawns エビチリ), and beef and bell pepper stir-fry (chin-jao ro-su 青椒肉絲) in Japan.
These dishes have been enjoyed in Japanese households for almost half a century! In Japanese grocery stores, you can find a whole array of convenient ready-to-eat sauces for these popular dishes. I remember seeing these packages in my mom's kitchen pantry too.
Difference between Chinese and Japanese Mapo Tofu
There are many versions of mabo dofu within Japan and each household cooks it differently.
So what ingredients do we use in the Japanese mabo tofu that are not included in the original Chinese mapo tofu? The majority of mabo dofu in Japan includes miso, mirin or sugar, sesame oil, oyster sauce, and occasionally sake.
Most distinctly, Japanese mabo dofu doesn't include any chili or Sichuan peppercorn. The only "spicy" element comes from doubanjiang, spicy bean paste. However, if you can find a Taiwanese brand of doubanjiang, you can buy a non-spicy doubanjiang (豆瓣酱) or spicy doubanjiang (辣豆瓣酱) with red chili in it. More about it in the next section.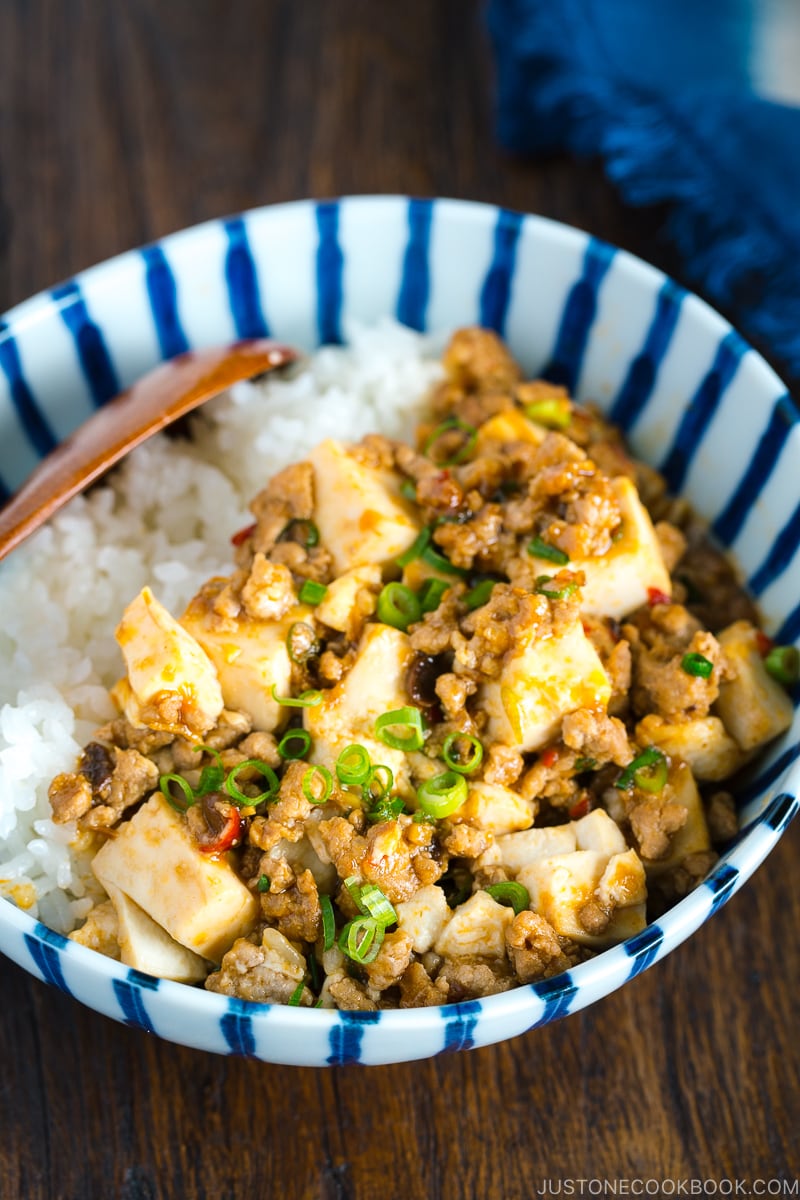 Ingredients in This Mapo Tofu Recipe
Here's what you'll need for this recipe:
Ground pork – turkey, chicken, or beef can be used (although it's not common)
Soft tofu
Aromatics: Green onions, ginger, garlic
Condiments: Doubanjiang (spicy/non-spicy broad bean), miso, mirin, oyster sauce, soy sauce, sesame oil, and potato starch (cornstarch)
The Key Ingredient is Doubanjiang
This is truly a simple dish to make. The only caveat is you do need to have chili bean paste called doubanjiang (豆瓣酱).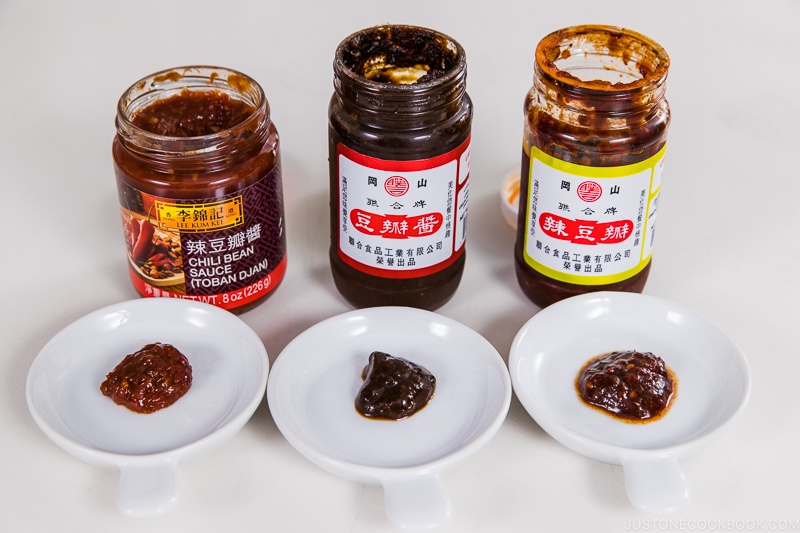 Doubanjiang is a combination of fermented broad beans as the main ingredient, soybeans, and often hot chilies. The salty, savory, umami-rich paste adds an incredible depth and character to mapo tofu that you should not substitute.
Non-Spicy Doubanjiang: Did you know that there is NON-SPICY doubanjiang? Taiwan, Hong Kong, and Guandong in China have non-spicy doubanjiang. It has the same savory depth in the paste, but without the heat. To distinguish the two versions, the Sichuan doubanjiang is called la-doubanjiang (辣豆瓣醬, "la" (辣) meaning 'hot' or 'spicy').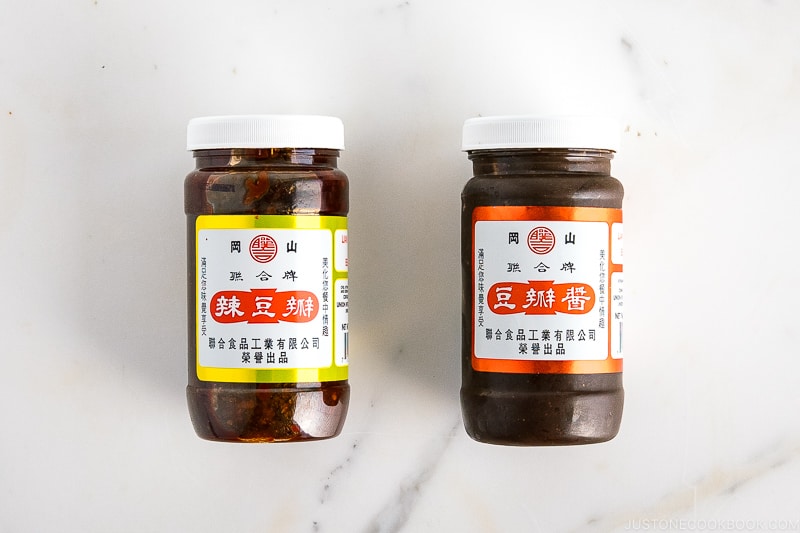 When the kids were small, I used only non-spicy doubanjiang to make my mapo tofu. Taiwanese brands like Kangshan (岡山) (above) and Ming Teh (明德) offer the doubanjiang made from fermented broad beans and soybeans, as well as the spicy version with chili.
You can get these Taiwanese brands at local Asian markets. Amazon does not sell the non-spicy doubanjiang at this time (please let me know if you find one).
Doubanjiang Substitute: If you really can't find doubanjiang, you can use gochujang (Korean chili paste; spicy) or doenjang (Korean soybean paste; non-spicy). However, the ingredients are slightly different and have different flavor profiles.
The Best Tofu for Mapo Tofu Recipe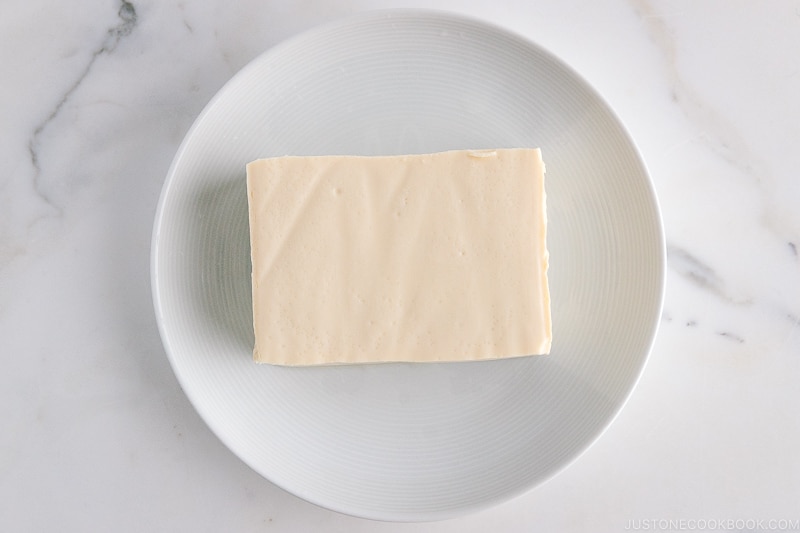 There are many different types of tofu available, but I recommend using soft tofu for the best texture. Soft tofu is smooth, soft, and creamy, which pairs beautifully with the savory sauce and ground meat. It works best for both Japanese-style mabo dofu and the authentic Sichuan mapo tofu.
How to Make Mapo Tofu
Mapo tofu is a very easy dish and my son can make it by himself. This was one of the first few recipes he learned to cook over the summer break one year. He loves this dish so much and wanted to be able to cook it on his own. Here's the overview.
Prepare all the ingredients.
Cook the aromatics and ground pork in a frying pan or wok.
Add the sauce ingredients and let it simmer until the sauce starts bubbling.
Add the tofu and coat it with the sauce until the flavors infuse.
Serve on its own or with steamed rice!
Now you have one reliably satisfying dish for the family. I hope you enjoy my Japanese Mapo Tofu recipe!
5 Cooking Tips on Making Mapo Tofu
Measure and cut all the ingredients before cooking.
Combine all the sauce ingredients in a small bowl.
Drain the tofu ahead of time, if you can spare 15 minutes ahead of time. This prevents tofu from releasing moisture into the mapo tofu sauce.
Don't burn the garlic and ginger when stir-frying. You don't want to add a burnt bitter taste to the sauce.
Carefully stir the tofu: Tofu can easily break and becomes mushy. You should shake the pan to coat the tofu with the sauce and less spatula action.
FAQs
Q: Can I use this recipe to make vegan or vegetarian mapo tofu?
Yes! Use finely diced shiitake mushrooms in place of the ground pork. Both fresh and dried mushrooms would work. And use vegetarian stir-fry sauce.
Q: Can I use another kind of ground meat instead of pork?
Sure, you can use ground chicken or turkey. Ground beef will have a stronger flavor, but it should be fine.
Q: Can I adjust the spice level?
You can cut down on doubanjiang (spicy bean paste) or use the Taiwanese non-spicy doubanjiang I mentioned earlier. If you like it slightly spicier, sprinkle la-yu (Japanese chili oil).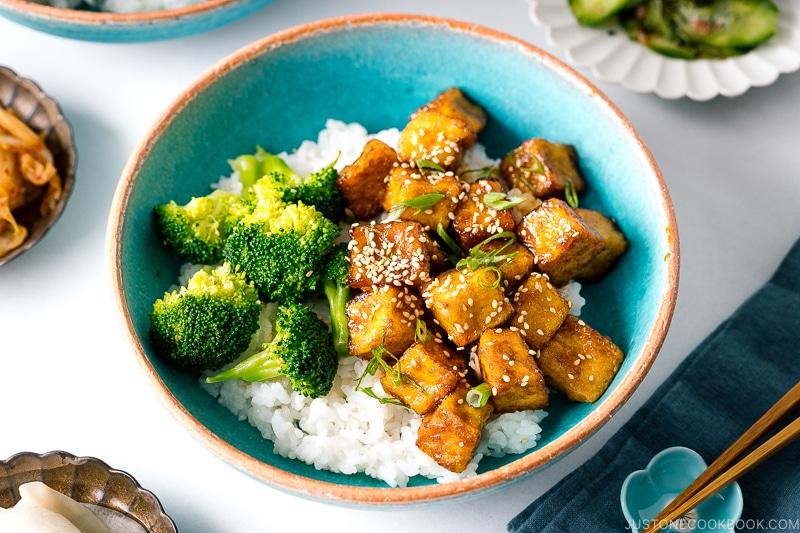 More Delicious Tofu Recipes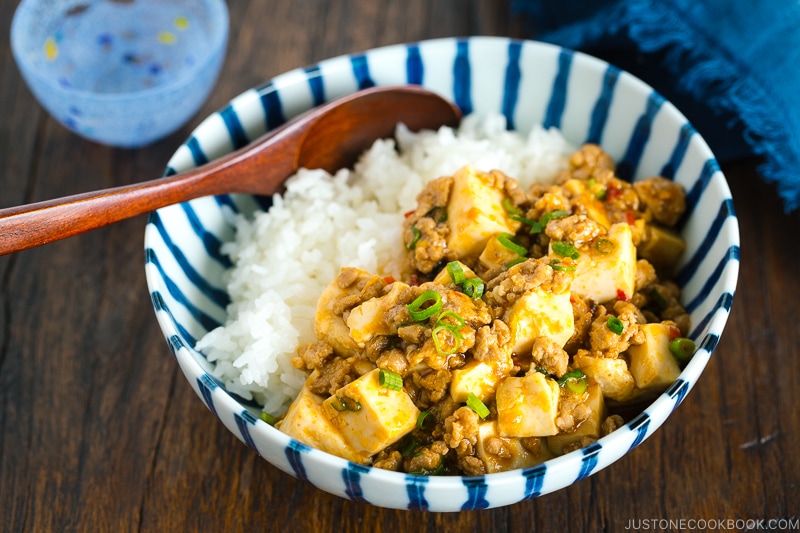 Wish to learn more about Japanese cooking? Sign up for our free newsletter to receive cooking tips & recipe updates! And stay in touch with me on Facebook, Pinterest, YouTube, and Instagram.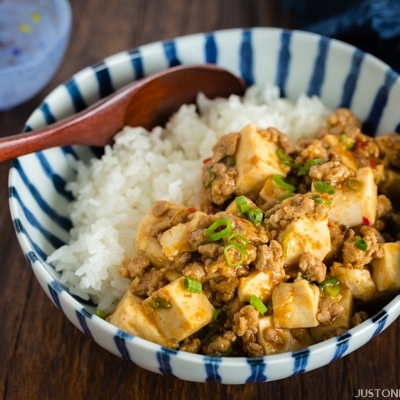 Mapo Tofu (Mabo Dofu)
Japanese-style Mapo Tofu (Mabo Dofu) is incredibly flavorful but a lot less spicy than the original Sichuan dish. This is a family-friendly recipe that children will enjoy, too. It's a delicious yet simple weeknight meal that's ready in just 30 minutes!
Video
Ingredients
For the Mapo Tofu
2

cloves

garlic

1

Tbsp

ginger

(minced)

2

green onions/scallions

1

Tbsp

neutral oil

½

lb

ground pork

(or your choice of meat and veggies)
Japanese Ingredient Substitution:
If you want substitutes for Japanese condiments and ingredients, click
here
.
Instructions
Gather all the ingredients.

Combine all the ingredients for the seasonings (

2½ Tbsp doubanjiang (spicy chili bean paste)

,

2 Tbsp mirin

,

1 Tbsp miso

,

1 Tbsp oyster sauce

,

½ Tbsp soy sauce

,

1 tsp toasted sesame oil

,

1 tsp potato starch or cornstarch

, and

4 Tbsp water

) in a bowl and mix well together.

Finely mince

2 cloves garlic

. Mince the ginger and measure

1 Tbsp ginger

.

Cut

2 green onions/scallions

into small pieces. Drain

14 oz soft/silken tofu (kinugoshi dofu)

and cut into 1-inch (2.5 cm) cubes.
To Cook the Mapo Tofu
Heat a large frying pan on medium heat. When it's hot, add

1 Tbsp neutral oil

. Add the garlic and ginger to the pan and sauté in the oil (make sure they don't burn). Once they are fragrant, add

½ lb ground pork

and break it up with a spatula or wooden spoon.

When the meat is no longer pink, add the seasonings mixture and stir thoroughly. Bring the sauce to a boil.

Once the sauce is boiling, add the tofu and gently coat it with the sauce. Stir frequently, without mashing the tofu, until it is heated through. Add the green onions and stir to incorporate just before taking the pan off the heat.
To Serve
Serve immediately. Enjoy Mapo Tofu over steamed rice as a one-bowl meal.
To Store
You can keep the leftovers in an airtight container and store in the refrigerator for up to 3 days or in the freezer for a month.
Nutrition
Nutrition Facts
Mapo Tofu (Mabo Dofu)
Amount per Serving
% Daily Value*
* Percent Daily Values are based on a 2000 calorie diet.
©JustOneCookbook.com Content and photographs are copyright protected. Sharing of this recipe is both encouraged and appreciated. Copying and/or pasting full recipes to any website or social media is strictly prohibited. Please view my photo use policy
here
.
Editor's Note: The post was originally published on January 29, 2011. The video and new pictures were added to the post on May 6, 2016, without any change to the recipe. The post has been republished with more content on May 25, 2022.