La-yu is an aromatic reddish-brown Japanese Chili Oil that adds a touch of spicy kick and nutty savoriness to your favorite Japanese dishes and more!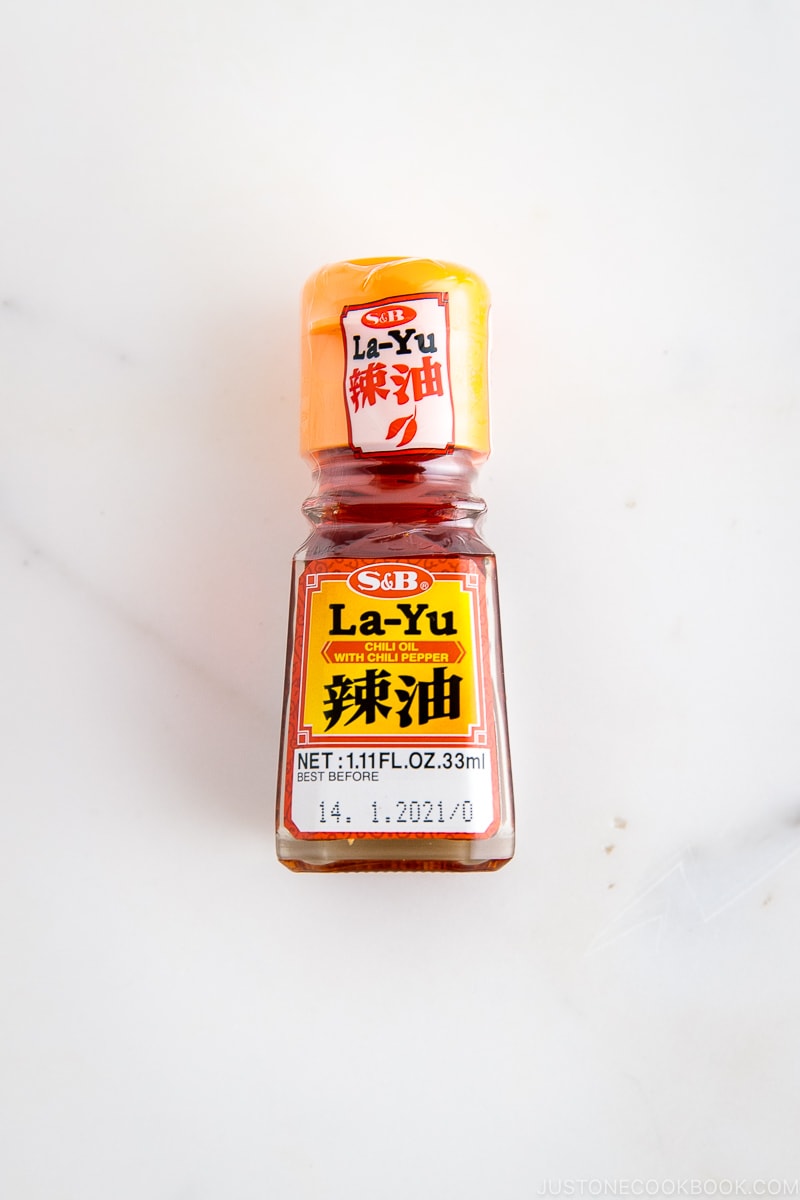 Hot, spicy, and intensely fragrant, la-yu (ラー油, 辣油) is one of Japan's best-kept condiment secrets. This popular Japanese chili oil enhances Japanese-style Chinese dishes (Chuka Ryori 中華料理) such as pan-fried gyoza dumplings, tonkotsu ramen noodles, and yakisoba. It can transform any dish with a spicy kick and umami hit.
What is La-yu
La-yu (spelled as layu or rayu) is a Japanese chili oil made of sesame or neutral oil with red chili peppers. It has a bright red color and is used as a flavorful seasoning.
You can use this versatile and popular condiment as a finishing oil on steak and meat dishes to season noodle soups, dipping sauce for gyoza, salad dressings, or marinades.
What Does It Taste Like
The spiciness will vary by brand, but it's usually not fiery. A few drops will go a long way.
Varieties of La-yu
Traditional la-yu (ラー油, 辣油): This is the most common Japanese chili oil. You can find commercial brands such as S&B Foods and House Brands that carry this style.
Taberu rayu (食べるラー油): Loosely translated into 'eating chili oil,' this chili oil is boosted with crunchy little bits of fried garlic, ginger, and Japanese green onion. Compared to the traditional la-yu, it has an extra textural and aromatic dimension. You can use it as a finishing oil to spice up dishes or as a standalone dipping sauce for your favorite dim sum, such as shumai, shrimp har gao, etc. Some people even mix a spoonful into a bowl of plain steamed rice. You can even use it as an ingredient to make Japanese rice balls (Onigiri).
Where To Buy
You can find la-yu at Japanese or Asian grocery stores and online stores. The most common brands are S&B La-yu and House Brands Rayu Chili Oil. It's easy to recognize the commercial la-yu by their tiny little red bottles.
Homemade La-yu Recipe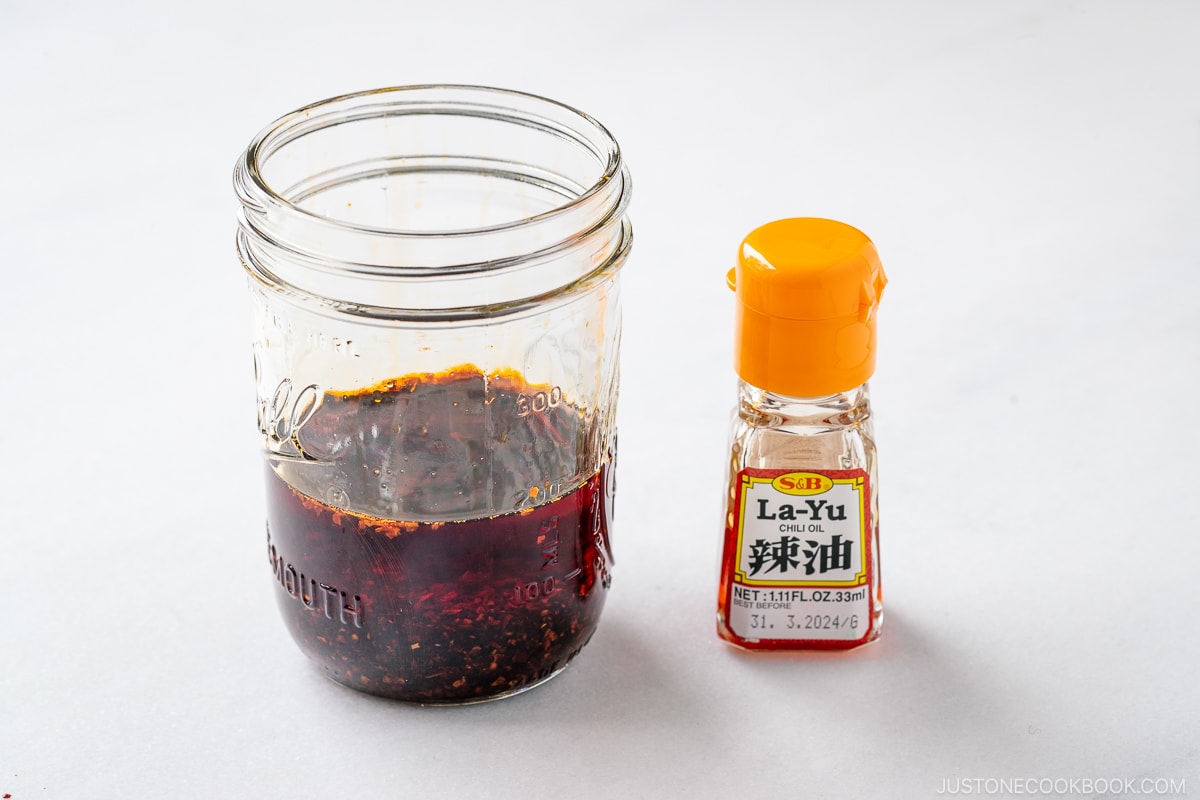 You can also make it from scratch – Homemade La-yu Recipe. It also keeps well for a long time, so it's worth making your own! Store in an airtight container at room temperature.
As commercial varieties usually use corn oil or canola oil, using untoasted sesame oil will increase the flavor and aroma.
How To Store
Store your la-yu in a dark, cool kitchen cabinet to keep the red color from fading. Store homemade la-yu in a glass jar in the refrigerator for 1-2 months.
How To Use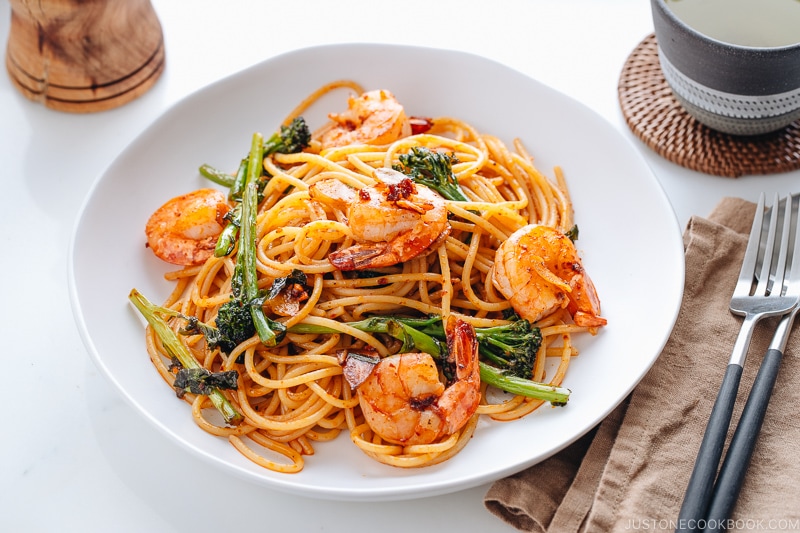 This aromatic chili oil is a versatile condiment. Even though la-yu is most commonly used in rounding up Japanese-style Chinese dishes, don't let it stop there.
Here are some ideas:
As finishing oil for ramen like Miso Ramen and Tan-Men, Vegetable Yakisoba, or Wonton Soup.
As a dipping sauce for Gyoza (Japanese Potstickers), Vegetable Gyoza, and dim sum staples such as Shumai (Steam Pork Dumplings).
As dressing for cucumber salad or blanched or grilled vegetables.
Spice up Japanese-style wafu pasta, such as Pasta with Shrimp and Broccolini
Lends a spicy umami kick to fried egg, udon, noodle dishes, onigiri, Japanese-style pizza, and more!
Substitutions
Depending on the dish, you could substitute with a few shakes of ichimi togarashi, shichimi togarashi, or chili powder.
---
More Japanese Condiments to Add to Your Pantry
🛒 You can also buy these condiments on our Essential Japanese Pantry on our SHOP page.
---
Wish to learn more about Japanese cooking? Sign up for our free newsletter to receive cooking tips & recipe updates! And stay in touch with me on Facebook, Pinterest, YouTube, and Instagram.