These Vegetable Gyoza are stuffed with a fresh and light filling of tofu, cabbage, carrots, and shiitake and king oyster mushrooms. Crisp on the bottom and juicy on the inside, it's love at first bite! I serve them with a tangy homemade dipping sauce and a dash of chili oil. You don't have to be vegetarian or vegan to enjoy these satisfying Japanese pan-fried dumplings.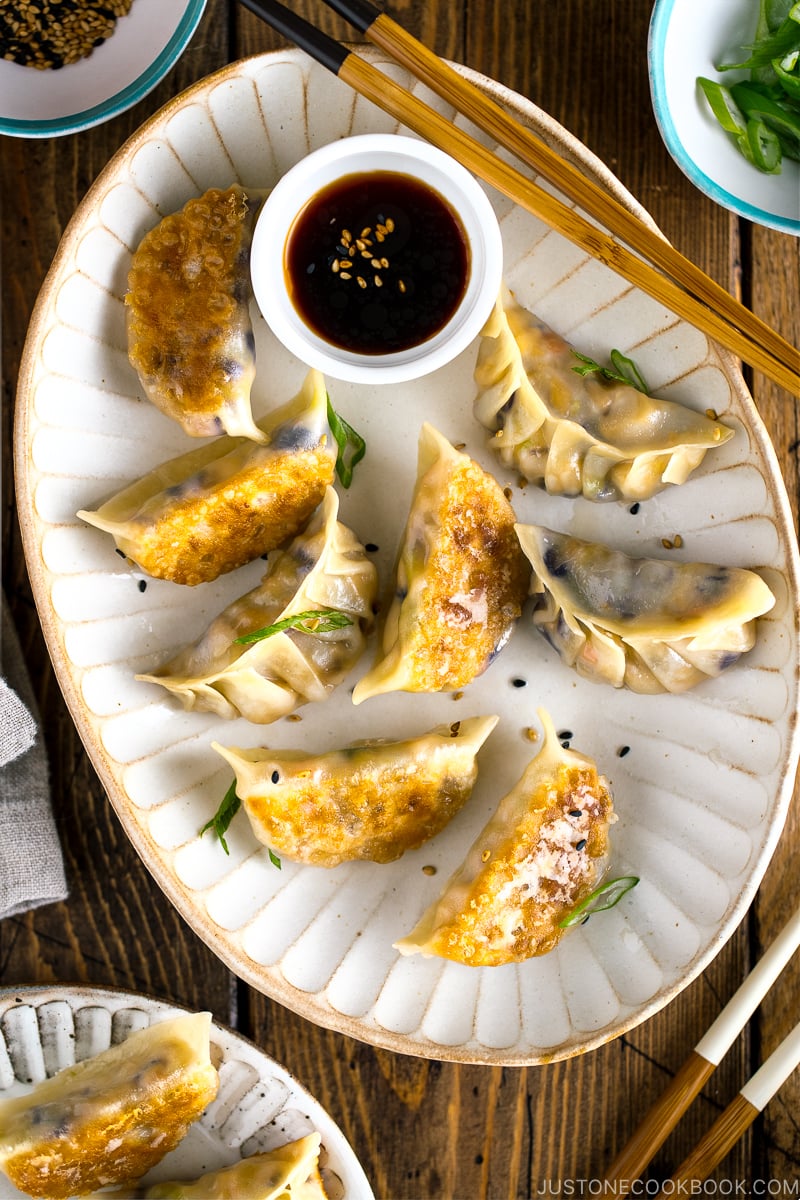 I've gotten many requests for a vegetarian gyoza recipe. After a series of testing and refining, I'm proud to share this truly amazing Vegetable Gyoza (野菜の餃子) with you today. They are packed with fresh, earthy, and savory vegetables that my family devours with excitement each and every time. It will make a great addition to your dumpling party!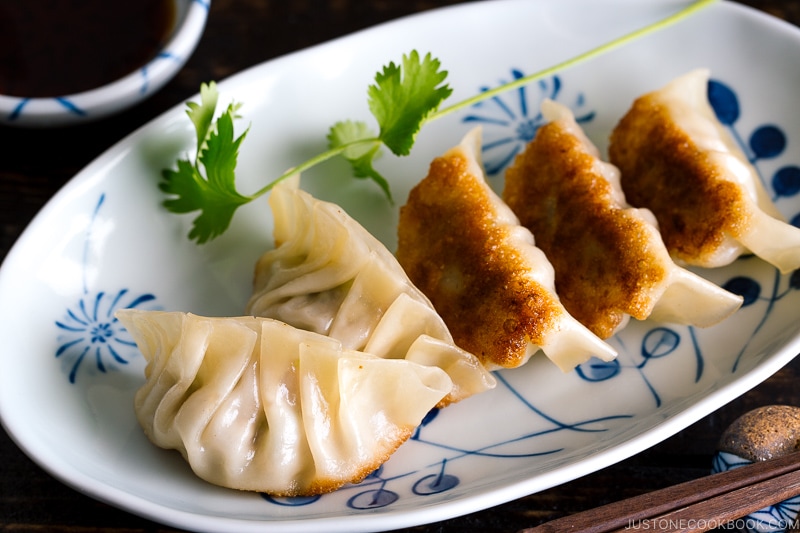 Why You'll Love This Vegetable Gyoza
Here's the reason why this Vegetable Gyoza is for EVERYONE, not just vegetarians and vegans.
SO delicious – I just have to include this, because it's true!
A lighter filling – The delightful mix of tofu, vegetables, and mushrooms creates a light and healthy filling.
Pack with umami – With the right combination of ingredients and seasonings, the dumplings are bursting with textures and flavors.
A great dish for EVERYONE – Guarantee this will be popular for both vegans/vegetarians and meat-eaters! You can easily add a platter of easy chicken wings or teriyaki chicken meatballs to accompany this dish.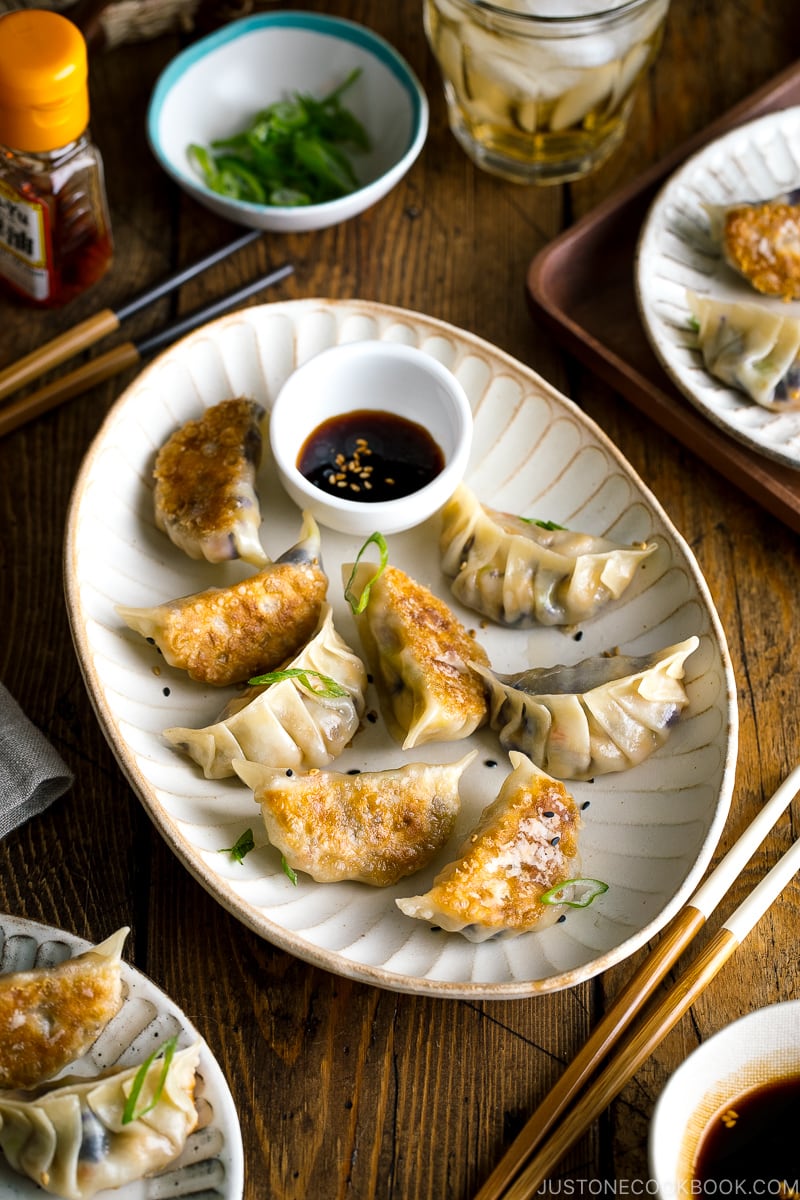 Gyoza for Beginners
Gyoza (餃子) is the name for Japanese pan-fried dumplings. They are originally from China but evolved to suit Japanese taste.
The classic Gyoza is typically made with pork and cabbage filling. Compared to Chinese dumplings, gyoza usually contains a higher ratio of vegetables than meat. You'd also notice that the dumpling skin is much thinner, making the crisp texture a big feature of gyoza.
If you're interested in making traditional Gyoza, Japanese pan-fried dumplings, click here.
There are many paths to creating vegetarian or vegan dumplings. The general rule is to use ingredients with different textures. Also, ingredients such as mushrooms can make a big difference in adding umami, so you can create a satisfying flavor, even without meat.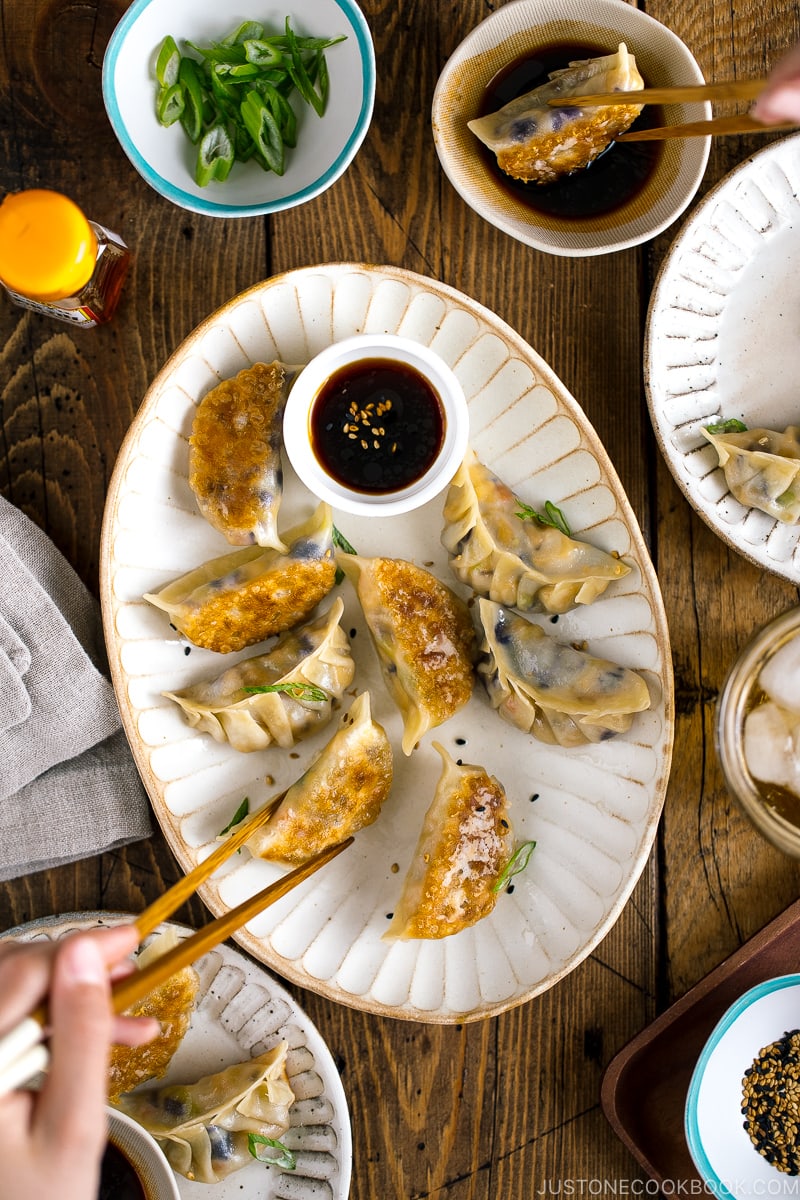 The Main Ingredients You'll Need:
The Filling
I generally recommend using dense ingredients which has less moisture but feel free to experiment with other ingredients.
Firm tofu – If your tofu is not firm, you just have to press it for a longer time to release the moisture.
Cabbage – I use two types; a green one for taste and a purple one for color.
Mushrooms – I use two types; shiitake mushrooms for their deep earthy flavor and king oyster mushrooms for "meaty" texture.
Carrots – The sweet fresh taste and bright color of carrots contrast beautifully with the rest of the mixture.
Onion – Once cooked, it brings sweet flavor.
The Seasonings
These umami-packed seasonings are all important!
Soy sauce – The Japanese soy sauce brings out the familiar Japanese flavors to the dish.
Miso – Don't underestimate the flavor boost from miso. Use saltier (darker) miso for a more robust flavor.
Sesame oil – A touch of sesame oil adds an irreplaceable aromatic flavor.
Ginger – The slightly spicy zing from the ginger gives a bright note.
Garlic – It adds pungency and aroma and of course everything tastes better with it!
and salt and pepper.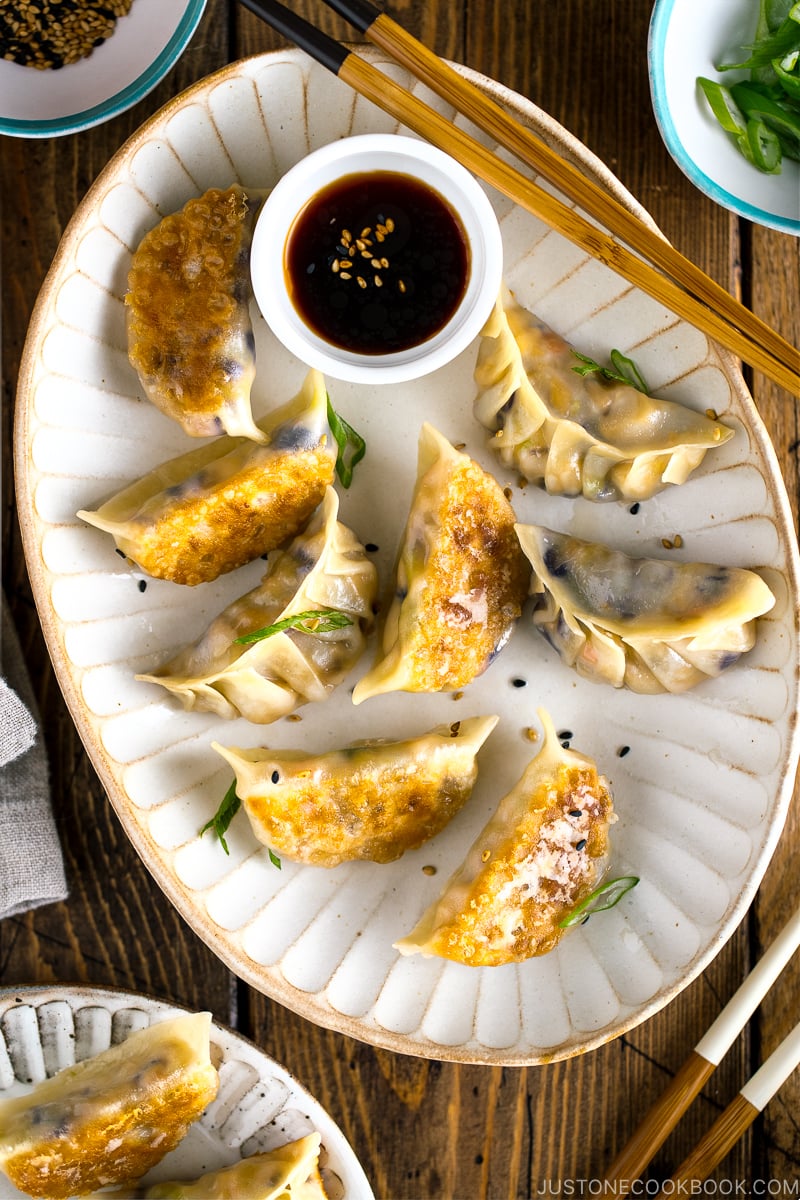 The Right Gyoza Wrappers
To make Japanese-style pan-fried dumplings, it would be ideal to use Japanese brand gyoza wrappers as they are thinner and sometimes smaller.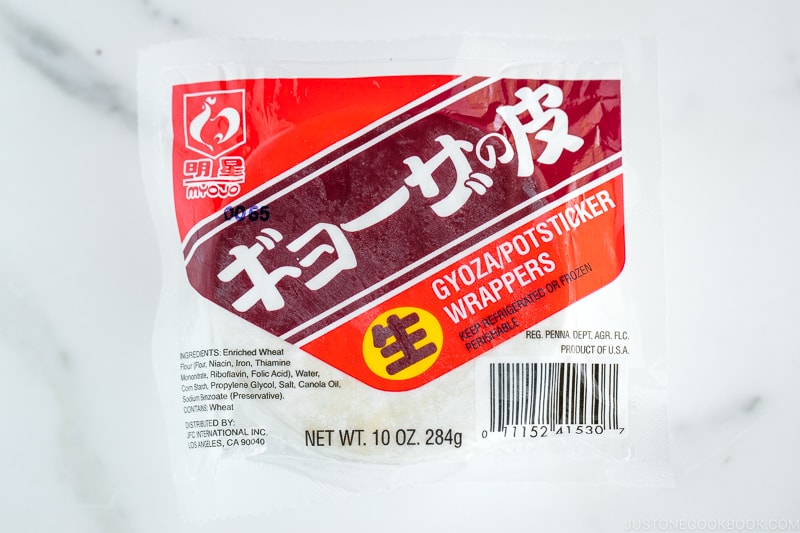 Where to Buy: I use this Myojo brand Gyoza wrappers that I get from the refrigerator or freezer section of the Japanese grocery store. Unfortunately, they are perishable and not available online.
Frozen Gyoza Wrappers: Defrost in the refrigerator overnight or on the counter for 60 minutes (depending on the amount and room temperature). Do not defrost in the microwave.
Keep Gyoza Wrappers Moist: Once the package is opened, make sure to keep them covered under a damp paper towel or plastic wrap; otherwise, the edges will start to dry out and can't be used.
How to Make Gyoza Wrappers at Home
If you can't get gyoza wrappers in Japanese or Asian grocery stores, the last option is to make your gyoza wrappers at home.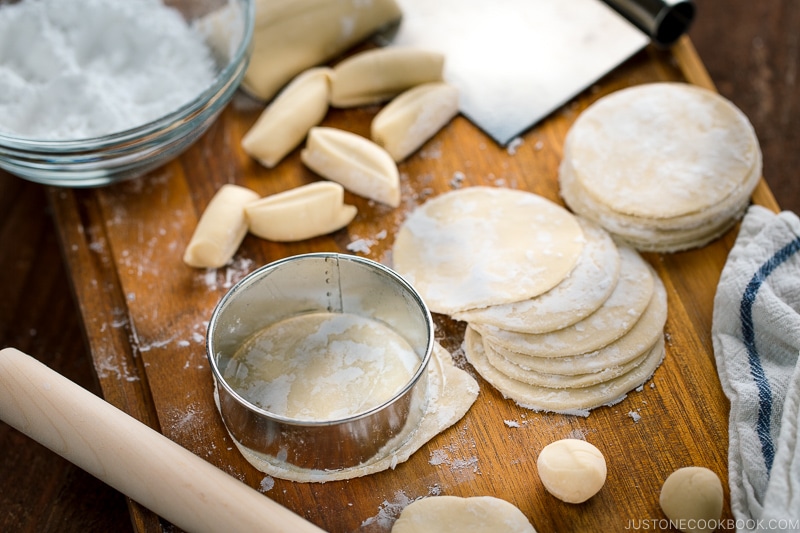 Making your own wrappers at home can be quite satisfactory. All you need is 3 ingredients – flour, salt, and water!
How to Fold Gyoza Wrappers
If you had never made dumplings, you probably concern about the folding technique. Honestly, those beautiful pleats on gyoza are not necessary. You can just wet the skin around the skin and fold in half tightly and pan fry. As long as the seam is closed tightly, it would work!
However, when you have time and up for a challenge, pleating and folding the gyoza can be gratifying. I've been folding gyoza wrappers since I was small, helping my mom make thousands of gyoza at home. So I can tell it's all about practice, and soon you can do it even with your eyes closed.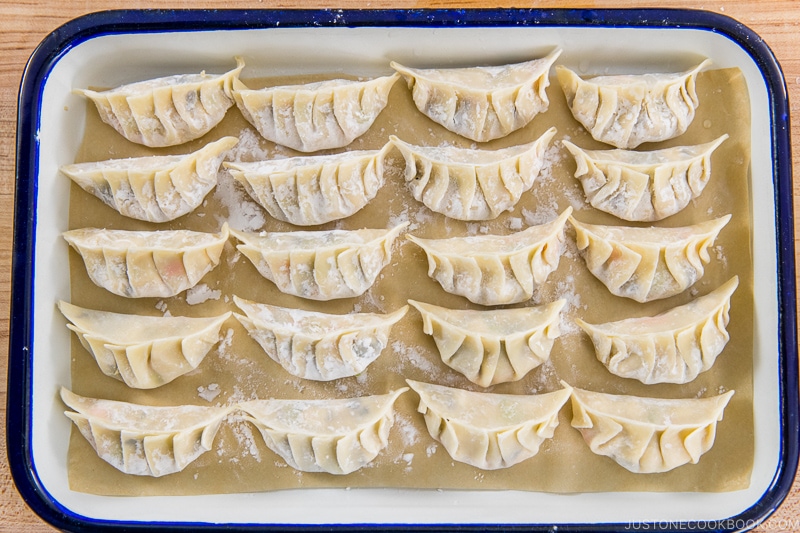 In this post, I'll show you how I fold gyoza toward the center, which I think is easier because you can make pleats evenly. I have shared the tutorial on how to fold gyoza wrappers but I'll quickly explain here.
1. Wet the gyoza skin with water around the edge.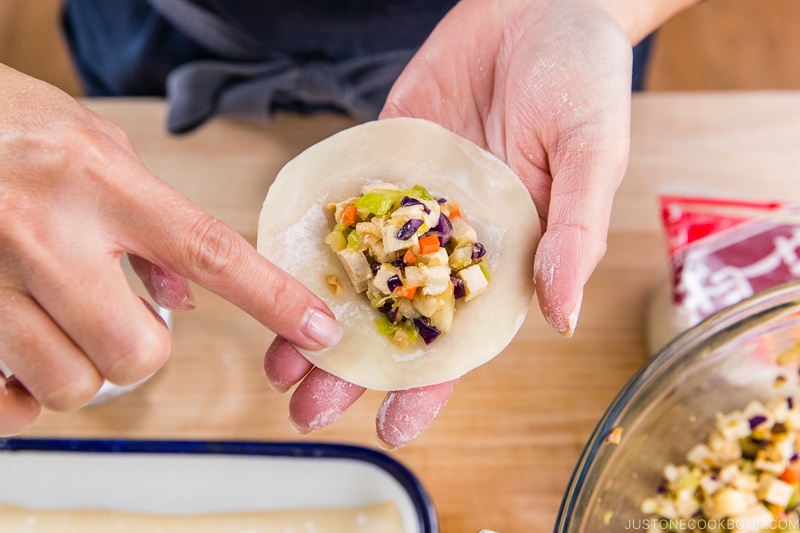 2. Fold the wrapper in half and pinch the center with your left thumb and index finger.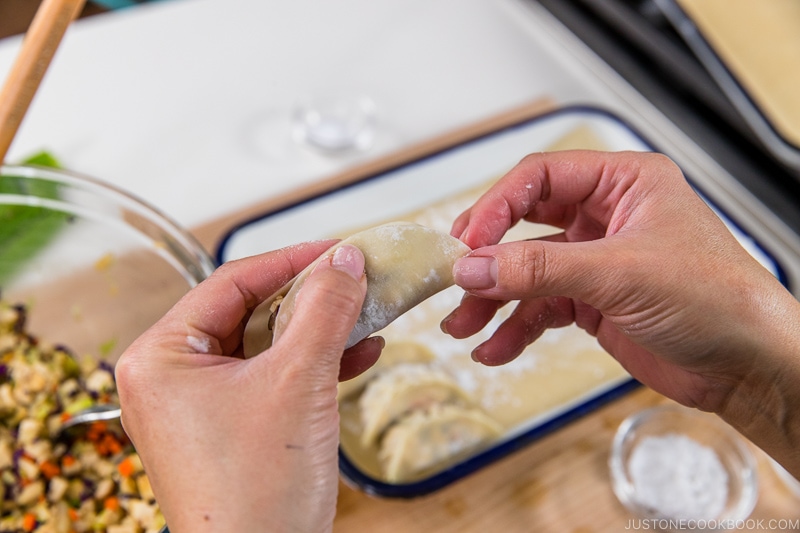 3. Hold the right top skin and make a pleat from the center toward the right side.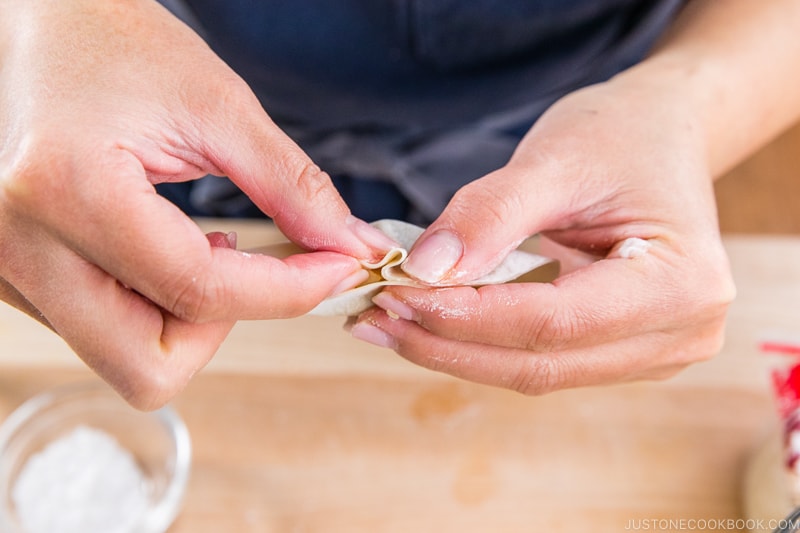 4. Once each pleat is made, press it down with your left thumb. Make 3-4 pleats.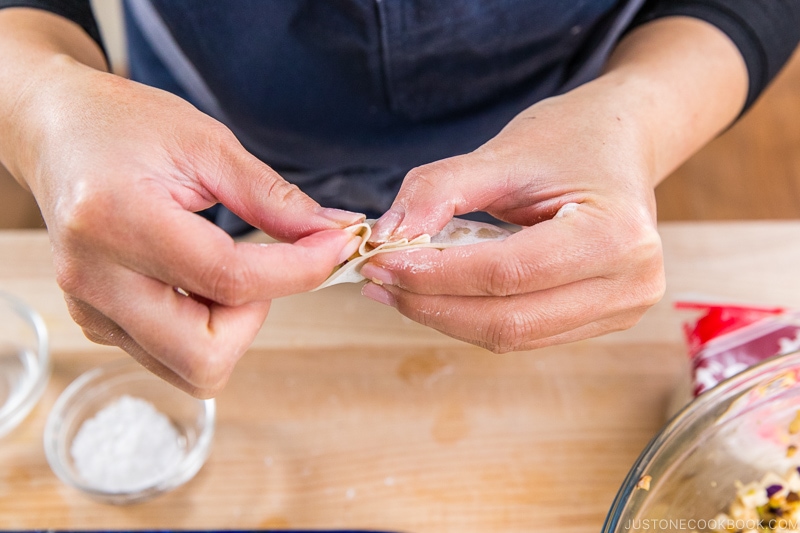 5. Repeat the other side.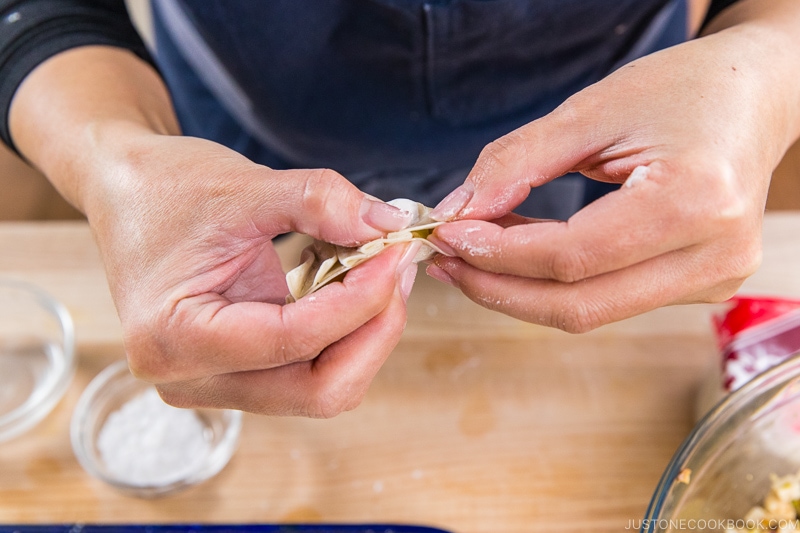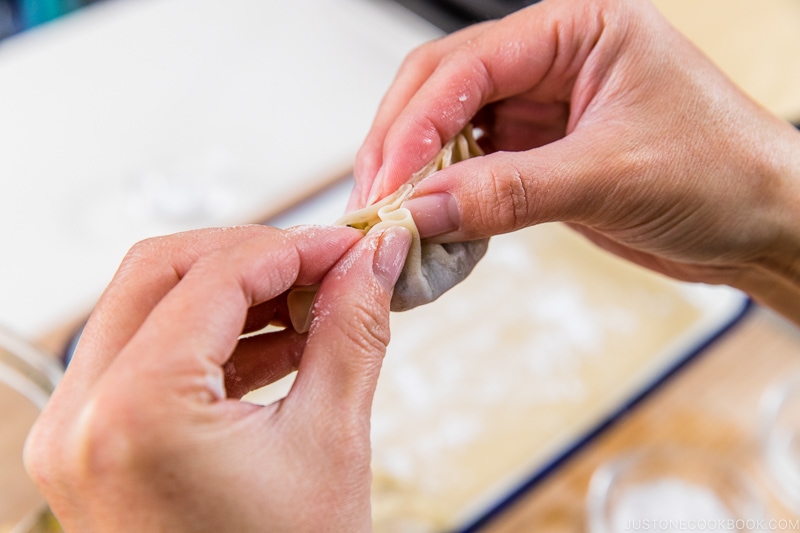 6. Press the pleats tightly (make sure no air pockets!) and shape the gyoza to look pretty.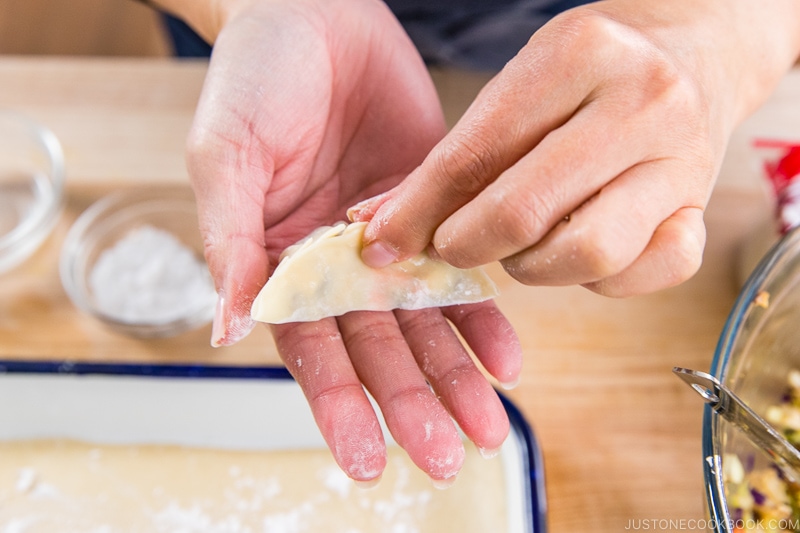 5 Important Tips on Making Gyoza
1. Cut the ingredients into uniform shapes and sizes.
To evenly mix and distribute, it's important to cut all the ingredients into similar shapes and sizes. For example, if you are cutting all ingredients into small cubes/mince, do not cut one ingredient into julienne pieces.
The mixture will get cooked equally at the same time, and you'll find it easier when folding the dumplings. Overall, it's a good cooking technique and habit to apply.
2. Do not introduce moisture in the filling.
We want to minimize moisture in the filling as much as possible; otherwise, the gyoza skin will absorb the liquid and tear. There are 2 ways to keep your filling relatively dry.
Use dense vegetables and do not use ingredients that have high moisture content.
Use potato starch or cornstarch to help absorb the moisture (including seasonings) and glue everything together.
3. Don't pack air pockets in the gyoza.
When you stuff the filling in the gyoza skin, try to release the air pockets by pushing out the empty space. Any air pockets will create balloons that blow out in the gyoza when you steam. It's not a "bad" thing, but you can avoid that and it looks neater when your gyoza is completely filled up.
4. Pan-fry till nicely golden brown before steaming.
Make sure the pan and oil are hot when you put the gyoza in the pan. Let the bottoms of the gyoza cook till golden brown. This is the only time you can ensure the color of gyoza.
5. After steaming, pan-fry till crisp again.
After browning the bottoms of the gyoza, let it steam to cook the filling and skin. The big plus for Vegetable Gyoza is that unlike the traditional pork filling, we do not have to worry about under-cooking the meat.
Once the steaming is done, open the lid and let the water evaporate. Gyoza will look wet and soggy, but it will become crisp on the bottom again when you cook it with a small amount of sesame oil for a few minutes. Give the bottoms of gyoza a nice long contact with the hot surface (don't touch too much).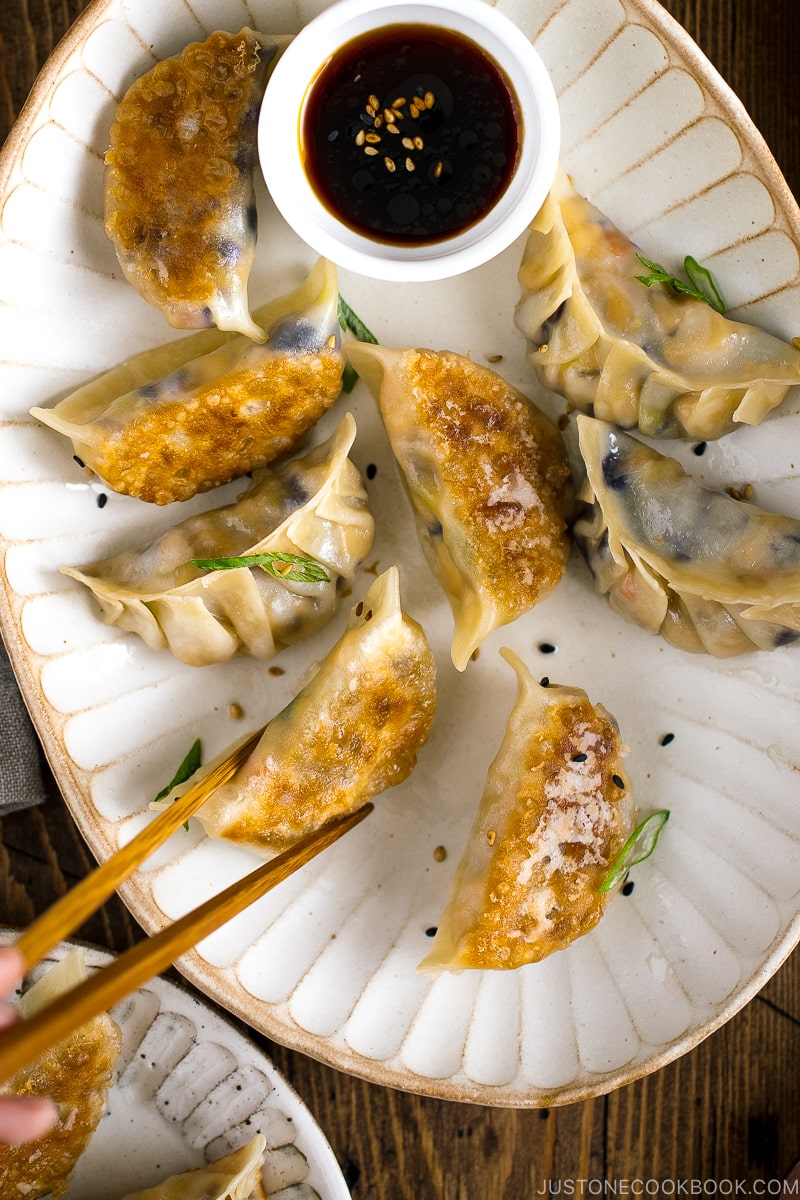 How to Store Gyoza (Meal Prep)
When it comes to making gyoza, I always make sure to make a big batch in one session. Why? Because gyoza freezes so well and you're so glad you did it when you are running short in time. Frozen gyoza also cooks well on the last-minute. You can cook straight from the freezer and no defrosting needed.
So double or triple the amount of the recipe when you plan on making gyoza. I freeze everything that I don't need except for dinner I am preparing.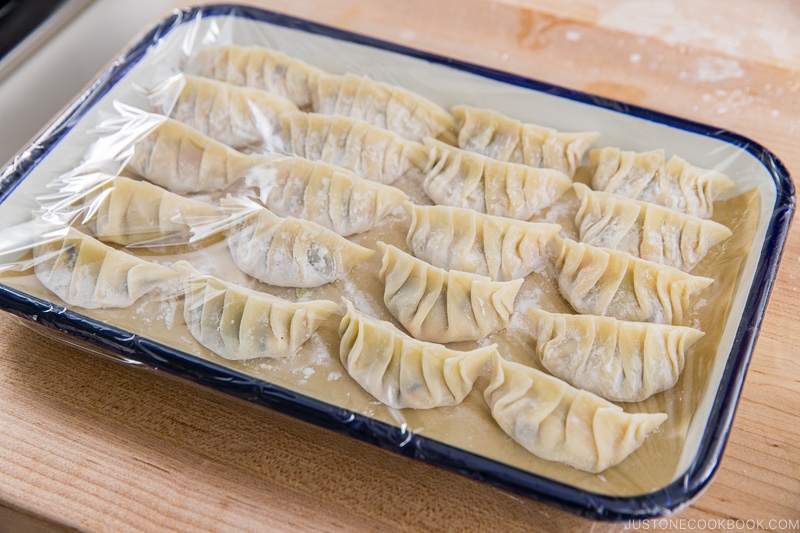 One thing to remember. Make sure to layout the gyoza flat (like the picture above) and "flash freeze" them in the freezer until solid (at least outside is frozen) before packing in an airtight bag (Ziploc etc) to freeze. That way, your gyoza won't stick to each other in the bag.
Itadakimasu!
Now that you're equipped with some tips and techniques, I hope you enjoy making Vegetable Gyoza. It's such a fun activity that you want to get your family members or your partner involved!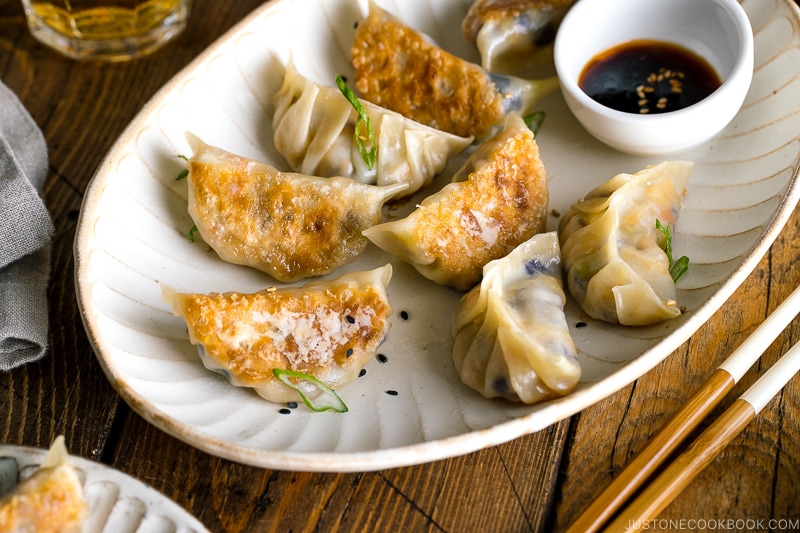 Sign up for the free Just One Cookbook newsletter delivered to your inbox! And stay in touch with me on Facebook, Pinterest, YouTube, and Instagram for all the latest updates.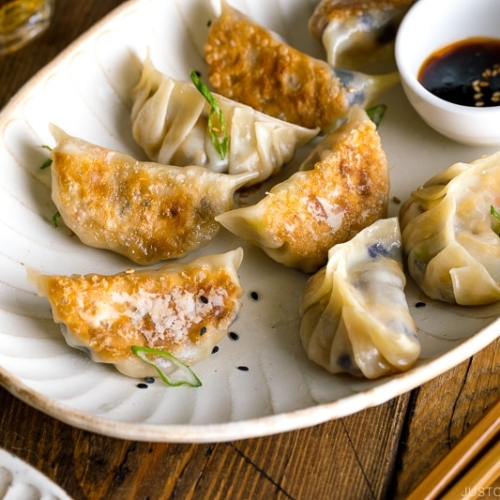 Vegetable Gyoza
These Vegetable Gyoza are stuffed with a fresh and light filling of tofu, cabbage, carrots, and shiitake and king oyster mushrooms. Crisp on the bottom and juicy on the inside, it's love at first bite! I serve them with a tangy homemade dipping sauce and a dash of chili oil. You don't have to be vegetarian or vegan to enjoy these satisfying Japanese pan-fried dumplings.
Servings:
80
gyoza (make all at once and freeze extra for later!)
Ingredients
Japanese Ingredient Substitution:
If you want substitutes for Japanese condiments and ingredients, click
here
.
Instructions
Gather all the ingredients. Tip: You can use a food processor to chop all the vegetables like Chef David Chang did when he followed my recipe in an episode of the podcast Recipe Club.
To Drain the Tofu
Wrap

1 package extra firm tofu

with a paper towel and place it on a tray/plate. Put another tray/plate on top of the tofu and press it down with a heavy object for roughly 30 minutes to 1 hour. (I pressed for 2 hours this time; my single tofu block weighed 400 g before pressing and 355 g after.) If you're in a hurry, you can microwave the tofu without plastic wrap for 1½ minutes (at 1000 watts) and drain the water.
To Mix the Seasonings
While you're waiting for the tofu to drain, mix the seasonings. In a small bowl, add

2 Tbsp soy sauce

,

2 tsp toasted sesame oil

,

1 Tbsp miso

,

1 tsp Diamond Crystal kosher salt

, and

⅛ tsp white pepper powder

.

Whisk it all together and set aside.
To Make the Filling
Discard the tough core of

2–3 leaves cabbage

(green). Cut the leaves into julienned pieces.

Mince the julienned cabbage into small pieces. Tip: It's usually easier to tuck smaller pieces in the gyoza wrapper rather than chunkier pieces.

Repeat with

⅛ head red cabbage

: Discard the tough core of the red cabbage leaves and cut the leaves into julienned pieces. Then, mince into small pieces.

Put the minced green and red cabbage in a bowl and add

1 tsp Diamond Crystal kosher salt

. Rub the salt into the cabbage with your hands and set aside until it releases its liquid.

Cut

2 inches carrot

into slabs, then sticks, and mince them.

Mince

½ onion

finely: Lay the onion flat side down on the cutting board. With the knife tip pointing toward the root end, make ⅛-inch vertical slices to within ½ inch of the root end. Then, with the knife edge toward the root end, make ⅛-inch horizontal slices, again keeping the root intact. Finally, make perpendicular cuts down through the vertical slices you made.

Cut

2 green onions/scallions

into white and green parts. Save the green part for garnish. Mince the white part into small pieces for the filling.

Cut off and discard the root end of

4 king oyster mushrooms (eringi)

. Cut the mushrooms into sticks and then mince them.

Discard the stems of

2 shiitake mushrooms

. Cut the mushroom caps into strips, and then mince them.

To a large bowl, add the onion, two kinds of mushrooms, carrots, and white part of the green onions. Then, mince or press

1 clove garlic

(I use my garlic press here) and add it to the bowl.

Peel and grate the ginger (I use a ceramic grater). Measure

1 tsp ginger

(grated, with juice) and add it to the filling ingredients.

Squeeze and discard the liquid from the cabbage. Add the cabbage to the bowl with the other ingredients.

Remove the paper towel and slice the tofu into thin slabs roughly ⅛ inch (3 mm) thickness (pencil width).

Next, cut the tofu slabs into sticks, and then cut the sticks into cubes.

Add the tofu cubes and the seasonings mixture to the bowl. Mix it all together. Once the ingredients are well coated with the seasonings, add

2 Tbsp potato starch or cornstarch

and mix thoroughly. If the filling seems watery, add more potato starch to absorb any extra moisture.
To Fold the Gyoza
Prepare a tray or plate with parchment paper and sprinkle some potato starch (cornstarch). This will prevent the gyoza from sticking to the paper. Gather

80 gyoza wrappers

and prepare a small bowl of

water

.

Take a wrapper and place it in the palm of your non-dominant hand. Use a teaspoon to scoop a small amount of filling and put it in the center of the wrapper. Dip one finger in the bowl of water and draw a circle around the outer ¼ inch (6 mm) of the wrapper with your wet finger until it's moistened all around.

Here, I show you how to fold the gyoza with the pleats leaning toward the center. Fold the wrapper in half over the filling and pinch it in the center with your fingers, but don't seal it yet. Using the thumb and index finger of your right hand, start making a pleat about every ¼ inch (6 mm) on the top part of the wrapper from the center toward the right side, making 3–4 pleats.

As you fold each pleat, press the folded pleat tightly against the back part of the wrapper using your other thumb and index finger. Make 3–4 pleats.

Continue with the left side of the gyoza. Making 3–4 pleats with your left hand, starting in the center and moving toward the left side.

Press the pleats tightly, making sure there are no air pockets. Shape the gyoza to look pretty. Repeat folding the remaining wrappers. Tip: See my Gyoza recipe for an alternative folding method where the pleats all lean toward one side.
To Freeze Uncooked (optional)
This recipe may make more gyoza than you wish to serve now. If you want to store some uncooked gyoza to cook later (optional), now is the time to freeze them. Before the filling starts to release moisture and make the wrappers soggy, cover the gyoza with plastic wrap and "flash freeze" them in the freezer until solid (or at least frozen on the outside). Make sure to lay out the gyoza in a single layer on a sheet pan or plate. Once the gyoza are solid, pack them in an airtight bag. Because you flash froze them, the gyoza won't stick to each other in the bag. You can store the gyoza in the freezer for up to a month. When you're ready to use the gyoza, do not defrost them. Place the frozen gyoza in your frying pan and steam them for an extra 1–2 minutes.
To Cook the Gyoza
To cook the gyoza that you just folded, heat a large nonstick frying pan over medium heat. When the pan is hot, add 1 Tbsp

neutral oil

. Then, place the gyoza in a single layer, flat side down and without touching each other, in a circular pattern (or place them in two rows). You will need to cook the gyoza in batches. As you can see from the photo, my large frying pan can fit about 12–13 pieces per batch.

Cook until the bottoms of the gyoza turn golden brown, about 3 minutes. Next, add ¼ cup

water

to the pan.

Immediately cover with a lid and steam the gyoza for about 3 minutes or until most of the water evaporates. Tip: If you're cooking frozen gyoza, steam them for an extra 1–2 minutes.

Remove the lid to evaporate any remaining water. Drizzle 1 tsp

toasted sesame oil

around the gyoza in the frying pan. Cook, uncovered, until the bottom of the gyoza are golden brown and crisp.
To Serve
Transfer the cooked gyoza to a plate. Repeat the process to cook the other batches. Serve the Vegetable Gyoza with a small bowl of dipping sauce for each person. To make the dipping sauce, combine 1 Tbsp

rice vinegar (unseasoned)

, 1 Tbsp

soy sauce

, and ⅛ tsp

la-yu (Japanese chili oil)

in each dipping bowl and mix it all together.

Cut the green part of a green onion for garnish, if you'd like.
To Store
You can keep the leftovers in an airtight container and store in the refrigerator for up to 3 days or in the freezer for a month.
Notes
Recipe by Namiko Chen of Just One Cookbook. All images and content on this site are copyright protected. Please do not use my images without my permission. If you'd like to share this recipe on your site, please re-write the recipe and link to this post as the original source. Thank you.
Nutrition
Nutrition Facts
Vegetable Gyoza
Amount per Serving
% Daily Value*
* Percent Daily Values are based on a 2000 calorie diet.
©JustOneCookbook.com Content and photographs are copyright protected. Sharing of this recipe is both encouraged and appreciated. Copying and/or pasting full recipes to any website or social media is strictly prohibited. Please view my photo use policy
here
.