Miso (味噌) is a traditional fermented soybean paste used in Japanese cooking. Learn more about the common uses of miso, types, taste characteristics, and tips on buying and storage.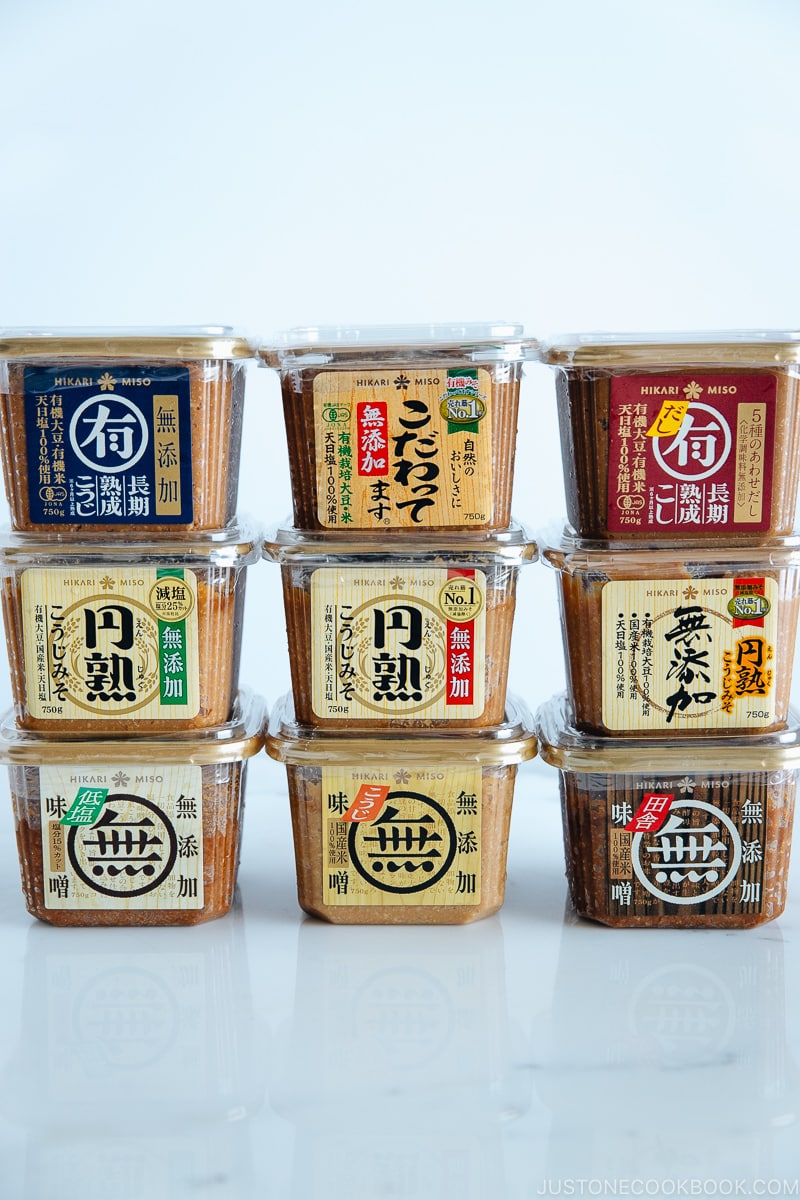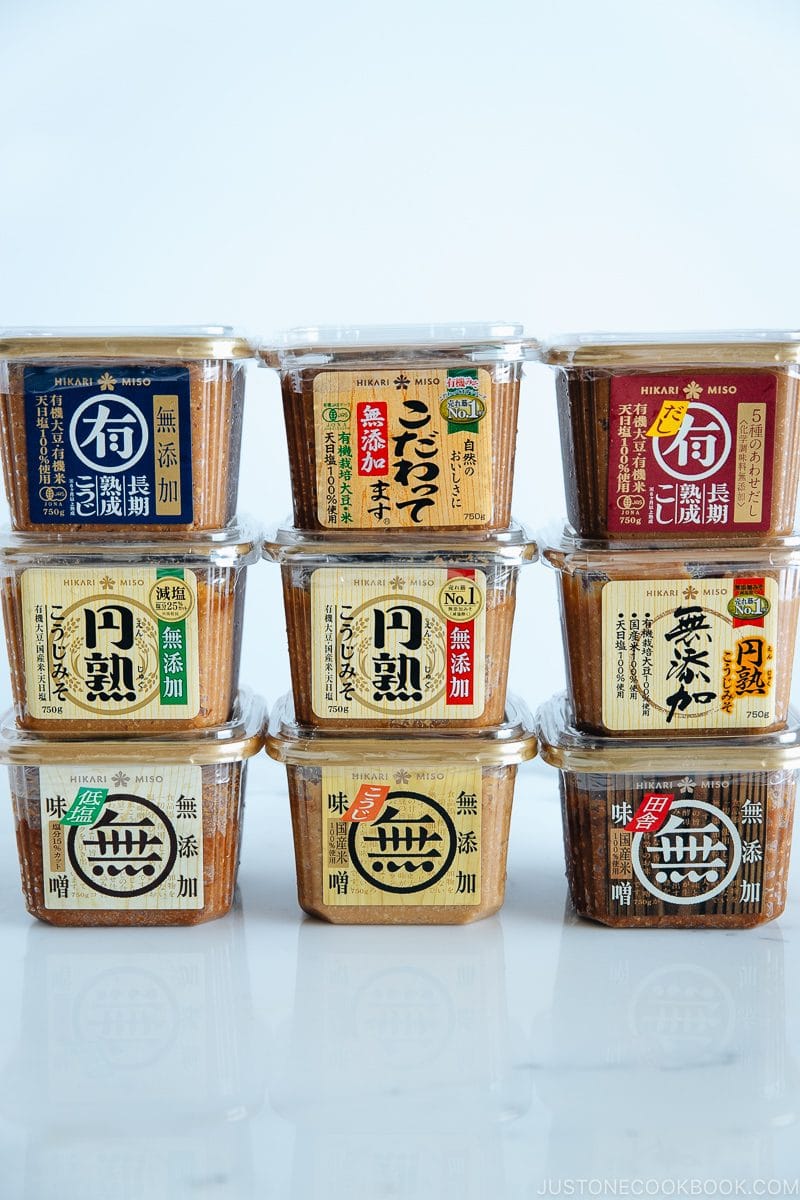 Miso (味噌), fermented soybean paste, is a traditional Japanese condiment. It consists of soybeans, grains (usually steamed rice or barley), salt, and koji culture (麹, a fermentation starter AKA aspergillus oryzae). The mixture ferments in cedar-wood kegs at ambient temperature for six months to five years.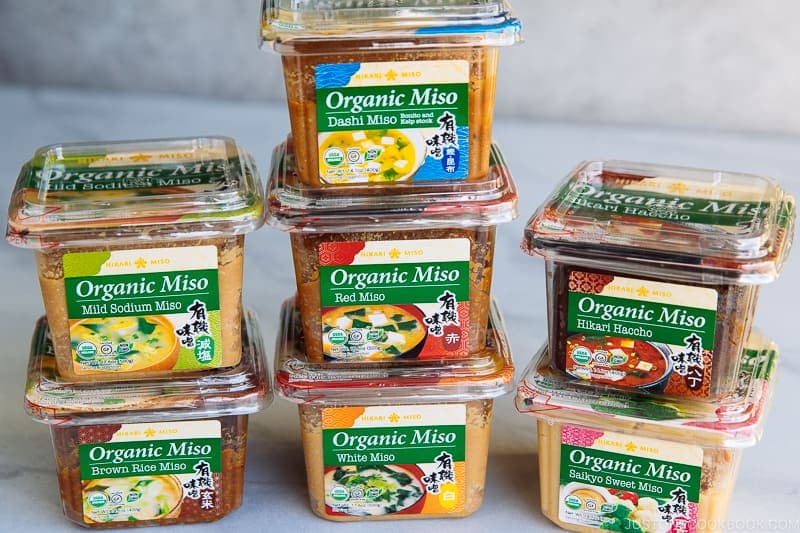 What is Miso
Miso is made by fermenting soybeans by adding koji and salt. Widely recognized as one of the top superfoods for gut health. it's incredibly rich in amino acids, vitamins, and minerals.
What Does It Taste Like
The taste can vary depending on the variety and ingredients, but generally speaking, miso is salty, slightly sweet, and umami-rich. It can be smooth or chunky with bits of koji and mashed soybeans.
Health Benefits
As miso is a probiotic, it offers many benefits for your gut and heart health. Please read The Health Benefits of Miso for more.
Different Miso Types
Many readers want to learn the many types and which one is the best. Well, it's not as simple as that.
Depending on the type of koji, the amount of koji for soybeans, and the length of the fermentation and aging period, there are various types of miso, and each one has a distinct flavor and appearance. Imagine cheese and wine. It's up to your preference.
Four factors categorize Japan's miso, ingredients (types of koji), color, taste, and region.
Let's go over how we categorize miso.
Miso Types by Ingredient (Koji)
1. Rice Miso
Rice miso, or kome miso (米味噌), is made by fermenting soybeans, salt, and rice koji (米麹). The majority of the miso produced and sold are of this type. 80% of the miso made in Japan is rice miso.
2. Barley Miso
Barley miso, or mugi miso (麦味噌), is made by fermenting soybeans, salt, and barley koji (麦麹). It is characterized by its unique aroma and umami. It's very dark in color and quite salty, but with a rich taste. Barley miso is fermented for one to three years.
3. Soybean Miso
Soybean miso, or mame miso (豆味噌), is made by fermenting soybeans, salt, and soybean koji. It is characterized by its unique astringency and rich umami. It undergoes one to three years of fermentation, has a blackish-brown color, is very savory, and is a very stiff paste.
4. Mixed Miso
Mixed Miso, chogo miso (調合味噌), or awase miso (合わせ味噌) is a mixture of two or more types of rice miso, barley miso, and soybean miso, or miso made with two or more types of koji.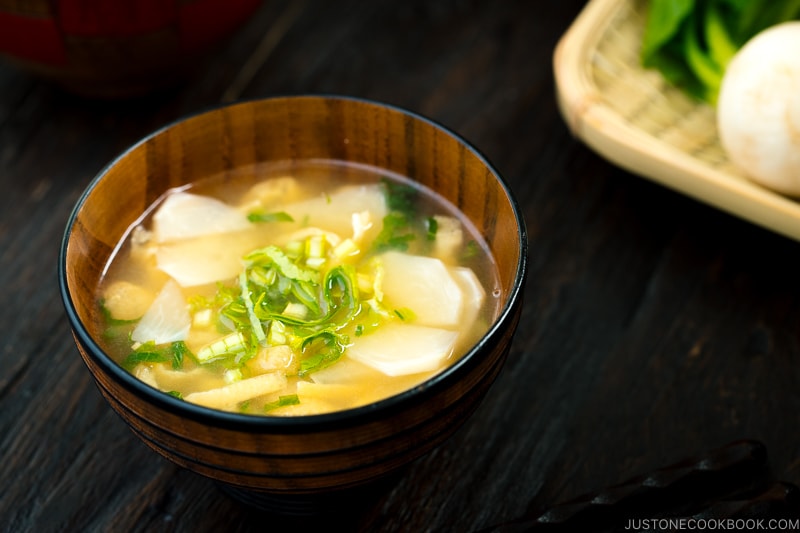 Miso Types by Taste
The taste of miso can be divided into three types depending on the type of koji, the amount of salt used for fermentation, and the percentage of koji.
1. Sweet Miso
Sweet miso, or ama miso (甘味噌), uses a lot of koji, with a salt content of 5 to 7% and a koji ratio of 15 to 28%. The sweet miso has two colors. White miso is mainly made in Kansai, and its origin is said to be in Kyoto (known as Saikyo miso). Red miso is the traditional Edo sweet miso in Tokyo.
2. Mild Miso
Mild miso, or amakuchi miso (甘口味噌), is light-colored miso and red miso made with rice koji or miso made with barley koji. The salt content is 7 to 12%, and the koji ratio is 12 to 17%. The majority of miso these days is classified as sweet miso. Although it is called "sweet," it has a wide range of flavors from sweet to sweet/salty.
3. Salty Miso
Salty miso, or karakuchi miso (辛口味噌), is light-colored miso and red miso made with rice koji or miso made with barley koji. The salt content is 11 to 13%. The ratio of koji is 50 to 100%, which means that the amount of koji used is slightly less than that of soybeans.
This miso requires the action of microorganisms such as yeast and bacteria for fermentation, so the brewing period is long. It is the most popular rice miso and accounts for 75% of the total production. The flavor is a strong salty taste but refreshing. Making full use of soybean protein's umami character.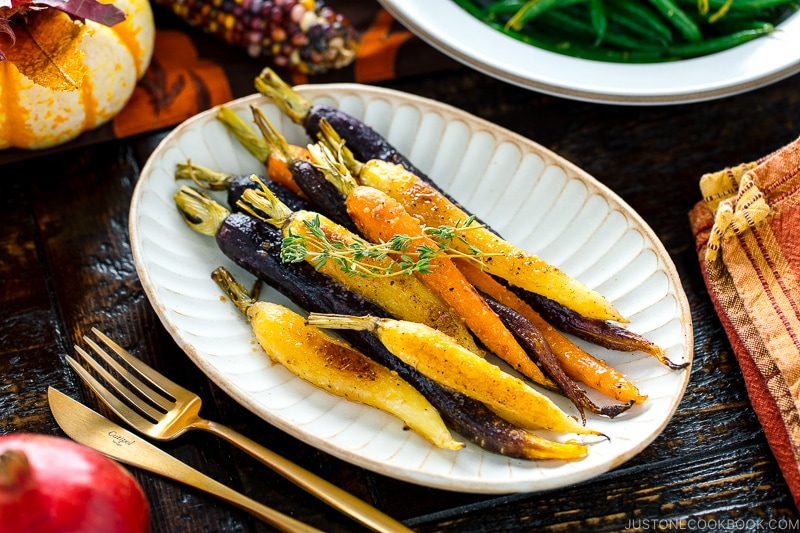 Miso Types by Color
The color of miso changes depending on the ingredients, the amount of koji, and the fermentation time. The main cause is the Maillard reaction during fermentation and aging. The Maillard reaction reacts with amino acids such as soybeans, rice, and wheat, with sugar to change into brown pigments. The longer the Maillard reaction occurs, the browner the miso becomes.
1. Red Miso
Red miso, or aka miso (赤味噌), is made from 70% soybean and 30% rice or barley. The soybeans are steamed before mixing with the koji. The long fermentation period (about 1 to 1.5 years) produces darker colored, strong, and salty miso (13%). Red miso contains the highest levels of protein of all types of miso. The color can range from deep amber to chestnut. The color is due to the Maillard reaction when the amino acids in the soybeans react with the sugars, resulting in browning. Red miso will continue to brown with more time, but it will not go bad due to the high salt content.
2. White Miso
White miso, or shiro miso (白味噌), is made from about 40% soybean and 60% rice or barley. The fermentation period is much shorter (1 to 2 weeks) than red miso, resulting in a slightly less salty and delicately flavored than red miso. The yellowish beige color is due to the boiling process of the soybeans, which prevents the Maillard reaction. Of all miso varieties, white miso contains the most carbohydrates and therefore tastes the sweetest. The texture is very smooth.
Saikyo shiro miso (西京白味噌) is a type of white miso that is solely produced in Kyoto prefecture.
3. Light-Colored Miso
Yellowish light-colored miso, or tanshoku miso (淡色味噌), is made through the same process as white miso. It is yellow because it has a larger amount of salt than when making white miso and causes a Maillard reaction than white miso due to an extended aging period. Shinshu miso is a good example.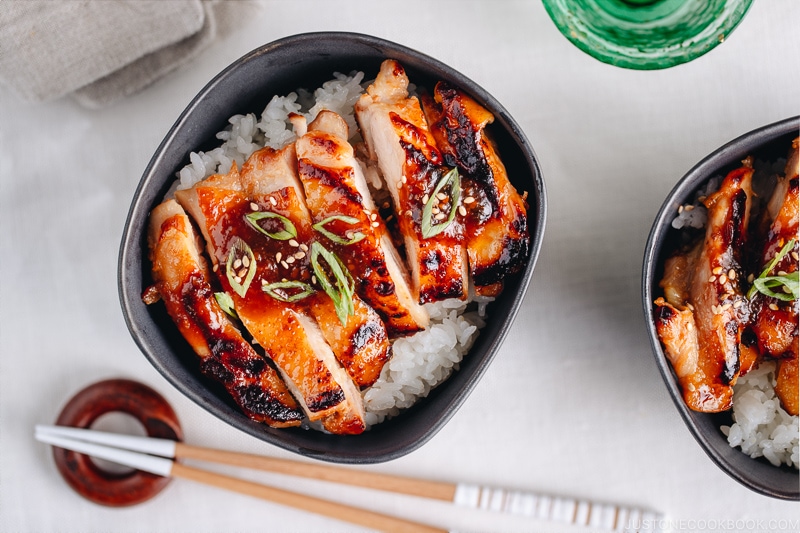 Miso Types by Regions
You will find regional miso across Japan as the climate, environment, and water differs. Here are a few notable miso brands you may find outside Japan.
1. Shinshu Miso
Originally produced in Nagano prefecture (Shinshu 信州 is its feudal name), Shinshu miso (信州味噌) is made with rice koji, soybeans, and salt. The texture is smooth, and the color can range from yellow-brown to beige. It has a long fermentation period, less rice koji, and 10-12% sodium content. It's excellent all-purpose miso as it's mild and will suit any dish. Around 40% of the miso produced in Japan and abroad is Shinshu miso.
2. Saikyo White Miso
Consumed primarily in Kyoto and the greater Kansai area, Saikyo miso (西京味噌) is a specialty white miso that is produced in Kyoto prefecture (the Chinese characters 西京 consist of "west" and "city," compared to the eastern city of Tokyo 東京).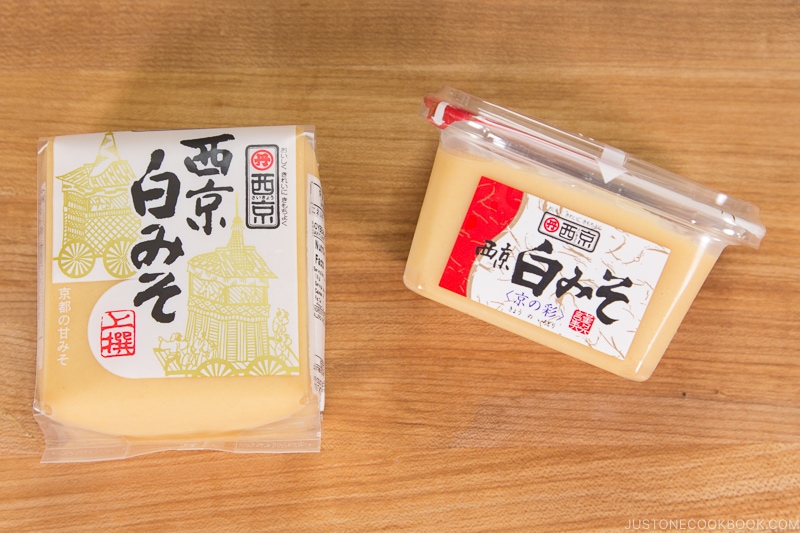 Saikyo Miso is characterized by its light beige color, smooth texture, and distinctively sweet flavor. The sweet taste is due to its low sodium content (about 5-7%), higher rice koji ratio to soybeans, and short fermentation. Because of its mild flavor, it's often used to marinate fish and vegetables (Saikyo Yaki) and added to baked goods and desserts. It's also used as the broth base for the special New Year's Soup called Ozoni consumed in the Kansai area.
3. Sendai Miso
Dark reddish-brown miso is produced in Miyagi prefecture (Sendai is the prefectural capital of Miyagi). Although made with the same ingredients as Shinshu and Saikyo miso, Sendai miso (仙台味噌) contains more soybeans than rice. It's higher in sodium than other varieties (11-13%), but the saltiness is suppressed due to a longer fermentation period. Sendai miso is rich and delicious even on its own that it's often referred to as name miso (なめみそ, "lickable miso").
4. Hatcho Miso
Hatcho Miso (八丁味噌) is traditionally made of 100% soybeans (no grains added) and is produced only in Okazaki, Aichi prefecture. It is darker, more reddish-brown than miso made with rice miso.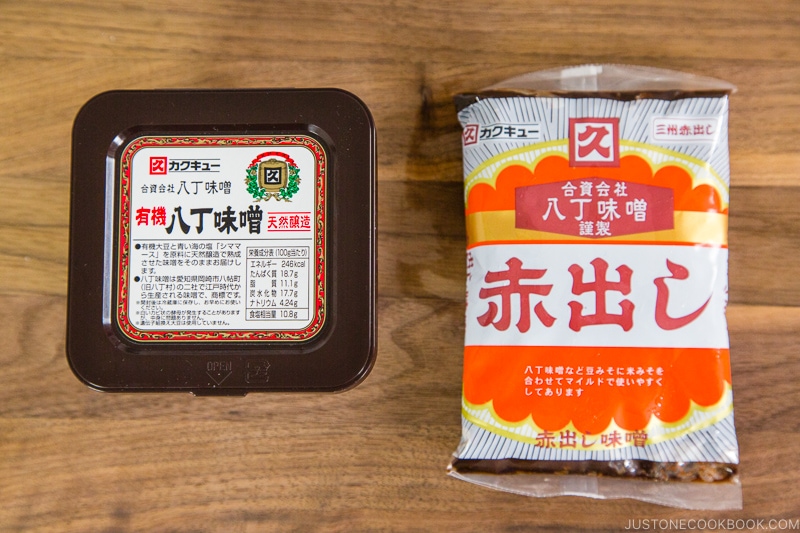 Compared to other kinds of miso, it is less sweet and has a really intense, bold flavor with good umami. Because of its rich flavor, you only need a small amount when mixing it into soup, sauce, or broth.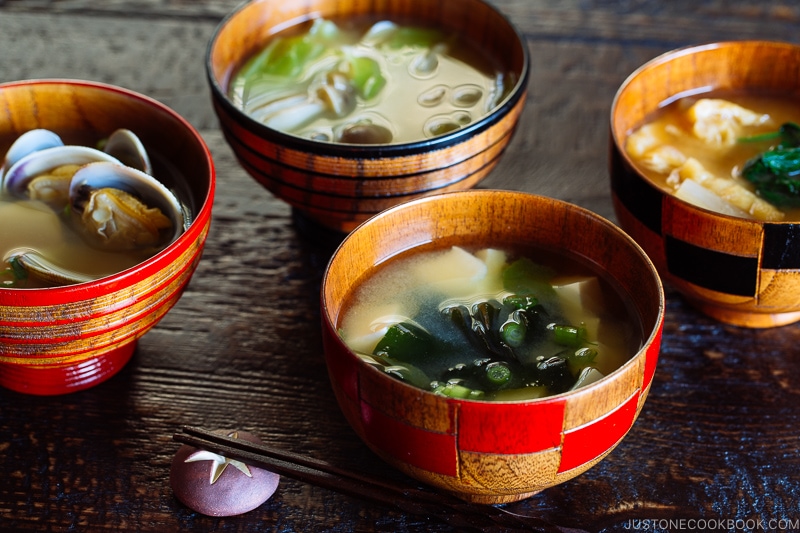 How To Use
The Japanese consume miso by drinking miso soup with different ingredients almost every day, but that's not the only use. They use it for seasoning stews, stir-fries, sauces, and salad dressing. You can use it as a marinade for protein and even in desserts!
Feel free to think outside the box and use miso as a flavor boost in non-Japanese cooking! Suggestions include a spoonful of miso in tomato or meat sauces, creamy soups, or glazes. It can boost umami in your dish without raising the salt content.
Here are some delicious miso recipes you may enjoy browsing 15 Delicious Miso Recipes to get started!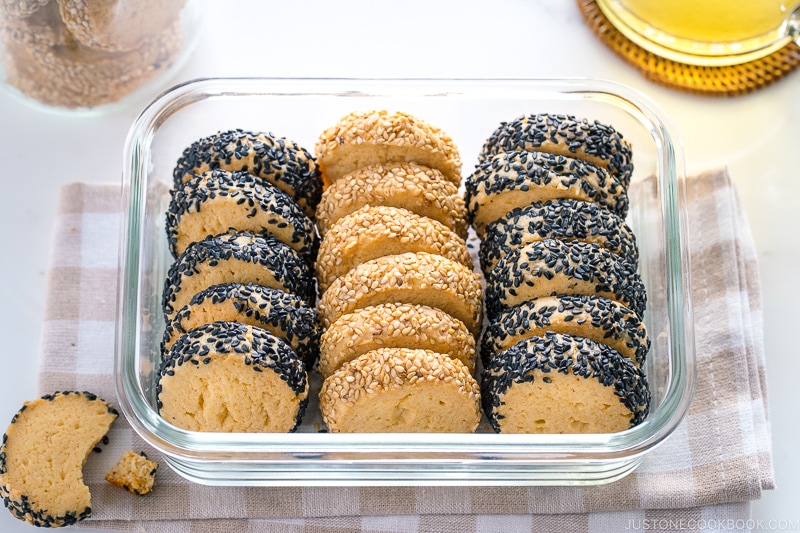 Where To Buy
You can buy miso at Asian/Japanese supermarkets, a grocery aisle with Asian products in American grocery stores, health food stores, and online (like Amazon). You may find miso made outside of Japan, both high and low end.
Most Japanese people stock their fridge with 2-3 varieties of miso for different usage and sometimes combine the different pastes to make miso soup (so we won't get bored with the same flavor!) So feel free to shop around for a few brands and varieties to your liking!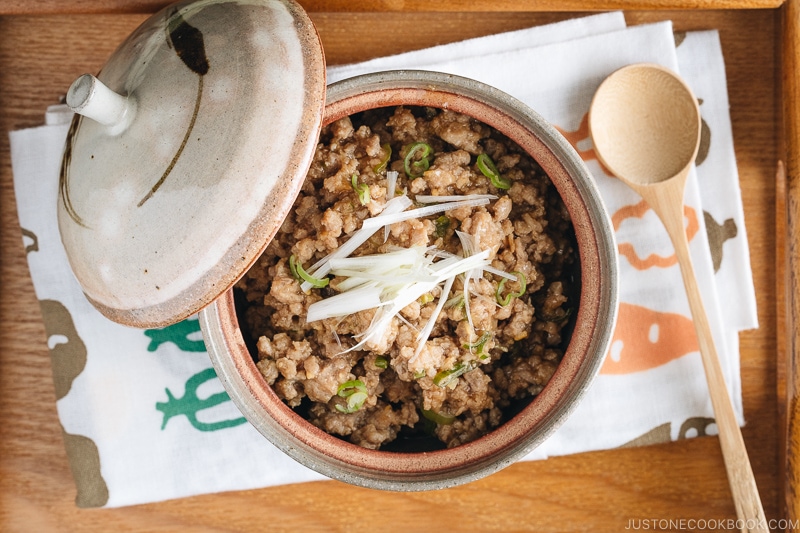 How to Choose the Best
There are many varieties of miso that you may be overwhelmed with where to start! Check the ingredient list for any foreign additions such as alcohol, stabilizers, or other additives. The best way to find quality miso is to taste it plain. A little goes a long way. Plus, you will get what you paid for, so try to find small-batch miso made by the traditional method.
Nami's Favorite Miso
As for recommendations, I've been using Hikari Miso® for over a decade and partnering with the company for several years. I use various types of miso from Hikari Miso®, and I genuinely believe their miso is one of the best tasty miso available in Japan and the U.S.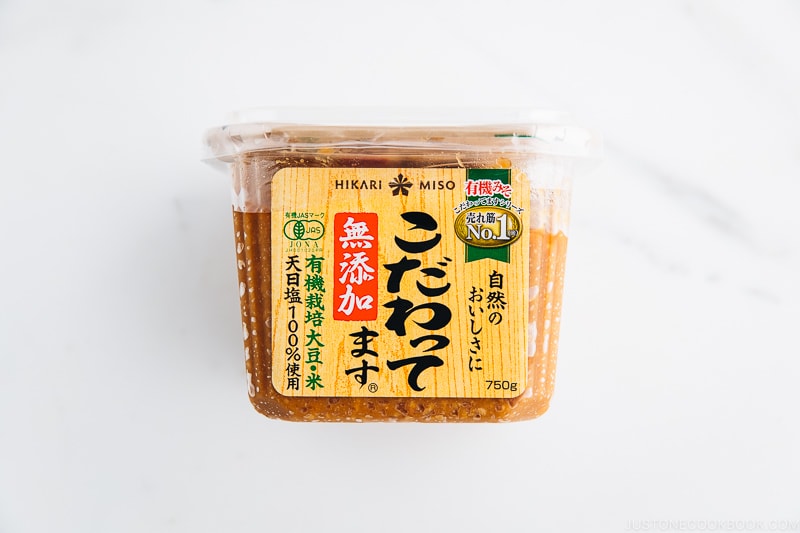 I always have several types of miso, but if I have to pick one miso, it's Kodawattemasu by Hikari Miso.
"Koji miso" doesn't belong to any categories, as koji is used in making miso. However, sometimes miso is called "koji miso" when it contains large quantities of koji. This produces miso with a sweet and mild taste, a chunky texture, deep aroma, and rich flavor.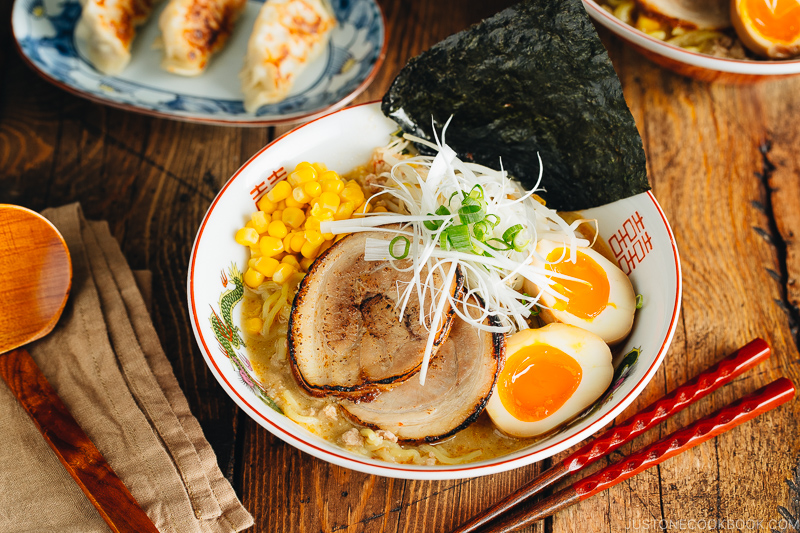 How to Store
The best way to store an opened tub of miso is to keep it in the refrigerator. This is to stop the fermentation process, and any mold growth on exposed areas as miso contains lots of "good" lactic acid bacteria (Tetragenococcus halophilus and others, if you were curious).
Some unopened miso can be kept in a cool and dry place, away from light and heat. Since there are so many different types of miso, always check the labels for storage instructions.
Either way, once you open the package of miso, seal the package tightly when not in use. For extra protection against oxidation, once you open up the packaging, cover the exposed area with parchment paper or plastic wrap. Always use dry, clean utensils to scoop out the paste to prevent contamination and molds.
To store in the freezer, the temperature must stay higher than 25ºF or -5ºC. At this condition, miso won't freeze, but the taste and aroma are best preserved.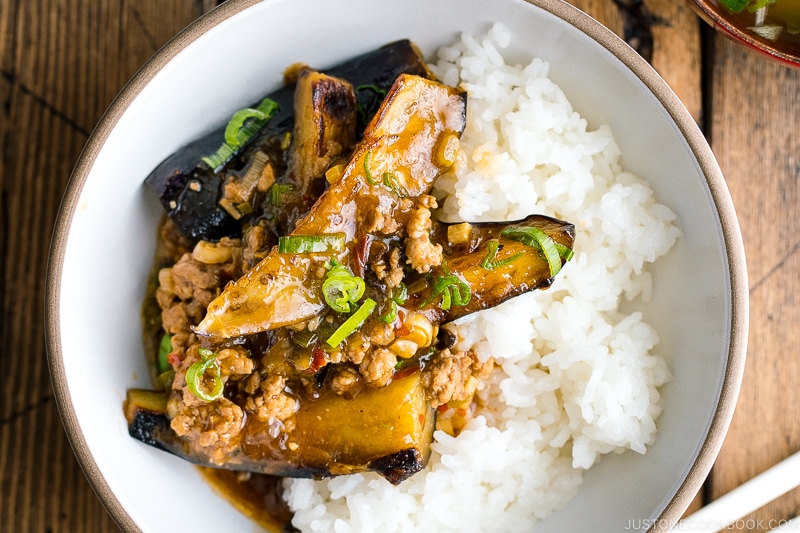 Miso's Expiration
Since miso is a fermented food, you can generally keep miso for a long time. Once opened, make sure to store the miso in your refrigerator. As long as it's quality miso, the taste should be consistent for up to a year.
Miso doesn't go bad due to its high salt content, but the color darkens over time, especially in warm environments. That is completely normal and doesn't mean it has gone off. The taste degrades if kept for more than a year, so check to taste before use.
Signs of Miso Spoilage
If you notice any change in smell, color, texture, or spotty molds, it's best to be safe and toss the product.
How to Make Miso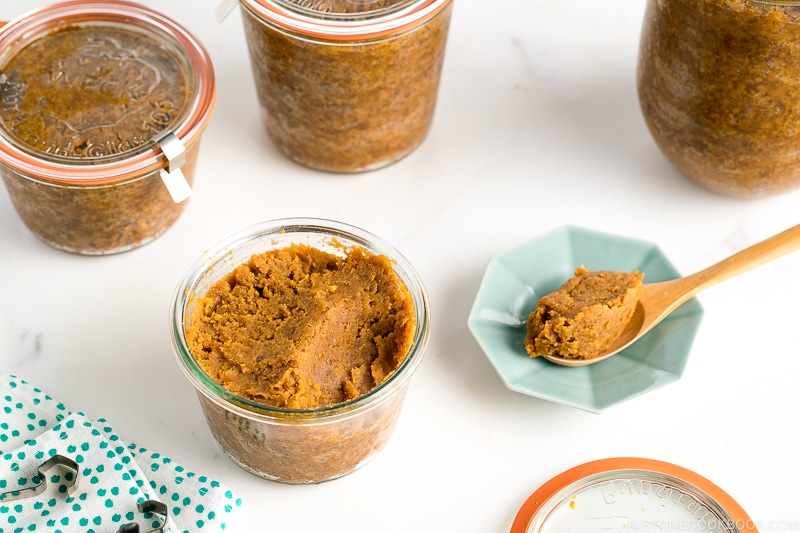 Yes! You can also make homemade miso from scratch – with just four ingredients and a little patience! My simple step-by-step instructions on How to Make Miso will guide you through this process. Get the recipe here.
Substitutions
There is no appropriate substitute for miso. If you're allergic to soybeans, you can find miso paste made of other beans such as edamame, quinoa, azuki beans, and chickpeas.
If using miso in non-Japanese recipes like in salad dressings or dipping sauces, you could try swapping it for tahini or peanut butter. While these condiments have a similar creamy texture, it lacks the salty-umami flavor profile that miso has.
FAQs
Q: Can you eat miso raw?
Yes, you can eat raw miso! Eating it raw is the best way to obtain probiotics in miso, as it will die off with applied heat. You can also taste the difference between good and bad quality miso by eating it raw. Use miso raw in salad dressings or dipping sauces.
Q: Does miso go bad?
Miso doesn't go bad due to its high salt content, but the color darkens over time, especially in warm environments.
Q: What can I add to miso soup?
Check out Homemade Miso Soup for all the variations regarding miso soup!
Q: How much miso should I add to a bowl of miso soup?
¼ cup (60 ml) = 72 grams
1 cup (240 ml) = 288 grams
1 tablespoon (18 g) of miso per miso soup bowl (200-240 ml dashi)
Q: Where does miso come from?
For more on the history of miso, please read The Enduring History of Miso.
Q: Is miso similar to the Korean soybean paste doenjang?
Doenjang (된장) is a fermented Korean soybean paste. The difference is that doenjang is made with soybeans and salt only, without the koji starter. The resulting flavor profile is sharper and more robust. The culinary uses differ, whereas doenjang complements the hearty chili-spiced Korean cuisine. Korean miso soup is called doenjang guk, which may have garlic or gochujang.
You could substitute doenjang for miso in a pinch, but it is generally not recommended.
---
Wish to learn more about Japanese cooking? Sign up for our free newsletter to receive cooking tips & recipe updates! And stay in touch with me on Facebook, Pinterest, YouTube, and Instagram.