Start your day with a traditional Japanese breakfast! With a combination of grain, healthy & omega-rich proteins, pickles, and umami flavors, it's a wholesome breakfast that is going to satisfy and energize you. Learn how to make a Japanese breakfast at home today!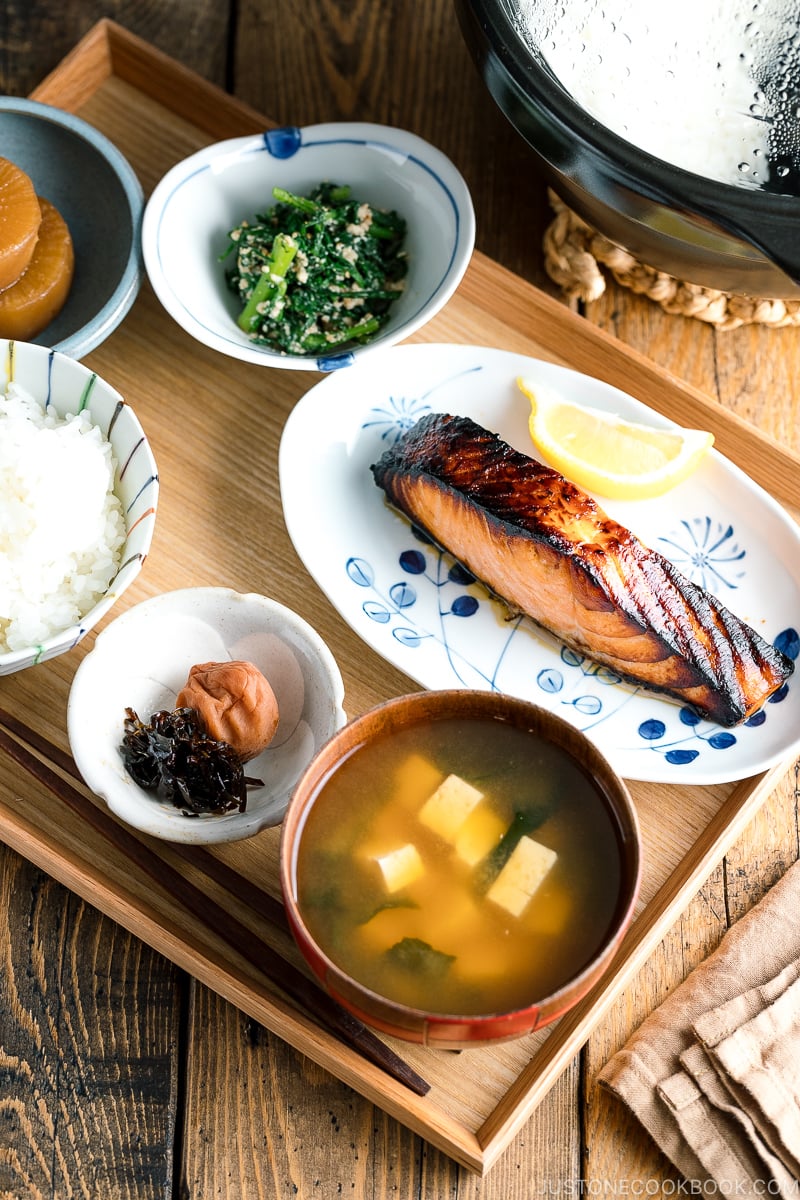 What do the Japanese eat for breakfast? My answer is always this: The Japanese, like most people, eat a great variety of things for breakfast. But when comes to traditional Japanese breakfast, it is a whole different level of experience.
At the table, you'll find a spread of steamed rice, miso soup, a protein, pickles, and several side dishes. It is the typical breakfast that my parents, along with many Japanese of their generations, grew up with and still eat almost every morning.
If you're used to a quick bowl of cereal or toast in the morning, you may exclaim this looks more like a lunch or dinner! It does look that way, especially in the modern days when we have little to zero time to even enjoy a decent breakfast. More so, a breakfast that looks like a full meal, complete in both nutrients and presentation.
Warm rice, salted salmon, miso soup and seaweed. There's really no better breakfast in the world!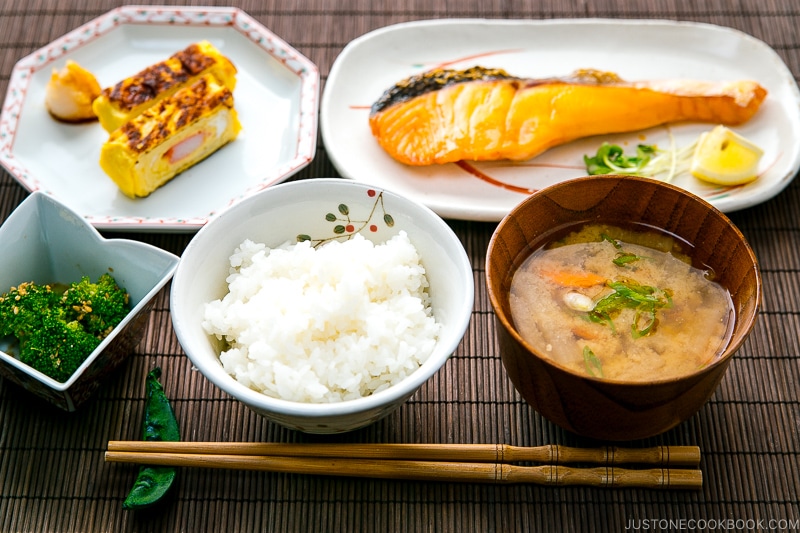 The Concept of a Traditional Japanese Breakfast
The Japanese have always placed great importance on food. Drawing on the eastern philosophy that our bodies rise together with the sun, we should start the first meal of our day with foods that are nutritionally well-rounded. A good breakfast helps to fuel our energy, regulate blood pressure and prepare us mentally and physically for the day.
Central to Japanese life values, the traditional Japanese breakfast also illustrates the concept of balance. You can see a thoughtful composition of color, taste, aroma, and texture in the meal itself.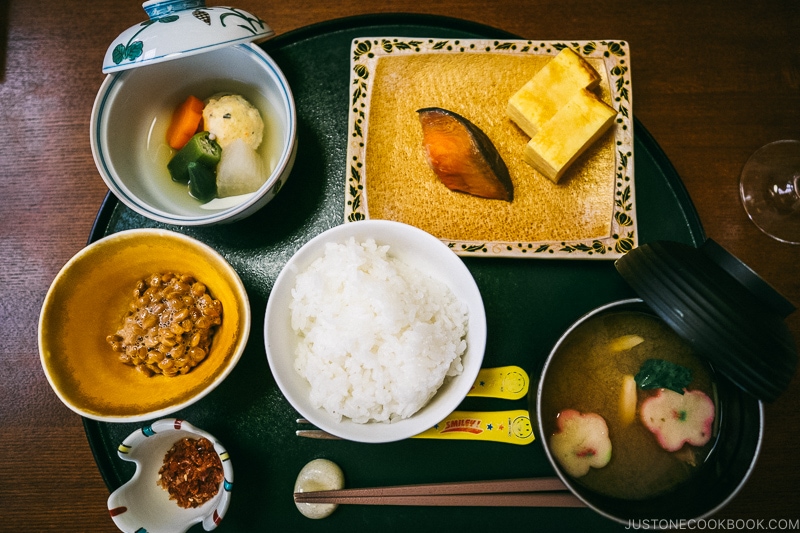 I like to think of it as a sized down, simplified version of ichiju sansai (一汁三菜), the foundation of Japanese meal that consists of one soup, three dishes, and rice. The breakfast itself can be hearty but not overly filling. Unlike lunch and dinner, we would serve dishes that are lighter on the palate and not anything heavy, deep-fried, or rich. They are designed to stimulate the appetites and not weighing one's down.
Let's take a quick look at the components: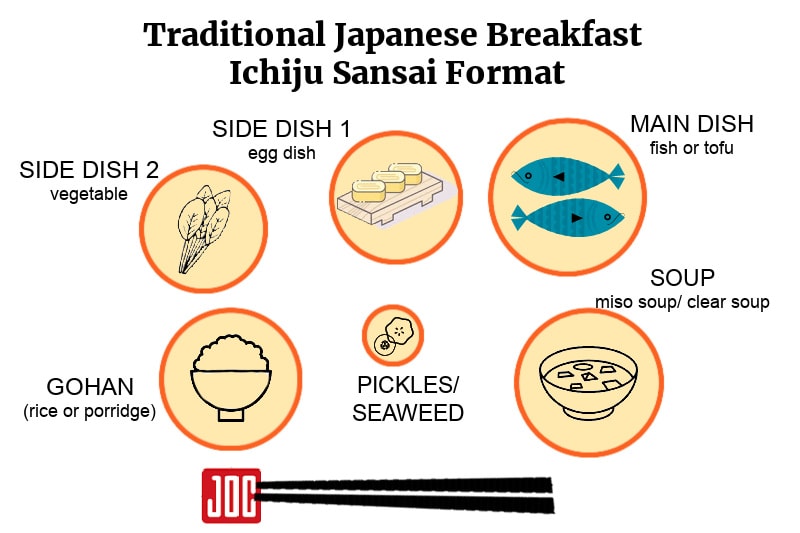 Gohan (ご飯) – a bowl of steamed rice or porridge
Shiru (汁) – a bowl of miso soup
Okazu (おかず) – main dish and 2 side dishes composed of vegetables, tofu or fish
Kouno mono (香の物) – a small plate of pickled vegetables
An example of a common Japanese breakfast menu:
Steamed rice
Miso soup
Grilled fish
Egg dish (tamagoyaki, onsen tamago, raw egg, fried egg)
Vegetable side dish
Pickled vegetable
Seaweed
Natto
There are carbohydrates, protein, fiber, omega 3, calcium, iron, vitamins, probiotics, all in one meal! Isn't this the most satisfying breakfast one could start the day with?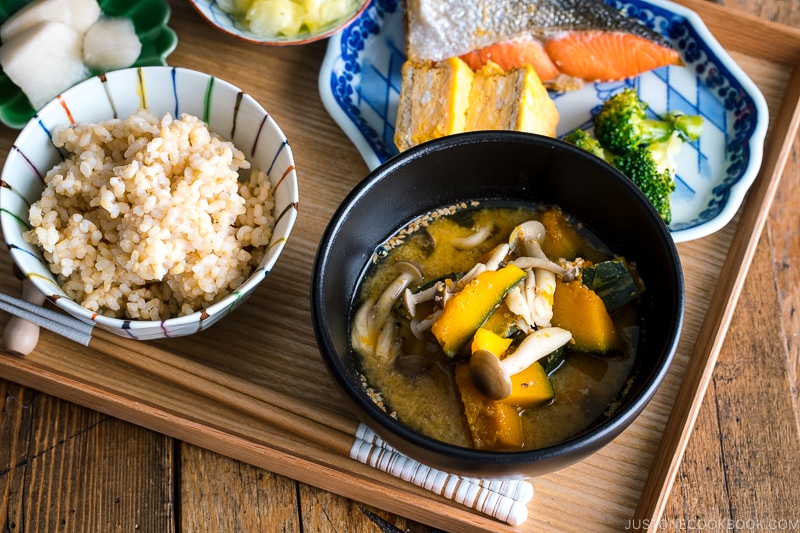 How to Make Traditional Japanese Breakfast At Home
Before you start, you may be asking how is it possible to throw such an elaborate spread of dishes at the breakfast table, especially when you're in a hurry. Don't worry, it is not as tricky as you think!
Japanese families do not spend the wee hours just to cook everything from scratch. We take shortcuts too!
I have three simple tips for you:
Think customization and improvisation
Make good use of leftovers and freezer foods
Feel free to leave out or substitute any ingredients that work for you
Thanks to the previous night's dinner, we just need to decide what works for breakfast and reheat leftovers, and any made-ahead pickles or blanched vegetables.
Following the structure and my tips and recipes, you can definitely put together a traditional Japanese breakfast at home with ease and speed!
Rice (Gohan) ご飯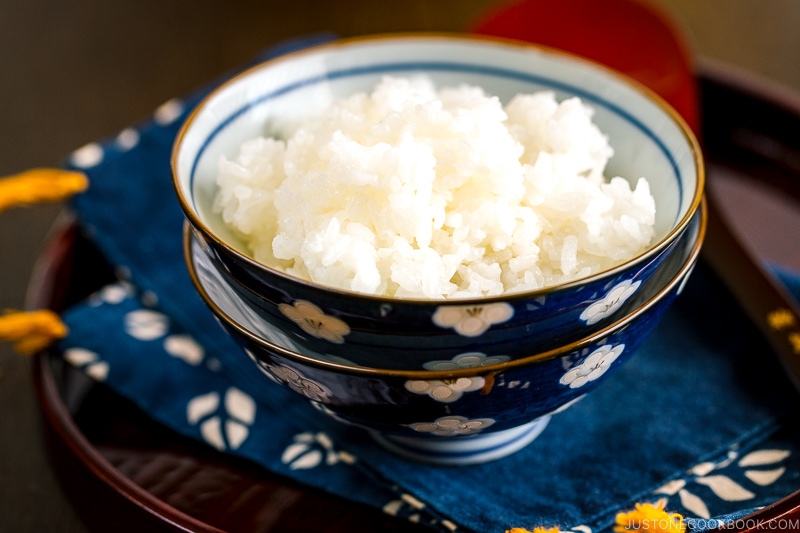 The most essential component of a Japanese breakfast is rice. Traditionally, steamed rice would be served plain. As the main source of carbohydrates, rice provides a toothsome, warmth, filling, and neutral counterpoint to the accompanying dishes.
Soup 汁物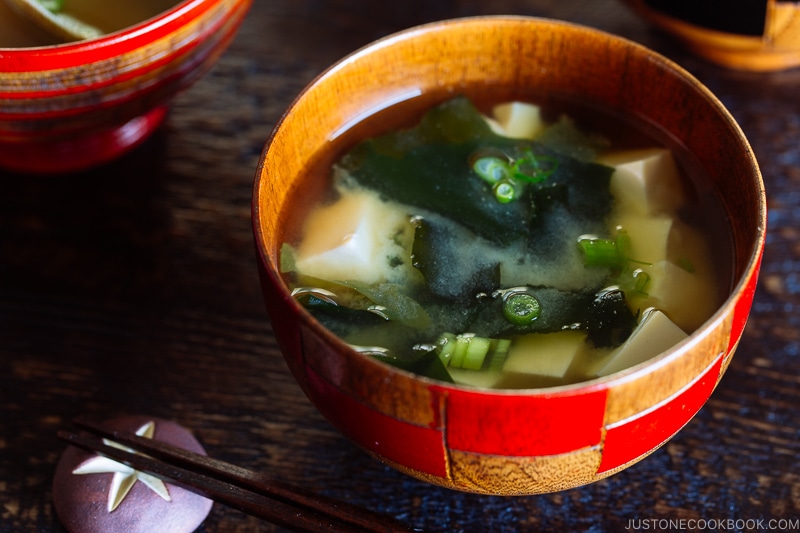 There's nothing more comforting than starting the day with a warm bowl of miso soup. The common ingredients that go into miso soup include tofu, wakame seaweed, mushrooms, and green onions. You can change up the flavors and ingredients based on what you have in hand or what's available in season.
Grilled Fish 焼き魚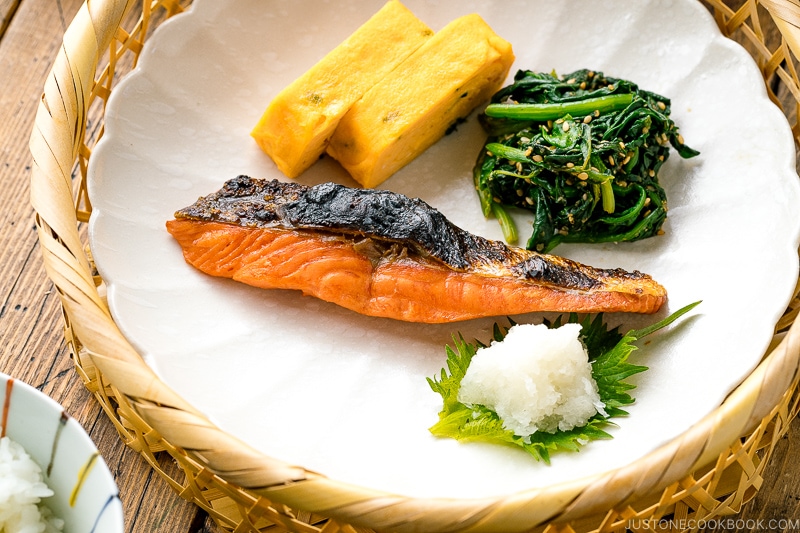 The main protein would be fish. Salted salmon and grilled mackerel are popular choices.
Egg Dish 卵焼き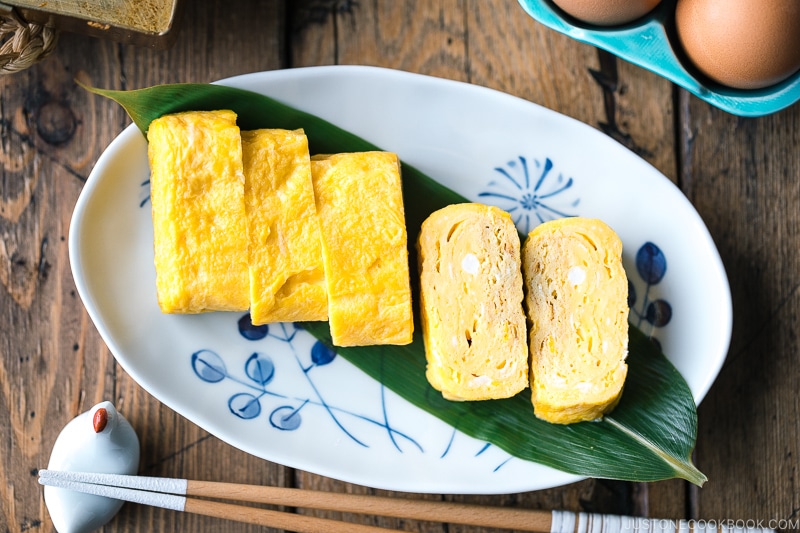 If you are skipping fish, eggs would be an excellent choice of protein. My absolute favorite egg dish is the sweet yet savory Tamagoyaki (Japanese Rolled Omelette). They are very popular with children. You don't have to cook this right in the morning as that could be too much work! Tamagoyaki is a great freezer food, so make a big batch and reach for it when you serve a Japanese breakfast at home.
Vegetable Side Dish 小鉢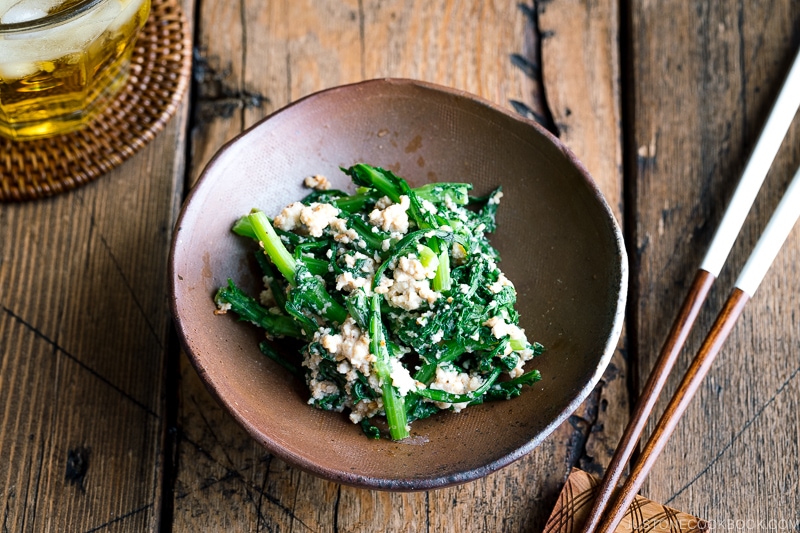 We all know that eating fiber-rich foods helps us stay full longer and improve health in general. So there's always a vegetable side dish to complement the breakfast meal.
Pickled Vegetable (Tsukemono) 漬物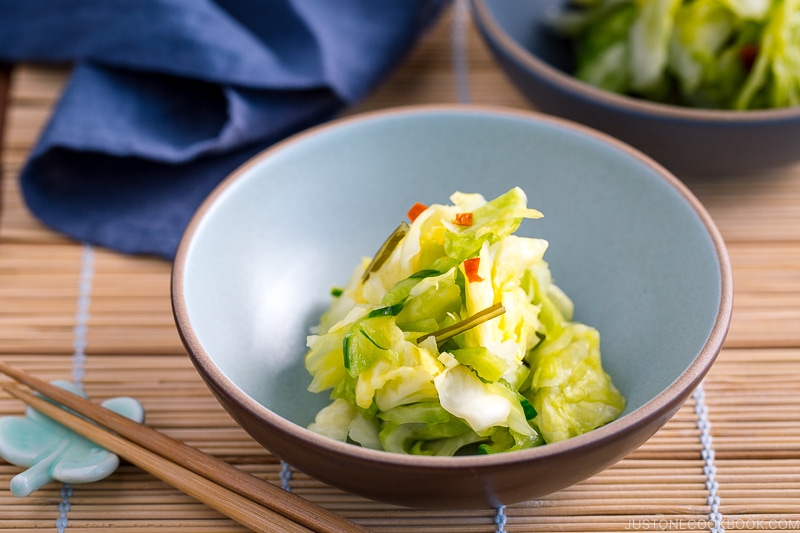 With a sweet, tangy and sour note, pickled vegetable stimulates the appetite, provides refreshment and enhance the overall flavors of the meal.
You can also buy pickled vegetables from the Japanese grocery store.
Seasoned Seaweed 味付け海苔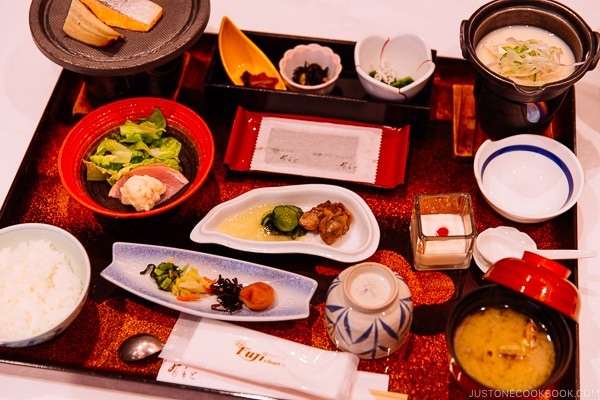 Dried and seasoned seaweed (ajitsuke nori) are also a staple of the breakfast menu.
You can purchase seasoned nori from Amazon. Don't get a big container as nori easily gets stale fast.
Natto 納豆
Lastly, fermented soybeans called natto is a breakfast favorite. This funky dish that graces the menu of a Japanese breakfast has an acquired taste, but the Japanese love it for many good reasons! Rich in protein, minerals, fiber, vitamin K2, and probiotics, natto is easily one of the best superfoods to eat.
You can buy prepackaged natto from the refrigerated or freezer section of Japanese or Asian grocery stores.
Green Tea 緑茶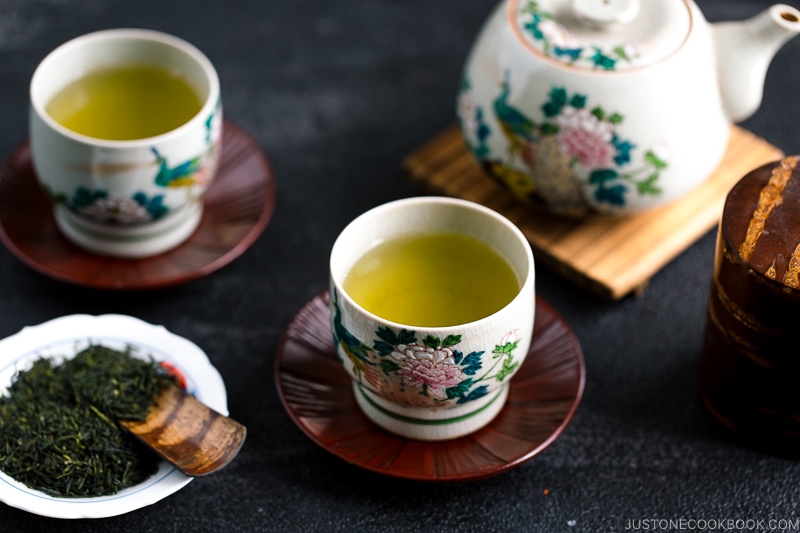 Serve hot green tea during or at the end of breakfast.
I hope this inspires you to make a traditional Japanese breakfast at home. Find a weekend, wake up a little early, and have a little fun in the kitchen! You and your loved ones would be so proud. And don't forget to snap a picture of your breakfast spread, and share it with us on Instagram with the hashtag #justonecookbook!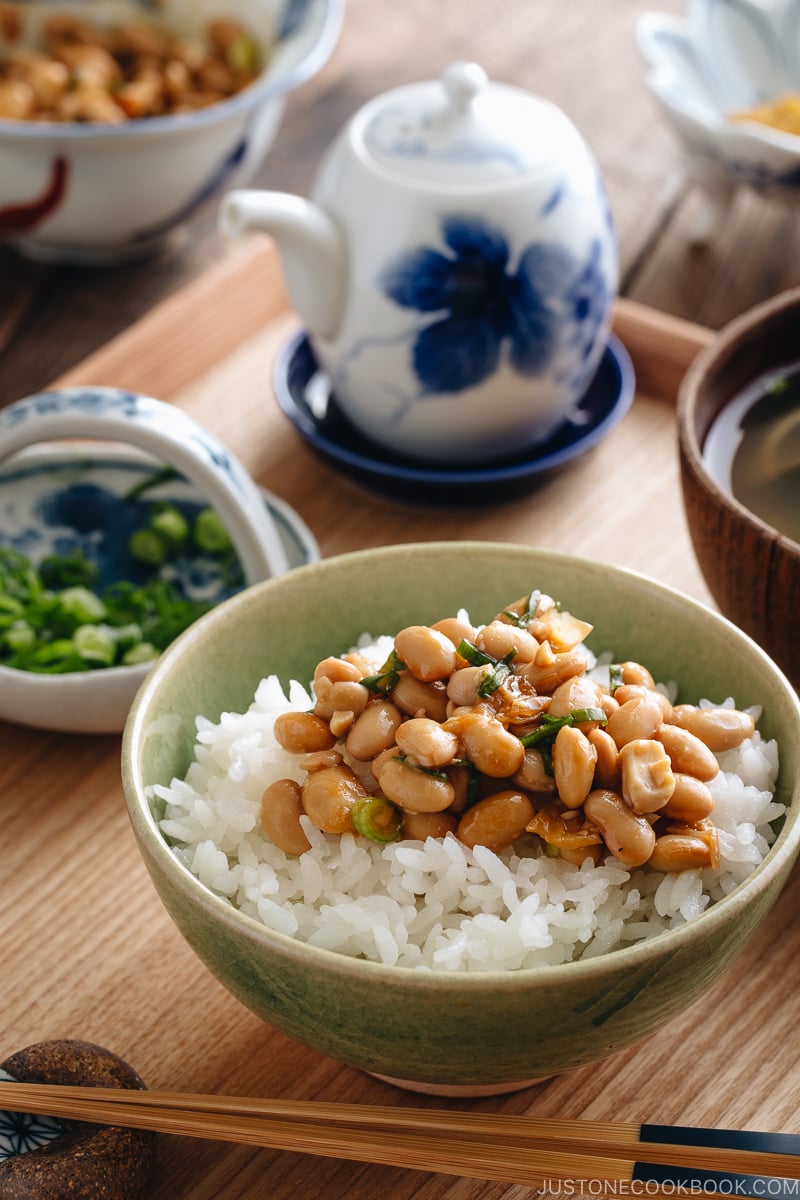 Where to Enjoy a Traditional Japanese Breakfast in Japan
Alternatively, you can also enjoy a traditional Japanese breakfast when you visit Japan at a ryokan (Japanese inn) or a hotel.
Most 3 to 5 Stars hotels offer a mix of Japanese and western breakfasts. Skip the usual waffles or pancakes, and allow yourself to indulge in a truly memorable breakfast experience!
Wish to learn more about Japanese cooking? Sign up for our free newsletter to receive cooking tips & recipe updates! And stay in touch with me on Facebook, Pinterest, YouTube, and Instagram.